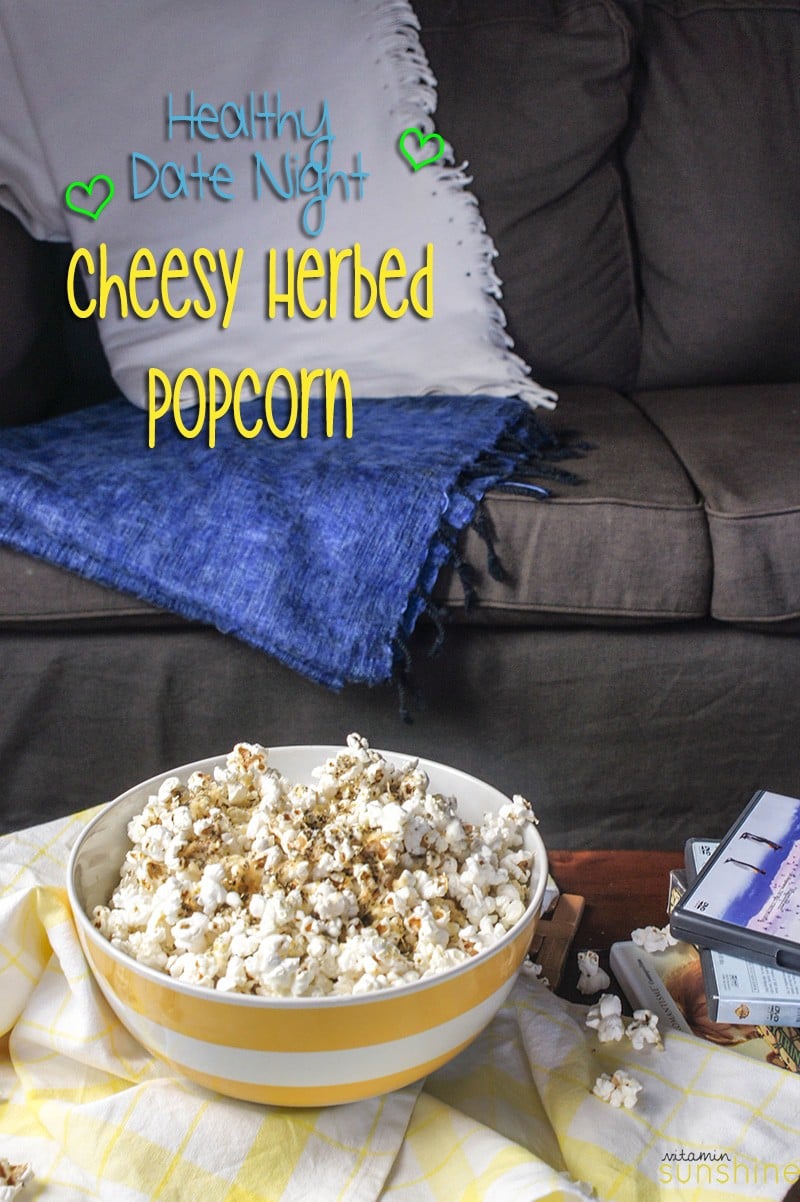 It's fun to mix it up, and do something different on date nights. Alex and I often get into ruts (we've been together over 4 years now!), and when we realize we are doing the same thing every weekend for a while, we like to take turns planning "something different." If you and your partner need "something different" as well, here are some healthy ideas!
5 Healthy Date Night Ideas
1). Laugh Together!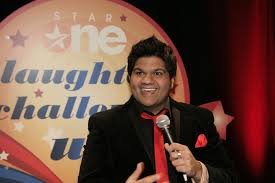 Doctors believe that laughter has many of the same benefits as exercise, and is health promoting. And a bonus? Laughing for 10-15 minutes can scorch 50 calories! So, if you're going to see a movie, choose a comedy. Better yet, stay out of the theatre and find a comedy show. And make sure your partner is someone you can laugh with!
2). Go for a Moonlit Walk (or try snowshoeing in the winter!)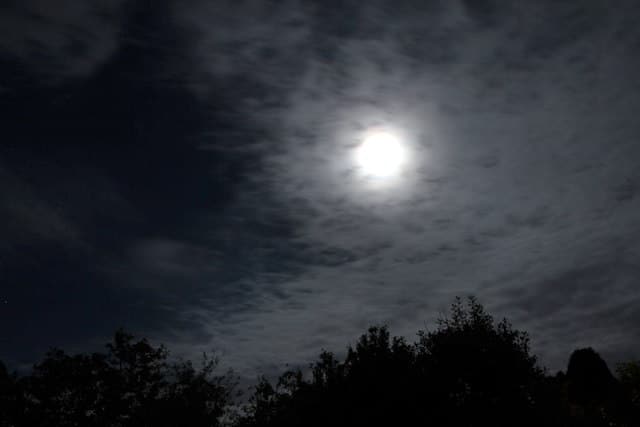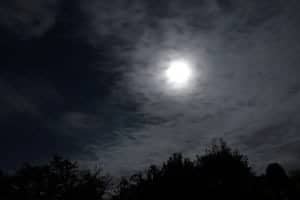 Romantic, and a great way to work activity into a date. Schedule your date near a full moon to avoid injuries, and choose a path in a safe area that you know well.
3). Stage a Progressive Dinner Date.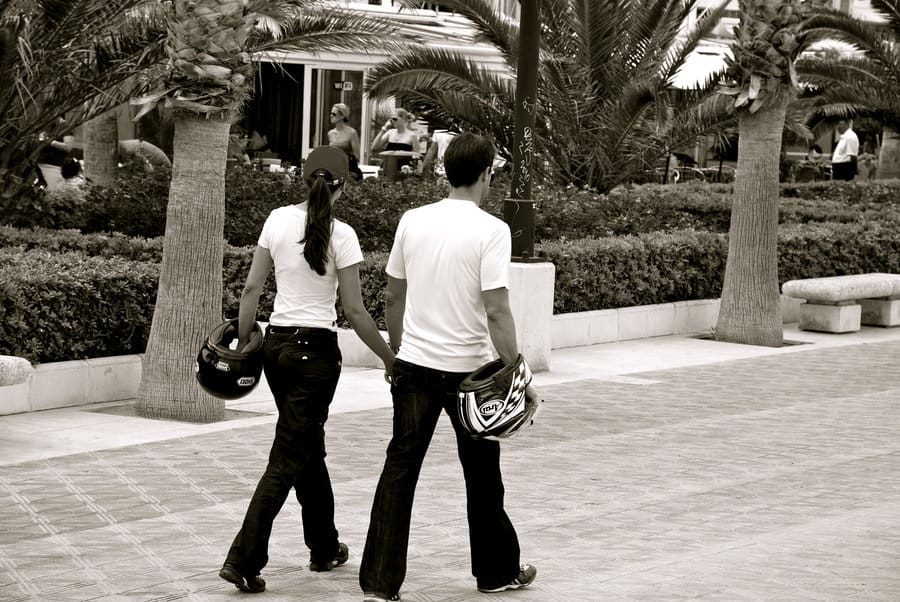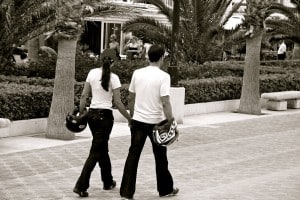 Instead of staying stationary at 1 restaurant, why not try a mix of great places, with bursts of activity between? Some of my favorite nights have been spent walking through town, stopping at the best place for a glass of wine, appetizer a bit down the road, and dessert where the creations are like art. Choose an area, and plot out locations that are ideal for each course that give you a 10-15 minute walk in between. It will give you time to digest your food, and time to talk and bond!
4). Plan a Date Around an Activity (instead of a meal).
Try bowling, skating, or my favorite, the batting cages! Alex and I even plan "dates" that begin with a run or a session at the gym together. We might have dinner or a drink out afterwards, or we might just walk and talk, or cuddle into the couch to watch something together afterwards. Since we are both busy, and value our fitness, exercising together is a great (and frequent) option for us. Try some partner exercises to increase physical contact!
5). Kiss. Snuggle. Hug. Hold hands. Cuddle. Canoodle. Smooch.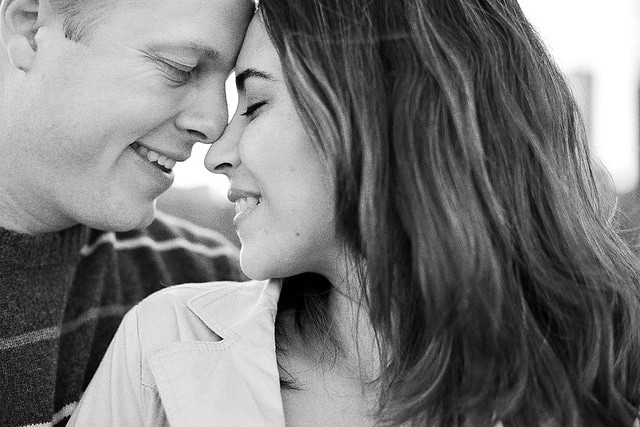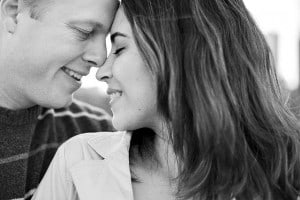 Physical contact is so important! Babies who don't receive enough physical attention have a high risk of developing mental, social, and behavioral problems as adolescents and adults. It's not just subjective observation- children who don't receive adequate touch have higher cortisol (the stress hormone) levels. If it's so important for babies, it's important for adults too! So destress with your partner and don't worry about doing anything at all. The activity isn't nearly as important as just spending time together.
Date Night Movie & Popcorn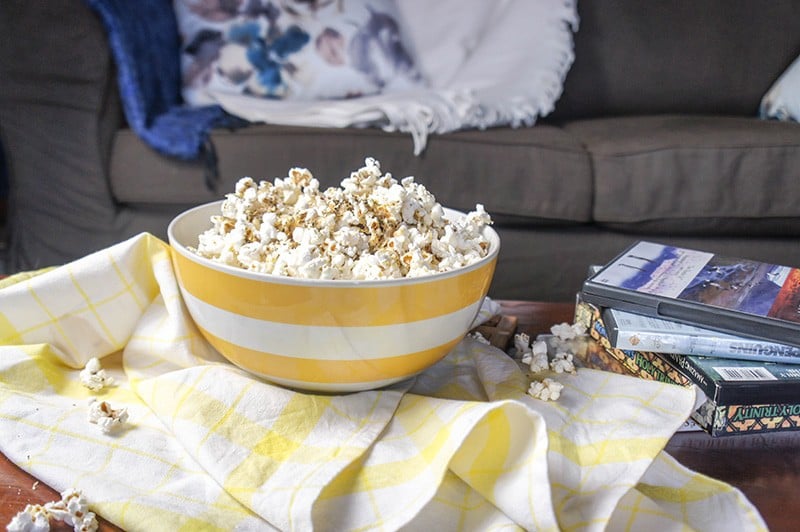 And if you do want a little entertainment while you're snuggling, turn it in to a movie night- with Cheesy Herbed Popcorn. So tasty, and what it doesn't have in it is just as important as what it has. No hydrogenated oils (I'm looking at you, movie theatre popcorn!)- in fact, no oils at all! A while back, I read in a magazine (I don't remember which one!) that you can microwave popcorn in a glass dish. It sounded a bit suspect to me, but I thought I would give it a try. Turns out, it's so easy! All you do is take an oven safe glass dish with a lid, add a layer of popcorn to the bottom of the dish, put the lid on, and microwave. Maybe cooking in the microwave will kill me someday, but I guarantee it won't do so faster than the processed oils and artificial colors in store bought microwave popcorn.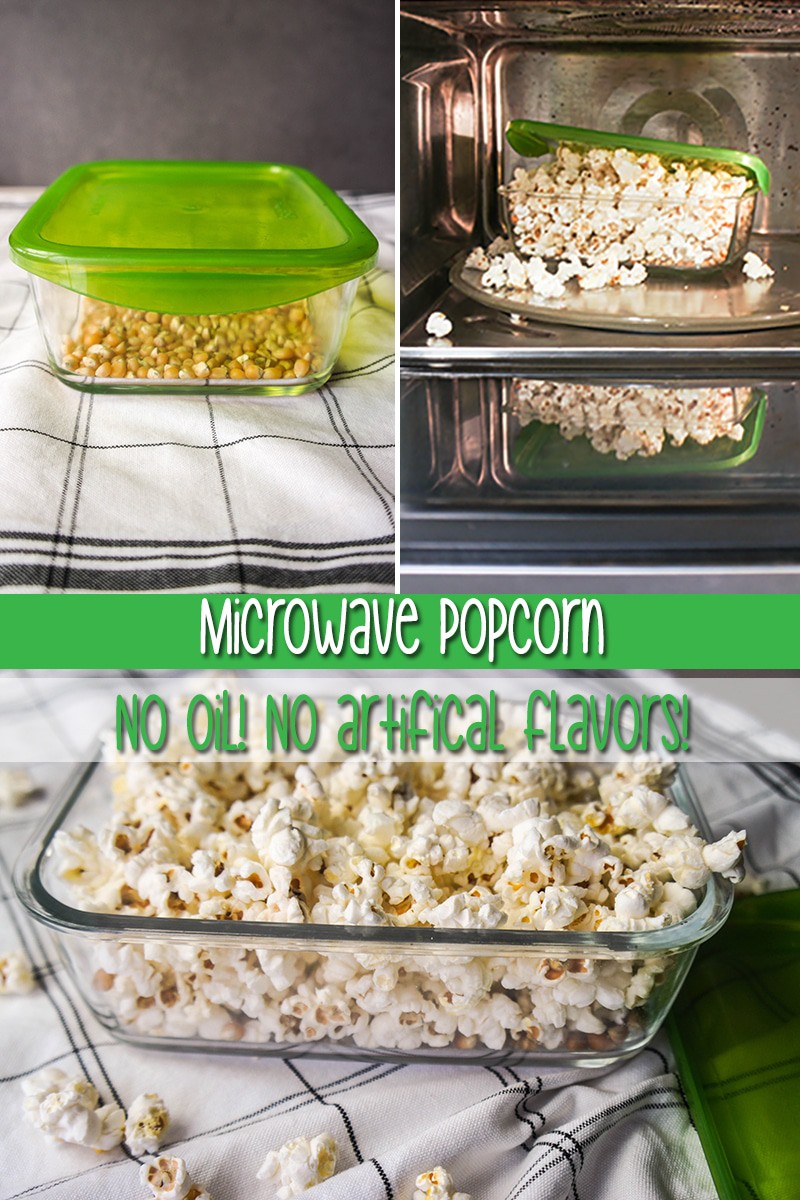 The ingredients in red are either artificial processed ingredients or GMOs, and not safe food additives.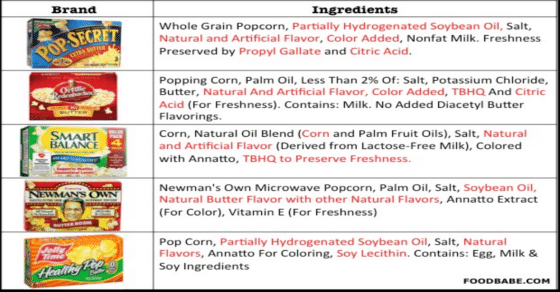 [source– Foodbabe.com]
By making it at home, you can avoid these health hazards. I prefer to pop mine plain. In the tropics (or very humid climates) popcorn doesn't always pop well. On more humid days, the popcorn will only pop half way. Using this microwave method, it turns out light, fluffy, and fully popped every time. Pour on some healthy toppings (hello there, cheesy parmesan!), and you've got yourself a low calorie, whole grain, healthy treat. Now, saying, "I care about your health" says I love you a lot more than a bucket full of hydrogenated oil.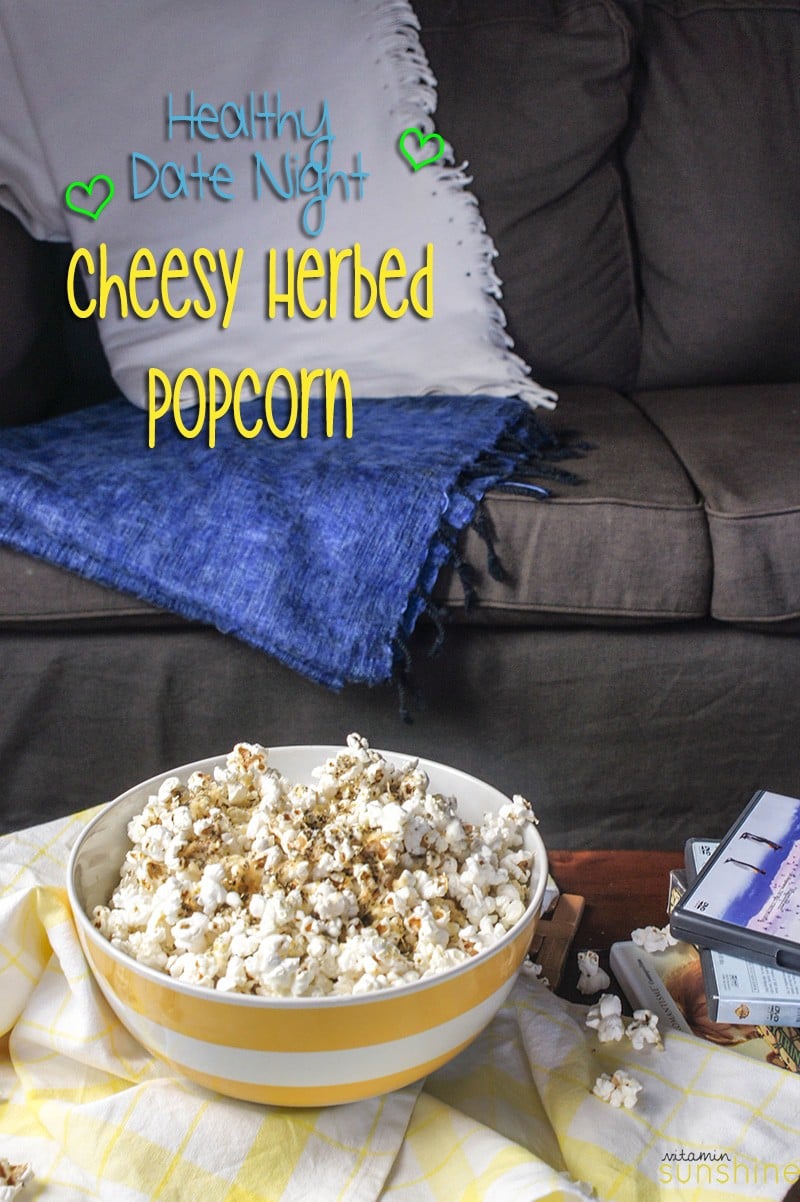 Cheesy Herbed Popcorn
A healthy microwave popcorn recipe, with toppings that taste gourmet!
Print
Pin
Rate
Ingredients
1/4

cup

popcorn

1/3

cup

shaved or grated parmesan cheese

1

teaspoon

italian seasoning

sea salt

to taste
Instructions
Add the popcorn to a glass oven safe dish with a lid. Cover, and microwave for 3-6 minutes (depending on your microwave). Listen, and as the popping slows, take it out before it burns.

THE GLASS DISH GETS VERY HOT IN THE MICROWAVE! (I'm "yelling" that because I've burnt myself maybe more than once taking the glass dish out of the microwave).

Pour the popcorn in a bowl. Top with parmesan, and sprinkle on the italian seasoning and salt.

Put it back in the microwave for 30-60 seconds to melt the cheese. This helps the seasonings stick to the popcorn, and also makes the cheese crunchy.
Notes
WARNING: I have microwaved popcorn using this method many times and never had any problems. However, when I made popcorn for these photos, I didn't pop enough, and added more popcorn to the HOT glass dish, and put it back in the microwave for another 5 minutes.
After heating the glass dish up twice (it gets very hot!), it shattered when I took it out. This will not happen if you only heat it up once.
Nutrition
Calories:
151
kcal
|
Carbohydrates:
17
g
|
Protein:
9
g
|
Fat:
6
g
|
Saturated Fat:
3
g
|
Cholesterol:
15
mg
|
Sodium:
257
mg
|
Potassium:
77
mg
|
Fiber:
3
g
|
Sugar:
1
g
|
Vitamin A:
144
IU
|
Calcium:
201
mg
|
Iron:
1
mg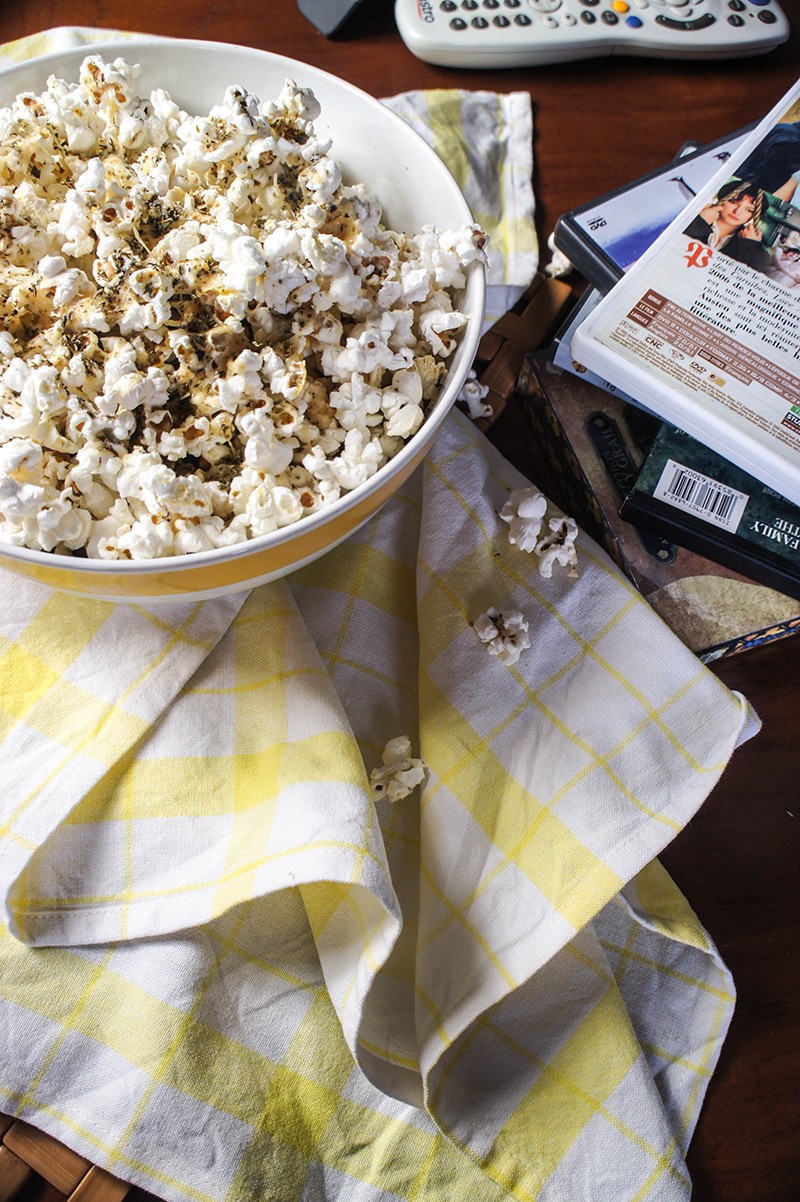 ---
Sources
Give your Body a Boost with Laughter, WebMD
How Important is Physical Contact with your Infant?, Scientific American