These healthy Breakfast Tacos with Black Beans and Veggies are packed with protein, flavor and spice. This is hands down my favorite breakfast of all time — I can't believe I have never shared a simple recipe for these before!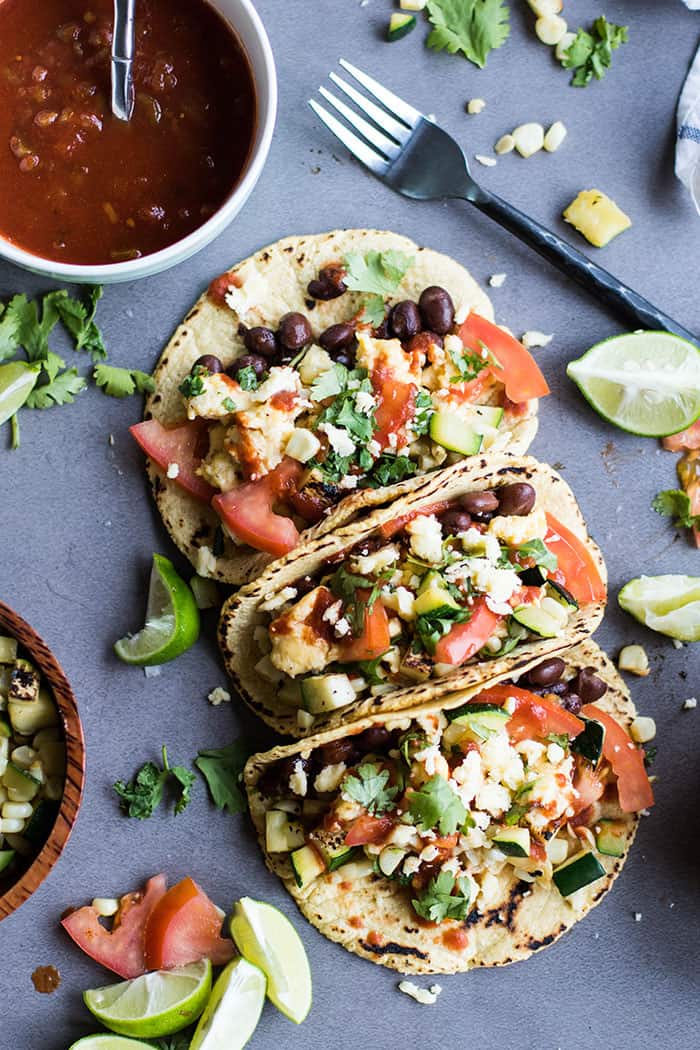 Breakfast tacos and me go waaaayyyy back. Like really, really far back. Our story is long, deeply rooted, and full of adoration.
I remember making them in high school with egg whites, because that was during the "fat is bad" craze.
And when I was pregnant, there were months when all I wanted were corn tortillas with eggs, lettuce, tomato, and tons of hot sauce (pregnancy cravings can get much worse!).
Throughout the years, how I've assembled these bad boys has changed, but the things that have to stay the same are the corn tortillas (I have never been a fan of the flour version!), sweet, ripe tomatoes, and lots of spicy salsa.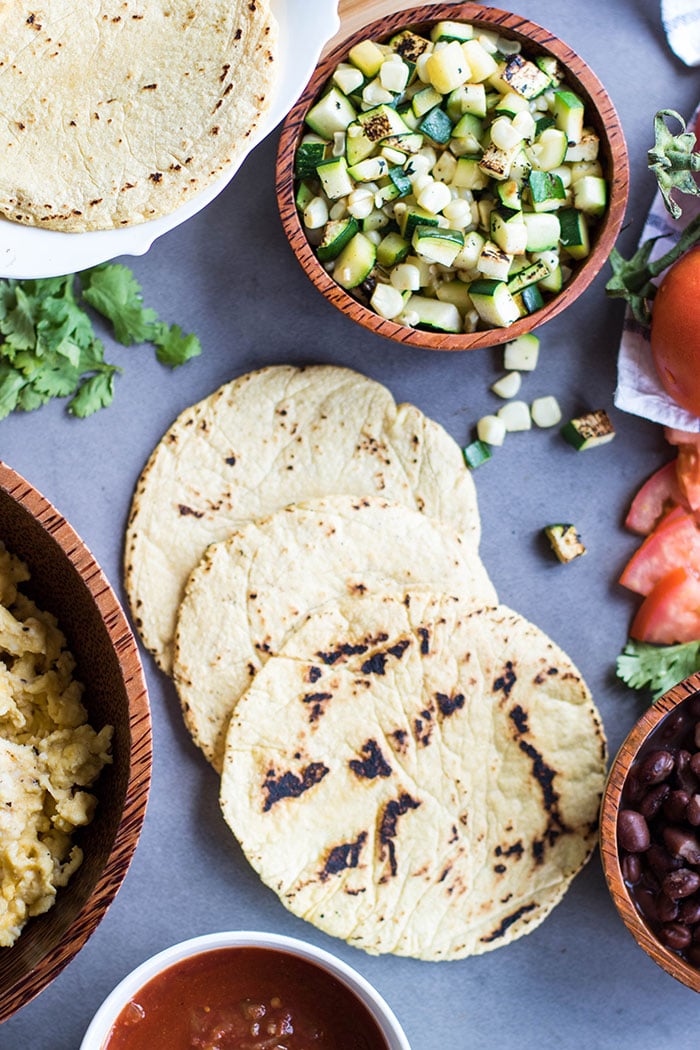 On a typical morning, I probably wouldn't go to the trouble of roasting vegetables for these (who am I kidding! On a typical morning, I don't go to much more trouble than coffee and a protein bar. Breakfast tacos are more like lunch or a quick dinner over here). I actually love breakfast tacos filled with scrambled eggs, lettuce and tomato, "American style."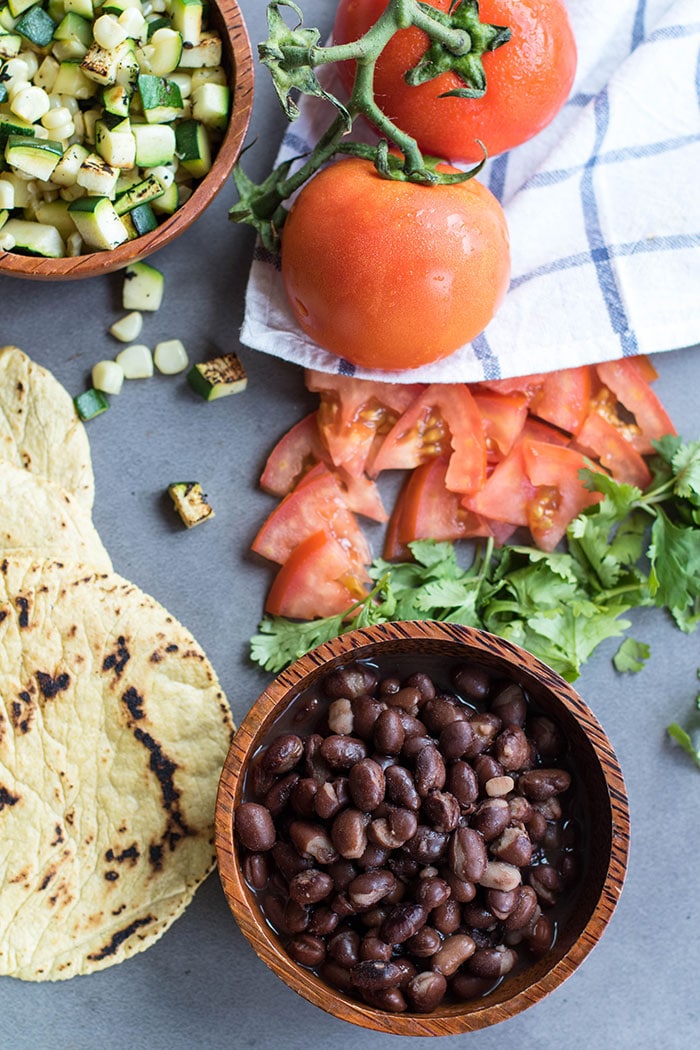 Having pre-roasted veggies as a part of meal prep, and a can of beans open in the refrigerator really helps up the nutrition. We've been getting amazing local sweet corn lately, so I've been cutting it off the cob and chopping zucchini, pan frying, and keeping in the refrigerator to top salads or tacos.
It's difficult to get Mexican ingredients here in Asia, which is actually one of the things which spurred me to begin learning to make things homemade, like salsa, enchilada sauce, and corn tortillas.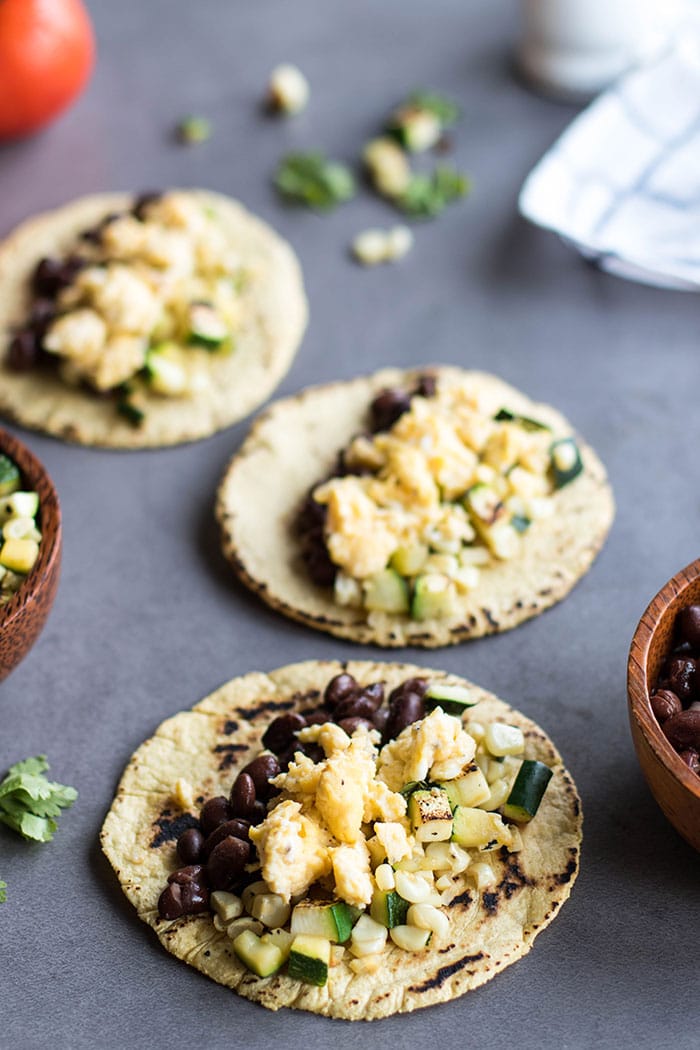 I've been craving these breakfast beauties so much lately, I searched out masa harina (corn flour treated with lime) to make tortillas, and because I don't have a tortilla press, I even invented a floor, cutting board, parchment paper, cutting board, Michelle-stomp-on-pile, routine, to get thin, even, and beautifully round tortillas.
So, this recipe is really just healthy breakfast inspo, and guidelines for your own amazing breakfast creation.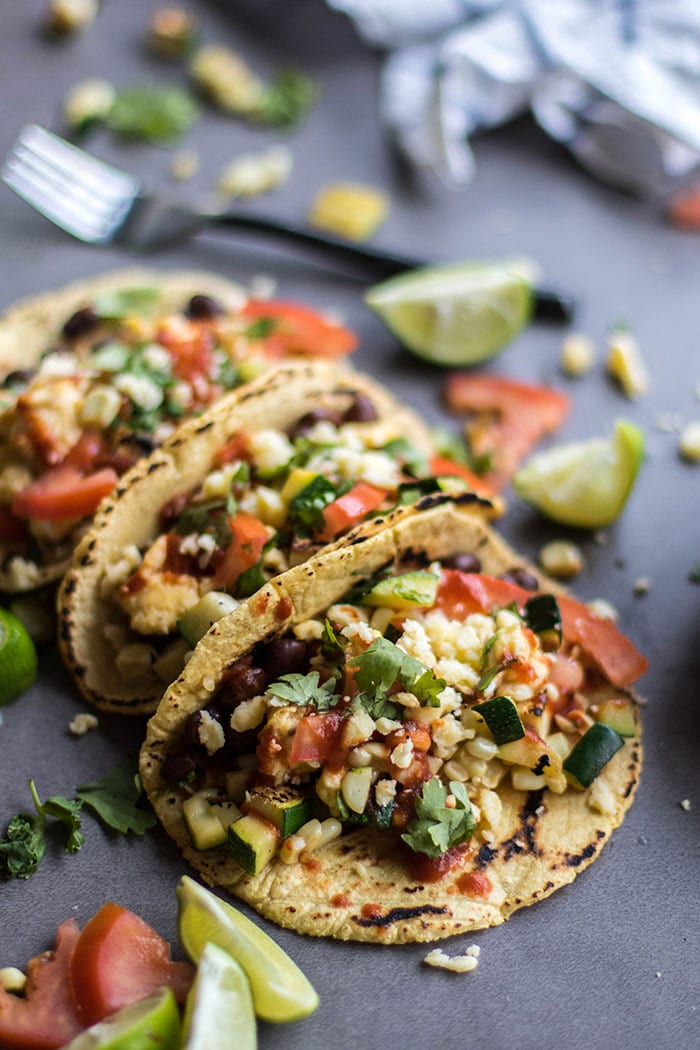 Avocado, cheese, any type of beans, even sauces like pesto and hummus are amazing in these.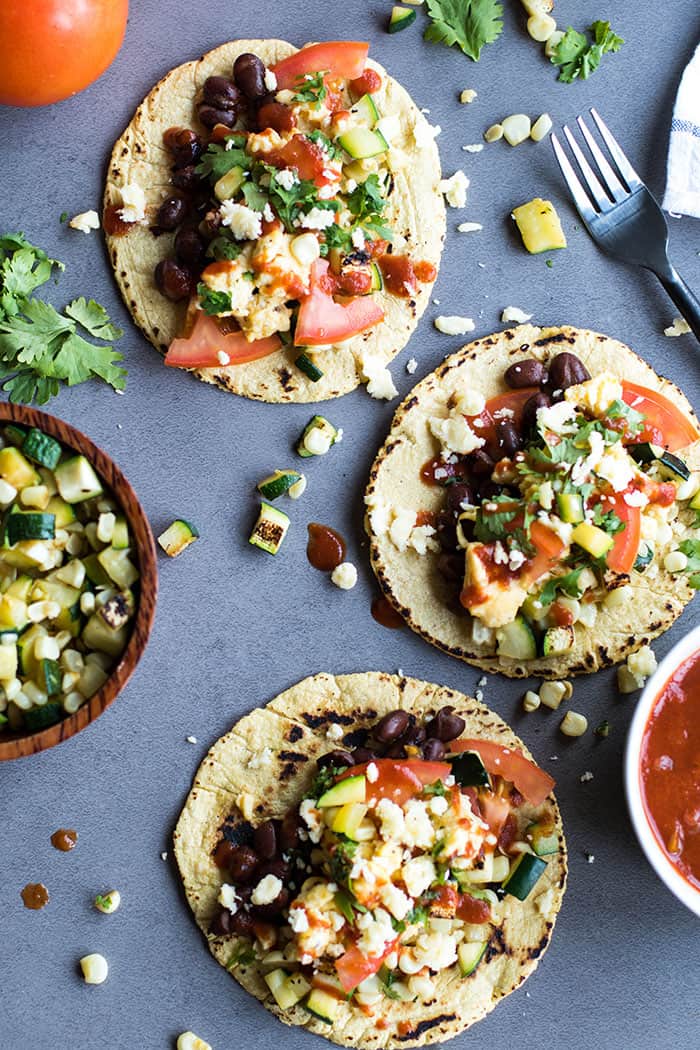 Tips for Breakfast Tacos
Make is Gluten Free: Corn tortillas are a great gluten free option. Gluten free brown rice tortillas would also work.
Save time: Pre roast the zucchini and corn, and have tomatoes and cilantro chopped up. You can even scramble enough eggs for several mornings and just add them in and heat them up with the tortillas, then top with veggies.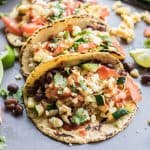 Print
Breakfast Tacos with Black Beans Veggies
These healthy breakfast tacos are a great way to get in lots of protein at breakfast (or lunch, or dinner!). This is a favorite combo of mine, but so many variations are possible!
Ingredients
8

corn tortillas

1

tablespoon

olive oil

divided

6

eggs

scrambled

1

ear

corn

removed from cob

1

zucchini

small, chopped

1

tomato

medium, chopped

1/2

cup

cheddar cheese

shredded

salsa

to garnish

cilantro

optional, to garnish

lime juice

optional
Instructions
Add 1 teaspoon of olive oil to a frying pan, and heat over high heat. Add corn and zucchini, and lightly char, then set aside in a small bowl.

Scramble eggs, and warm up black beans.

In the frying pan, add another teaspoon of olive oil (optional). Heat up tortilla, and top with eggs, veggies, and black beans.

Remove from heat, and top tacos with tomatoes, cheese, cilantro, salsa. Avocado, guacamole, and pesto are great options as well.
Nutrition
Calories:
164
kcal
|
Carbohydrates:
15
g
|
Protein:
8
g
|
Fat:
8
g
|
Saturated Fat:
2
g
|
Cholesterol:
130
mg
|
Sodium:
106
mg
|
Potassium:
231
mg
|
Fiber:
2
g
|
Sugar:
2
g
|
Vitamin A:
445
IU
|
Vitamin C:
7.3
mg
|
Calcium:
96
mg
|
Iron:
1.1
mg

Other Healthy Breakfast Recipes:
I'd love to connect with you on social media! Find me on Facebook or Instagram where I post daily healthy eating and lifestyle inspiration.
This post contains affiliate links, which means that if you click on one of the product links, I'll receive a small percentage of any purchases made.