7 Layer Dip Stuffed Bell Peppers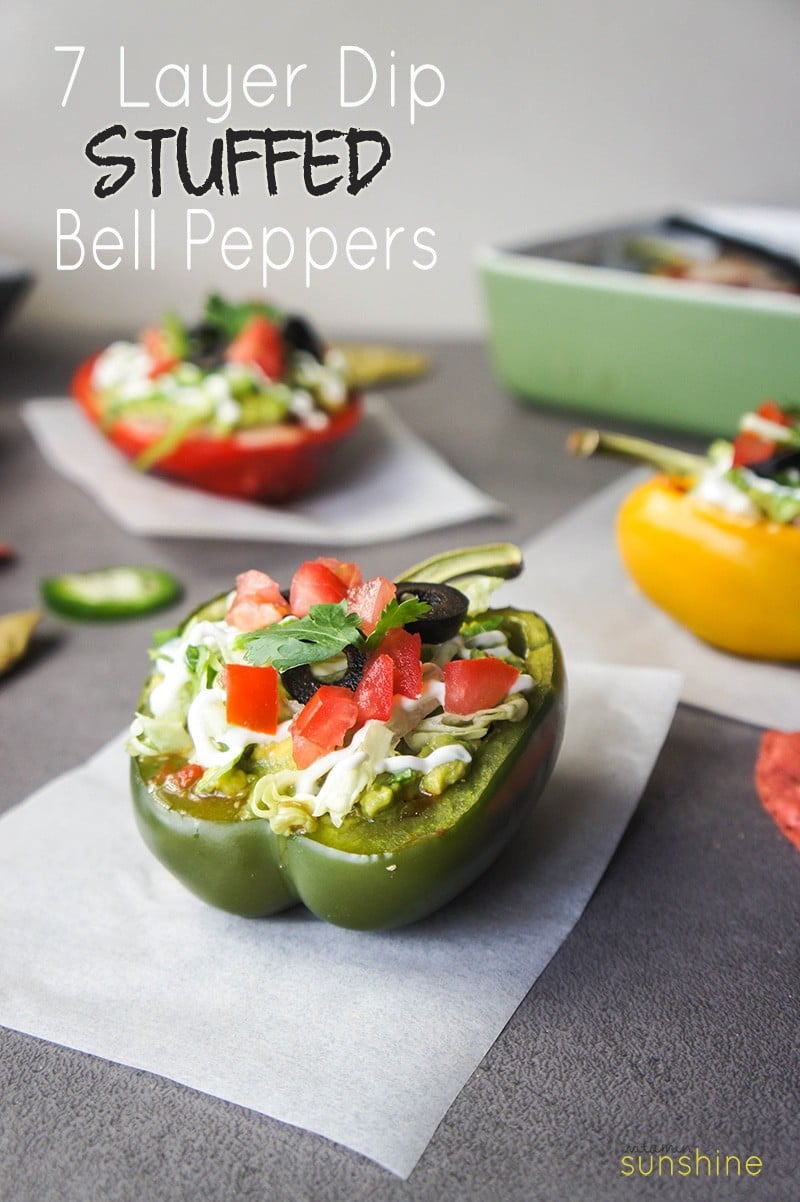 1 15-ounce can black beans
hot sauce (I used Tapatio, to taste)
1 teaspoon olive oil
½ pound ground chicken (I minced chicken breasts in my food processor)
1 tablespoon tomato paste
2 tablespoons water
¼-1/2 teaspoon sea salt, to taste
½ teaspoon chili powder
½ teaspoon cumin
½ teaspoon oregano
¼ teaspoon red chili flakes
freshly ground black pepper, to taste
1 avocado
1 teaspoon minced jalapeno
juice of 1 small lime (or to taste)
sea salt, to taste
3 bell peppers (any color)
black beans (recipe above)
chicken taco meat (recipe above)
½ cup salsa (plus more, to serve)
6 tablespoons sharp cheddar cheese, grated (or more, to taste)
guacamole (recipe above)
1 cup romaine lettuce, finely shredded
¼ cup greek yogurt (or sour cream)
1 tomato, diced
12 black olives, sliced
jalapenos (to garnish, optional)
cilantro (to garnish, optional)
Preheat over to 425º f.
Cut bell peppers in half and remove the seeds, scraping out the veins.
Put the bell peppers in a baking dish, and sprinkle lightly with sea salt. Cover tightly with foil, and bake the peppers for 20 minutes.
While the peppers are baking, prepare the black beans, chicken, and guacamole.
Rinse and drain a can of black beans. Add them to a food processor, along with a few shakes of Tapatio (to taste) and pulse 5-7 times, until only about half of the beans are still whole. Set aside.
To a skillet, add a teaspoon of olive oil, and turn on medium high heat. Add the ground chicken, and brown. When the chicken is almost cooked, add the tomato paste, water, and spices. Add more sea salt, to taste. Once the chicken is fully cooked, set aside.
In a small bowl, mash the avocado. Season with lime juice, jalapeno, and sea salt, to taste. Set aside.
When the bell peppers are done cooking, pull them out, and add a layer of black beans, chicken taco meat, salsa, and cheese. Cover tightly with foil.
Put the peppers back in the oven, and cook for another 10-15 minutes, until the beans and chicken are heated through and the peppers are softened.
Next, layer the peppers with guacamole, shredded lettuce, and sour cream.
Top with tomatoes, jalapenos, olives and cilantro. I also poured quite a bit of extra salsa and Tapatio on mine!
I felt these peppers really needed a bit more spice, so added quite a bit of hot sauce to the bean layer. Seasoning the peppers with sea salt before baking also helps bring out the flavor of the peppers.
Recipe by
Sunkissed Kitchen
at https://sunkissedkitchen.com/7-layer-dip-stuffed-bell-peppers/