Creamy Chicken and Rice Soup {Dairy-Free}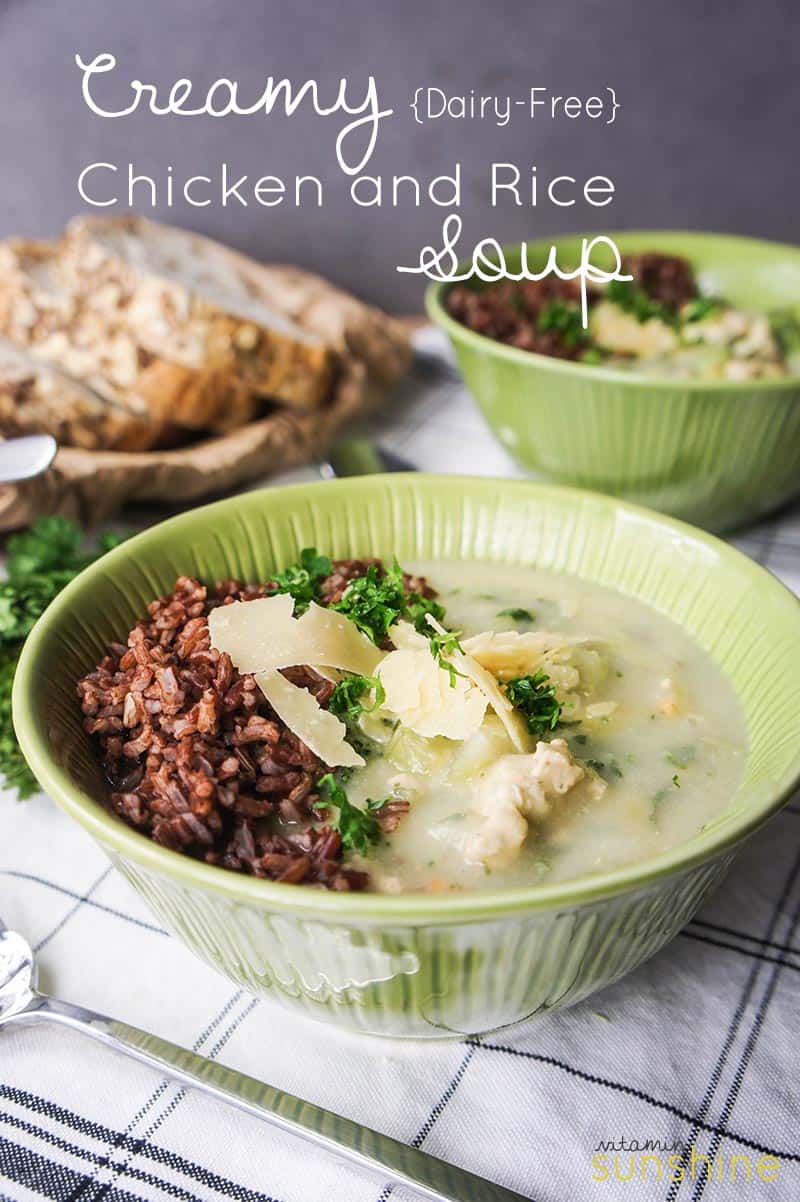 1 teaspoon olive oil
1 medium onion, minced
1 head cauliflower, roughly chopped
water (enough to cover cauliflower, about 4-5 cups)
1½ vegetable bouillon cubes (I use, and recommend, Rapunzel)
1 teaspoon olive oil
1½ cups celery, diced
1 large carrot, diced
½ red bell pepper, diced
½ pound cooked Italian chicken sausage (recipe linked above- or sub your favorite store bought)
2 tablespoons fresh parsley, chopped fine
1½ tablespoons fresh sage, chopped fine
½ tablespoon fresh thyme, removed from stem
½ cup dry thai red rice or brown rice, cooked according to package directions
parmesan cheese (to garnish, optional)
Brown chicken sausage, and set aside.
In a large soup pot, add 2 tablespoons of olive oil, and the diced onion. Saute until the onion is translucent. It's very important not to brown the onion, or your broth will not turn out white.
Add the chopped cauliflower, and then add enough water to cover it (about 4 cups).
Cover, and let simmer, until cauliflower is very cooked, and falls apart with pierced with a fork. Add the vegetable bouillon.
In batches, pureed the cauliflower and onion mixture in a blender. Let it blend for 1-2 minutes, until its super creamy and smooth.
In the empty soup pot, add another teaspoon of olive oil, and saute the celery until soft.
Add the carrots and bell pepper, and continue to saute for 3 or 4 more minutes.
Add the cauliflower broth and chicken sausage. Let simmer for 5-10 minutes.
Add the fresh herbs, and cook only for another few minutes, so the herbs maintain their freshness. Season with salt and pepper, to taste.
Add cooked rice into individual bowls, and garnish with more fresh herbs and parmesan cheese, if desired.
I prefer to keep rice and noodles separate from soup until serving. They easily get overcooked and mushy if reheated.
Recipe by
Sunkissed Kitchen
at https://sunkissedkitchen.com/creamy-chicken-and-rice-soup-dairy-free/