Summer Superfood Kale Salad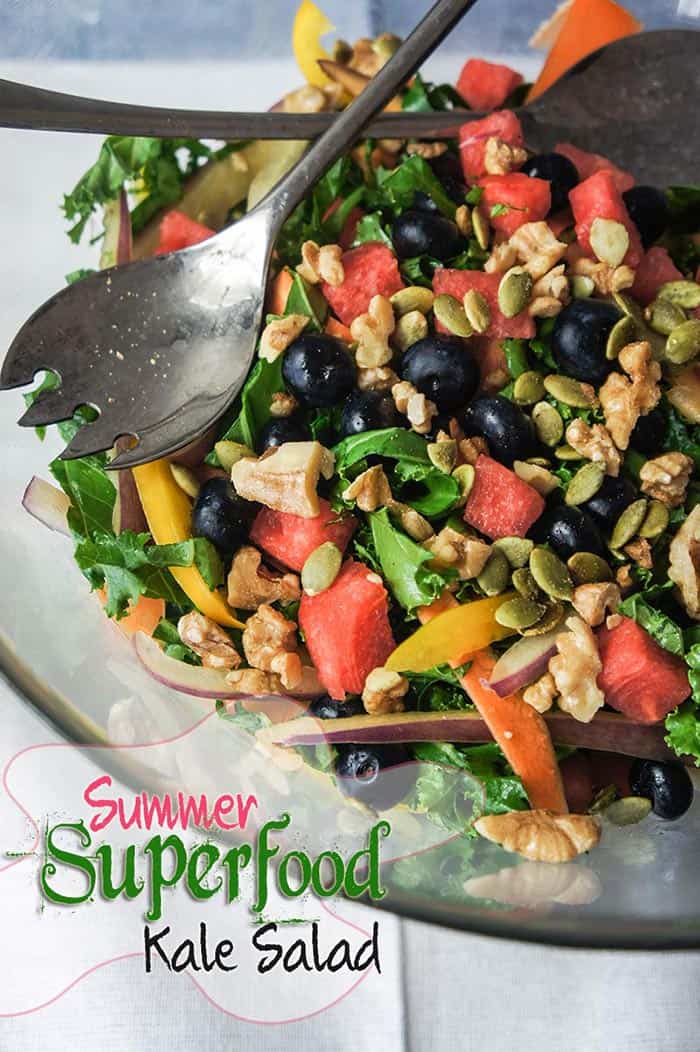 4-5 cups kale, finely shredded
1½ cups watermelon, cut into small cubes
1½ cups blueberries
1 carrot
1 bell pepper (I used half yellow, half purple)
¼ cup walnuts, chopped
½ cup pumpkin seeds
3 tablespoons champagne vinegar
1½ tablespoons walnut oil (or olive oil)
2 teaspoons honey
¼ teaspoon mustard powder
Remove the stems, and finely shred the kale.
Mix all the dressing ingredients together, making sure the honey is dissolved and mixed in.
Pour the dressing over the kale, and massage it in to soften the kale.
Place the kale in the refrigerator to keep cold while preparing the rest of the ingredients.
Finely slice the peppers, and cube the watermelon. I used a vegetable peeler to cut the carrot into long thin strands. Toss the fruit and vegetables with the kale.
Toast the chopped walnuts and pumpkin seeds in a skillet over medium heat, stirring occasionally to keep from burning. Add the nuts over the salad directly prior to serving to keep them crunchy.
Recipe by
Sunkissed Kitchen
at https://sunkissedkitchen.com/summer-superfood-kale-salad/