Strawberry Shortcake Protein Pancakes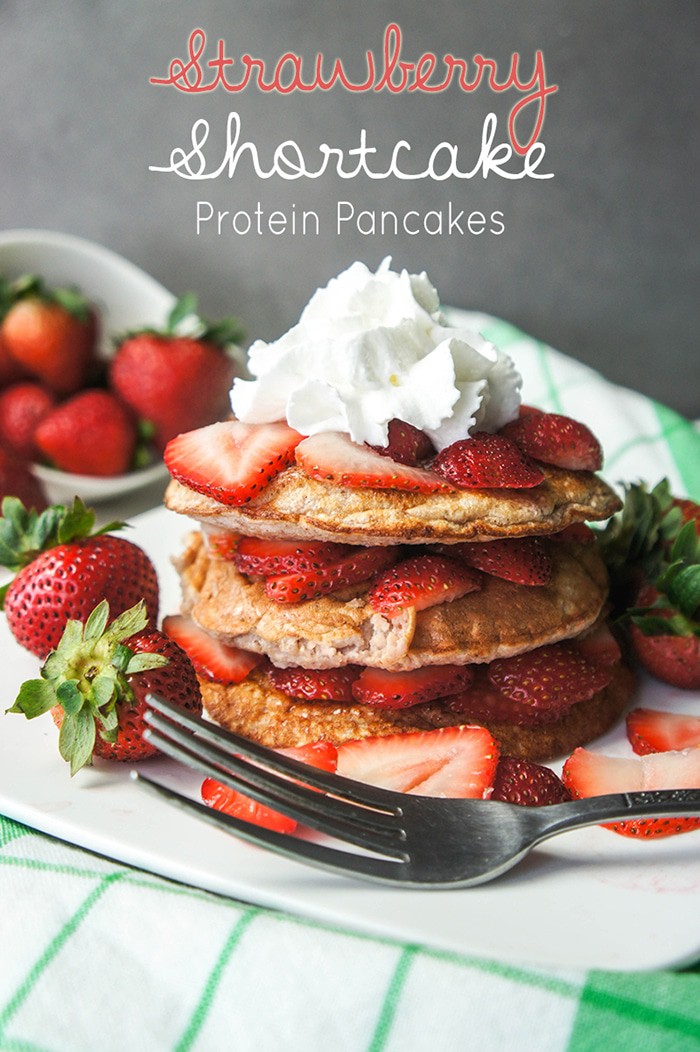 6 egg whites
1 cup strawberries (fresh or frozen, chopped)
¼ cup oat bran (or sub oat flour)
¼ cup raw buckwheat flour
⅛ teaspoon baking soda
⅛ teaspoon sea salt
1 teaspoon honey (only necessary if strawberries aren't sweet)
4-6 strawberries (sliced, topping)
nut butter or coconut whipped cream (topping)
Add egg whites, chopped strawberries, oat bran, buckwheat flour, baking soda and salt to a blender. Pulse 5-6 times, until ingredients are just combined.
Spray a frying pan with coconut oil or other cooking spray. The pancakes will spread out, so using a smaller pan works well. Cook on low, covered, for 5-7 minutes, until bubbles appear on top of pancake. Flip over, and cook for another 1-2 minutes. Top with berries, nut butter, or coconut whipped cream.
Makes 6 small or two large pancakes. The look pretty in stacks, but I personally prefer making 1 large pancake for myself.

Since these pancakes are made mostly of egg whites, they need to be cooked slowly to not dry out. I find slightly undercooked pancakes taste the best!
Recipe by
Sunkissed Kitchen
at https://sunkissedkitchen.com/strawberry-shortcake-protein-pancakes/