Watermelon BBQ Sauce + Crockpot BBQ Chicken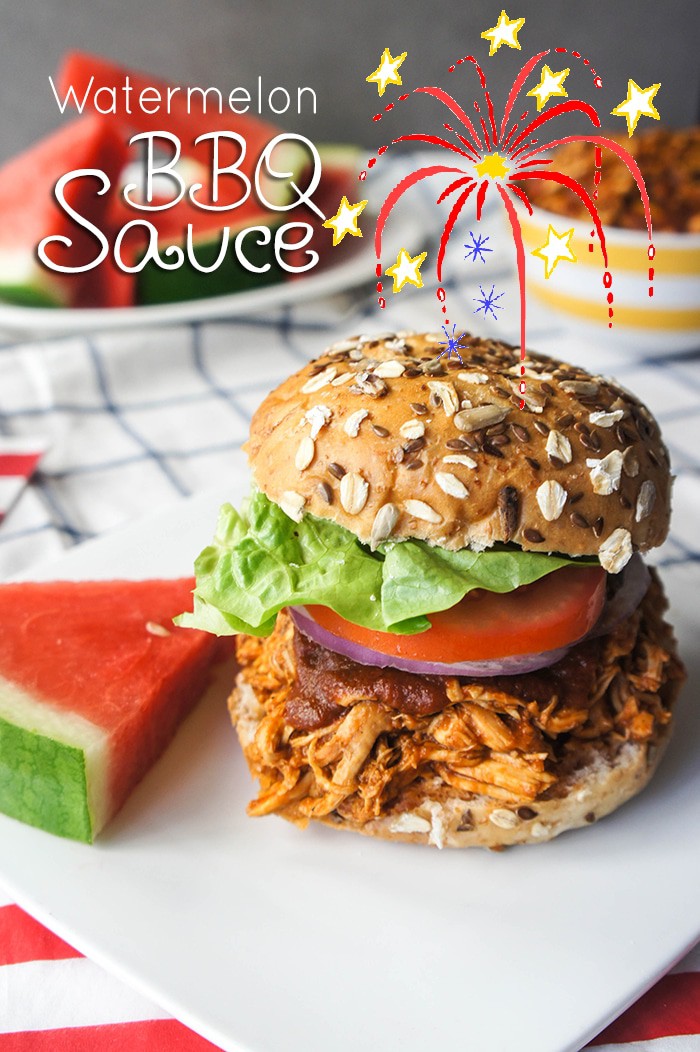 1 teaspoon olive oil
1 medium yellow onion, diced
5-6 cups watermelon, diced
1 6 ounce can tomato paste
¼ cup water
¼ cup champagne vinegar
1 tablespoon blackstrap molasses
1 teaspoon dijon honey mustard
¾ teaspoon sea salt
½ teaspoon garlic powder
dash of cayenne (to taste)
1 teaspoon olive oil
3 large chicken breasts (about 1½ pounds)
sea salt
1½ cups watermelon BBQ sauce
Add olive oil to a large pot, and saute onion for 7-10 minutes, until translucent and lightly browned.
Add the cubed watermelon, tomato paste, and water. Bring to a boil, and then reduce heat to medium low, and continue to simmer for 45 minutes.
Pour mixture into a blender, and process for 2-3 minutes, until the mixture is really smooth.
Return to pot, and add remaining ingredients. Simmer for another 20 minutes, stirring occasionally, until the mixture has slightly thickened.
In a skillet, add olive oil, and then brown both sides of the chicken over high heat. Season with sea salt.
Add browned chicken and BBQ sauce to a crockpot. Cook on high for 2 hours, or on low for up to 4 hours.
Remove the chicken breasts, and shred using two forks. Return the chicken to the pot, and mix well with the BBQ sauce.
I added extra vinegar to the final BBQ recipe to give it more of a kick when cooked in to the shredded chicken. Consider adding only 2-3 tablespoons of vinegar if planning to use it as a dipping sauce.
Recipe by
Sunkissed Kitchen
at https://sunkissedkitchen.com/watermelon-bbq-sauce-happy-labor-day-merdeka-day/