Chicken Enchilada Soup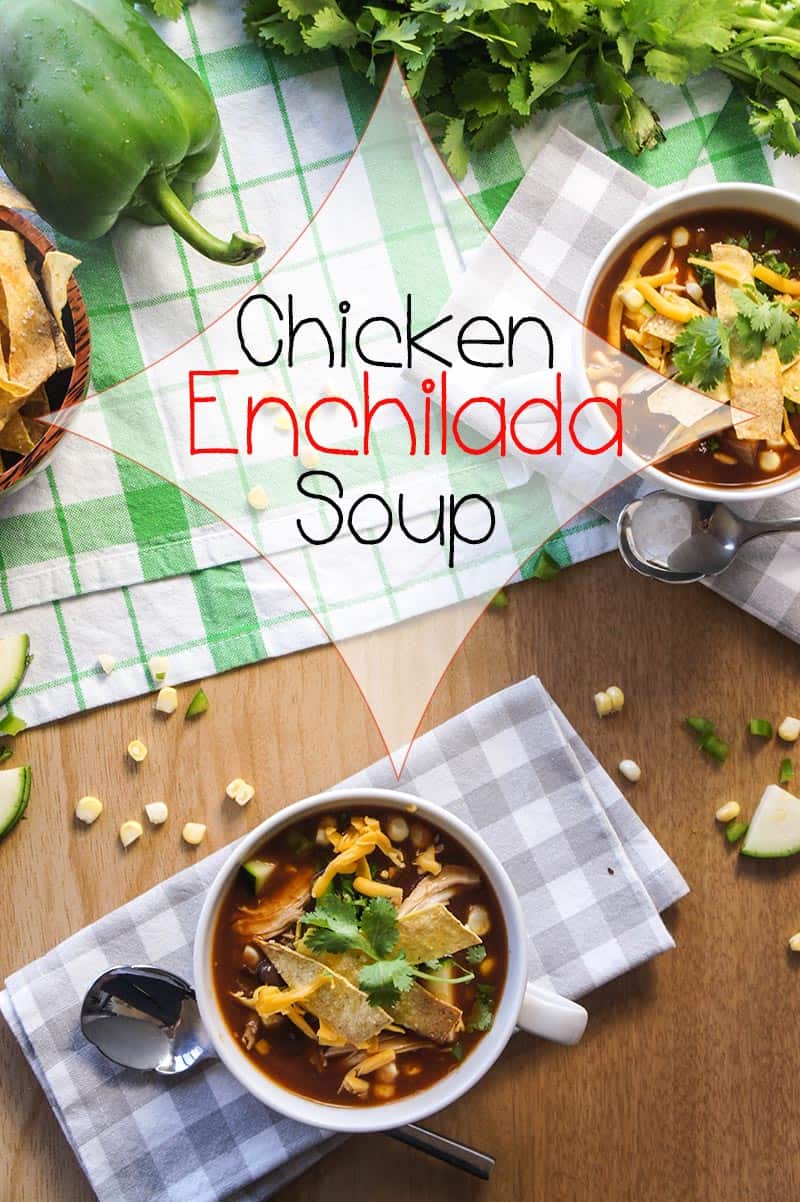 2 teaspoons olive oil
1 medium onion, finely diced
1 15-ounce can diced tomatoes
1 6-ounce can tomato paste
6 cups chicken stock (read above for how to make your own. Can sub vegetable broth or bouillon.)
1 cup water
1 vegetable bouillon cube (I use Rapunzel
1½ tablespoons high quality chili powder
1 tablespoon sweet paprika
2 teaspoons Mexican oregano (sold in the Hispanic section of most grocery stores in plastic bags)
1 teaspoon cumin
1 teaspoon molasses sugar (or brown sugar)
1 15-ounce can black beans, rinsed and drained
1 carrot, diced
2 bell peppers (I used one green, one yellow)
2 ears fresh corn, removed from cob
1 zucchini, sliced and quartered
2 cups shredded chicken (from roasted chicken, or shred 2 cooked chicken breasts or thighs)
2 teaspoon lime juice
cilantro (garnish, optional)
cheddar cheese (garnish, optional)
6 thin corn tortillas
olive oil spray
sea salt
Read the post above for information on how to start this soup from a whole roasted chicken. If you'd prefer, start with canned chicken stock or use vegetable bouillon instead (I recommend Rupunzel.
Add olive oil to a large soup pot, and saute onion until it's translucent, about 7-10 minutes.
Add the canned tomatoes, tomato paste, chicken stock, water, and vegetable bouillon cube. Bring to a boil, then reduce heat and simmer for 1 hour.
Add the chili powder, paprika, cumin, and molasses sugar to the broth. Taste, and add sea salt, if necessary (will depend on your chicken stock).
Add the carrot and bell peppers, and continue to cook for about 10 minutes.
Add the black beans, corn, zucchini, chicken and lime juice. Continue to cook for another 2-3 minutes, then remove soup from heat.
Serve the soup topped with cilantro, cheese, and tortilla strips.
Slice tortillas in strips. Lay out on a cookie sheet, and spray with olive oil spray and sprinkle with sea salt. Bake in a preheated oven at 425 f for about 10 minutes, watching carefully to not burn. Turn oven off, and allow tortilla strips to sit in the heated oven to continue crisping.