SW Butternut, Black Bean and Quinoa Soup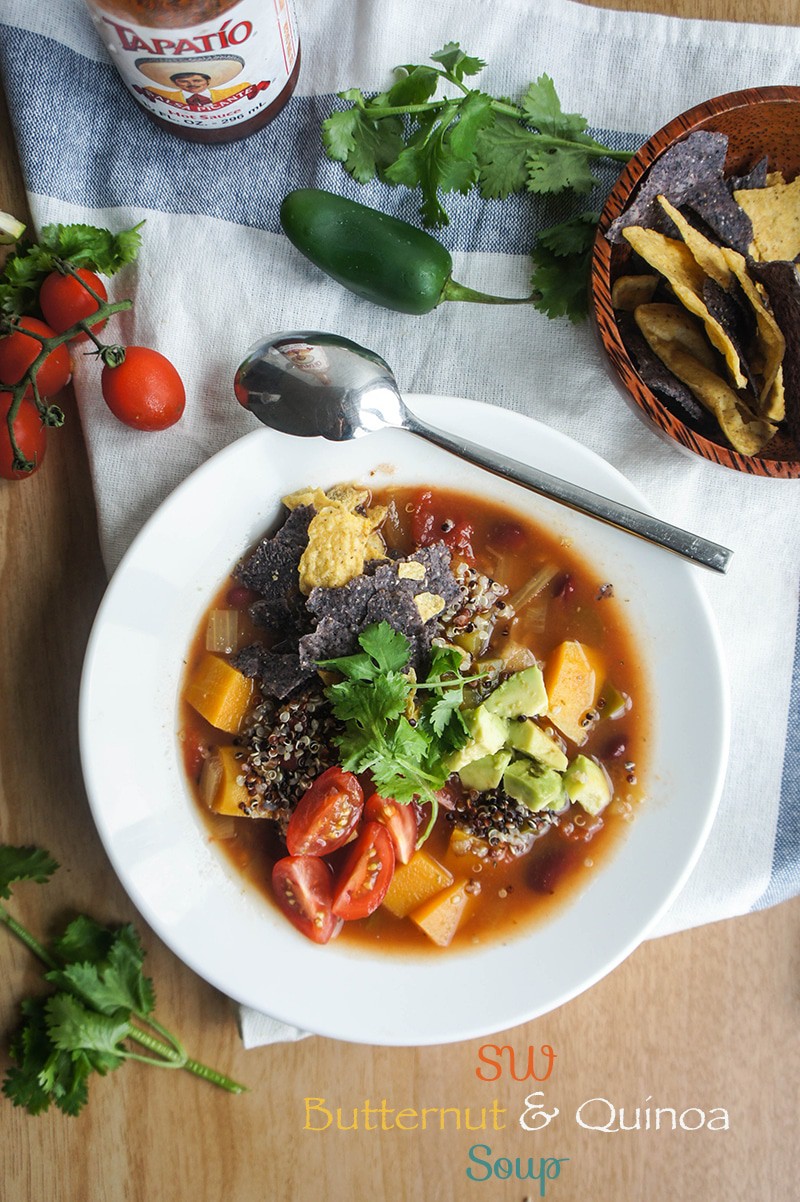 1 cup quinoa, cooked to package directions (to serve)
2 teaspoons olive oil
2 medium onions, chopped finely
5 cloves garlic, minced
1 bell pepper, diced
1 teaspoon cumin
1 teaspoon Mexican oregano
½ teaspoon chili powder
¼ teaspoon coriander
1 tablespoon vegetable bouillon + 5 cups water (or 5 cups vegetable broth)
1 can diced tomatoes
½ butternut squash (4 heaping cups peels and cubed squash)
1 can black beans, rinsed and drained
2 teaspoons hot sauce (I like Cholula and Tapatio)
sea salt, to taste
tortilla chips (to garnish)
avocado (to garnish)
cherry tomatoes (to garnish)
cilantro (to garnish)
extra hot sauce or salsa, optional
Add the olive oil to a large soup pot, and add the onions and garlic. Saute for 7-10 minutes over medium high heat, until both are translucent.
Add the bell pepper, and all the spices.
Add the tomatoes, and water and vegetable bouillon. Bring to a boil, then reduce to medium, and continue to simmer for 20-30 minutes.
Add the butternut squash and black black beans. Season with sea salt and hot sauce.
Once the squash is tender, remove from heat.
Serve the soup with quinoa. I prefer not to add the quinoa while the soup is cooking to prevent it from getting soggy.
Garnish with chips, cilantro, avocado, and tomatoes. The garnishes are what really make this a fun soup!
Recipe by
Sunkissed Kitchen
at https://sunkissedkitchen.com/sw-butternut-quinoa-soup/