Crockpot Chicken Sausage Spaghetti Sauce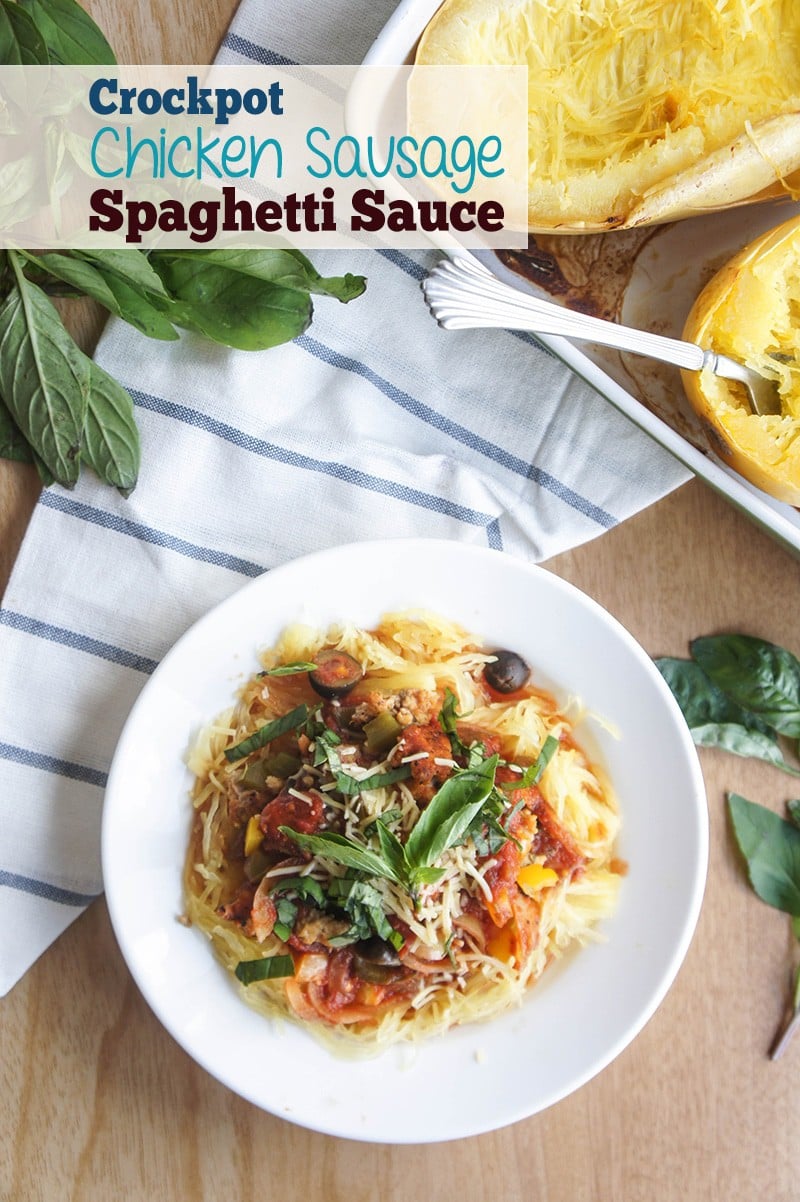 2 teaspoons olive oil
1 pound Italian Chicken Sausage
24 ounces tomato puree
2 cups fresh cherry tomatoes, sliced in half
2 tablespoons Italian seasoning
2 teaspoons garlic powder
½ teaspoon cumin
½ teaspoon red chili flakes
sea salt, to taste (I used unsalted tomato puree, so used ½ teaspoon sea salt)
2 bell peppers (I used 1 green, 1 yellow)
1 onion, sliced thinly
½ cup sliced black olives (I used ½ a can)
In a frying pan, add olive oil, and brown the chicken sausage over medium high heat. It isn't necessary to cook it all the way.
Add the chicken sausage, tomato puree, tomatoes, and spices to a crock pot. Cook over low heat for 2 hours, or high heat for 1 hour.
Add onion, bell peppers, and olives, and continue cooking for another 1½ hours on low, or 45 minutes on high heat.
Preheat oven to 425 degree f. Slice spaghetti squash in half. Clean out the seeds and pulp.
In a baking dish, put squash face down, and add ¼ inch of water. Cover tightly with foil, and bake for 1 hour and 20 minutes, or until tender and easily pulls out of the shell.
Recipe by
Sunkissed Kitchen
at https://sunkissedkitchen.com/crockpot-chicken-sausage-spaghetti-sauce-paleo-low-carb/