Fruit Pizza on a Snickerdoodle Crust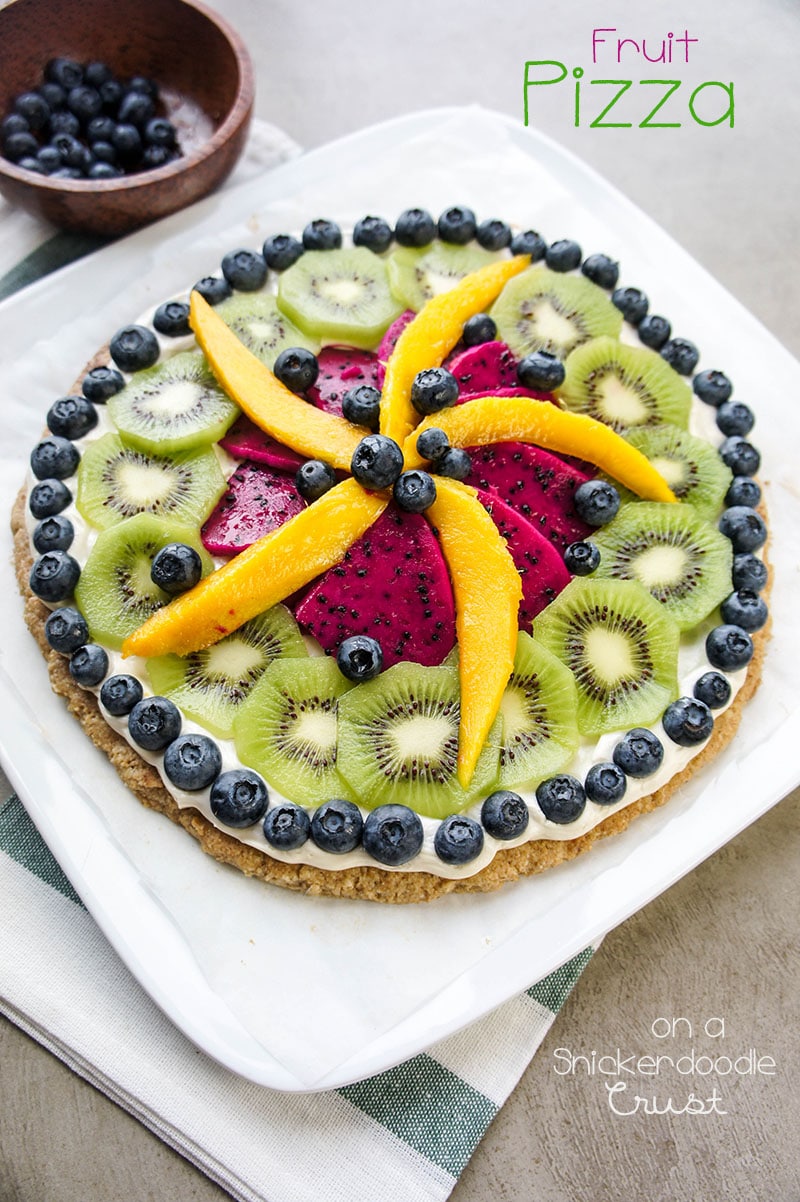 1 container whipped cream cheese
2 tablespoons honey
1 teaspoon vanilla extract
¼ large dragon fruit, quartered and thinly sliced
2 kiwi, thinly sliced
¾ cup blueberries
½ mango, sliced
After making the Snickerdoodle dough, place it in the fridge to chill for 20 minutes.
Preheat oven to 350 degrees F.
Add honey and vanilla to the whipped cream cheese, and stir to combine. If subbing a non-whipped cream cheese, put in the food processor and whip in the honey and vanilla for about 1-2 minutes, until the mixture is very smooth (when I do this, I let the cream cheese warm up to room temperature first).
Allow the cream cheese frosting to cool in the fridge while the cookie is baking.
Once the dough has cooled, it will be easier to work with. Create a ball, and then flatten the ball onto parchment in a circle. My circle was about 10 inches in diameter. Use wet hands, or a wet rolling pin, to roll out evenly, and even out the edges.
Bake for 14-16 minutes. Turn off the oven, but leave the cookie in the oven for about 15 more minutes. This will allow the cookie to become a bit crispier, and will help it hold up to the toppings better.
Allow the cookie base to completely cool in the refrigerator or freezer. When ready to top, frost it with the cream cheese mixture, and layer the fruit on in any design you'd like.
The cookie base will cut the cleanest/nicest when the "pizza" is cold.
Store refrigerated for up to 5 days (the fruit will begin to look sad after 3 days!).
Recipe by
Sunkissed Kitchen
at https://sunkissedkitchen.com/fruit-pizza-on-a-snickerdoodle-crust/