Basil Pesto White Bean Hummus (Recipe Redux)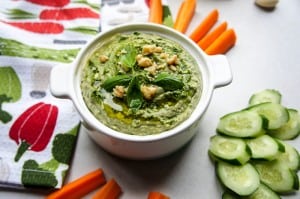 1 can white cannellini beans (or white kidney beans), rinsed and drained
1-1½ tablespoons lemon juice, to taste*
1 tablespoon tahini
¼ teaspoon sea salt (or more, to taste)
olive oil, more pesto, walnuts, and basil leaves (optional, to garnish)
Add all ingredients to a food processor, starting with 1 tablespoon of lemon juice and ⅛-1/4 teaspoon of sea salt.
Process for 2-4 minutes, until desired creaminess is achieved.
Taste, and adjust lemon juice and sea salt. The amount of lemon juice and sea salt needed will vary depending on how much you used in the pesto. If subbing a store bought pesto, the amounts necessary will vary, as my pesto recipe already has more lemon juice than a typical store bought variety.
When serving, drizzle hummus with a high quality olive oil, and swirl in another teaspoon or two of pesto. To make it extra fancy, sprinkle with basil and chopped walnuts.
Serve with chopped vegetables, pita bread, or chips, or use as a spread for sandwiches or a flavorful topping for salads or roasted veggies (we've done all of these things this week!).
Recipe by
Sunkissed Kitchen
at https://sunkissedkitchen.com/basil-pesto-white-bean-hummus-recipe-redux/