Warm Winter Red Rice, Arugula, and Brussels Sprouts Salad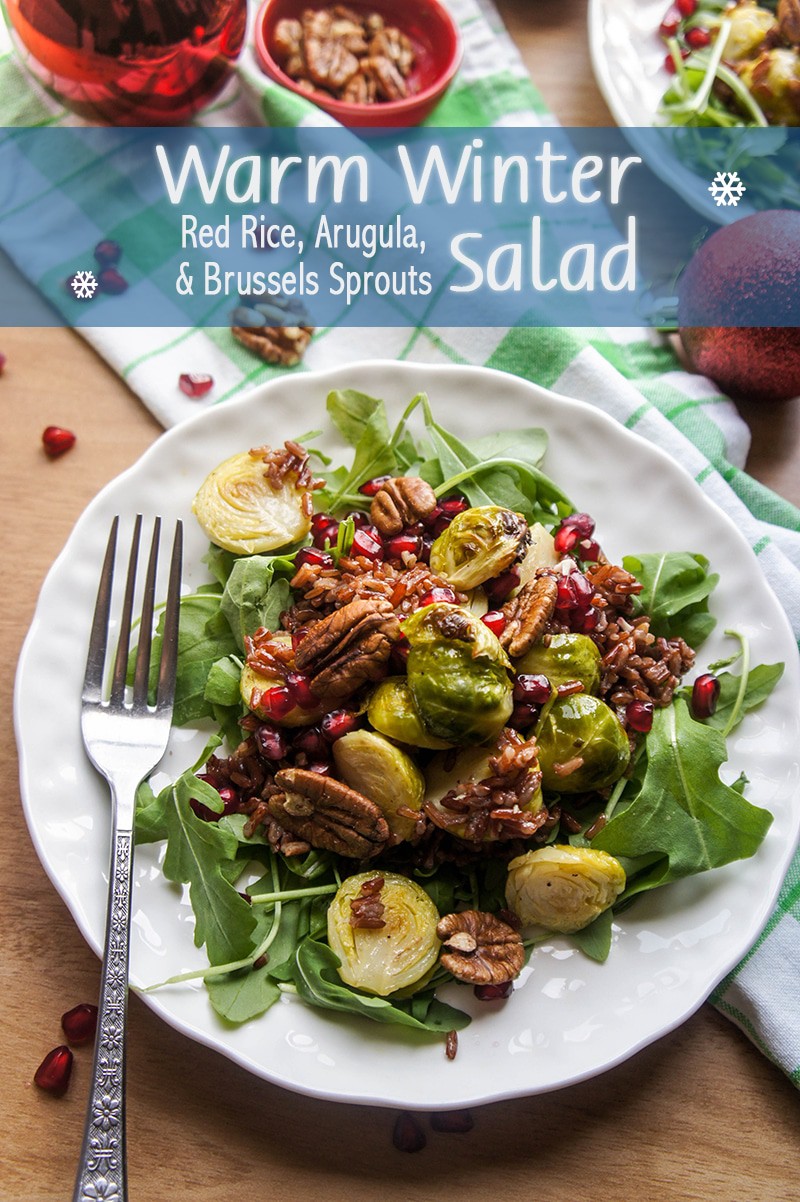 1 pound brussels sprouts
1 teaspoon olive oil
sea salt and freshly ground black pepper, to taste
½ cup red rice
1 cup water
½ teaspoon vegetable bouillon (I use Rapunzel)
1 teaspoon butter
3 cups arugula
¾ cup pomegranate arils (1 small pomegranate, or ½ a large)
4 tablespoons pecans or walnuts
2 tablespoons lemon juice
2 tablespoons red wine vinegar
1 tablespoon olive oil
½ tablespoon honey
Preheat oven to 350 degrees Fahrenheit. Toast pecans or walnuts for 10 minutes.
Raise oven temperature to 425 degrees Fahrenheit.
In a roasting pan or a cookie sheet, lay out brussels sprouts, trimmed and cut in half. Sprinkle with olive oil, sea salt, and pepper.
Roast brussels sprouts for 15 minutes. I like them crunchy on the outside, but still a bit crisp on the inside. If you like yours cooked well throughout, lower the cooking temperature to 400 and cook for 20-25 minutes.
In a sauce pan, add red rice, water, bouillon and butter. Over high heat, bring to a boil. Lower the temperature to low, and cover with a lid once water is boiling. Continue to cook for another 15-20 minutes, until all water is absorbed. Fluff rice with a fork and allow to cool a bit.
Mix all salad dressing ingredients together.
Once brussels sprouts and rice are cooked, combine the two in a bowl, and mix well with salad dressing.
On plates, layer arugula with rice and brussels sprouts mixture, then top with pomegranate arils and pecans or walnuts.
Recipe by
Sunkissed Kitchen
at https://sunkissedkitchen.com/warm-winter-red-rice-arugula-and-brussels-sprouts-salad/