Ginger Sugar Cookies (Gluten Free)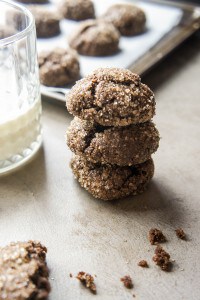 Serves:
12 large or 24 small cookies
¾ cup + 2 tablespoons oat flour (finely grind oats in high speed blender)
¾ cup cashews (processed in blender to form 1 cup cashew flour)
2 tablespoons arrowroot powder
1½ teaspoon cinnamon
1½ teaspoons ginger powder
½ teaspoon baking soda
¼ teaspoon sea salt
1 egg
3 tablespoons coconut oil (warmed to liquid, if necessary)
2½ tablespoons blackstrap molasses
2 tablespoons organic cane sugar (works best with cane, not coconut sugar)
1 teaspoon vanilla
Preheat oven to 350 degrees fahrenheit.
In a mixing bowl, add all dry ingredients, and mix well.
In a smaller bowl, mix together all wet ingredients, and stir to combine.
Add the wet ingredients into the dry, and stir together until just combined.
Chill batter in refrigerator for 1 hour. This step is not completely necessary, but it makes the dough much easier to work with. It will be a very sticky dough, and it will be difficult to roll balls. However, I have baked the dough directly, and they turn out fine- they just don't look as "neat."
Use a tablespoon or a half tablespoon measuring spoon to form balls. Roll balls in coarse cane sugar.
Add balls to a cookie sheet. Do not flatten - leaving them in balls allows them to stay chewier and more moist inside.
Bake for 10 minutes, then allow to cool.
I like to store all my healthy, gluten free baked goods in the freezer for the best texture. They will last for up to 2 months if kept frozen (but these will not be around that long!).
Recipe by
Sunkissed Kitchen
at https://sunkissedkitchen.com/ginger-sugar-cookies-gluten-free/