Roasted Beet and Carrot Quinoa Salad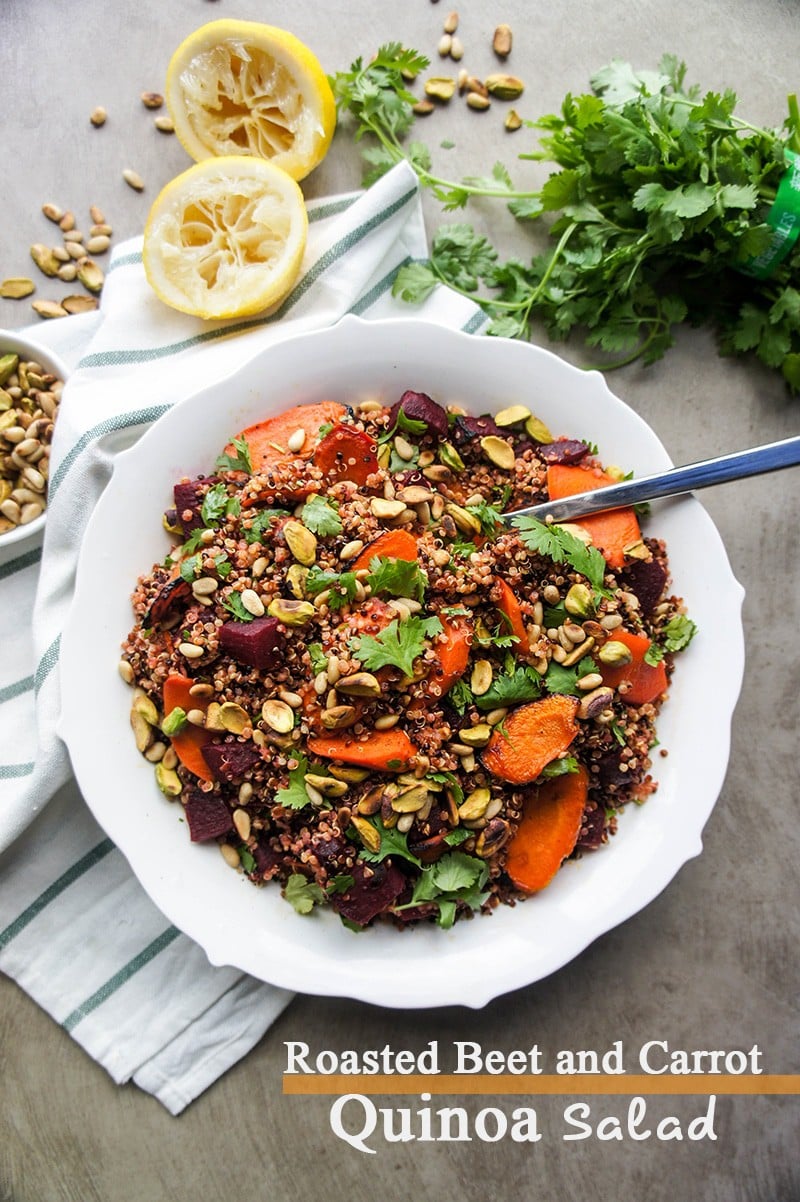 1 cup quinoa, rinsed and drained
2 large carrots, peeled and cut diagonally
1 large beet root (or 2 small beets), peeled and cut into diced sized cubes
2 tablespoons honey
1 tablespoon olive oil
sea salt and black pepper, to taste
1 cup cilantro, chopped
¼ cup pistachios, toasted
¼ cup pine nuts, toasted
¼ cup lemon juice (1 large lemon juiced)
2 tablespoons olive oil
1 tablespoon honey
1½ teaspoons cumin
1 teaspoon paprika
⅛ teaspoon turmeric
⅛ teaspoon sea salt (or more, to taste)
Preheat the oven to 425 degrees fahrenheit.
Cook the quinoa per package directions, and set aside. I take the lid off the quinoa and fluff with a fork after it's finished cooking to keep it from becoming overcooked.
On a lined cookie sheet, add the carrots and beets, keeping separate. Drizzle both with olive oil and honey, and sprinkle with salt and pepper. Use a spatula to mix up and coat all of the vegetables.
Baked the vegetables for 30 minutes, until the beet root is very soft and the carrots have begun to brown and caramelize.
Add all dressing ingredients to a small covered container and shake to mix well.
Once veggies and quinoa are cooked and have begun to cool (but are still warm), add to a serving dish or bowl. Mix in the cilantro, and drizzle the dressing over the top.
Garnish with toasted nuts right before serving.
Recipe by
Sunkissed Kitchen
at https://sunkissedkitchen.com/roasted-beet-and-carrot-quinoa-salad/