Buckwheat Zucchini Chocolate Chip Muffins (Gluten Free)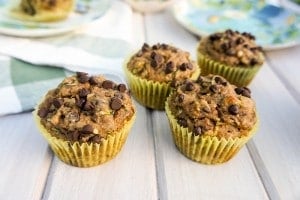 ½ cup buckwheat flour, ground from raw buckwheat groats*
½ cup almond flour
1½ tablespoons coconut sugar
1 teaspoon baking powder
½ teaspoon cinnamon
¼ teaspoon sea salt
1 small banana (or half a large banana)
1 egg
¼ cup virgin coconut oil (warmed to liquid)
1 tablespoon almond milk (or milk of choice)
½ teaspoon vanilla
1½ cups zucchini, grated
½ cup walnuts, chopped
¼ cup mini dark chocolate chips
Preheat oven to 350 degrees Fahrenheit.
Combine dry ingredients in a large mixing bowl, and stir well.
Combine wet ingredients in a smaller bowl, and mix until combined.
Add the wet ingredients to the dry, along with the zucchini, and mix until just combined, being careful not to over mix.
Add the chocolate chips and walnuts.
Add batter to a muffin tin. I like to make 6 large muffins with this recipe- which means overfilling the tins a bit. The batter is thick, so it's okay to mound it in the pan.
Bake for 20-24 minutes. They take 22 minutes to just start to brown on the tops in my oven.
*I do not like store bought buckwheat flour. I purchase raw buckwheat groats, and put in my blender. They are soft enough they make a very nice flour without too much trouble. I keep the processed flour in the freezer if I make too much- which is great to have on hand for buckwheat pancakes!
Recipe by
Sunkissed Kitchen
at https://sunkissedkitchen.com/buckwheat-zucchini-chocolate-chip-muffins-gluten-free/