This post may contain affiliate links. Please see my full
Disclosure Policy
for details.
 This Fiesta Taco Salad makes pasta night a whole lot more fun! Start with high protein Chickapea Pasta, made from chickpeas and lentils, and pile on the Mexican inspired toppings. Kid approved!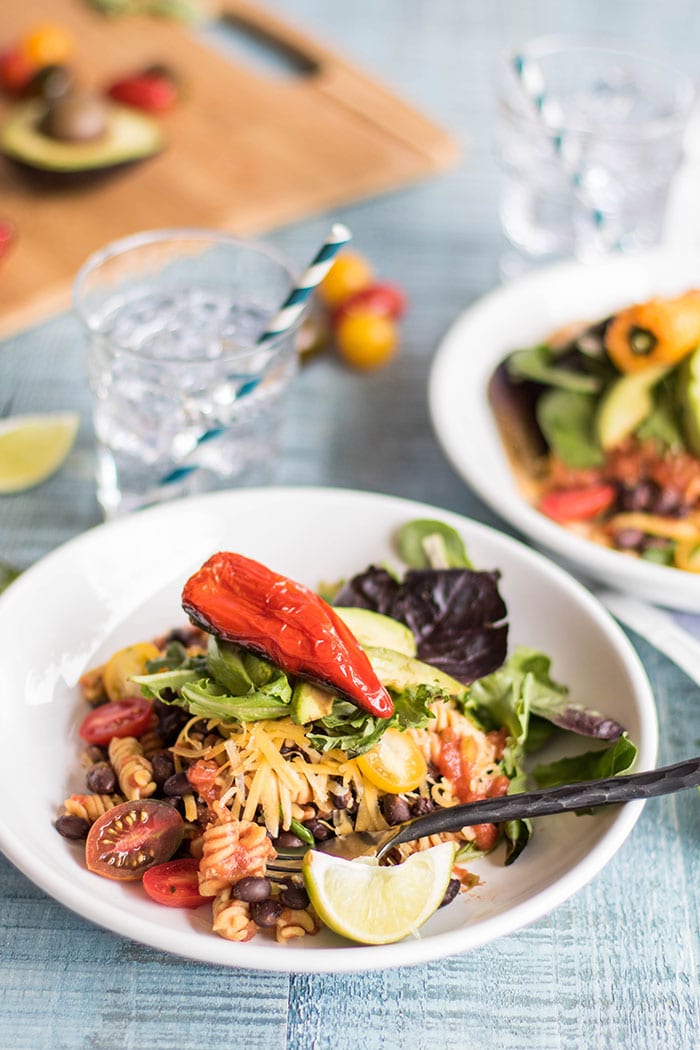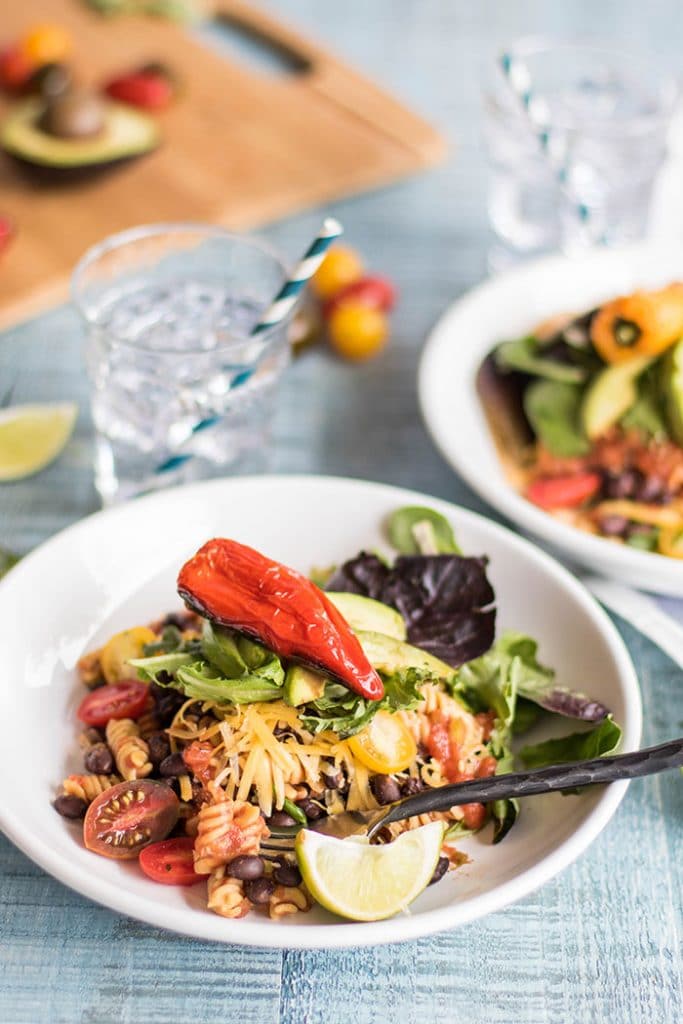 This post is sponsored by Chickapea Pasta, but all opinions are my own! This is a product I'm really happy to share, because it's so nutritious and definitely fits well into a clean eating lifestyle – especially for those busy weeks when you need something quick to serve! I'm a part of the Chickapea Team, and I've been sharing other delicious, healthy recipes featuring this product across my social media channels — so stay tuned for more inspiration!
Feeding a toddler is much more difficult than I expected. I will admit — before I had Xander, I didn't understand why parents would let their children eat "kid food" — processed crackers and french fries and chicken nuggets.
I always thought, kids eat what you give them! Give them healthy food! And while I still believe this is true, I have been tested by my now nearly-2-year-old.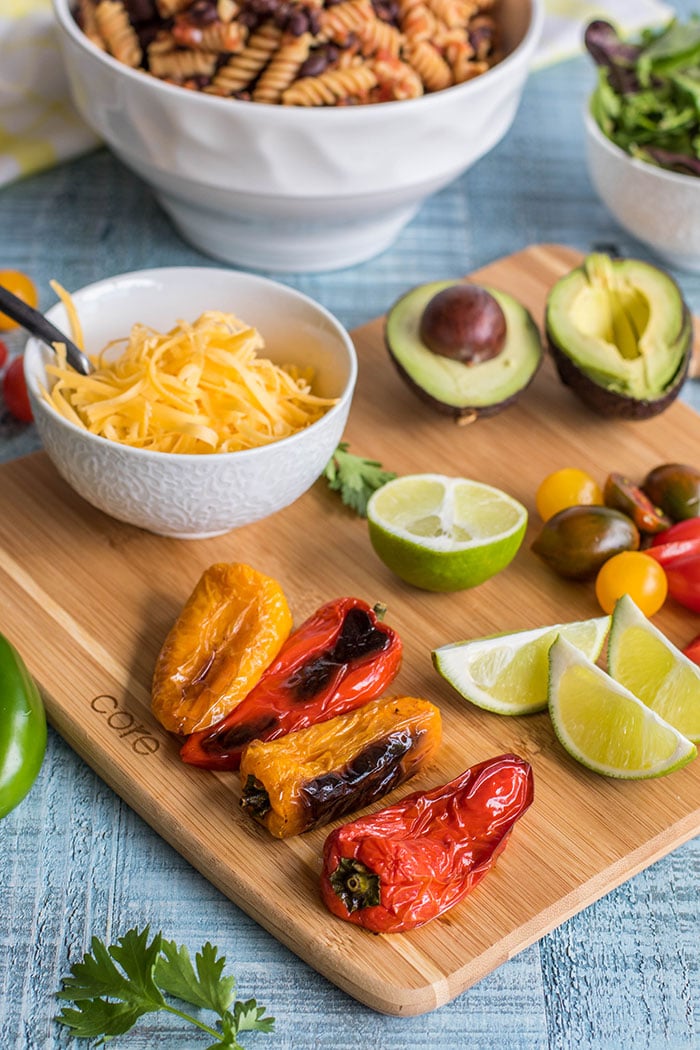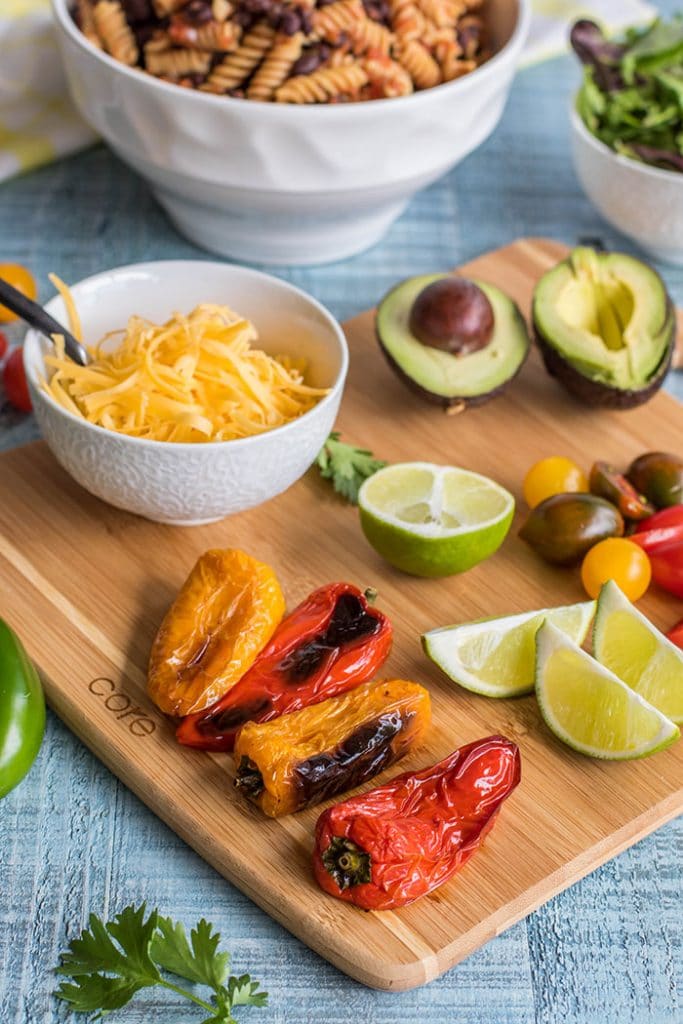 Giving him food is not just about nutrition! He is a strong willed, wily little guy. One day, he will eat soups made from cauliflower and cashews, loaded with veggies and whole grains. He will eat everything I put in front of him, and keep asking for more food. This little guy starting grabbing brussels sprouts and asparagus off my plate when he was 8 months old, and sucking on them until he had eaten them, even without teeth. I thought we were off to a great start.
But as he's gotten older, I have gotten into the bad habit of bribing good behavior with chocolate chips and Pirate's Booty. I want to be able to get walks in during the days, and he really hates being in his stroller. I put a few chocolate chips on the snack tray, and suddenly, I'm able to get exercise!
He often resists his car seat, yelling and arching his back, wanting to go play instead of running errands. A bit of Pirate's Booty in his snack cup means a much more peaceful ride!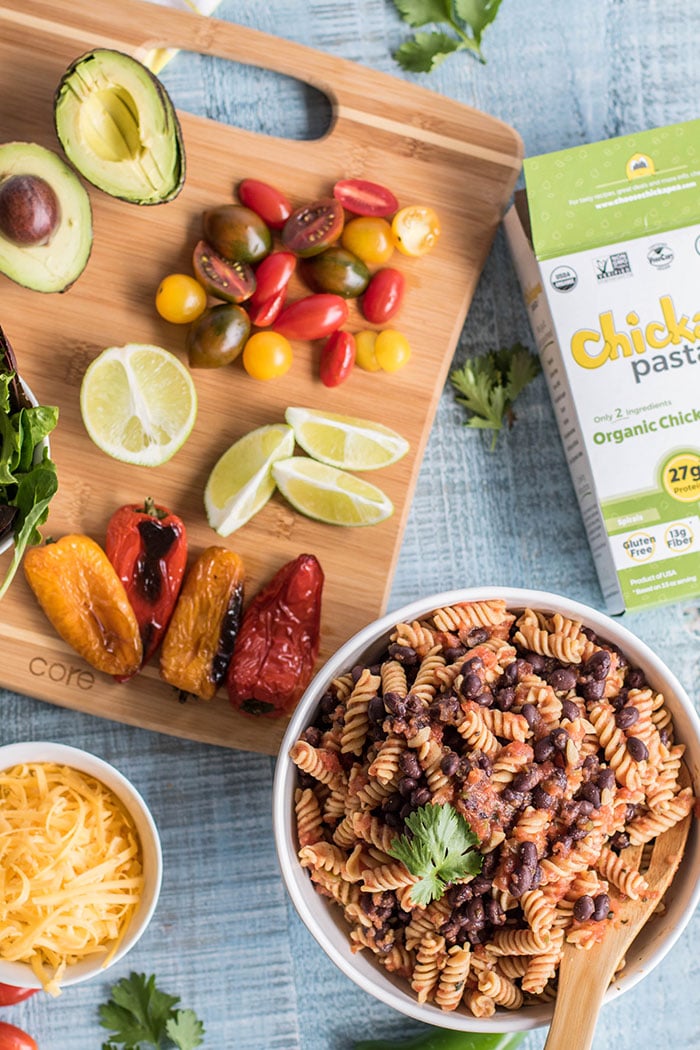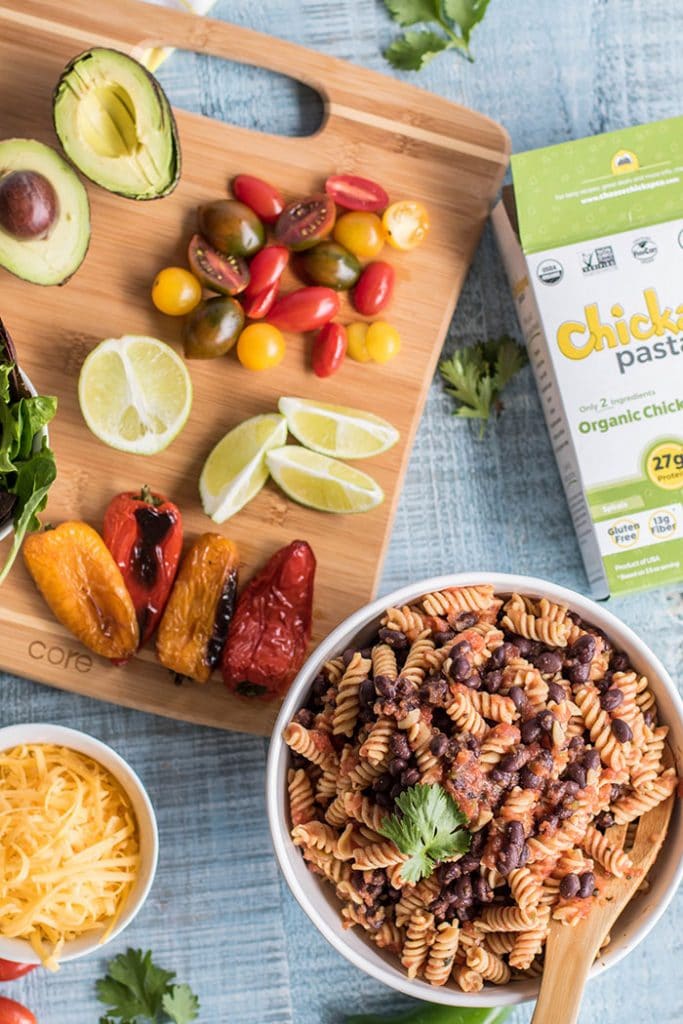 It felt so innocent at first — but now we have days where he is completely avoiding "real food," and waiting for his car ride and his "bribery" snacks.
I have said so many times that I am going to stop offering him snacks so he eats his meals better– and he will, for a couple of days, but then we have a tough stroller ride and we are back around to square one. Can anyone relate?
Even before I had Xander, nutrition for kids was a passion of mine. I think it's so important that we as parents teach our children good eating habits. And more than that, as a society, we support families and make healthy eating a bigger part of our culture.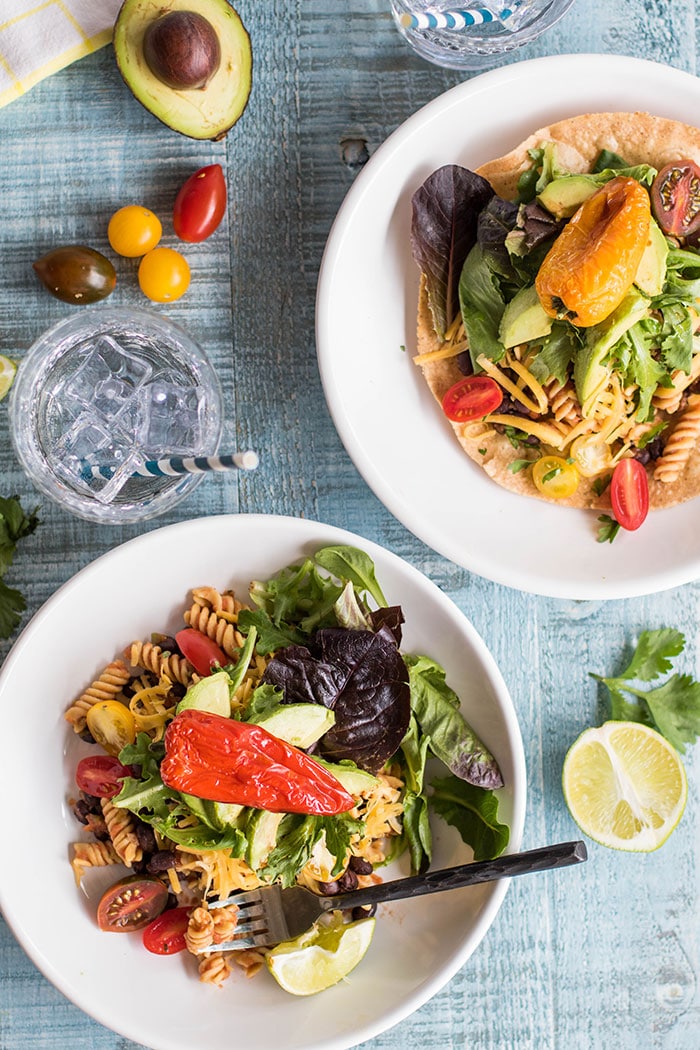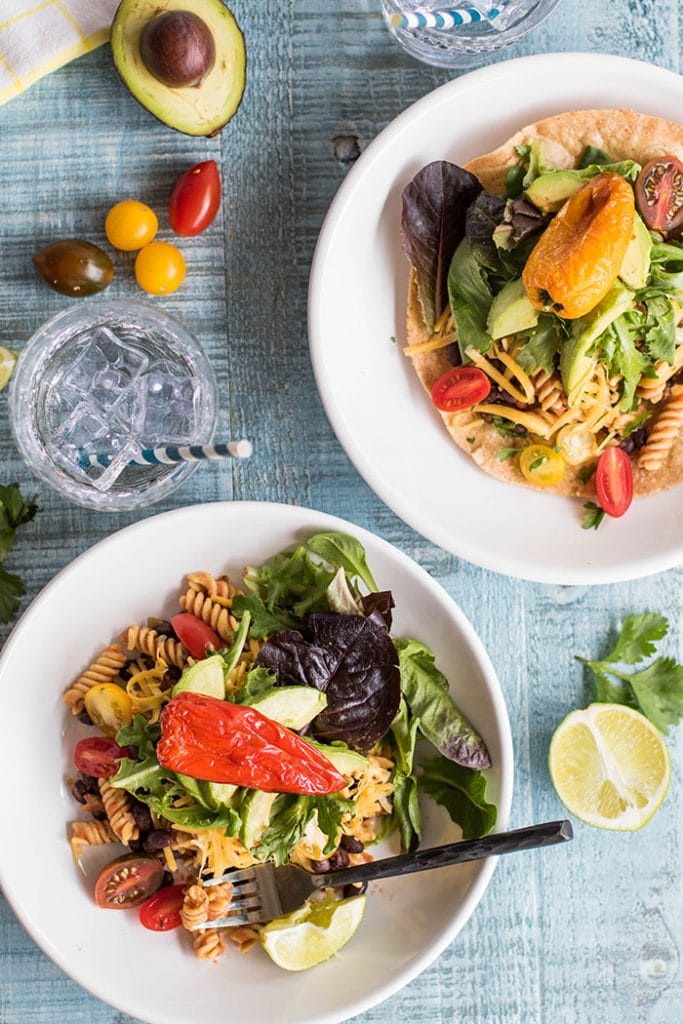 That is one of the reasons I love Chickapea Pasta. The parent company of Chickapea, Earth to Kids, Inc., shares a similar passion in making healthy food fun and accessible for kids and families. They are reaching out to school districts across Canada and the US, trying to promote healthier options in schools.
If you're worried a pasta made from only chickpeas and lentils won't appeal to young palates, I have proof it does! This dish was devoured by Xander, and my niece and nephew. Watch the video below for proof!
My niece is 3 years old, and while she opted not to put all the toppings on this dish, she loved the pasta and black beans with salsa and cheese on top. She enthusiastically told me it was a GREAT lunch, and asked if she could have this lunch again. It was hilarious! I'd wished I still had the camera running.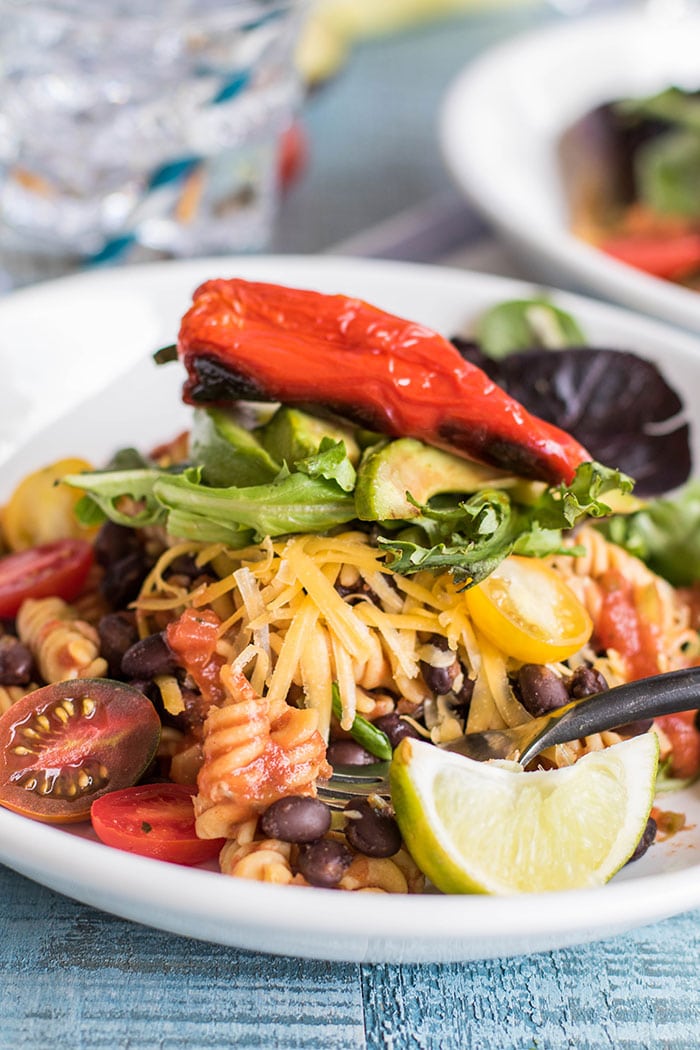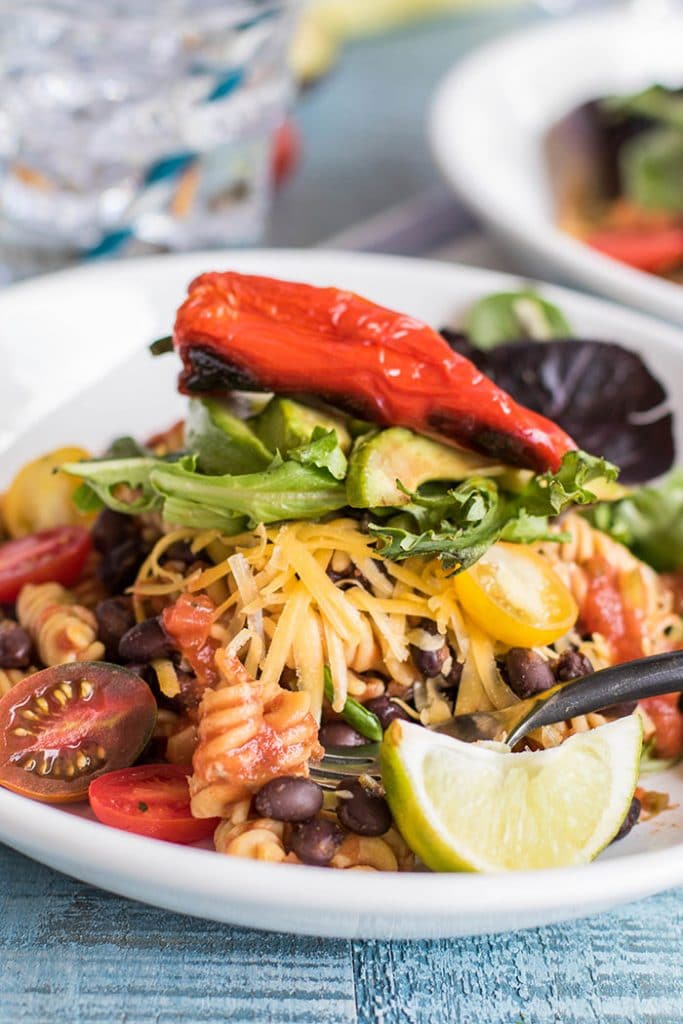 Chickapea Pasta is more than just a delicious pasta — it's a company who is working hard to change the perception of "kid food." I will be thrilled if it is a product available in my school district when Xander goes to school!
Enter the Giveaway!
I am so happy to be a part of this brand's 1 year anniversary celebration. Chickapea Pasta started in Canada, but has exploded across the US this year. If Chickapea is is not yet found in your area, you can purchase it through Amazon.
Or– enter this fun giveaway and win a case, plus more amazing prizes!
The giveaway includes: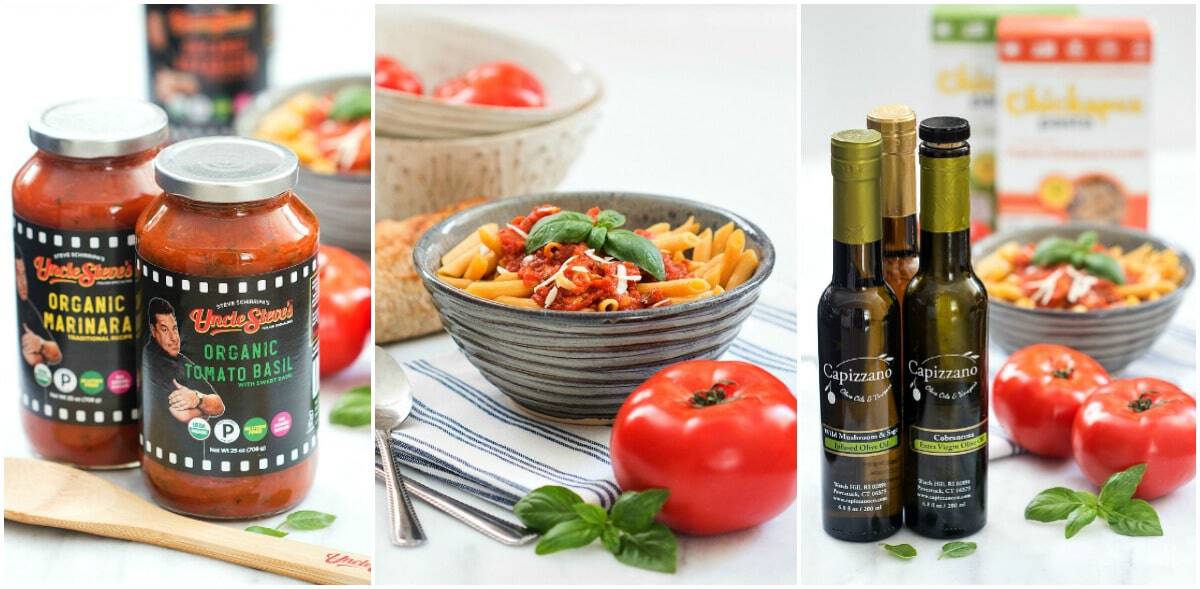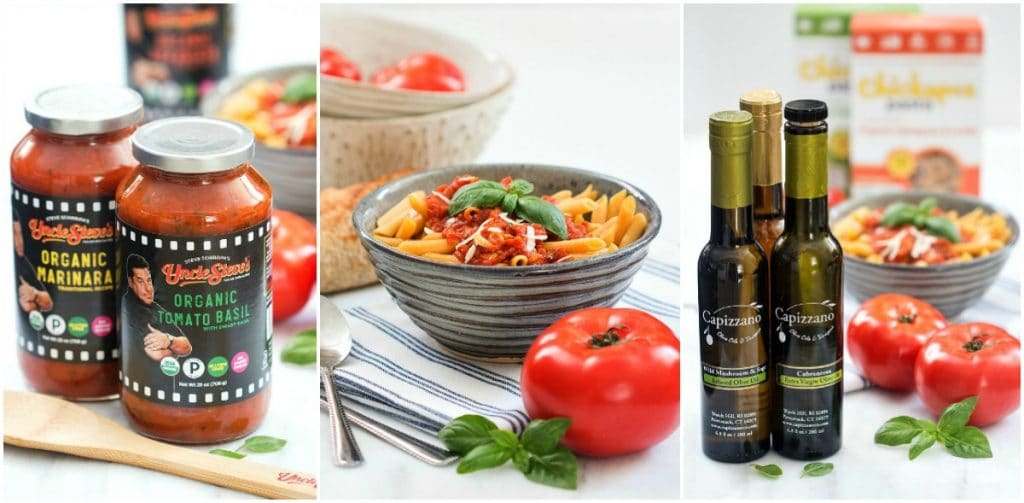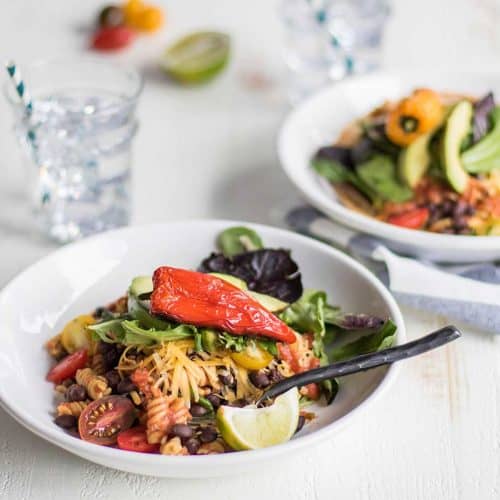 Fiesta Taco Salad
This Fiesta Taco Salad makes pasta night a whole lot more fun! Start with high protein Chickapea Pasta, made from chickpeas and lentils, and pile on the Mexican inspired toppings. Kid approved!
Print
Pin
Rate
Ingredients
4

cup

brown rice

large corn tortillas (optional)

1

box

Chickapea spirals

450

mL

black beans

rinsed and drained

350

mL

roasted tomato salsa

1-2

mL

sea salt

1/2

teaspoon

cumin

12

piece

cherry tomatoes

halved

4

handful

baby greens

4

mini

sweet peppers

spicy, if you prefer!

60

grams

cheddar cheese

shredded

1

large

avocado

sliced

1

ear

corn

roasted and cut off cob

red onion, thinly slicked

optional, garnish

lime, cut in wedges

optional, garnish
Instructions
If making the amazing Roasted Tomato Salsa from Simply Fresh Dinners (I recommend you do!), preheat oven to 425 degrees F (220 degrees C). In addition to roasting the veggies for this salsa, add the mini peppers to the baking sheet.

If using a different salsa to save time, preheat oven to 425 degrees F (220 degrees C). Add the mini peppers to a small baking tray, and roast for 20 minutes.


To make taco bowls. use an oven-safe glass bowl, and mold tortillas into the bottom of the bowl. Brush lightly with olive oil. Add to the oven with roasted peppers or salsa veggies for just the last 12-14 minutes. Repeat until you have enough bowls.


Once salsa is prepared, prepare the toppings, including cutting tomatoes, onions, avocado and corn, and shredding the cheese.


Boil pasta per package directions. This pasta cooks faster than a typical pasta, and will feel undercooked while stirring when the pasta is actually ready, so after 5 or 6 minutes, taste the pasta. When cooked al dente, this pasta has a very similar texture to regular wheat pasta.


Drain and rinse pasta, then combine pasta, black beans, and salsa in a bowl, and mix to combine. Taste, and season with sea salt and cumin (my black beans were unsalted, so I found it needed a little more salt).


Layer the pasta and black bean mixture into the tortilla bowls. If not using the tortilla bowls (they are fun, but not necessary for a delicious dish!), add mixture directly onto a plate.


Top with tomatoes, baby greens, optional corn and onions, avocado, and roasted mini peppers. Squeeze a lime to boost the flavors.

Nutrition
Calories:
661
kcal
|
Carbohydrates:
125
g
|
Protein:
20
g
|
Fat:
8
g
|
Saturated Fat:
3
g
|
Cholesterol:
10
mg
|
Sodium:
356
mg
|
Potassium:
908
mg
|
Fiber:
13
g
|
Sugar:
5
g
|
Vitamin A:
675
IU
|
Vitamin C:
12.4
mg
|
Calcium:
157
mg
|
Iron:
4.7
mg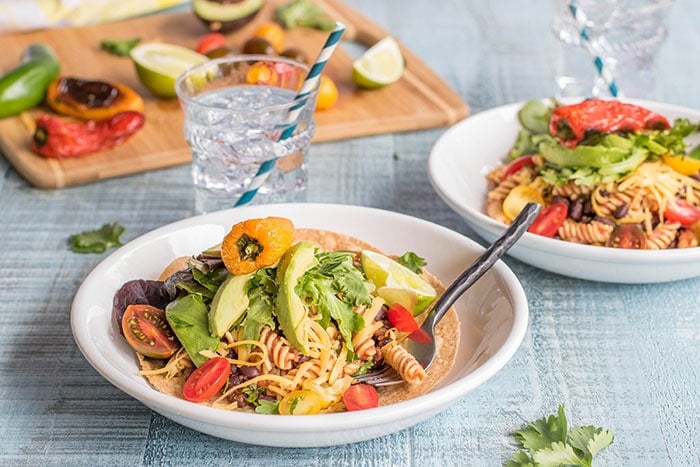 Other Healthy Recipes with Chickapea Pasta:
I'd love to connect with you on social media! Find me on Facebook or Instagram where I post daily healthy eating and lifestyle inspiration.
This post contains affiliate links, which means that if you click on one of the product links, I'll receive a small percentage of any purchases made.