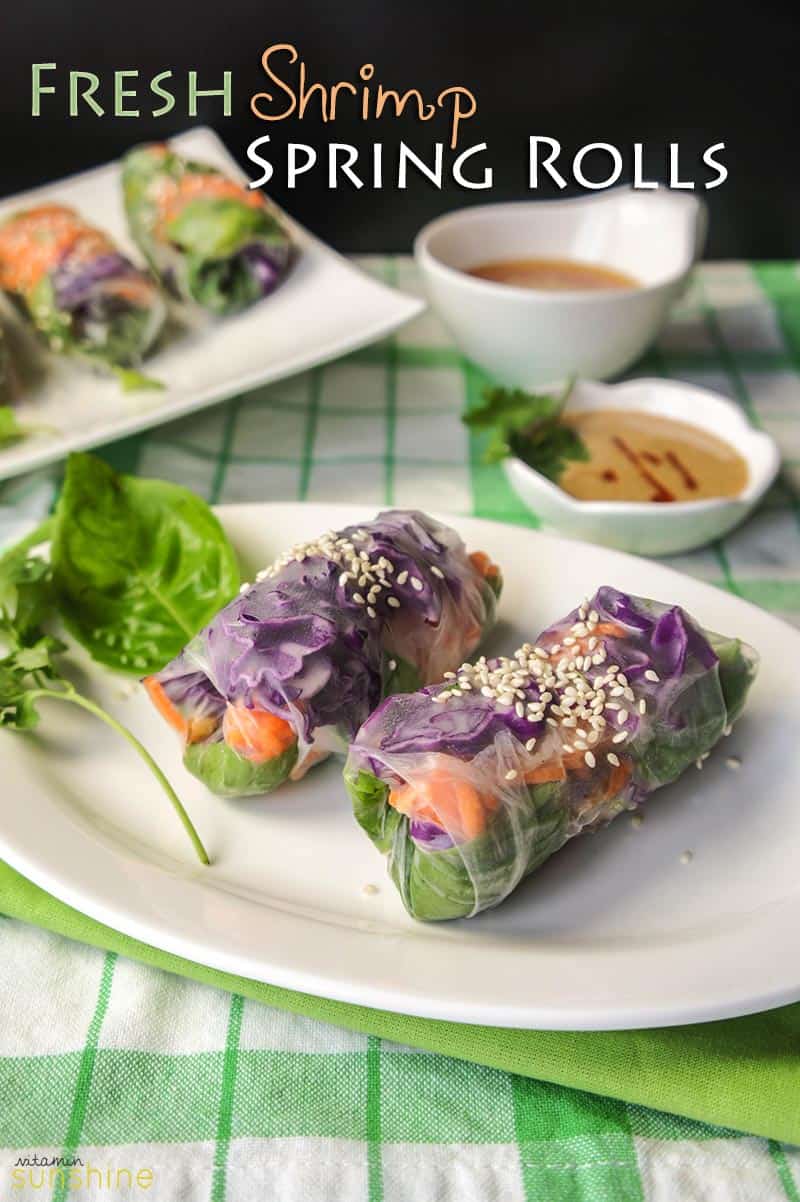 Fresh Spring Rolls are such a perfect summer meal. I've been making them for years, but rarely make variations other than my ginger chicken spring rolls. <– They are so good, it's hard to imagine making them any different.
When I make spring rolls, I fill some storage containers with the shredded veggies, and make a big-ish batch of the protein and the sauces. Alex and I will have it for a meal, and then, since they're really fast to put together once the veggies are prepped, I have them for snacks or light meals on night he's out. Or, I forgo the rice paper, and throw the veggies, herbs, and protein into a bowl, and cover it with the sauces. That makes a really awesome salad.

There's nothing wrong with packing these babies with veggies and nothing else, or with veggies and rice noodles, as you typically see around SE Asia. The sauces are where the flavor really comes from. Since I like to have these as a meal, I almost always opt for the protein option. If you're making these as an appetizer, try mango and pickled ginger.
More tips? Make more than you think you'll need. They go fast.
AND. . . the "no-peanut" sauce is really not optional. I can't say how it would taste made with peanut butter instead of almond butter (I have no idea what peanuts taste like!), but I imagine it would be good that way too. The sauces are fun, and way better than a store bought plum or sweet chili sauce. Plus, you're getting healthy fats from almonds and coconut, and no sugar– like the sauces these little babies are usually served with in restaurants.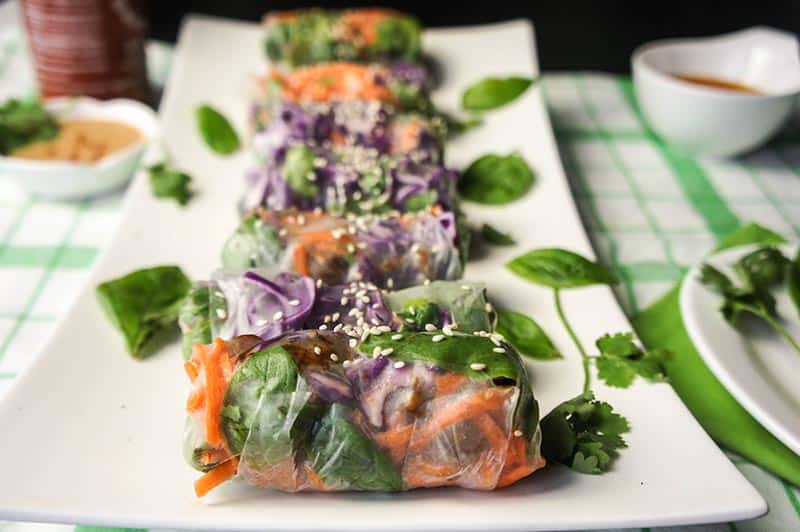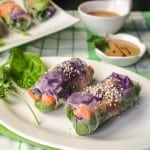 Print
Fresh Spring Rolls with Shrimp
The sauces really amp up the flavor of these rolls, and are not to be skipped! The no-peanut sauce recipe is printed below. The spicy sesame vinegar is the salad dressing for my Addictive Asian Cabbage Salad. Rice paper can be purchased at an Asian import store, or Whole Foods carries it as well in the States.
Ingredients
Spring Rolls:
Rice Paper Wrappers

1

cup

basil leaves

1/2

cup

cilantro leaves

(torn into pieces)

1 1/2

cups

shredded red cabbage

1 1/2

cups

shredded carrots

1

red bell pepper

thinly sliced (optional)
Ginger Shrimp:
1/2

pound

baby shrimp

peeled and deveined

1

teaspoon

sesame oil

2

tablespoons

fresh ginger

finely grated

1

clove garlic

finely chopped

1

tablespoon

soy sauce

1

teaspoon

rice wine vinegar

1/2

teaspoon

raw honey
"No-Peanut" Sauce:
1/4

cup

almond butter

1/4

cup

coconut milk

(full fat, from the can)

1

tablespoon

rice wine vinegar

1

tablespoon

soy sauce

1/2

tablespoon

fresh lime juice

(half a large lime)

1-2

teaspoon

sriracha

1

teaspoon

sesame oil
Instructions
Ginger Shrimp:
Add sesame oil to a frying pan, then saute the ginger and garlic on medium for 4-5 minutes, until soft and translucent. Add shrimp, and stir fry until cooked through. Add the seasonings, and adjust to taste. Set aside to cool, or place in the fridge until ready to use. It's best for the shrimp to be cooled before adding them to the spring rolls.
No-Peanut Sauce:
Add all ingredients to a blender. Blend on high speed for about a minute. The coconut milk will whip and the sauce will end up pourable, but light and airy. Once it has been refrigerated, it will solidify a bit, but remain light and airy.
Spring Rolls:
Set up a "station," with a flat, round bowl of warm (not boiling) water, and bowls of all your filling ingredients. Take a rice paper wrapper, wet it in the bowl quickly. Don't allow the rice paper to sit in the water until it's soft. It will continue to soften as the fillings as added.

Start by adding herbs to the center of the rice paper wrapper. The leaves can be left mostly whole, but tear them a bit to release the flavors. Then, add the cabbage, carrots, and bell peppers.

Add the shrimp to the center of the rolls. Try not to overfill or the papers will be difficult to roll.

Start rolling by folding the top and the bottom in towards the middle, like wrapping a burrito. Then grab a side, and roll over. The rice paper sticks to itself quite well, so the rolls stay wrapped tight.

If the rice paper is tearing, it is too wet. Try to use a kitchen towel to dry your rolling surface between spring rolls, and make sure the water isn't too hot, and the paper isn't left in the water too long.

Serve with "No-Peanut" Sauce, or a spicy rice wine vinegar. Often Thais use a sweet chili sauce or a sweet and sour tamarind sauce.
Notes
The key to making beautiful rolls is not over soaking the rice paper. I used to leave the rice paper in the water until it was soft, and then I was get frustrated with the paper tearing. Once I learned not to over soak it, I realized it's very easy to make them. They only need to be soaked in water for about 1-2 seconds (literally!).
Nutrition
Calories:
253
kcal
|
Carbohydrates:
15
g
|
Protein:
18
g
|
Fat:
15
g
|
Saturated Fat:
4
g
|
Cholesterol:
143
mg
|
Sodium:
1018
mg
|
Potassium:
553
mg
|
Fiber:
4
g
|
Sugar:
7
g
|
Vitamin A:
9774
IU
|
Vitamin C:
65
mg
|
Calcium:
180
mg
|
Iron:
3
mg
These are good, and we really enjoyed them. However, I really think the spicy ginger chicken mixture wins out as our favorite! Enjoy them however they sound the best to you, or be creative and add cashews, beef, or a different seafood. Oohh.. just got an idea for salmon spring rolls. That sounds amazing. Just keep the flavors in the fillings strong to boost the flavor of the raw veggies!