It's already "that time." The time for me to say goodbye to my casual summer vacation schedule, and hello to being up at 5:30 AM again. I go back to work on Friday! I'm trying to soak up the last of this holiday by squeezing in a few more reading by the pool sessions, and having some friends over for a BBQ this week.
I'm also starting to plan out my Sunday food prep. Lots of big salads and frozen green smoothies to help get me through the week.
I've been working on something very fun this week! I just finished writing an eBook, 7 Energizing Breakfasts that Taste BETTER than Dessert. The eBook contains new recipes not seen on the blog, an overview of my favorite energizing breakfast ingredients, links to my favorite products, and — something quite a few people have asked me for — a shopping list, in case you'd like to give all the breakfasts a try!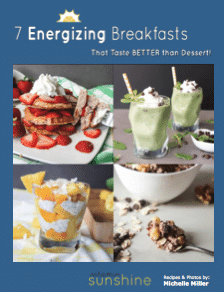 And, it's free. Starting this week, anyone who subscribes to my email list will automatically be sent a copy. Just enter your email address in the sidebar if you're interested!
Food:
Loving my Caramel Mocha Iced Coffee Concentrate— so much, that I am not even having coffee when I get up in the morning, because I can't tolerate a lot of caffeine- and I know I'd rather have an iced coffee later on! I haven't bought a Starbucks all week. It's so good, I'm working on another version. Hopefully the recipe will be ready this week!
For more reasons to love Quinoa, read this article on 11 Proven Benefits of Quinoa. I really don't have to be convinced. I love it plain, or in salads. Now, if I could just convince the grocery stores here in Malaysia to regularly stock it!
Health:
Too Fat to Run? Impossible, Says Self-Proclaimed "Fatty" Marathoner, on Refinery 29. This woman is inspirational. She began running when she weighed 300 pounds to try to do something about her weight, and has now run 10ks, half marathons and marathons. She runs a site called Too Fat to Run, which she calls a fat girl's guide to running. What I love about her story is it shows that "fit" looks different on everyone. Society looks at thin girls as being "fit," and heavier ones as being unhealthy- but that is often far from the truth.
This article, 5 Foods to Help Wean Yourself off Sugar, on MindBodyGreen suggests increasing probiotic intake to reduce sugar cravings (and lose weight in the process). I've been out of my probiotics for a while, so this is a great reminder to pick some up. I find the best way to keep myself away from processed sugar is to make sure I'm getting natural sugars from fruit, and making dessert-like treats from healthy ingredients.
While on MindBodyGreen, I also noticed an article about A Surprisingly Simple way to Heal Lower Back Pain. It was nice to confirm that I've taken the right approach to dealing with my lower back injury. I've been working out as normal, but since yoga still hurts my back, I haven't been going to yoga as often. I've noticed that since I backed off daily yoga classes and started going every 3 days, my back finally seems to be healing.
Other:
Checking my Pinterest analytics the other day, I realized my most recent images are doing the the best, and took the time to reflect on what I've learned about creating good images for blogging and Pinterest. It was exciting for me to compare my early photos and images with what I have been creating recently. I've learned so much!
On the blogging front, I found a couple great sites this week for bloggers. One is called The SITS Girls, and does a Saturday link up and comment share. Great way to spread the word! They have great tutorials for bloggers, and posted one this week called The Do's and Don'ts of Pinterest that had some excellent advice!