I love reading holiday gift guides to be inspired by unique gifts I might not have thought of! If you have loved ones who LOVE food, here are some great items to add to their stockings or wrap under the tree.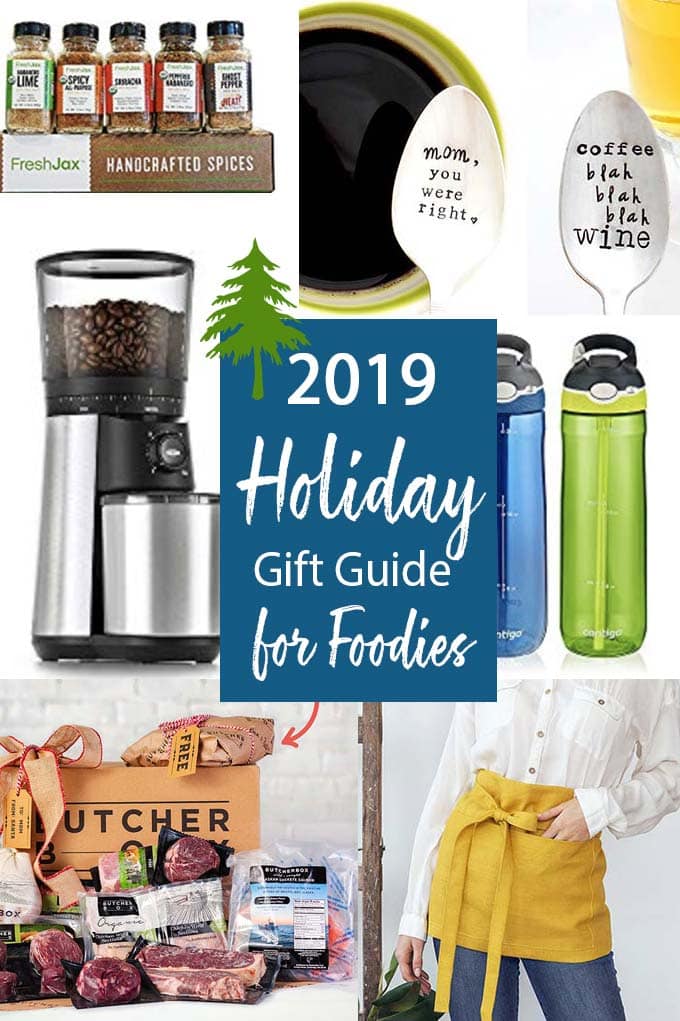 This post is sponsored by Nielsen-Massey Vanillas and includes tracking links. For more information about tracking links and how to opt out, please visit All About Do Not Track prior to clicking any links found in this post.
This post contains affiliate links. That mean if you make a purchase, I receive a small percentage of the sale, at no additional cost to you. This keeps Sunkissed Kitchen running at full speed!
I adore my "Sunkissed," "Rise & Shine," and "You are my Sunshine" spoons. I use them all the time in my photography, but also just to stir my coffee or eat my yogurt.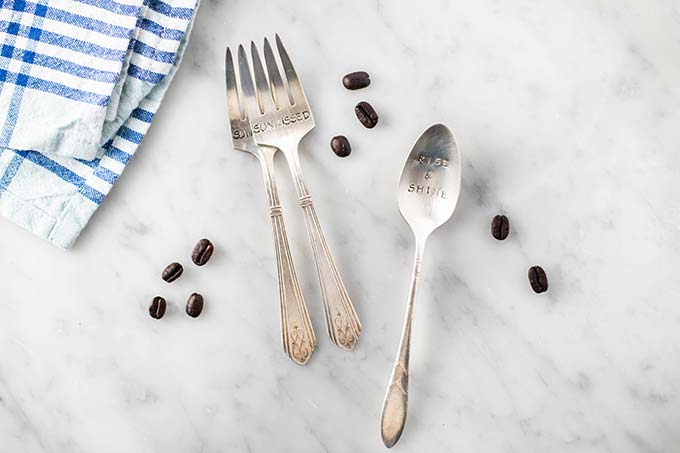 Give your loved ones something to smile about every morning while they make a cup of coffee or enjoy a bowl of cereal. I really love the silverware from the Etsy shop Sycamore Hill. She is endlessly creative, so if you aren't sure what to have stamped on the spoon, take a look at her collection to be inspired! Plus, it's all super high quality silver so you can be sure you're getting a good value!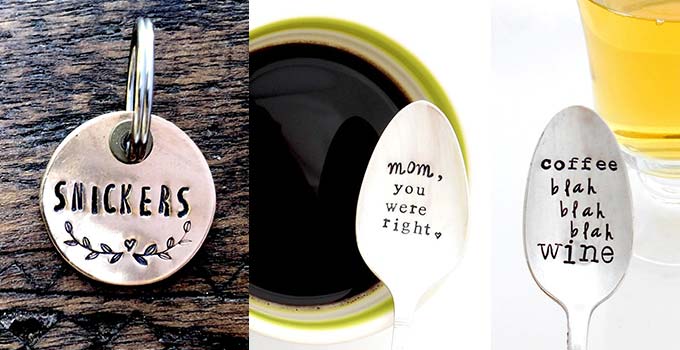 She also makes pet tags, key chain fobs, and decorative items. Browse her options – choose something custom, or just find one of her designs that suits your loved ones — she's creative and witty and her work is gorgeous.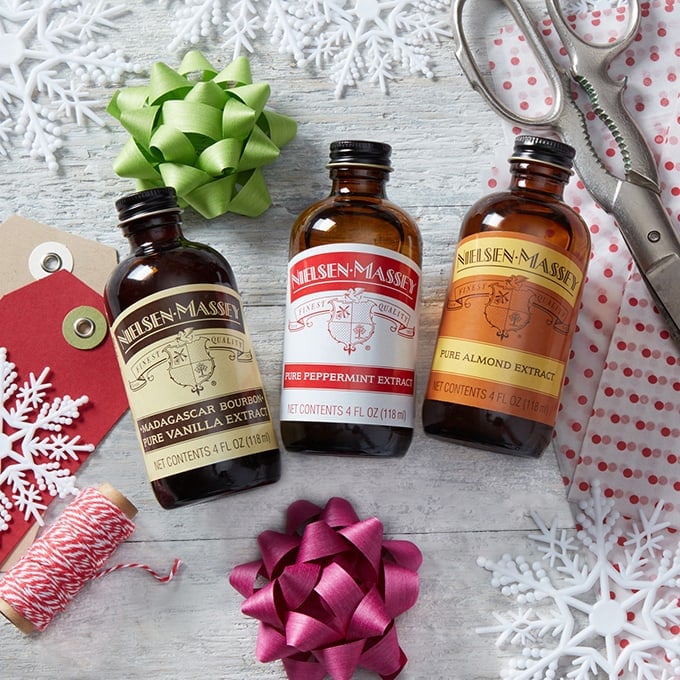 Need some really great stocking stuffers? Add these adorable bottles of Bourbon Pure Vanilla Extract, Pure Peppermint Extract, and Pure Almond Extract, from Nielsen-Massey Vanillas, and inspire your loved ones to pamper themselves with the best quality flavorings.
Using extracts in cooking is a great way to add flavor without using too much sweetener.
According to a recent survey by Nielsen-Massey, 50% of adults say they would like homemade baked goods as a holiday gift. Giving away healthy baked goods is one of my favorite gifts because they know I put my time and love into it. That's why Nielsen-Massey introduced their #BaketoShare campaign.
All Nielsen-Massey products are all-natural, allergen-free, Non-GMO Project Verified, and certified Kosher and gluten-free
Buy Nielsen-Massey Vanillas Holiday Flavors Bundle on Amazon, and then try making my Peppermint Chocolate Macaroons (Pure Peppermint Extract), Double Chocolate Oatmeal Cookies (Madagascar Bourbon Vanilla Extract), or my Gluten Free Biscotti with Cherries and Hazelnuts (Pure Almond Extract).
The Holiday Flavors Bundle is now available on Amazon — with discounts throughout the holiday baking season (before December 20th).
Start your holiday shopping early. Nielsen-Massey Vanillas is offering an exclusive deal for Black Friday and Cyber Monday. Starting on November 29th, you can get 30% off their 4 oz. Holiday Bundle. This offer is available for a limited time! (limit one per person).
3). Reusable Produce Bags
I adore these reusable produce bags I bought last year. With more and more awareness about the damage plastics are doing to our planet, I'm trying to cut uncessary use out of my life.
These are great for any produce-loving friends who also are green-conscious! I slip these into my reuse-able shopping bags, and since we usually have a set filled with produce in the fridge, I have two sets.
4). French Press Coffee Maker
Know any coffee fanatics who'd love a new, shiny French press? Even someone who uses one frequently may be in need of an upgrade, because the mesh filters don't last forever.
I adore this Veken French Press, and use it all summer to make cold brew coffee, and all winter for hot coffee drinks.
This gorgeous design also comes in multiple color options, so you can coordinate it with your receiver's style.
5). Burr Coffee Grinder
We're back on coffee again, because I am highly caffeine-driven, and know I am not alone!
This Burr Coffee Grinder is luxury! It's especially important for making the perfect cold brew or French press coffees, since the grinder creates evenly sized coffee grounds (this prevents oversteeping and "silty" coffee).
I was on the fence on whether I should spend more money on my coffee, but after giving this a whirl, I was hooked. Freshly ground beans every day, with little to clean, and I'm guaranteed the best possible coffee.
If you know any coffee snobs, make their Christmas with this premium grinder! There are cheaper ones out there, but this one looks so nice and has that touch of luxury.
6). Linen Aprons
I need an apron most days in the kitchen, but I am not into the old-fashioned ones my grandma wore when I was young!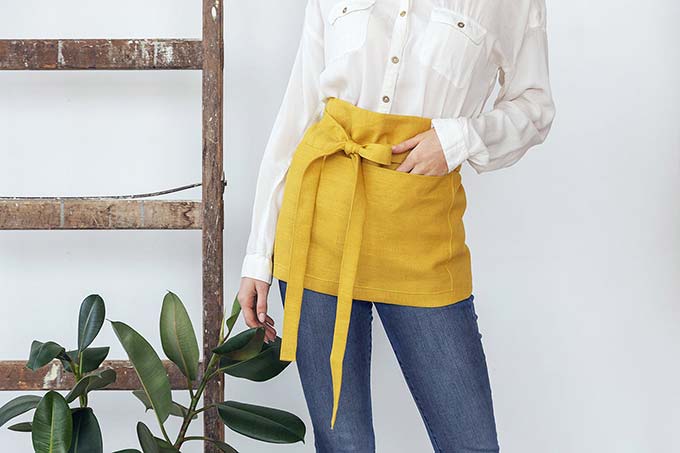 A few years ago, I ordered this linen apron off Etsy to use in photoshoots, and it quickly became my favorite thing to wear. It's comfortable, I can tuck a pen or a grocery list in the pockets. and it washes well.
They come in a variety of gorgeous colors and really feel special! Also check out the gorgeous kitchen towels! I have a few on my wish list right now.
7). Digital Meat Thermometer
I adore this thermometer, and I actually bought it for several stockings I was filling last year.
The key to perfectly cooked meat on the grill or in the oven is cooking it to the perfect internal temperature. This thermometer can help cook the perfect turkey, but also is great for grilling steaks and chicken all summer long.
I also use mine when making homemade yogurt or when I am making a recipe that needs to be baked at a precise temperature to make sure my oven is properly calibrated.
8). Water Bottles with Straws
I've had these water bottles for years, and they are my favorites. I get new ones, then go back to these older ones.
They also come at a really great price when you order a 3-pack. If you have a few friends, or fitness loving family members, who you need a small gift for, these might just be the ticket!
Make them extra festive by filling them with dark chocolate, or a pair of cozy gloves.
9). Milk Frother
I have a Nespresso Aeroccino and love making frothy beverages with it. However I got that, I use this handheld frother, and loved it.
It will add air and foam to milk or almond milk, and also is a great gadget for those who like bulletproof coffee- no blender required!
Another great use? Making protein shakes sans-blender. Add you mix to your water or almond milk, and give it a whir to make sure it's well mixed and smooth.
10). Teamotions Lemon Vanilla Green Tea
It's not all about coffee, even at my house.
For your favorite tea-sipper, give them a tea that's really special. Teamotions blends (there are lots of them!) have adaptogen herbs to help balance your body and restore it during times of stress.
Choose a blend with your friend's favorite flavors, or choose one by mood. The cans are goe
11). Nutpods Peppermint Mocha Creamer
I adore Nutpods and use it almost daily. While vanilla is my go-to, I can't help but order the holiday seasonal flavors.
They are made with almond and coconut milks, and are unsweetened – but have the best flavors and are so creamy!
The Peppermint Mocha is my favorite, so plan on buying this for your favorite chocolate lover. They are cheaper to buy a 6 pack, so consider splitting these and giving them along with another coffee themed gift, or using them as stocking stuffers (bonus: there might just be one left over for you, too!).
Also check out the classic vanilla, and the 2019 Holiday Gift Pack.
12). Butcher Box Organic & Grass Fed Meat Delivery
I started buying Butcher Boxes last year, and there's no turning back. The boxes are customizable, but typically come with a mixture of beef, pork, and chicken products. There's options to add on bacon and seafood.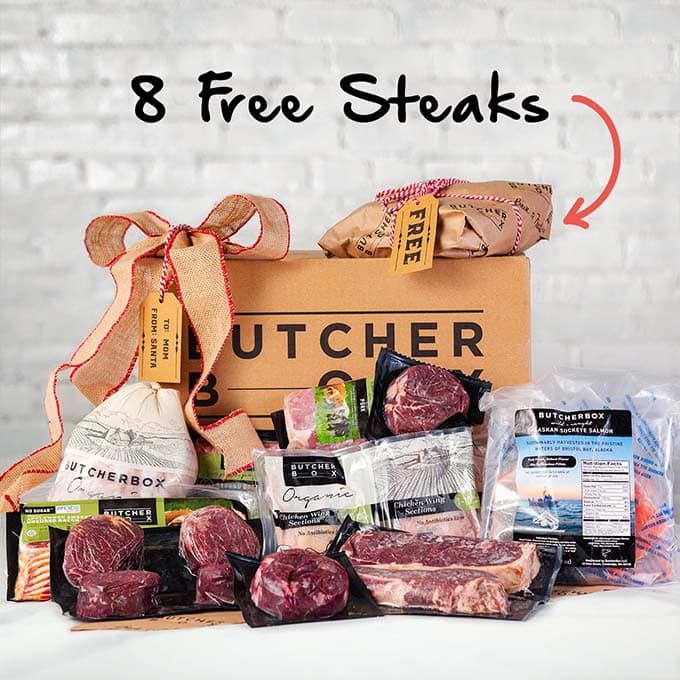 The beef is grass fed, the pork is pastured, and the chicken is organic. If you have a friend who is always trying their best to feed their families clean food, this could be the ticket. The meats are all humanely raised, which has been an increasing priority for me when purchasing meats and seafood.
When I had BBQs over the summer, I'd order extra items in my box and marinate the meats. Over and over I heard how good the meat was. It's really a night and day difference if you're used to the standard grocery store options.
Butcher Box is a subscription service, and they are always offering special deals. Currently the promotion is FREE STEAKS! In your loved one's first box, they will receive 8 free steaks!
13). Food, by Mark Hyman (or his new cookbook!)
If your friend is always trying to find the best dietary choices and is interested in optimal health, this book is the ticket! Dr. Mark Hyman's Food introduces a diet he calls "Pegan", combining the healthiest components of vegan and paleo diets. He followed that book up this year with a stunning cookbook ("Food, What the Heck Should I Eat?") sure to make healthy foodies drool (and run to the farmer's market).
I read Food cover to cover this summer, and then bought his cookbook.
Both books are eye opening and will have you adjusting your diet for optimal health. While I've strived to eat an optimal diet, I didn't understand how everything I was eating actually affected my body (and the bodies of my family). I feel better informed and have changed a lot about the way I cook day to day.
14). FreshJax Hot & Spicy Gift Set
Quality spices are a must in a clean eating kitchen! The spices from FreshJax always impress me. They come in a wide range of flavors and contain only high quality, organic herbs and spices (and are made in a gluten free facility – score!).
Browse through their gift sets, but I love this Hot and Spicy Gift Set. Break up the jars and use as adult stocking stuffers, or wrap up the whole box to enhance your foodie friend's kitchen arsenal.
You can also look at their grilling set or keto seasonings set (spoiler alert – any of their spices that don't contain brown sugar are keto-friendly!).
15). Fruit Bliss Organic Dried Fruit
I adore the pure organic dried fruit from Fruit Bliss. It really tastes like no other dried fruit you've had.
Organic fruit is dried (pure, no added sugars or preservatives), and then slightly rehydrated with water to give it an almost juicy taste.
I adore the dried cherries – they are one of my favorite snacks and I also use them in my baking. (Check out my Cherry Hazelnut Biscotti, or Dark Chocolate Cherry Energy Bars).
My son and his friends love these Fruit and Nut Energy Bites – they come in great flavors, and if you've tried this sort of "fruit and nut" snack before and not been a fan, I promise Fruit Bliss is different! The bright fruit flavors really shine through and they are more moist and chewy than others. Great stocking stuffers for adults and kids alike!