If you're channeling spring, this Salmon Grapefruit Avocado Salad will transport you to a sunny bistro patio. So many fresh flavors, this salad melds into one amazing and nutrition packed meal.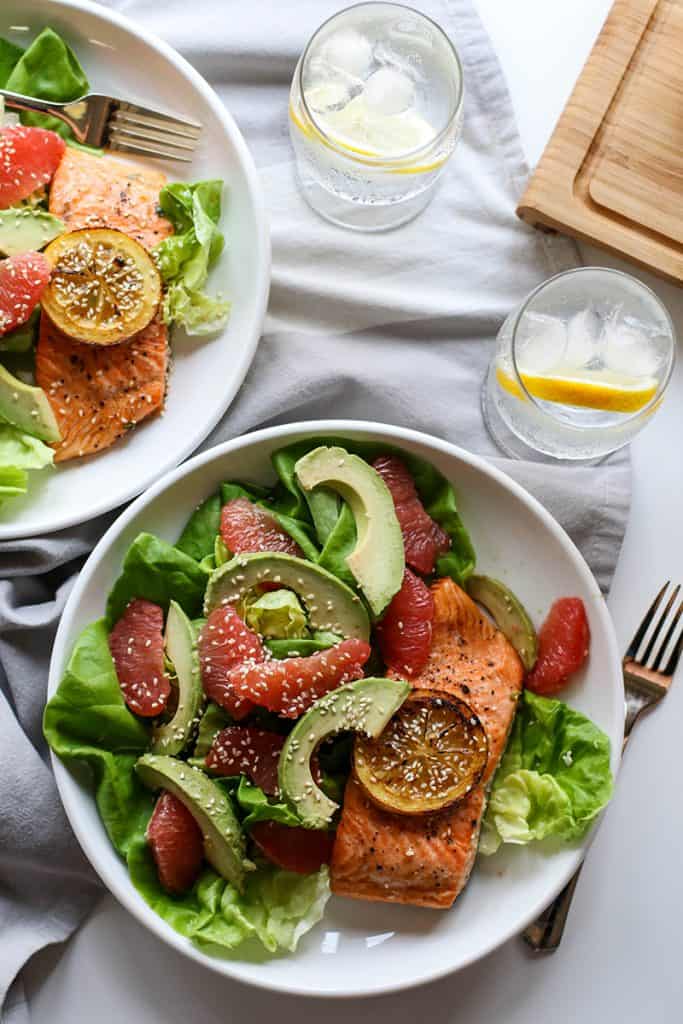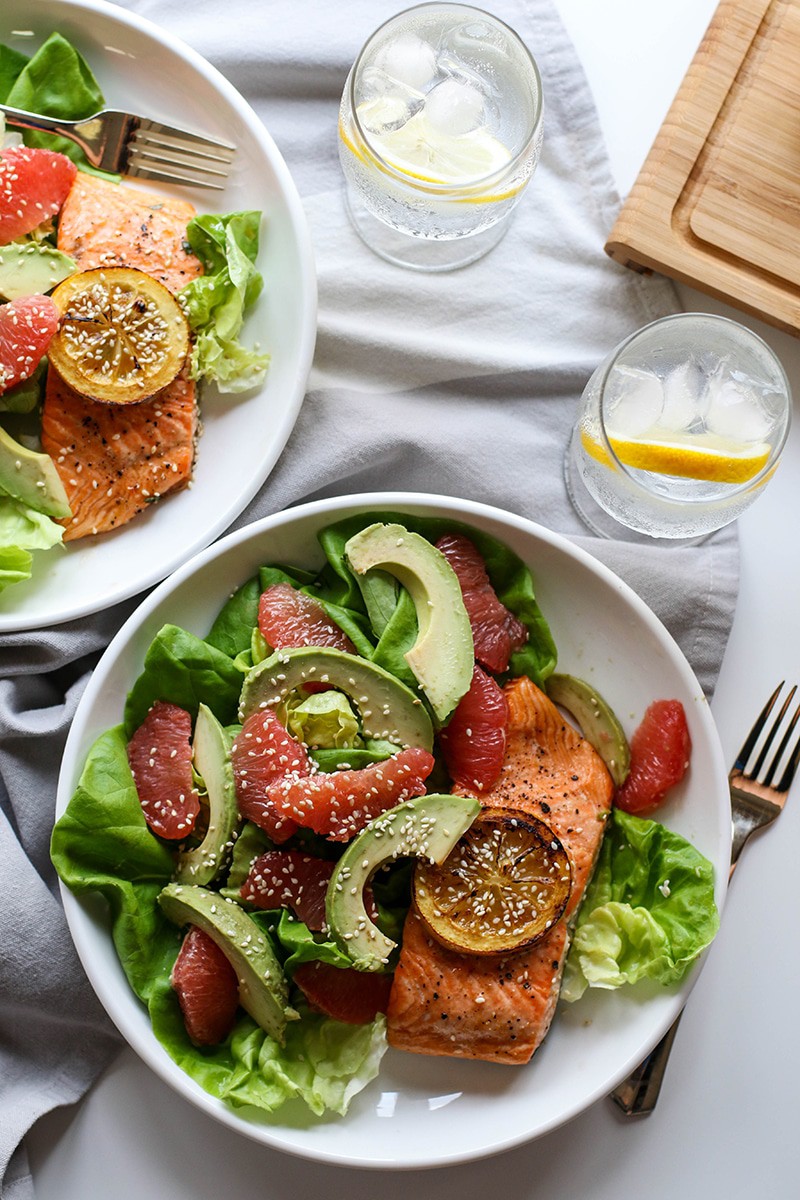 I could probably eat salmon every night and never get tired of it. It's the most perfect protein, isn't it?
When we go out to eat, Alex always looks at me and says, "I know what you're going to have. The salmon." And 99% of the time, he is right.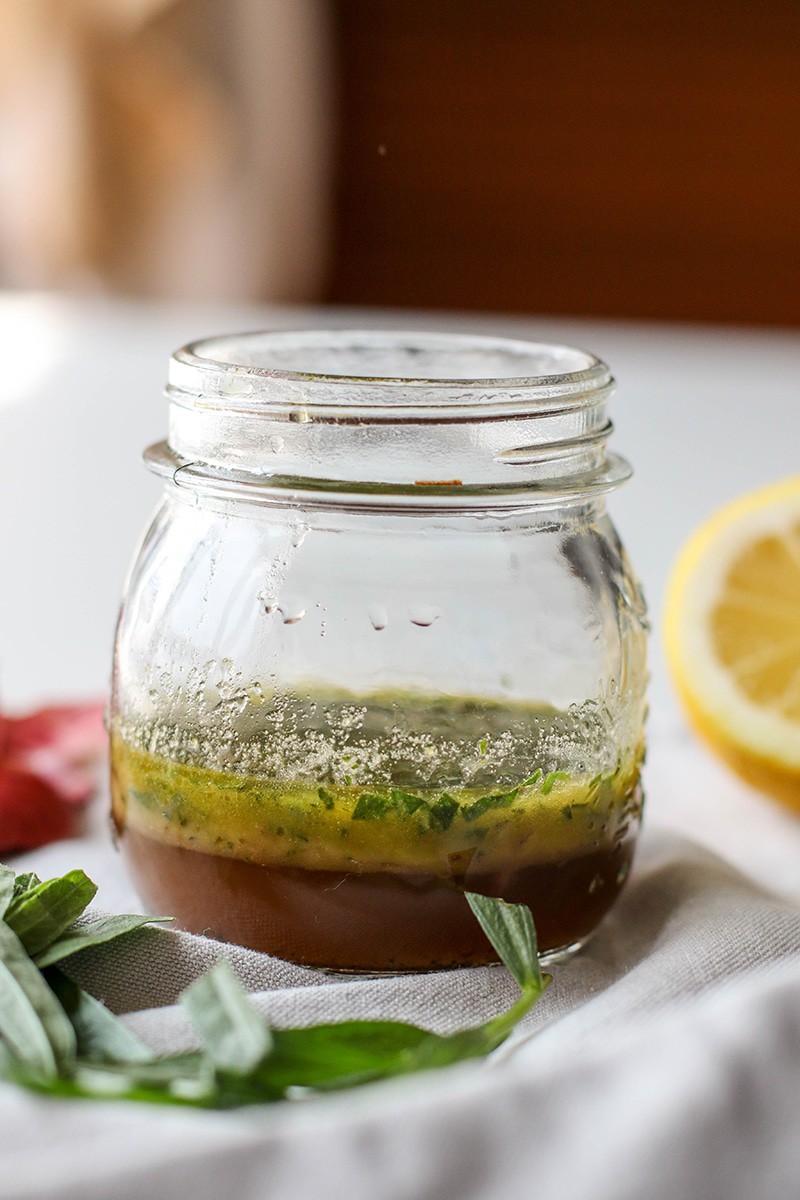 I love seafood, but find myself only cooking salmon at home. One of the reasons is I hate to clean/cut up seafood, and while I'm in Malaysia, most seafood is sold whole- which for freshness' sake, is probably awesome, but I just can't be bothered! My least favorite kitchen job IN THE WORLD is deveining shrimp. By the time I am finished, hand me a carrot stick. Shrimp for me? No thanks, I'm good.
I am challenging myself to step outside the box when it comes to seafood, so you can look forward to some healthy and delicious seafood options in the next few months. My entree archives are just way to chicken-y!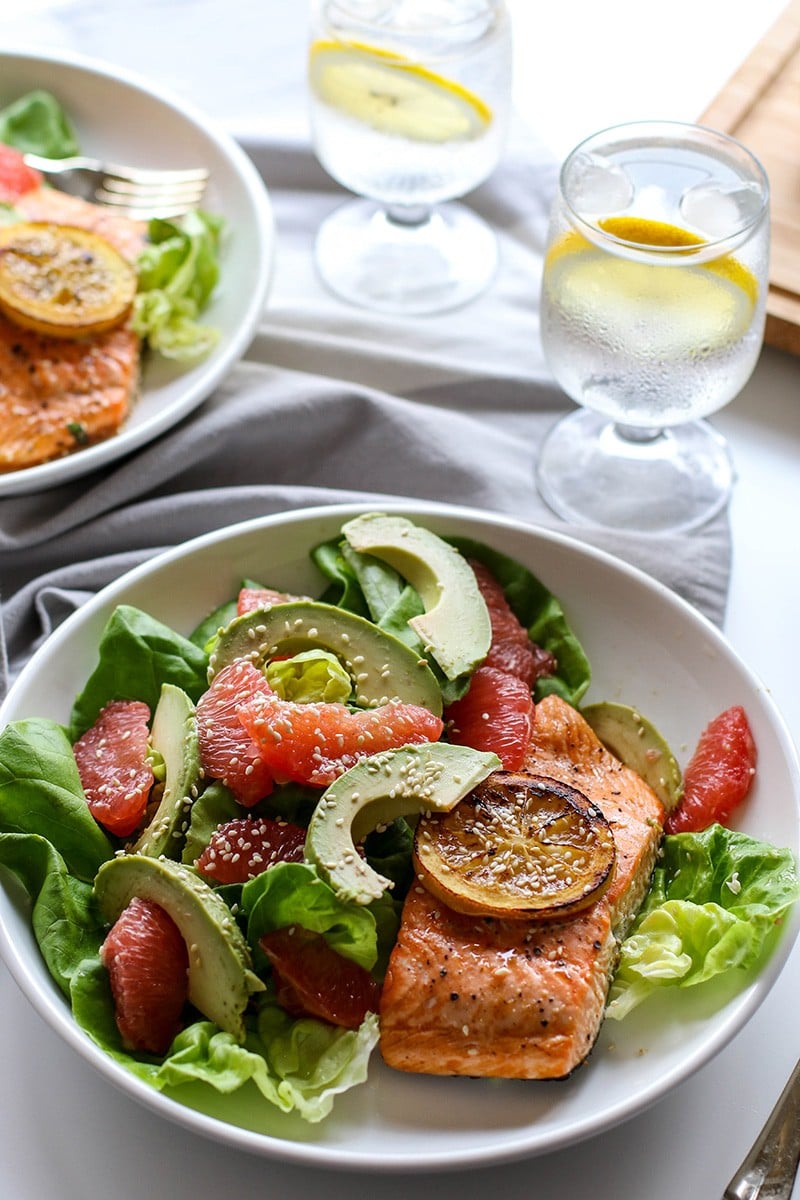 This dish is the perfect fat burning meal. Food that are high in protein take longer for your body to digest, and you burn a higher percentage of calories just from digesting protein than you do from carbs. Salmon is also rich in Vitamin D, a nutrient many of us are deficient in and don't even know it! Vitamin D is necessary for our hormones to signal our bodies to burn belly fat- so if you don't eat a lot of Vitamin D rich foods, you should probably be taking a supplement! I love Vitamin D drops — but since I eat a very healthy diet, I only take them 2-3 times a week. A bottle lasts over a year!
We always hear that grapefruit is good for weight loss, and most of that is due to its high vitamin C content. All citrus is high in vitamin C, and eating a diet rich in vitamin C can help your body burn up to 40% more calories during exercise than if deficient in the nutrient.
And avocado– high in fat, right? Don't fear fat, especially the healthy monounsaturated fats in these green jewels. These types of fats actually help our bodies burn belly fat, meaning when you're working hard at losing weight, a larger percentage will come off your midsection.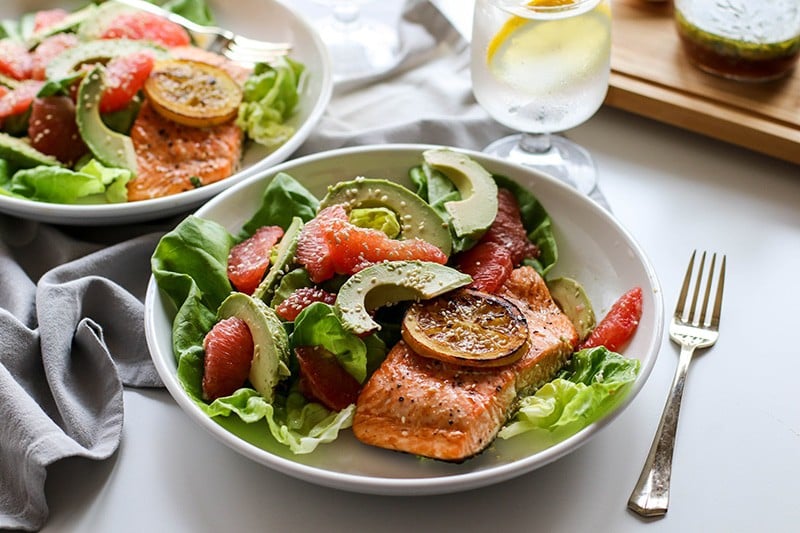 Tips for Salmon Grapefruit Avocado Salad
This salad is best prepared and served immediately.
Make it Whole30: Omit the honey from the recipe, and I prefer to not use the mustard powder when I am not using a sweetener.
Michelle @ Vitamin Sunshine
Yields 4 salads
Salmon Grapefruit Avocado Salad with Shallot Tarragon Vinaigrette
These lively salads are packed full of nutritious ingredients, and have you channeling spring!
20 minPrep Time
15 minCook Time
35 minTotal Time
Ingredients
4 3-4 ounce salmon fillets
sea salt, pepper, and lemon juice, to taste
1 head butterhead lettuce (Boston or Bibb are the same)
2 grapefruits
1 large avocado
sesame seeds, to garnish (optional)

Shallot Tarragon Vinaigrette

3 tablespoons fresh tarragon, chopped finely
3 tablespoons olive oil
3 tablespoon lemon juice
2 tablespoons red wine vinegar
1 tablespoon shallot, minced
½ tablespoon honey
¼ teaspoon mustard powder
Pinch of sea salt
Instructions
Preheat the oven to 400 degrees F.
On a baking sheet, add salmon, and season with sea salt, pepper, and lemon juice (or just add a slice or two of lemon to the tops).
Bake salmon for 15 minutes, or until done to liking.
Break apart lettuce leaves and lay out on plates. I don't generally chop this lettuce since it's so light.
To cut the grapefruits, first cut the peel off the whole citrus. Then take a knife and cut down one side of a section, and then the other side of a section, and remove. Cut off the layer of pith, and then cut off the next section of grapefruit. Repeat until both fruits are finished.
Slice the avocado, and then add grapefruit and avocado over all the salads.
Add all ingredients for the dressing to a jar, and shake well.
When salmon is done, add 1 fillet to each plate, and then drizzle everything with the dressing.
Serve immediately.
Notes
*Nutrition facts do not include the dressing.
7.8.1.2
68
https://sunkissedkitchen.com/salmon-grapefruit-avocado-salad/
Michelle @ Vitamin Sunshine
Nutritional data for Salmon Grapefruit Avocado Salad and images courtesy of www.NutritionData.com.
Other Salmon Salad Recipes:
I'd love to connect with you on social media! Find me on Facebook or Instagram where I post daily healthy eating and lifestyle inspiration.
This post contains affiliate links, which means that if you click on one of the product links, I'll receive a small percentage of any purchases made.