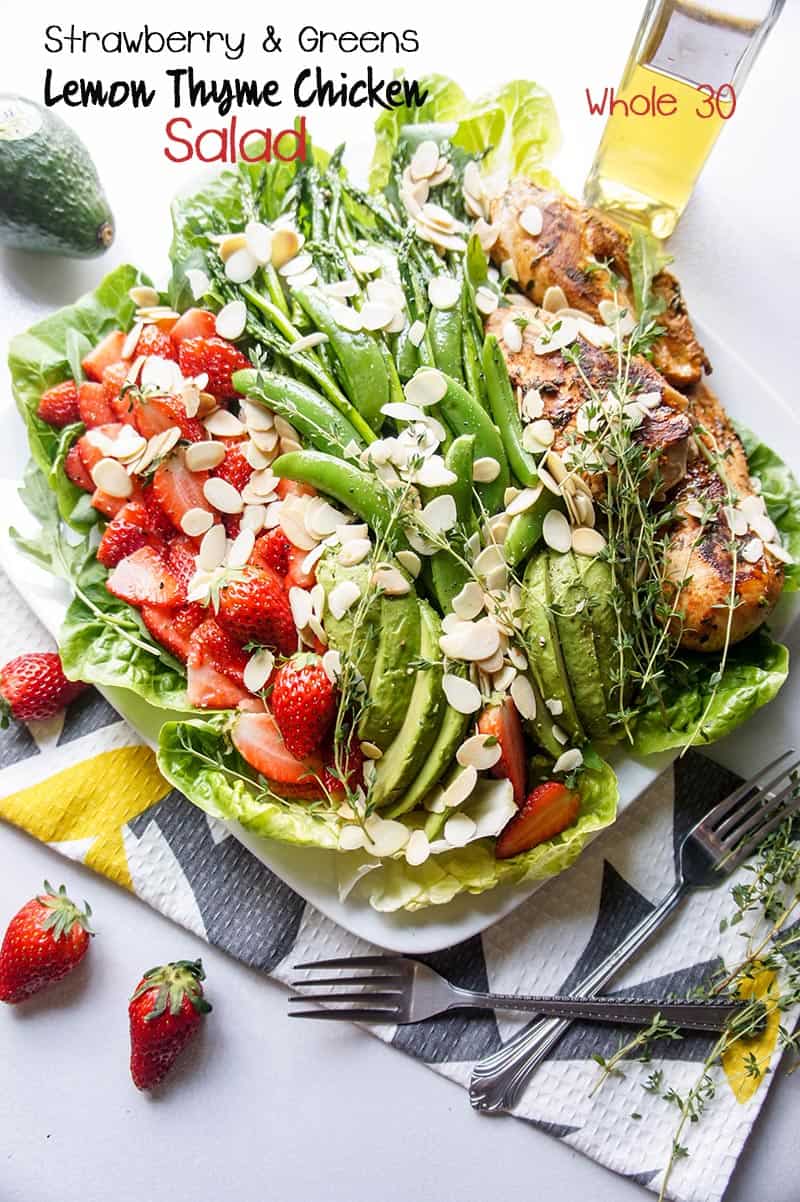 The best part of the Whole30 is dreaming up salads like this– because this Strawberry and Greens Lemon Thyme Chicken Salad is precisely the type of meal the Whole30 is all about. Tons of protein, leafy greens, healthy fats, and fresh ingredients.
My last post about preparing for the Whole30 explained the reasons my mom and I took on this challenge together, and also that we were almost finished with the 30 days. As I write this post, we both successfully finished the 30 days, but both don't feel ready to be done! The Whole30 is incredibly strict and limited, but both of us responded really well to a diet full of produce, nuts and proteins, and feel healthier than we have in a while.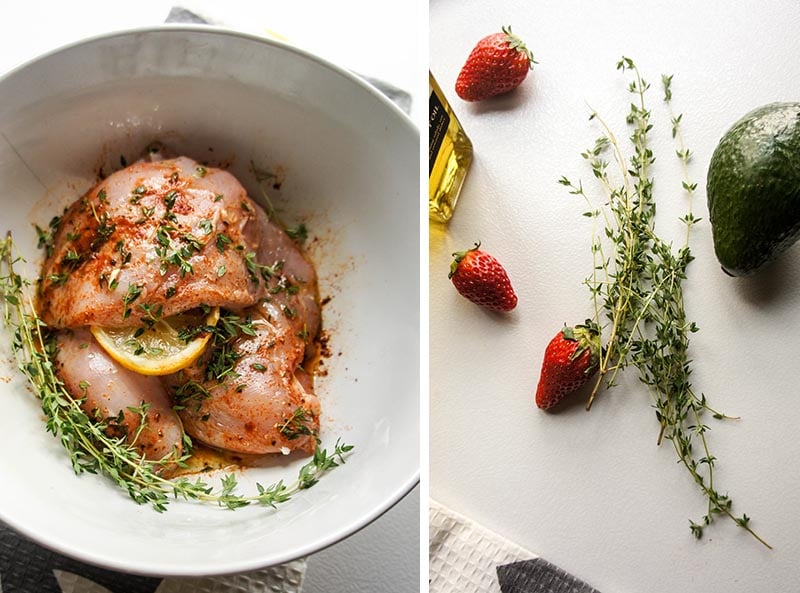 My mom is the type of person who doesn't better with strict limitations. I like a little wiggle room. So she is continuing on keeping the same strict guidelines. I plan on keeping my diet 95% Whole30 compliant, but I will be adding in small amounts of plain yogurt and 85% dark chocolate– because those are happy foods, the things I missed the most, and both things I know my body responds well to.
My husband has seen firsthand how well my body has responded (my belly is flatter than its been since.. before I got pregnant!, and I'm snacking a lot less than before). He has been really enjoying meals like this salad, and he has decided he likes cauliflower rice and butternut squash noodles better than their carb-heavy counterparts.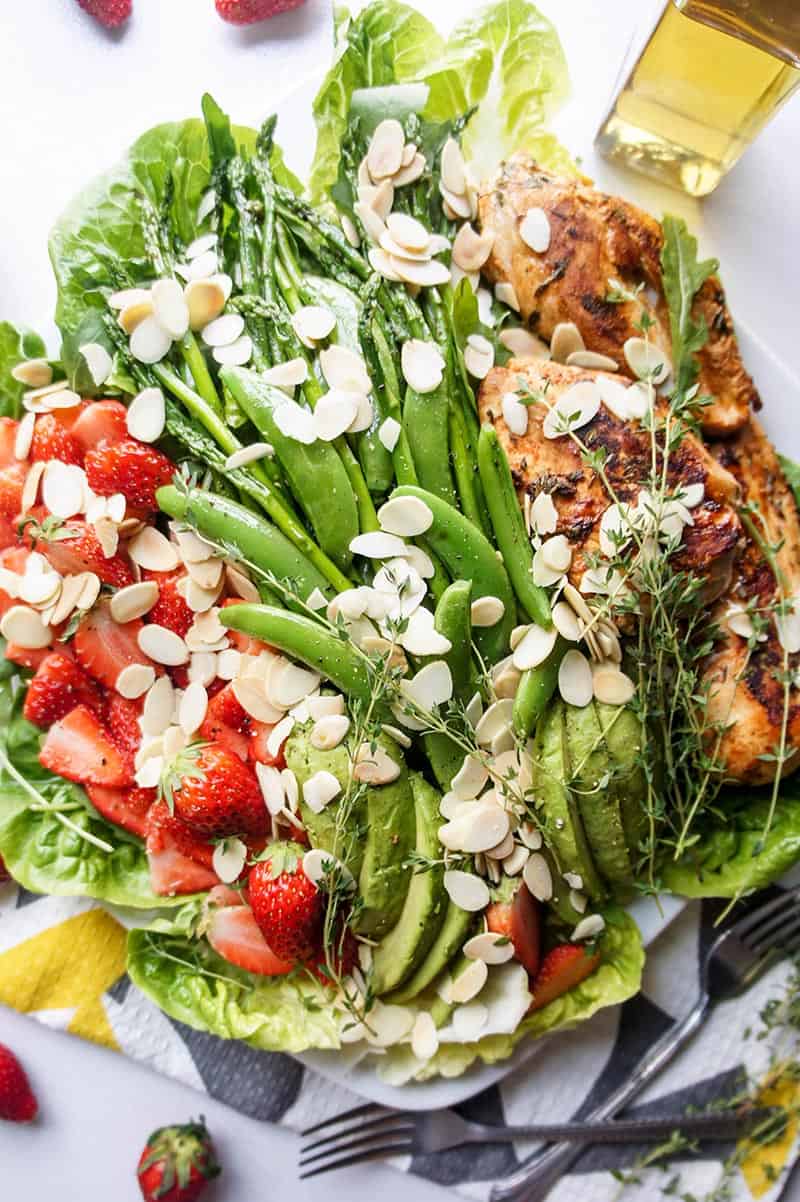 In fact, my son's Filipina nanny, whose diet has always consisted of 3-times a day rice, has started to cook less, or mix it with vegetables, and is eating more and more in this style as well. In her culture, rice is pretty much life, so her family is in disbelief that she goes entire days without it — but she is concerned about her health. Her family has a history of diabetes and high blood pressure, and most of her family members have died in their 50s and 60s. She is being proactive and thinking about adopting a healthier diet so she can help her daughters raise her grandkids one day.
So whether you're ready for a big change, and want to take on the Whole30, or simply want to incorporate more fresh produce into your diet, try this Strawberry and Greens Lemon Thyme Chicken Salad. More fresh salads and healthy meal ideas coming soon!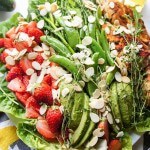 Print
Strawberry Thyme Chicken Salad (Whole30)
This salad is the Whole30! Tons of vegetables, proteins, and healthy fats. Perfect for spring, it combines sweet berries with crisp greens and crunchy nuts.
Ingredients
1

romaine head

2

cups

arugula

or spinach

1

teaspoon

olive oil

1

bunch

asparagus

1

cup

snap peas

1

pint

strawberries

1

avocado

1/2

cup

almonds

sliced, toasted

sea salt and fresh black pepper

to taste

olive oil, lemon juice, and red wine vinegar

to taste
Thyme Chicken
3

chicken breasts

1

tablespoon

olive oil

1

lemon

juiced

3

tablespoons

fresh thyme

or sub dried

1/2

teaspoon

sea salt

1/2

teaspoon

paprika

fresh black pepper

to taste
Instructions
Prepare marinated chicken by combining chicken breasts with all marinade ingredients. Place in the fridge for 30 minutes while preparing the salad ingredients.

Add chopped romaine, arugula, sliced strawberries, and avocado to a serving platter or bowl.

In a frying pan, add 1 teaspoon of olive oil, and lightly saute asparagus and snap peas over high heat. I cook them for about 3 minutes so they are still crisp (thicker asparagus will need more time).

When the chicken is done marinading, add to the frying pan. Cook on medium high on both sides until they are browned, then lower heat to medium low and continue to cook until chicken breasts are cooked through, about 15 minutes.

Add chicken to the salad, and top with crunchy almonds.

Dress the salad simply with olive oil, red wine vinegar, and lemon juice, to taste, I used 2 tablespoons of each.
Nutrition
Calories:
383
kcal
|
Carbohydrates:
27
g
|
Protein:
27
g
|
Fat:
22
g
|
Saturated Fat:
3
g
|
Cholesterol:
54
mg
|
Sodium:
402
mg
|
Potassium:
1233
mg
|
Fiber:
12
g
|
Sugar:
11
g
|
Vitamin A:
2449
IU
|
Vitamin C:
121
mg
|
Calcium:
147
mg
|
Iron:
6
mg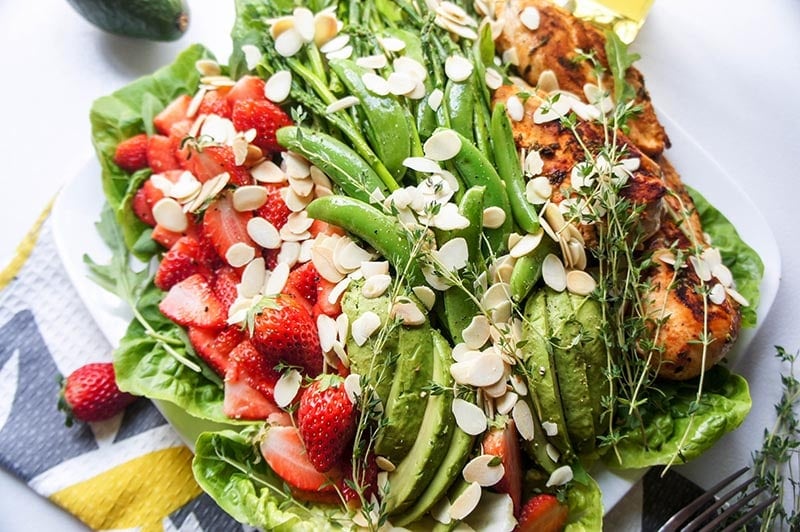 Check out my Whole30 Prep Pinterest board for more inspiration!
Follow Michelle @ Vitamin Sunshine's board Whole30 Prep on Pinterest.