This post may contain affiliate links. Please see my full
Disclosure Policy
for details.
This Vegan Farmer's Market Pasta Alfredo is so rich, you won't notice it's dairy free! Topped with seasonal veggies roasted with blackening seasoning, a spicy contrast to the creamy sauce.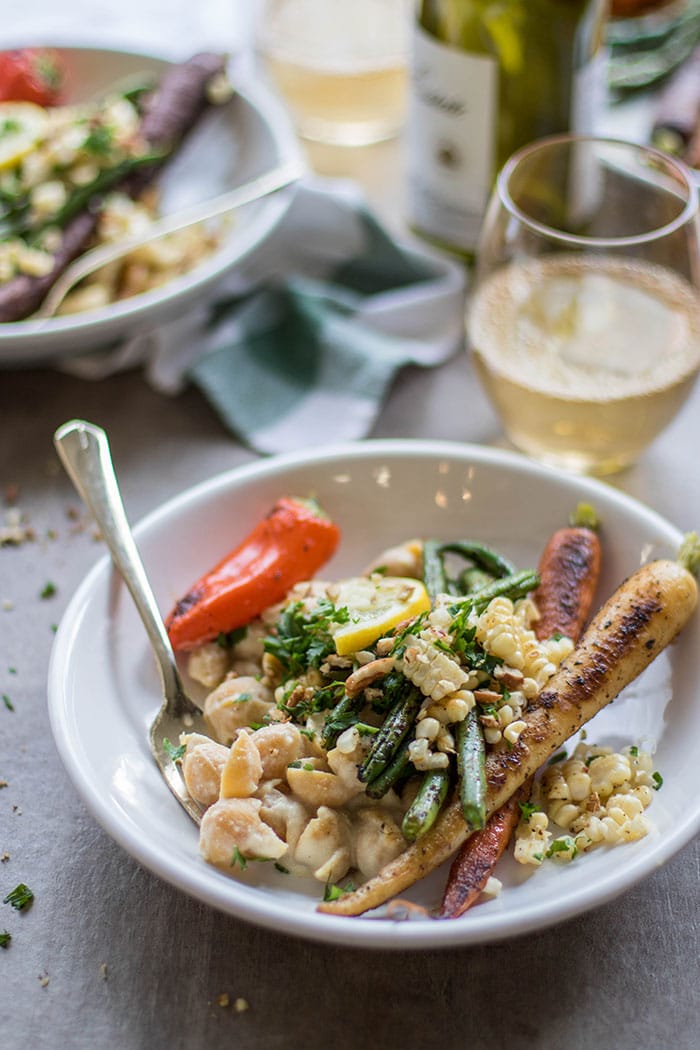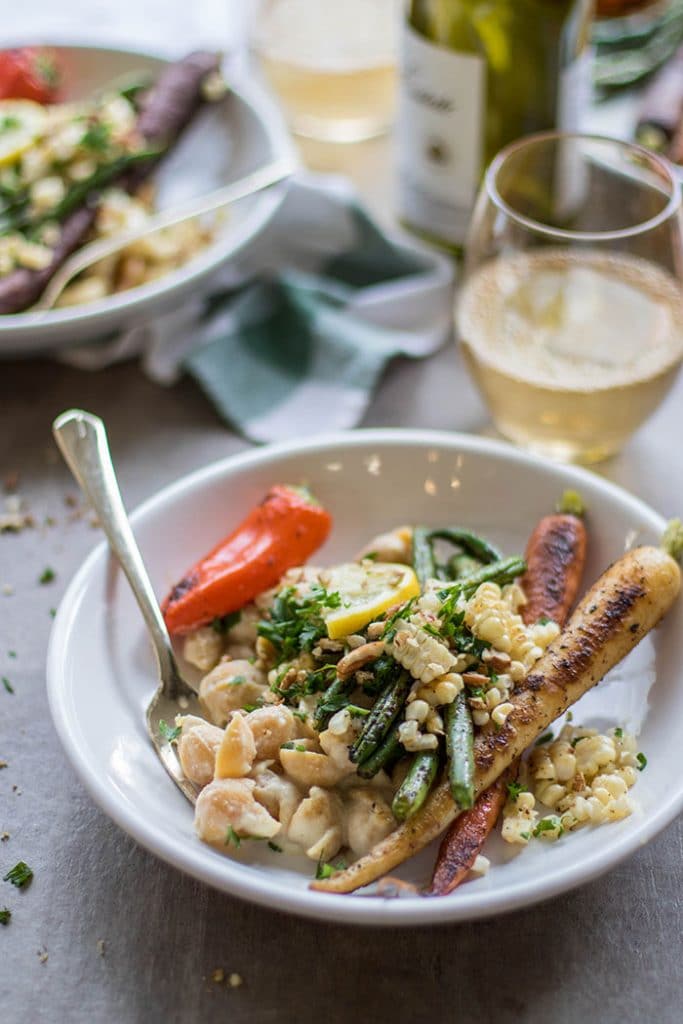 This post is sponsored by Chickapea Pasta, but all opinions are my own! This is a product I'm really happy to share, because it's so nutritious and definitely fits well into a clean eating lifestyle – especially for those busy weeks when you need something quick to serve! I'm a part of the Chickapea Team, and I've been sharing other delicious, healthy recipes featuring this product across my social media channels — so stay tuned for more inspiration!
I absolutely love spending the summer in Oregon. Bend, my hometown, is undeniably the most beautiful place on the planet to be in July & August. It's beautiful the rest of the year also, just VERY cold.
You'd think after living in the tropics for so long, I would want to come home when it was cold here to get out of the heat. Nope. It's different. Ninety degrees in the high desert is amazing. Ninety degrees in the humid tropics– not so much.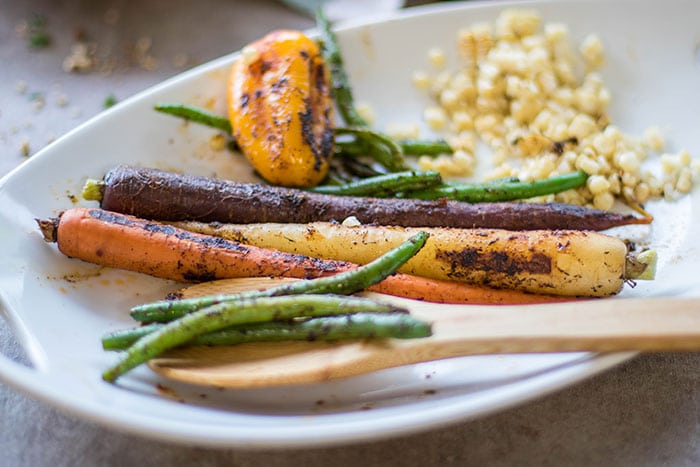 And then in the summer there are some of my true loves. Farmer's market produce, and WINE!
Before I went to grad school, I spent a few years working out at a winery in the Willamette Valley. I started out as a wine server — now that is a job. I'd spend the weekends at the tasting room on the vineyard, out in the country, in a quiet farm house, serving wine, smoked salmon and dark chocolate to guests, and sitting on the patio finishing off the leftover bottles at the end of the day. Let me tell you, it was rough.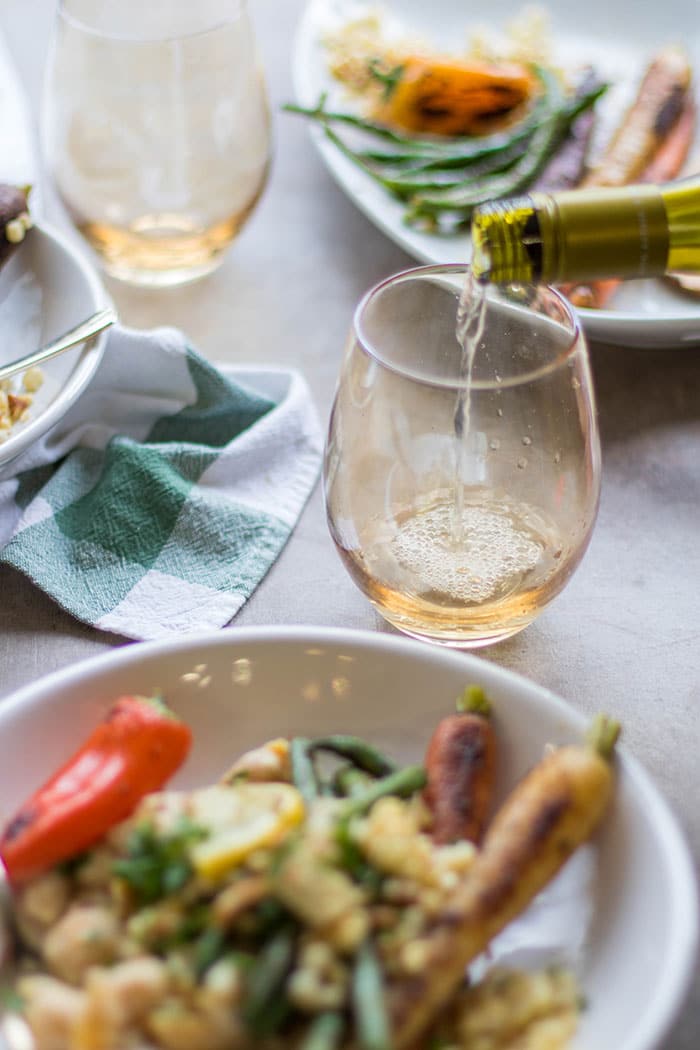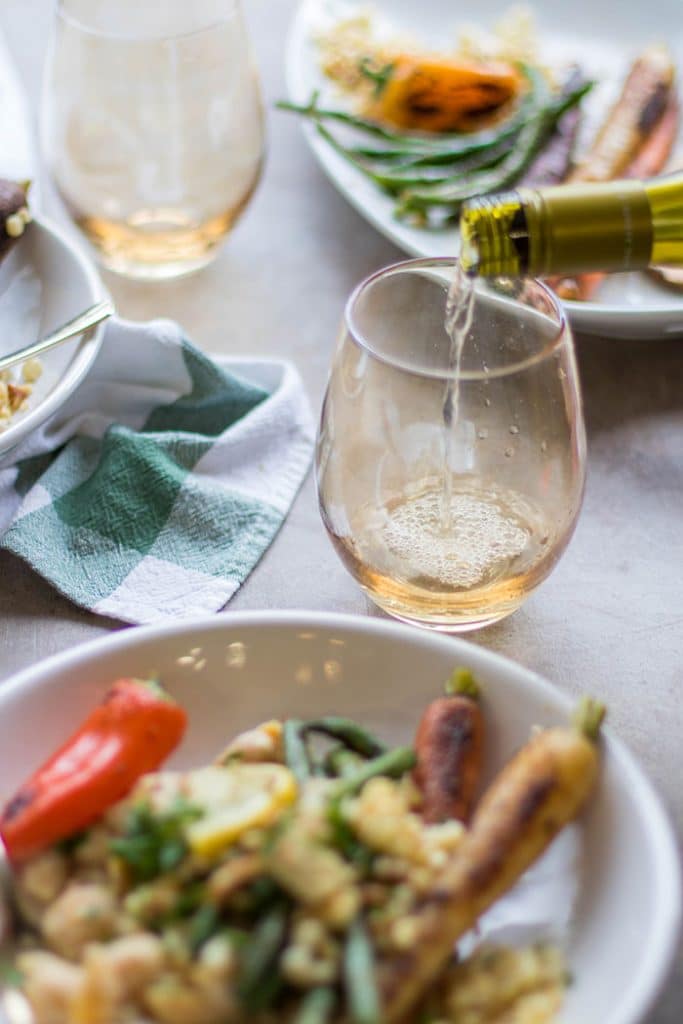 As much as I have loved the tropics, and love never having to worry about more than putting on a sundress and flip flops in the morning, there is something magical about summer in Oregon.
Everyone's moods are elevated. There is such an appreciation for the warmth. the outdoors, and the plentiful produce overflowing the fields.
Going to the farmer's market may be grocery shopping for the week, but it's so much better than turning the aisles of Safeway.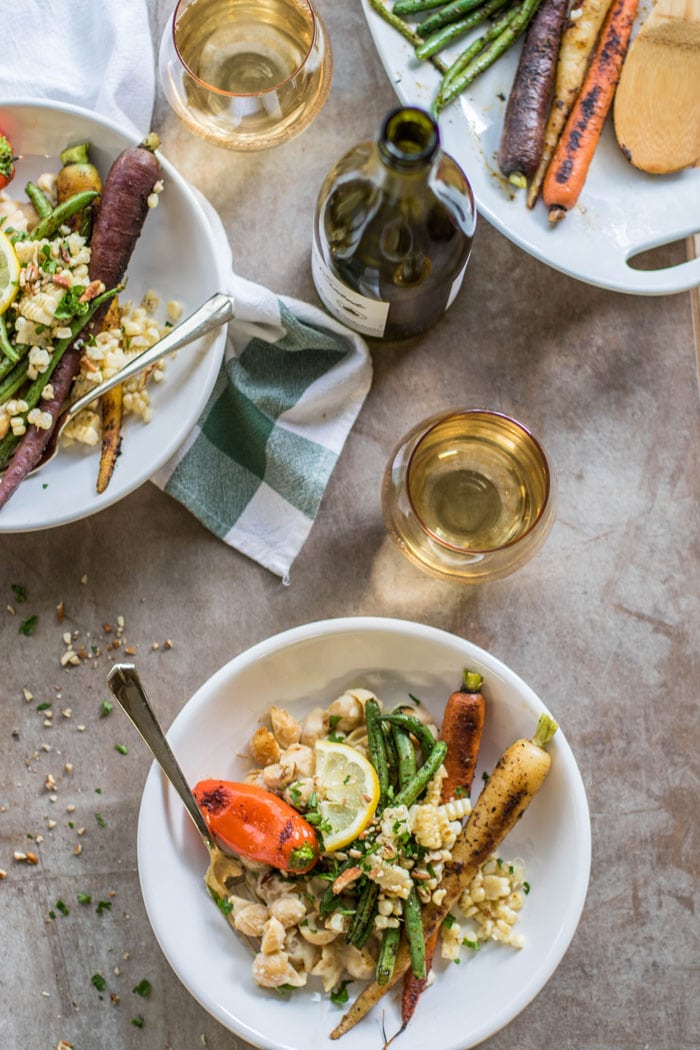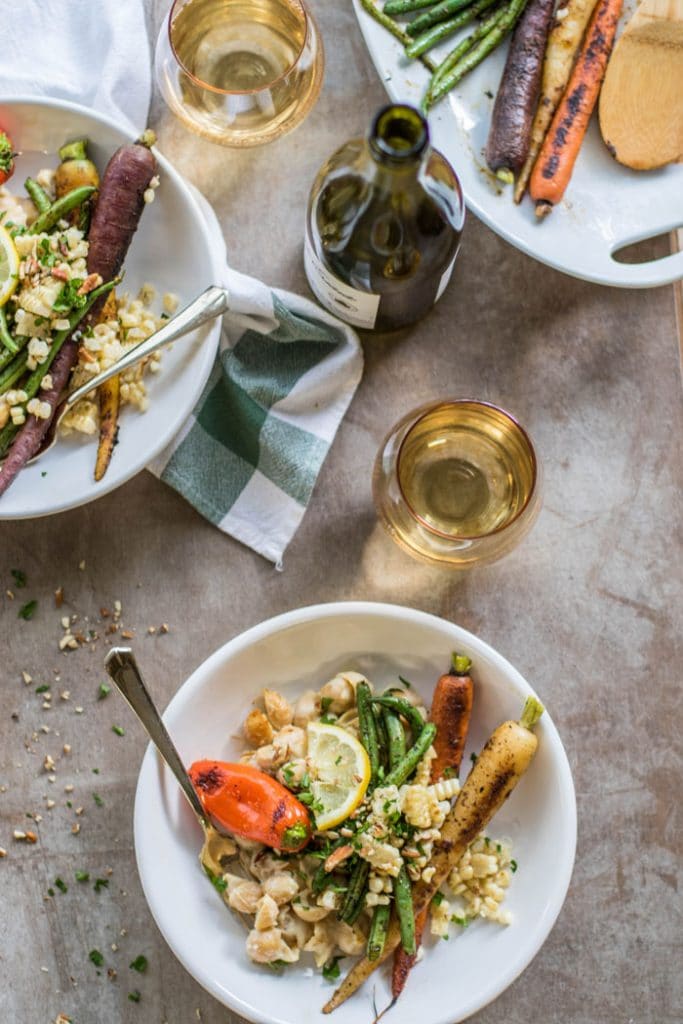 This Vegan Farmer's Market Pasta Alfredo is a celebration of all the amazing summer produce you can pick up at the farmer's market. Really– use whatever you can buy that's local! Asparagus, eggplant, any kind of peppers, broccoli, the options are endless with this dish.
I used gluten free Chickapea Pasta for this dish– which I love, because it allows me to make the veggie and carb dishes I love so much. The pasta is made from only chickpeas and lentils (only 2 ingredients!), so it has a great boost of protein. Who wants to go through all the effort of roasting meat in the summer?
Another reason I love it? It just tastes like pasta. When cooked al dente, it's hard to tell it's a gluten free alternative! Xander eats Chickapea with just a little butter on it — and since he still won't eat beans, I love that he's getting some legume goodness that way.
Tips for Vegan Farmer's Market Pasta Alfredo
Make is Gluten Free: Keep this dish gluten free by using high protein Chickapea Pasta. This pasta has 27 grams of protein per serving, so it's perfect for vegan and vegetarian dishes. Just add veggies and a flavorful vegan alfredo sauce, and you've got a complete meal!
For the Family: I served this dish to my 2 year old and my 3 & 4 year old niece and nephew, and just told them it was "cheese sauce." To make it more kid friendly, I very lightly seasoned the veggies. All 3 kids cleaned their plates and didn't question the sauce at all.
Chickapea Pasta is in many stores across the US and Canada, but if you can't find it in your area– buy it on Amazon! It's available in shells, spirals, and penne.
I'd love to connect with you on social media! Find me on Facebook or Instagram where I post daily healthy eating and lifestyle inspiration.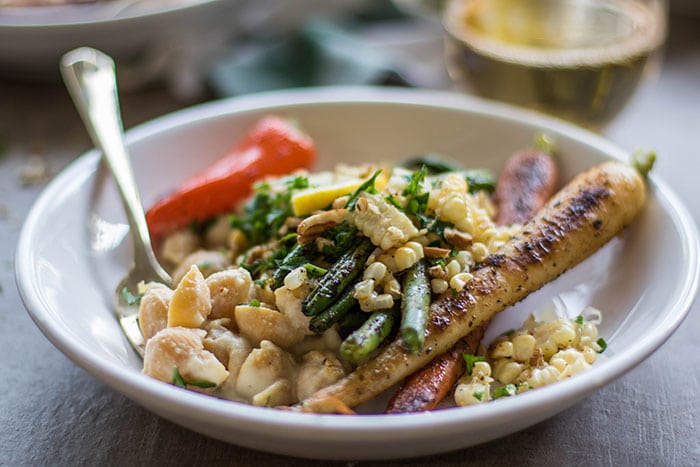 Vegan Farmer's Market Pasta Alfredo
This flavorful vegan pasta alfredo is packed with nutrients from all the fresh farmer's market produce. The blackening spice adds a ton of flavor and a wonderful contrast to the creamy, cheesy sauce.
Print
Pin
Rate
Ingredients
1

box

Chickapea Pasta shells

1

tablespoon

olive oil

8

carrots

2-3

cups

fresh green beans

1

sweet corn

4

mini bell peppers

1/4

cup

parsley

finely chopped

1/4

cup

pecans

chopped

lemon slices

optional
Alfredo Sauce
1/3

cup

cashews

soaked overnight

2

tablespoons

olive oil

1

cup

onion

chopped

2

cloves

garlic

1/2

cauliflower

~1 pound/ .5 kg

1 1/2

cups

water

1-2

tablespoons

nutritional yeast*

1 1/4

teaspoon

sea salt

or to taste

1/2

teaspoon

garlic powder

1/2

teaspoon

onion powder

1/2

lemon, juiced

(or 1 tablespoon lemon juice)
Blackening Spice
1

teaspoon

sea salt

1

teaspoon

paprika

1/2

teaspoon

garlic powder

1/2

teaspoon

onion powder

1/2

teaspoon

cumin

1/2

teaspoon

ground black pepper

1/4

teaspoon

thyme

cayenne

to taste (optional)
Instructions
Soak cashews overnight. If you don't have time for this step, boil water, pour over the cashews, and let soak for 1 hour.

Mix together spices in the blackening seasoning, and set aside.

Add olive oil to a large frying pan, and heat over medium high heat.

Roughly chop garlic and onion, and saute for 5-7 minutes. allowing to soften but not to brown. If your onions and garlic brown, your sauce will have a brown tint to it.

Roughly chop cauliflower, and add it to the frying pan, along with 1 1/2 cups of water. Cover the pan, and reduce heat to just below medium, and allow to steam for 15 minutes (check after 10 minutes to make sure water hasn't boiled out. Add more if necessary to keep veggies from browning).

Add soaked and drained cashews, and onion/cauliflower mixture to a blender. Add the rest of the sauce seasonings, starting with 1 tablespoon of nutritional yeast and 1 teaspoon of sea salt. Blend on high speed for 2-3 minutes to allow sauce to become very creamy. Taste, and adjust salt and yeast. In order for it to give the pasta a really cheesy flavor, you want to sauce to be saltier and stronger in flavor, so even if the sauce tastes fine, you will want to salt it a bit more than you would something you would eat plain.

Set alfredo sauce aside.

Boil water, and cook Chickapea pasta per package directions. I recommend boiling for only 5-7 minutes until it's al dente, because it's texture is most similar to regular pasta at this stage.

In a large skillet, add olive oil, and heat to medium high heat. Add carrots, and season heavily. Saute a few minutes until the carrots have softened, and then add the other veggies, seasoning those as well.

When the veggies are done to your liking, add the alfredo sauce to the pasta, and serve the pasta topped with the blackened veggies, and garnished with parsley, pecans, and lemon slices.
Notes
*I found that 2 tablespoons of nutritional yeast adds the most cheesy flavor and makes the sauce the most similar to a traditional alfredo sauce-- however, the kids preferred the sauce when it was made with only 1 tablespoon of yeast. Experiment, and use what your family likes the best!
Nutrition
Calories:
521
kcal
|
Carbohydrates:
65
g
|
Protein:
21
g
|
Fat:
22
g
|
Saturated Fat:
2
g
|
Sodium:
1412
mg
|
Potassium:
792
mg
|
Fiber:
15
g
|
Sugar:
13
g
|
Vitamin C:
66.2
mg
|
Calcium:
132
mg
|
Iron:
6.2
mg