#10: Watch a Tropical Rainstorm from My Balcony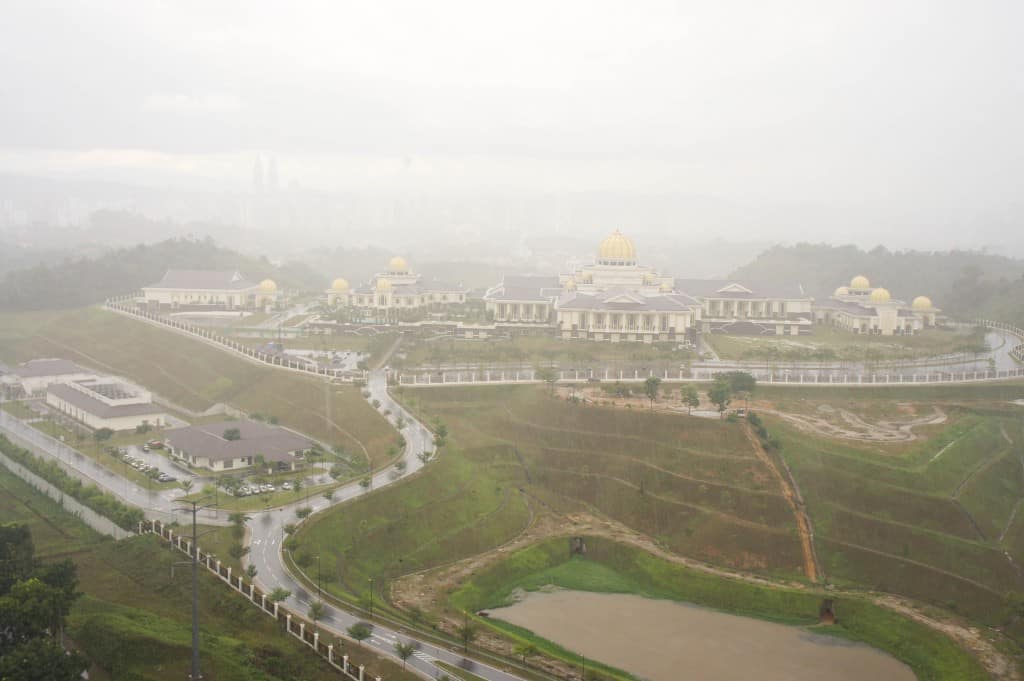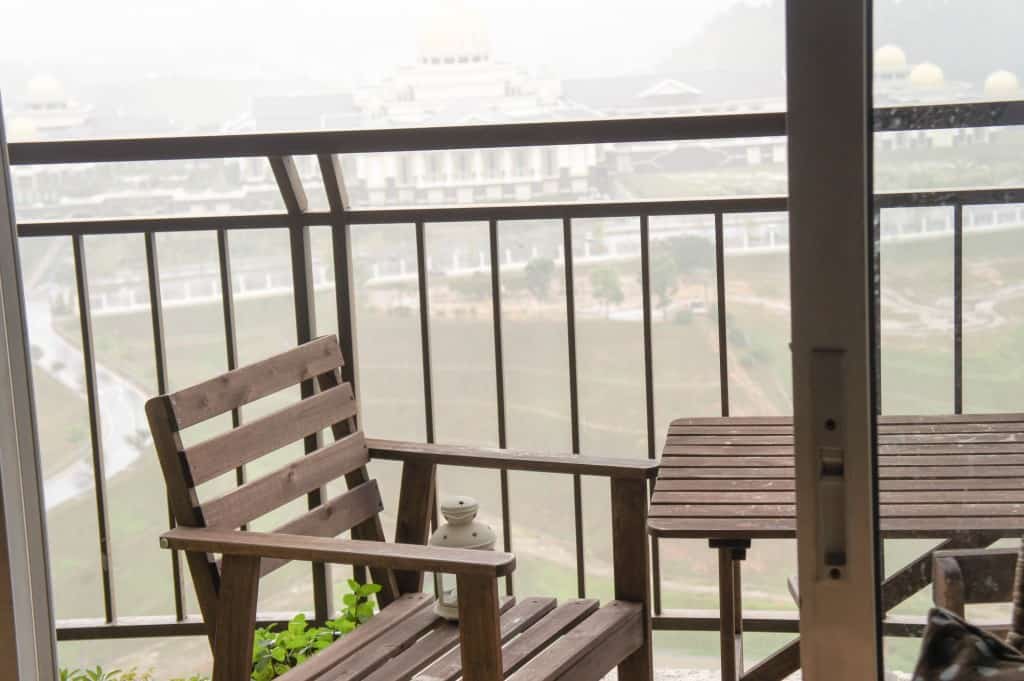 After you arrive, we will relax with some steamy mugs of tea on my balcony and be witness to a thunderous tropical storm. It's almost always monsoon season in KL, so we won't have to wait long if it isn't raining when you arrive. I love the storms here. Storms are done right in the tropics. They move in, the thunder is so powerful the building will shake, and by the time we're done with our tea, chances are, it will be over and we can head down to the pool. (And by the way, that's the national palace, where the sultan lives, that we'll be watching the rain fall on.)
#9: Relax at the Pool
Having a pool. . . and getting to use it year round (!) is one of the best parts of living here. To be honest, I don't swim as much as I should. I used it a lot when I first moved here, but now I mostly just enjoy it when I am walking laps around it after a workout at the gym.
I also stop on the pool floor often before work and walk around it for a quick 10 or 15 minutes of activity before heading to work (about as much of a workout as I can consistently will myself to do before 7 am!). Often when I am down there, I think about how awesome it would be to have you here to share it with me! Sunday afternoon drinks by the pool? It's a date. (now just book a ticket!)
#8 Yoga Class in Plaza D
The plaza I live in makes living in a city with terrible traffic bearable. Kuala Lumpur's traffic has gotten consistently worse since I moved here. It takes me 5 or 10 minutes to get to work in the morning, but heading to the same neighborhood in the afternoon/evening can take 45 minutes!
Luckily, I barely have to leave home on the weekends. There is a beautiful yoga/pilates studio with great instructors right above the Starbucks I frequent. There is also a great kickboxing studio I went to for a while. Along with the gym and pool in my building, I am set!
#7: Endulge in Chicken Fish on Jalan Allor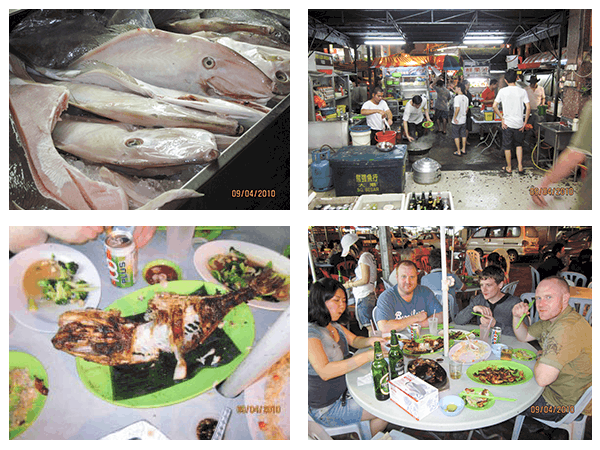 What?! Chicken fish? It actually sounds kind of terrible when you first hear its name. But it is lovely! And this will be one of your favorite meals when you visit.
Jalan Allor is a street off Changkat Bukit Bintang, which is a row of bars, clubs and restaurants frequented by many expats and travelers. Jalan Allor is known for fantastic street food. Restaurant kitchens are set up on the sidewalk, and tables are thrown in the street. From 6 PM on, its always packed- because everyone knows this is where you go for cheap, good seafood and local dishes.
#6: Make Friend with the Local Fauna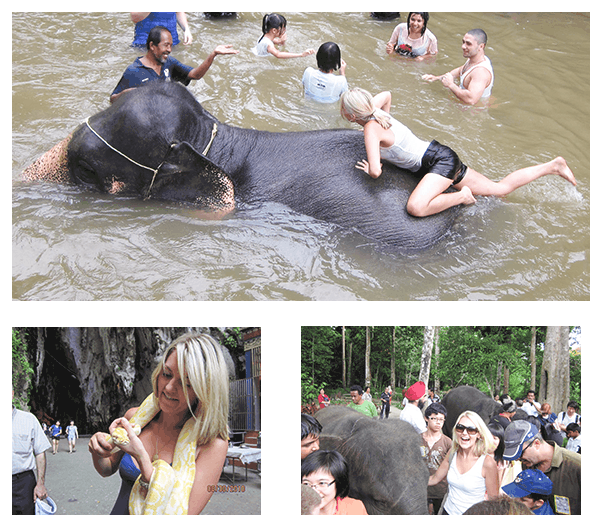 Don't tell me you don't want to hold a python. Or feed a baby elephant.
#5: Cocktails at Skybar with Incredible View of the Petronas Twin Towers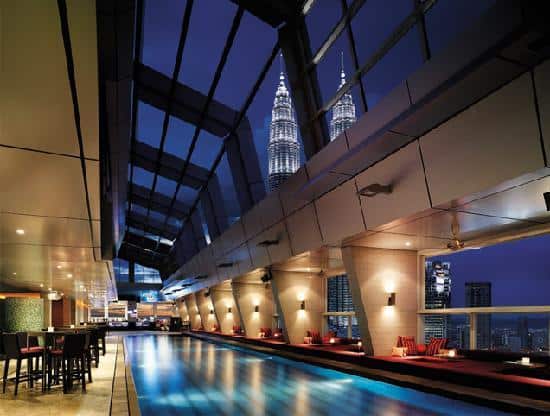 [source]
There are many hotels in the city center with rooftop bars boasting great views of the Petronas Twin Towers and the KL Tower. Skybar is one of the best, and most popular. The bar is situated around a rooftop (covered) swimming pool, but the sides are open to outside. The last time I was there, a storm started, blowing wind and rain sideways through the bar, sending palm fronds whipping across the tables. Dramatic, unexpected, and an experience worth slightly damp attire for the rest of the evening.
#4: 45-Minute Flight to a Thailand Beach Getaway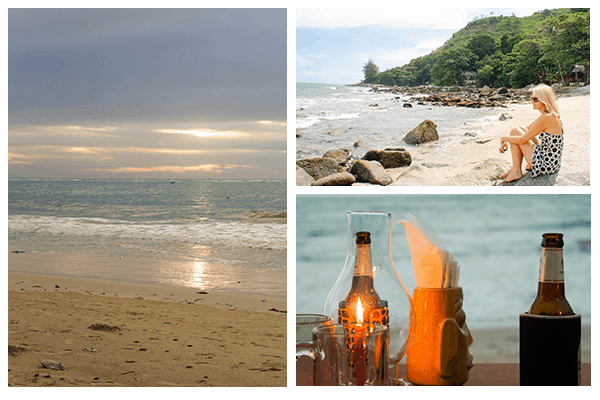 Phuket is a short flight away, and Koh Samui not much further. Both islands are easily and cheaply accessible on Asia's low cost carrier Air Asia. If flights are booked in advance, round trip tickets cost less than $100.
Singhas at sunset?
#3: US $30 2-hr Balinese Massages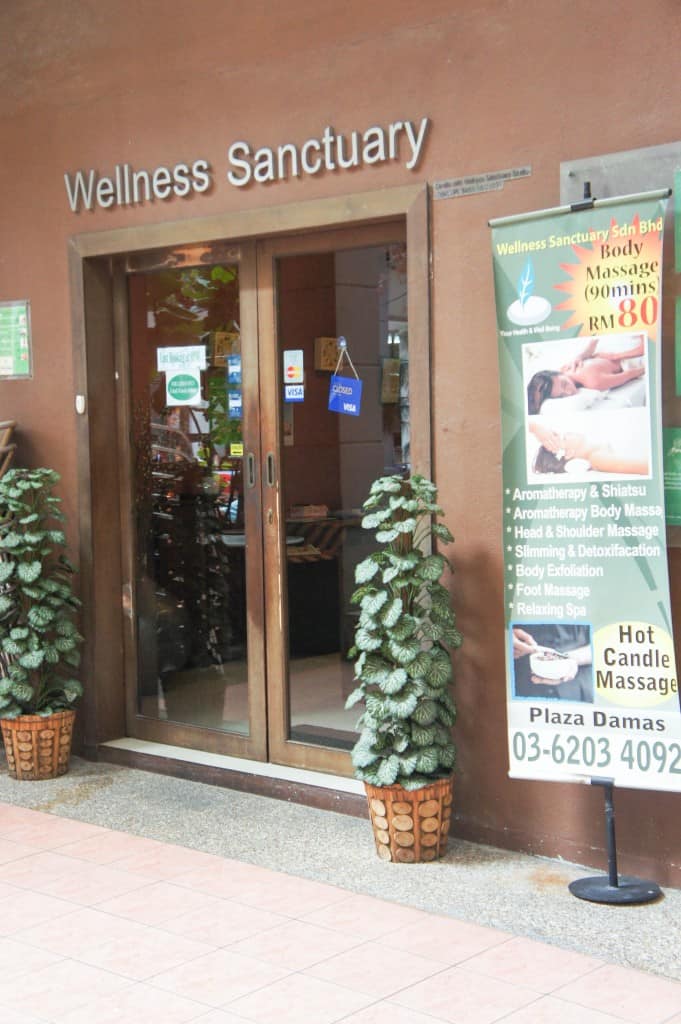 Another thing I thankfully don't have to leave the plaza to enjoy! What a pleasure it is to slowly walk home in the blissful haze of a 2-hour massage. There are at least 10 massage parlors in this plaza, and I have been to probably 5. Knowing a massage's health benefits, it's hard not to justify one a month at this price!
I know I won't have to try too hard to talk you into it.
#2: Hike/Run/Explore Bukit Kiara Park (Rainforest Reserve)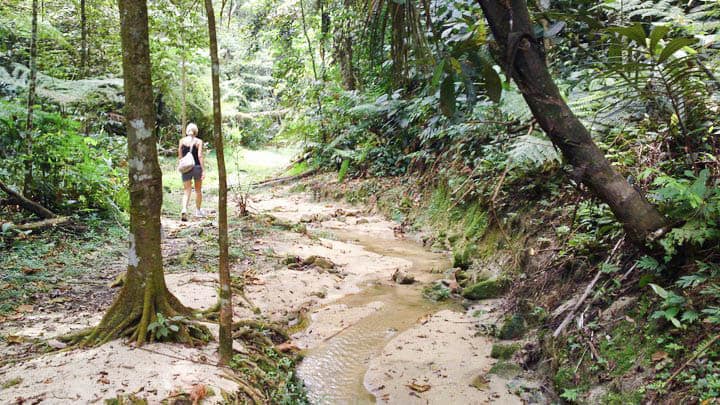 You're going to have to come quick for this one! Since moving here, I have spent countless hours running and hiking through Bukit Kiara, which is only about a mile away from my condo building. A huge rainforest reserve with miles of paved and dirt trails and paths up creeks, full of monkeys and birds.
Unfortunately, most of the park is on private land. This area is becoming quite trendy, and as other building projects in the area have become completed, the land around the park has begun to be developed. Slowly I have watched forest cleared, roads built, and long and high chain link fences built. I was recently up there, and huge sections of the hillside have been dug out, making getting through the park more difficult (and less serene!). I still hold onto hope that the development will be halted and this "green lung" of Kuala Lumpur will be saved.
 #1: Have a much needed "girl's night" with me!
I'm planning on spending my time off work this summer getting a group of girls together to regularly have nights out (or in) together. Having you here would be the perfect excuse! Or, a girl's morning, combining #3, #6, #8 and #9? (Is that enough to get your ticket booked?)