This post may contain affiliate links. Please see my full
Disclosure Policy
for details.
Yesterday was another holiday in Kuala Lumpur. Wesak Day- which is "Buddha Day," or sometimes called "Buddha's Birthday." It's a celebration of the life of Buddha, but to most Malaysians (and expats living here!), it's another awesome break from work.
Having holidays midweek throws me off a little. The rest of the work week feels like an interruption to my holiday. Does anyone else feel like that? It's hard to keep my head in the game afterwards.
Not that I am ungrateful.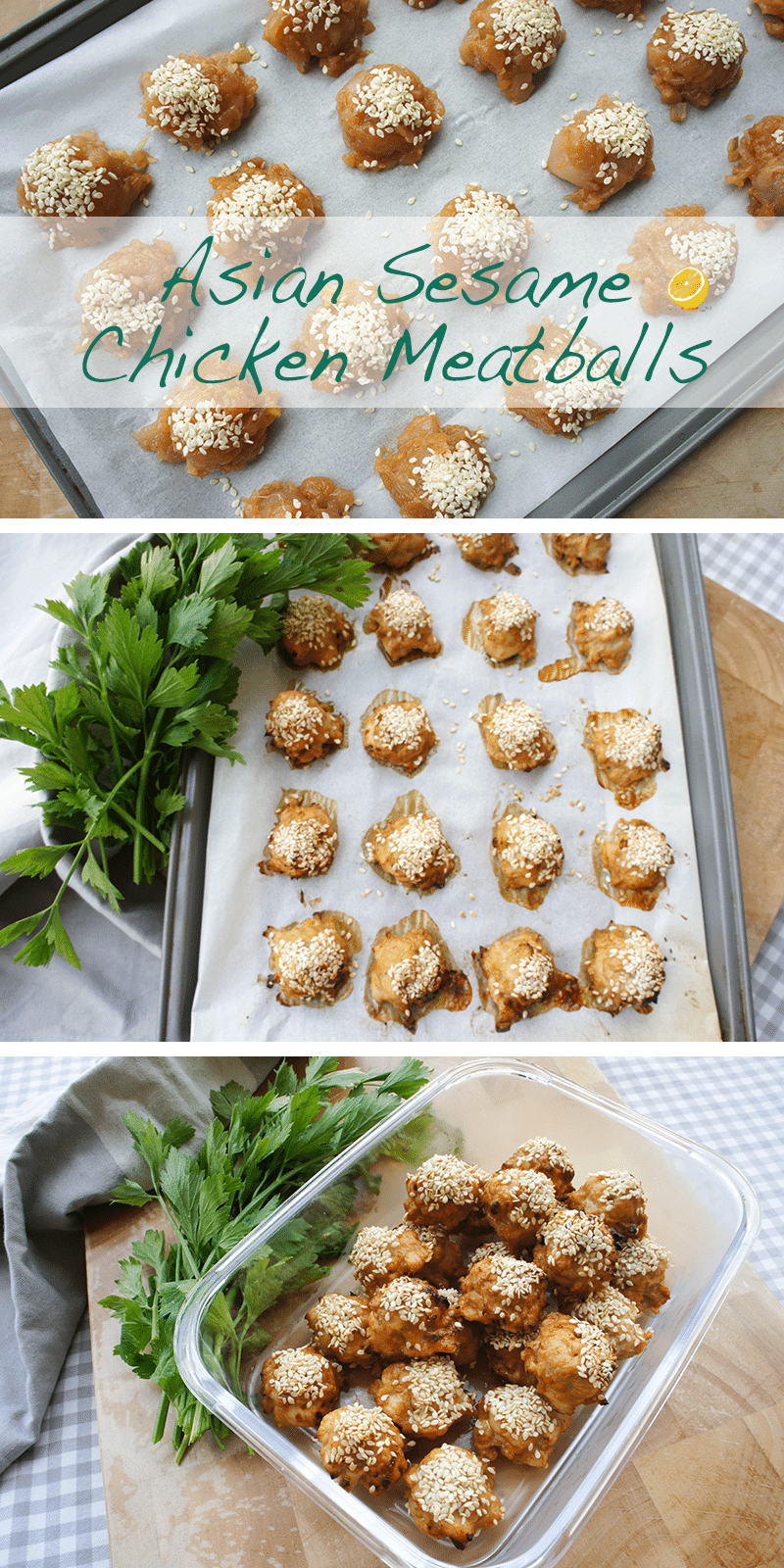 I would love to say I spent my day off relaxing by the pool, reading my Kindle, and going to yoga. But nope. My day started off well, until I realized I hadn't put my passport away after my last trip. I pulled my carry on down, and it wasn't there. Searched through the small piece of luggage I had taken. Nope. Maybe I missed it in my desk?
After tearing apart my office, my bedroom, and my kitchen, twice, I decided to check my desk at work. So, off to work I went, on the holiday, to see if for some reason I had left my passport there. Unfortunately, this story doesn't have a happy ending. Day off ruined! I did head to a yoga class after I got home from work, so at least that hour of my day was saved.
Before I realized it was missing, I was able to get some cooking in. I shouldn't have to worry about lunches for the rest of the week! These meatballs are a great, versatile protein that can be thrown in salads, on top of rice or noodles, or next to stir fried veggies. I love having them in the fridge for a quick pop of protein in a snack. Or– you can wait until tomorrow's post and see what I did with them last night.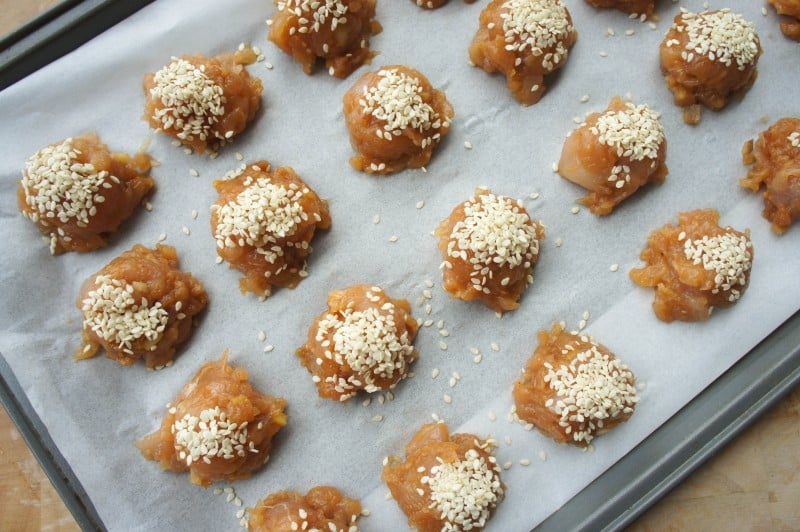 Chicken doesn't "ball up" like beef will. It's much softer. Instead of trying to create balls, I use a 1/2 tablespoon measuring spoon and scoop it, packing it as I make each meatball. It works even better if the spoon is wet, so I dip it in a glass of water every 3-4 meatballs.
The hardest part of making these is cleaning out the food processor after it's had chicken in it. I always wash it, pour boiling water in to it, and then let it sit with bleach. My mom was always paranoid about raw chicken, so I am too. Here in Malaysia, I cringe when the grocery store checker throws produce on top of chicken. I more than cringe, actually. I have a mild panic attack, reach over the counter, and pull it out, explaining that raw chicken is "very, very dirty!" –"Crazy Western woman," I am sure they think– but that's a common reaction I get from locals here. "Toto, I've a feeling we're not in Kansas anymore."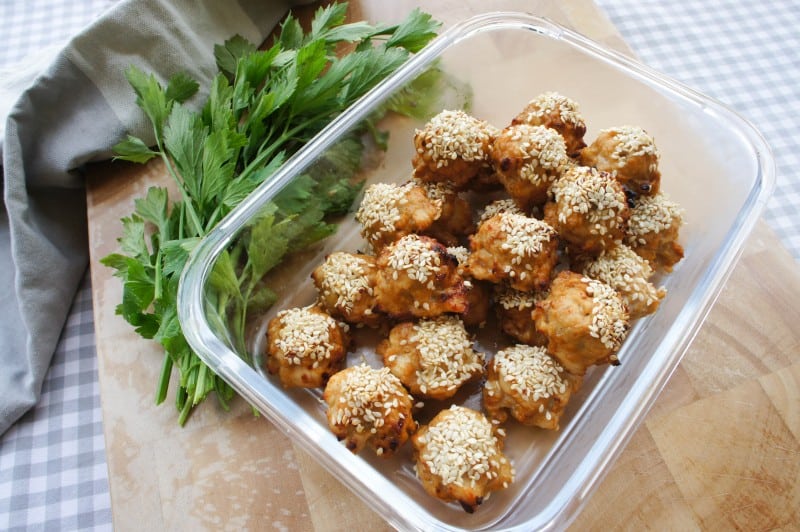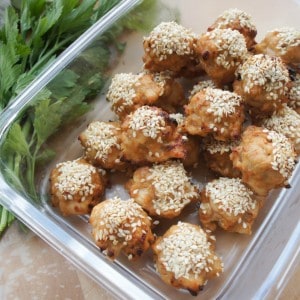 Asian Sesame Chicken Meatballs
A spicy chicken meatball, bursting with Asian flavors. Perfect for topping rice, noodles, salads, or just as a high protein snack.

Print
Pin
Rate
Ingredients
3

teaspoons

sesame oil

divided

5

cloves

garlic

1/4

cup

shallot

minced

1/4

cup

ginger

grated finely

2 1/2

pounds

boneless chicken breasts

3

tablespoons

soy sauce

or tamari

1

tablespoon

rice wine vinegar

1

tablespoon

sriracha

(to taste - I use 1 1/2 tablespoons)

1

teaspoon

sea salt

1/2

teaspoon

cinnamon

1/4

cup

sesame seeds
Instructions
Add 1 teaspoon sesame oil to a skillet, and saute garlic, ginger, and shallots for 8-10 minutes, until fragrant and softened.

Cut the chicken breasts into smaller pieces, and add to a food processor. Add the sauteed garlic, ginger, and shallots, and the rest of the seasonings. Process until the chicken is minced, and the seasonings are well mixed.

Spoon onto a cookie sheet making round balls, and sprinkle the tops with sesame seeds. Bake at 425 f (220 c) for 12 minutes, until meatballs are golden brown and cooked through.
Notes
To make sure I have the seasonings and spice exactly how I like them, I like to take a teaspoon or so of the mixture and cook it up in a pan. That way, if you prefer them to be more spicy, or want more flavor, you can adjust before you bake the whole batch.
Nutrition
Calories:
294
kcal
|
Carbohydrates:
3
g
|
Protein:
31
g
|
Fat:
17
g
|
Saturated Fat:
4
g
|
Cholesterol:
91
mg
|
Sodium:
801
mg
|
Potassium:
368
mg
|
Fiber:
1
g
|
Sugar:
1
g
|
Vitamin A:
118
IU
|
Vitamin C:
2
mg
|
Calcium:
66
mg
|
Iron:
2
mg