This post may contain affiliate links. Please see my full
Disclosure Policy
for details.
Looking for the best Gluten Free Cookies? This list has them all! From a classic chocolate chip cookie, to gluten free thumbprint cookies, to paleo options.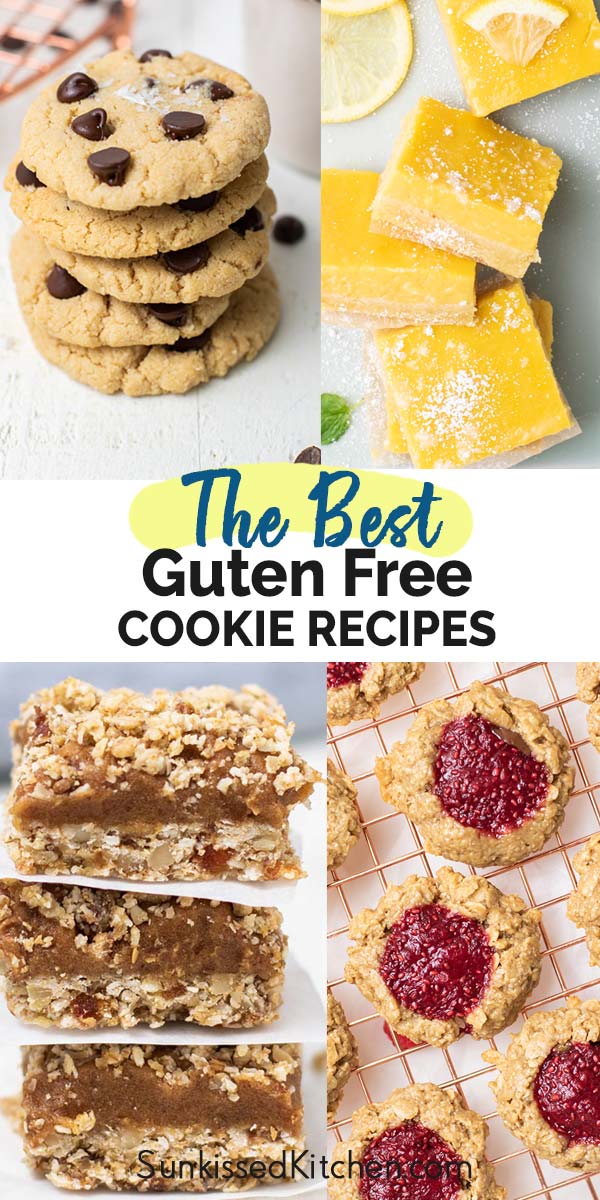 The Best Gluten Free Cookie Recipes
All the gluten free cookie recipes on Sunkissed Kitchen are made with wholesome ingredients! Swap your gluten free all-purpose flour mixture for whole grains, almond flour, coconut flour, and more.
The recipes are all lower in sugar, utilizing natural sweeteners like honey, date syrup, maple syrup, coconut sugar, and monk fruit.
My list of Paleo Cookies is growing! (check out this list).
Looking for Vegan Gluten Free Cookies? Browse them!
*Many of these are also dairy free cookies or have dairy free substitution options.
Gluten Free Oatmeal Cookies
Try my favorite oatmeal raisin cookie, made with a nutritious base of almond butter and gluten free oats! To me, a cookie is not a cookie without chocolate, so I always toss in a handful of dark chocolate chips. I love to make these giant cookies, studded with both golden and black raisins, for extra chewiness!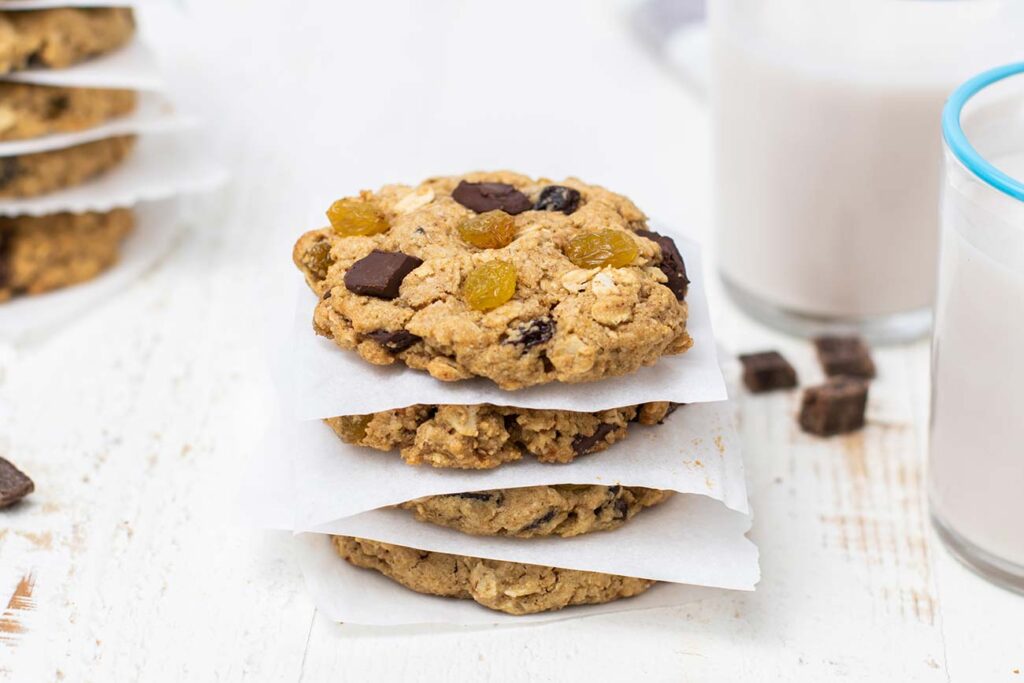 Quite possibly my favorite cookie on the blog, these simple vegan oatmeal cookies are everything a cookie recipe should be. They are made healthier with a base of gluten free oats and sunflower seed butter, and lightly sweetened with maple syrup. Stir in some dark chocolate chunks and mini chocolate chips for extra chocolatey appeal!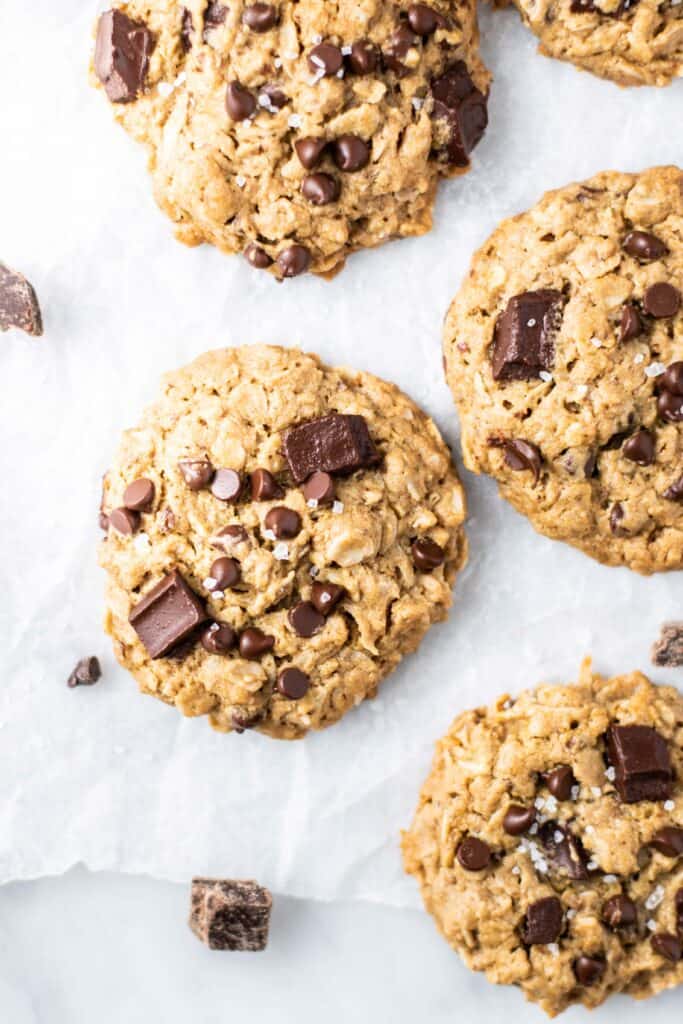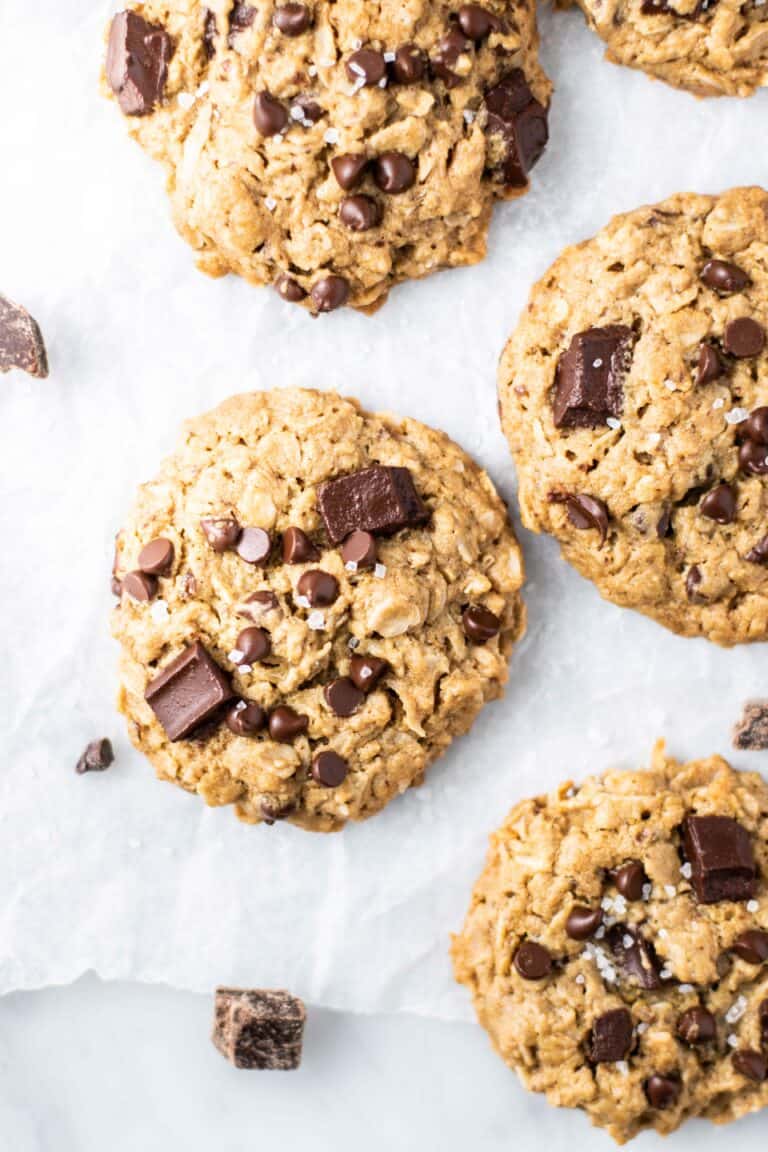 A fun twist on a classic cookie, I love making Zucchini Oatmeal Chocolate Chip Cookies in the summer when we have an abundance of garden veggies! These cookies are gluten free and lightly sweetened with honey and coconut sugar.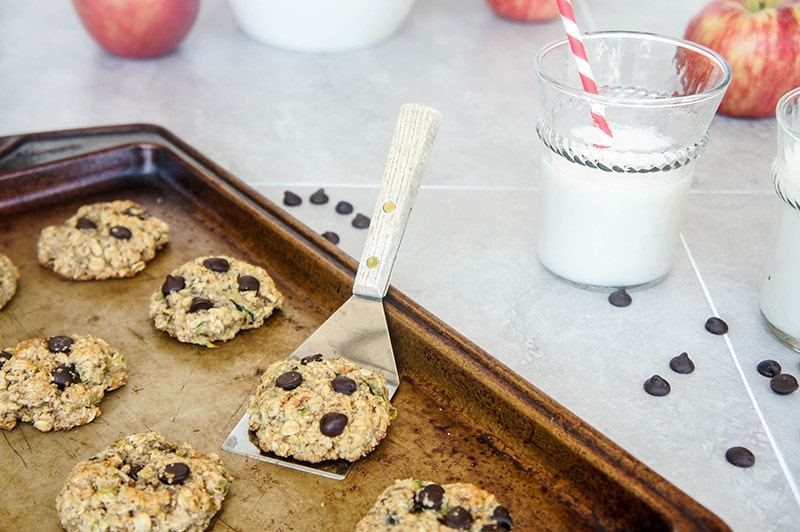 My gluten free Monster Cookies recipe is nut free! These healthier Halloween Cookies are fun to share with your favorite trick or treaters. Instead of peanut butter, these have a base of gluten free oats, brown rice crisp cereal, and sunflower seed butter. Don't forget the fun colored chocolate pieces!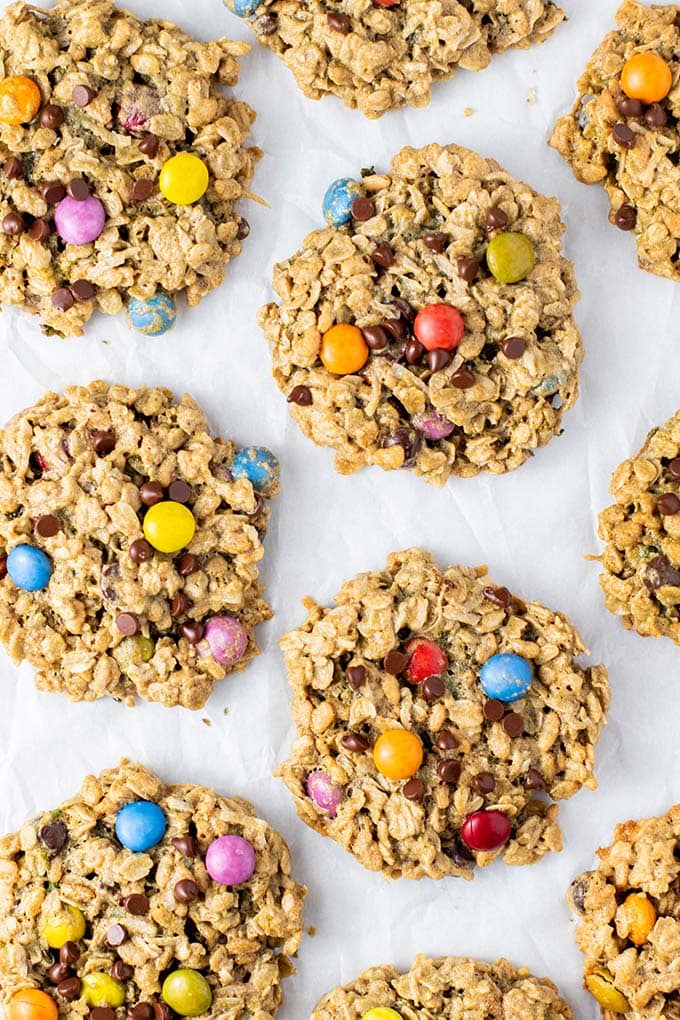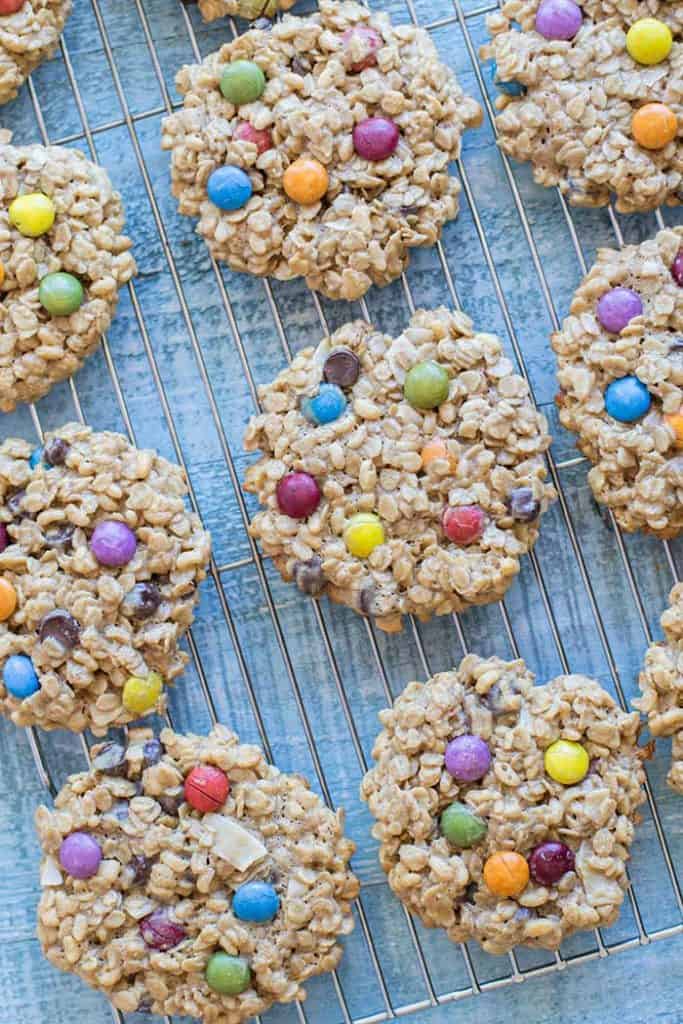 If you need quick breakfast options, you'll love these Banana Breakfast Cookies! Made with bananas and gluten free oats, these are an unsweetened cookie you can use as a base. We love adding pumpkin seeds, raisins, and a bit of dark chocolate.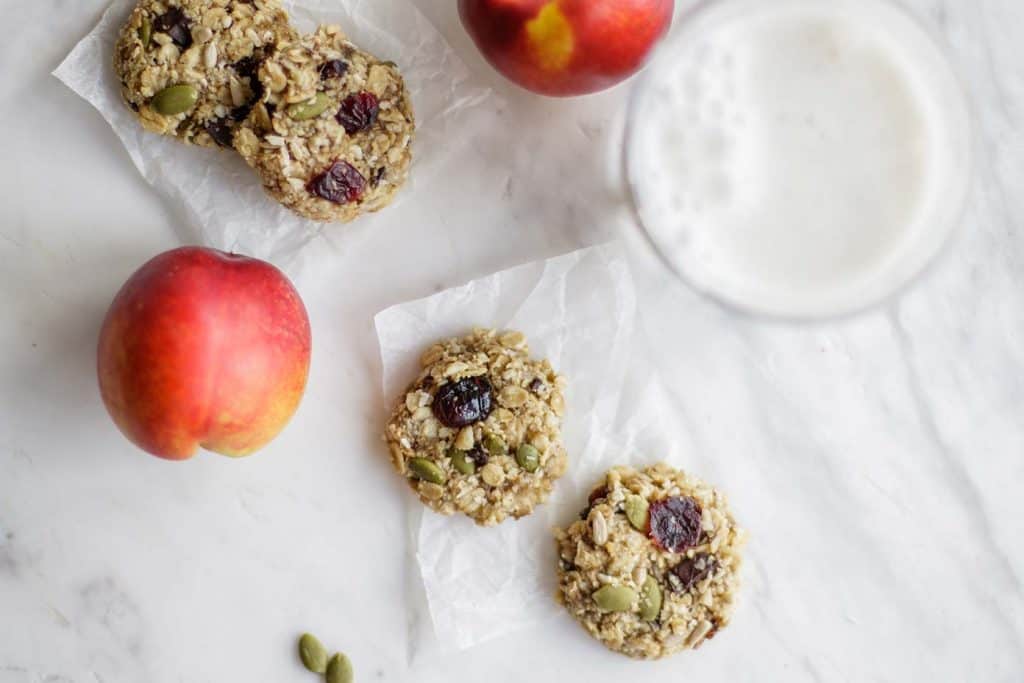 Paleo Cookies
These Paleo Chocolate Chip Cookies need no explanation that they are a "healthier" alternative – they are plain great cookies all around! Cashew butter, maple syrup, and almond flour form a chewy cookie that is crunchy around the edges with a rich buttery flavor. Perfect for cookie lovers of all ages!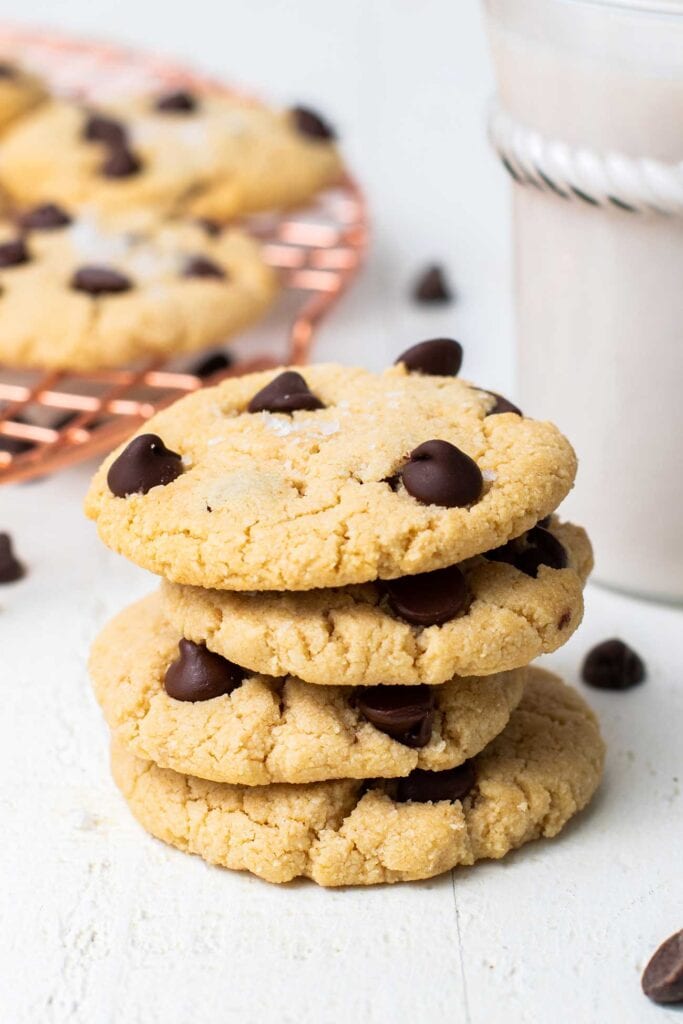 For serious chocolate lovers only! Vegan Double Chocolate Chip Cookies have a crunchy exterior and super soft, chewy center. Load them up with dark chocolate chunks or even add your favorite nuts!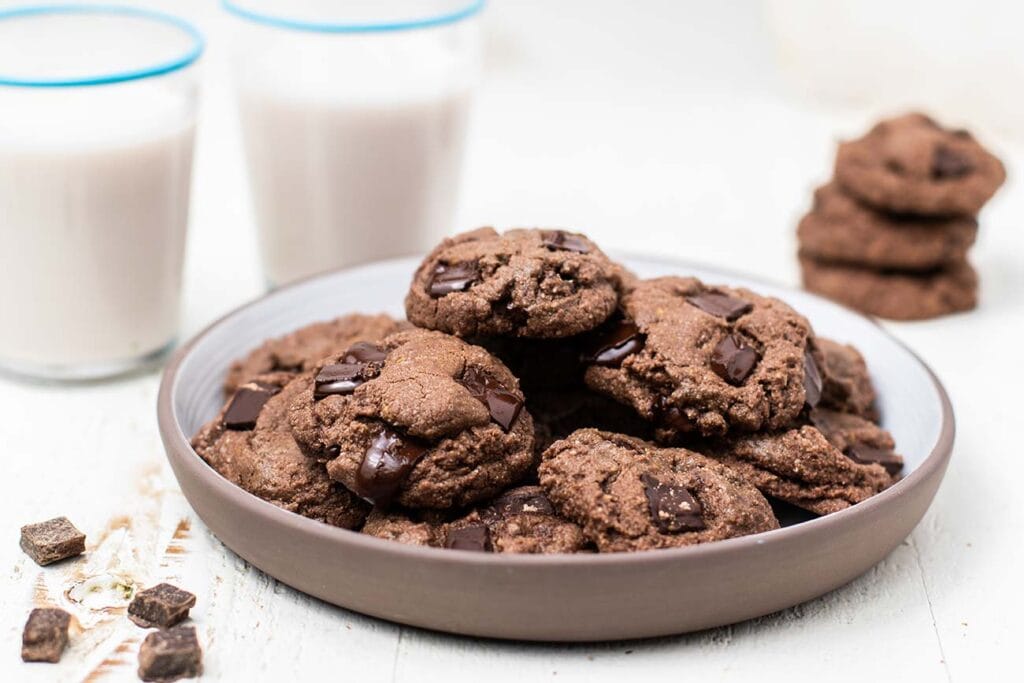 A cross between a brownie and a cookie, these flourless chocolate cookies give you the best of both worlds!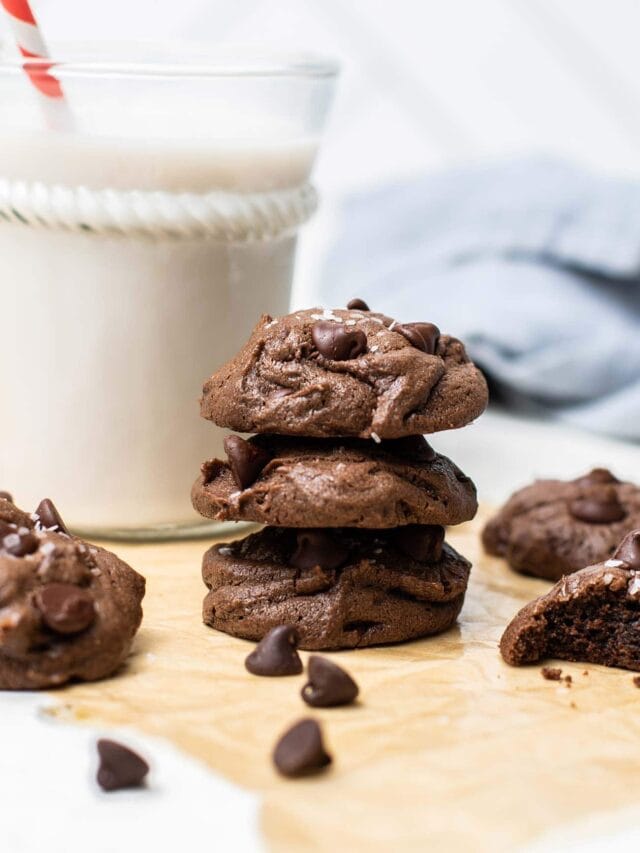 Gluten Free Thumbprint Cookies
A delicious gluten free chocolate thumbprint cookie, perfect with a dollop of healthier chia seed jam. We love raspberry! These are perfect for Christmas or for after school snacks.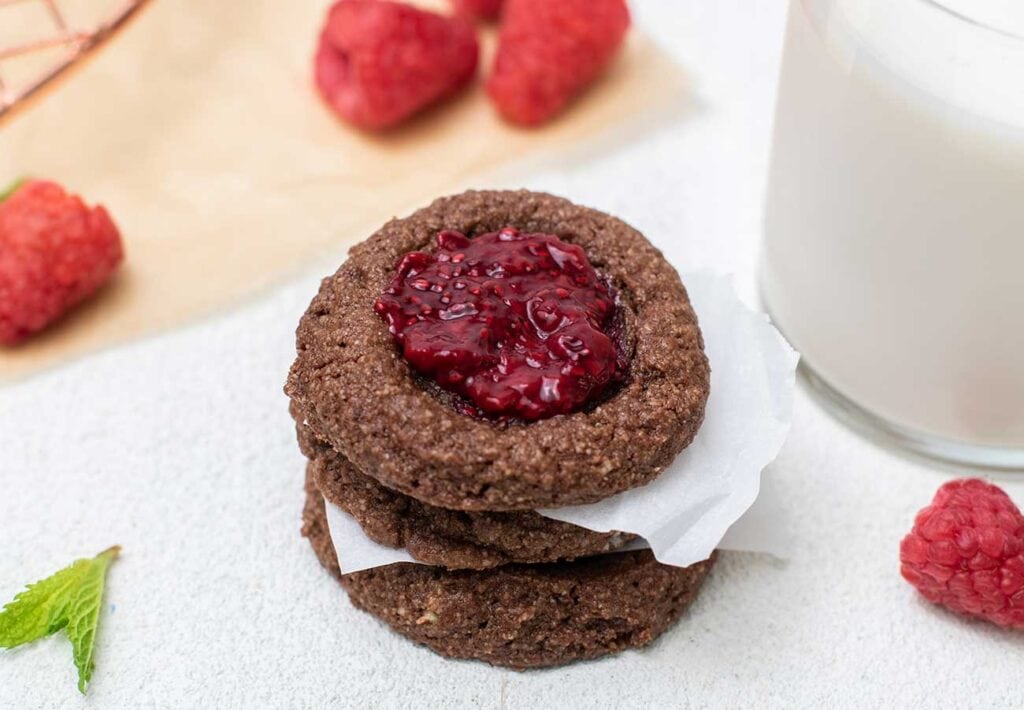 Level up your oatmeal cookies with a dollop of raspberry chia seed jam! These buttery and crunchy oatmeal thumbprints are beautiful to look at, fun to make, and delicious to eat.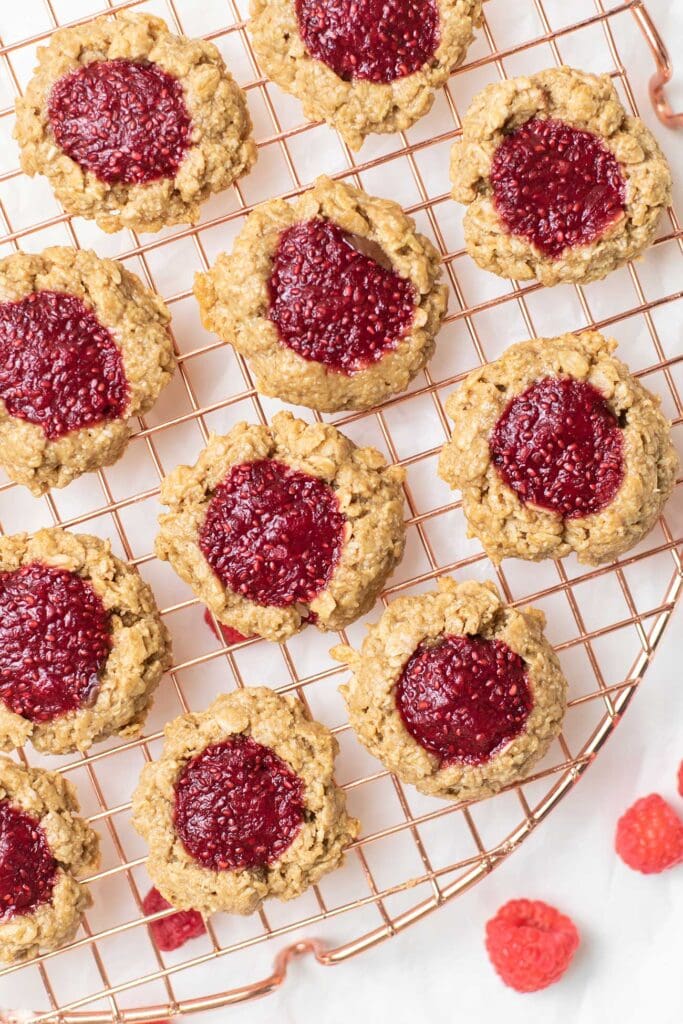 A fun breakfast cookie, made into thumbprints! These cookies are sugar free, using only fruit as a sweetener. Drizzle on some nut butter for some healthy fats!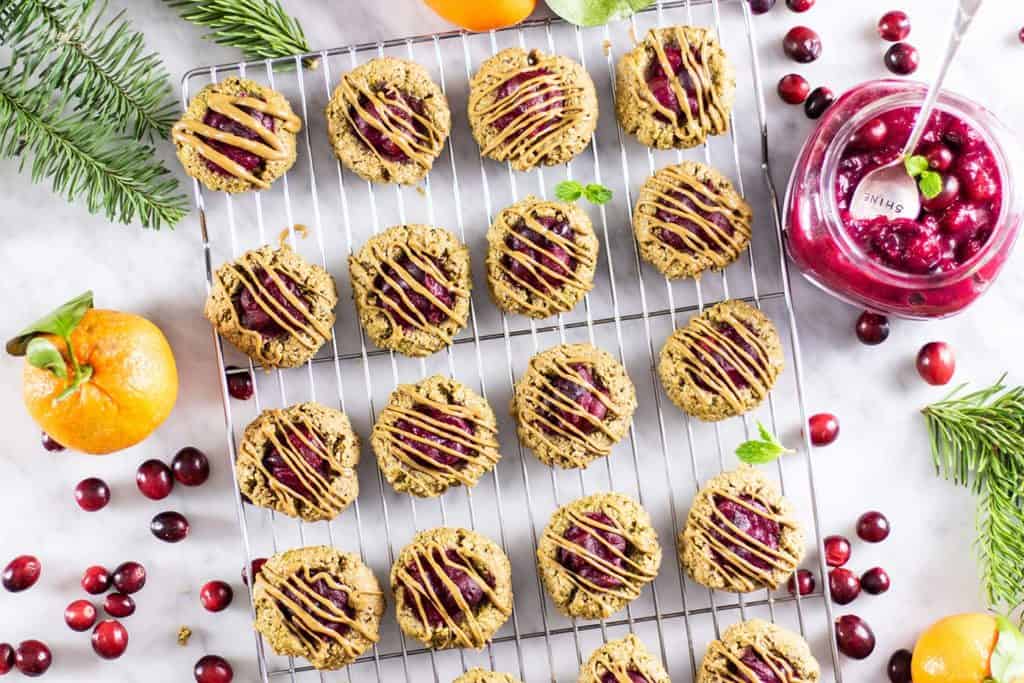 Gluten Free Bar Cookies
The most popular cookie on Sunkissed Kitchen, these healthier date walnut bars are so delicious! These are made with dates and not other sweeteners.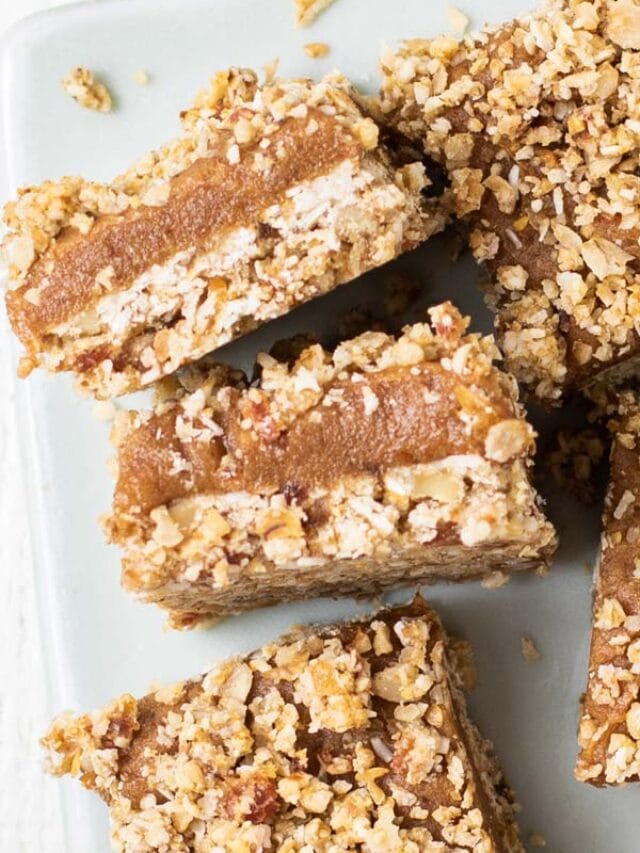 Gluten free lemon bar perfection! A tender, lightly sweet almond flour shortbread is topped with a bright and zesty lemon curd. These lemon cookies are perfect for spring events.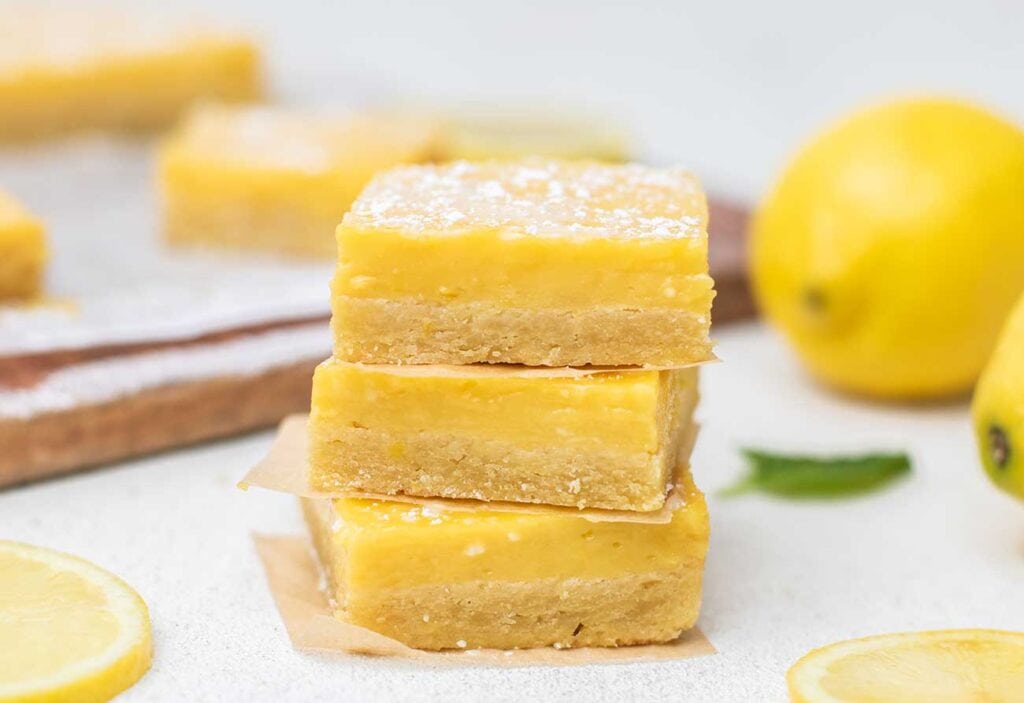 Mix up your Monster Cookie Game with these fun bar cookies! The same great flourless oatmeal cookie base, studded with chocolate chips and candy covered chocolate pieces, for a festive treat-or-treat option.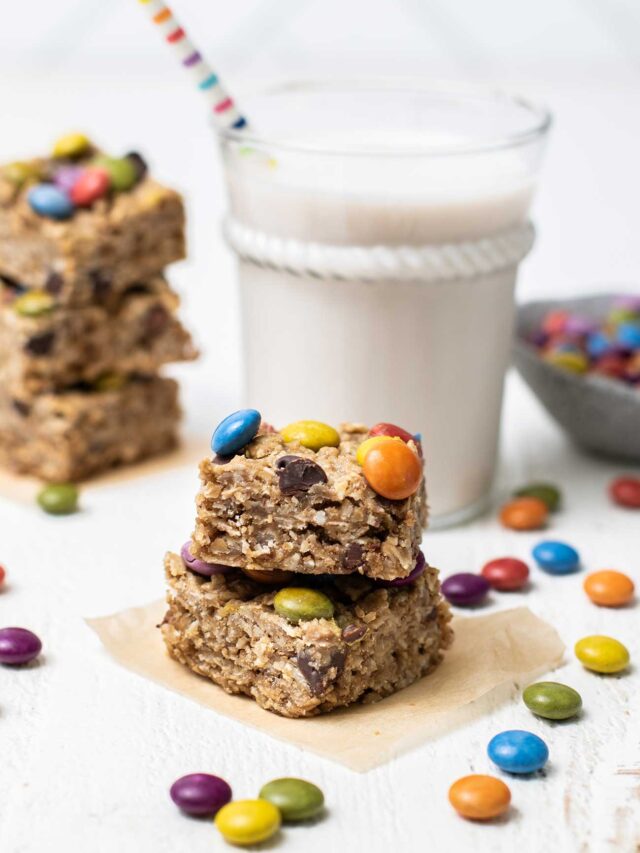 One of my favorite cookies to date! A chewy oatmeal cookie bar recipe, studded with dark chocolate and a layer of fresh raspberries. The perfect cookie for summer!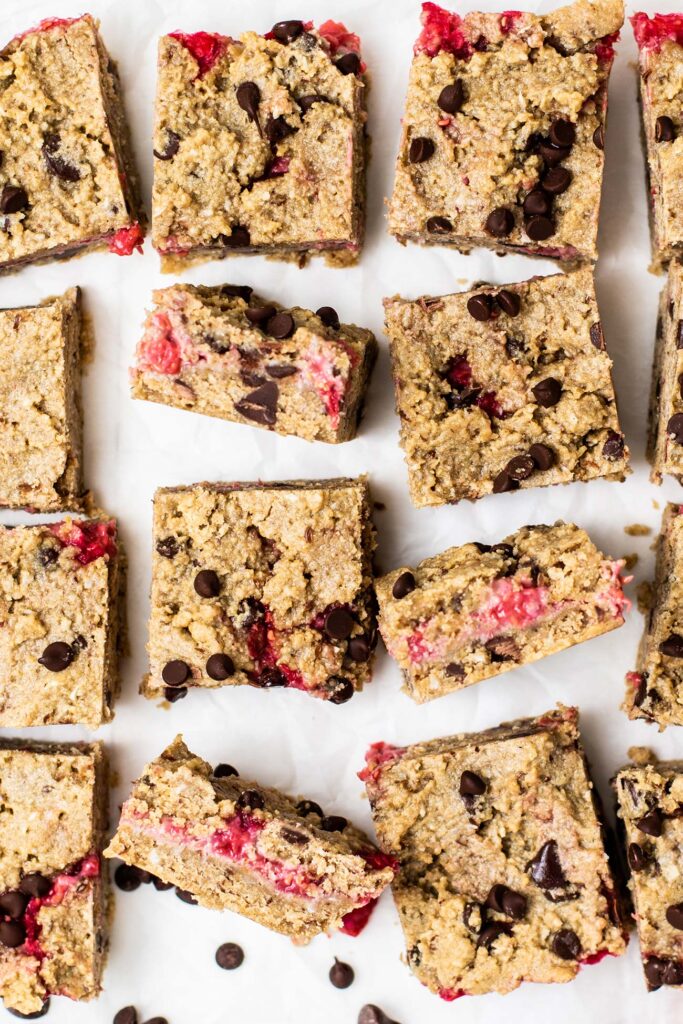 Like a peanut butter cup, but allergy friendly with a sunflower butter layer! These cookies have a crunchy, granola-bar like base, a creamy layer of nut butter, and a layer of dark chocolate on top. Add flakey sea salt for an extra pop of flavor!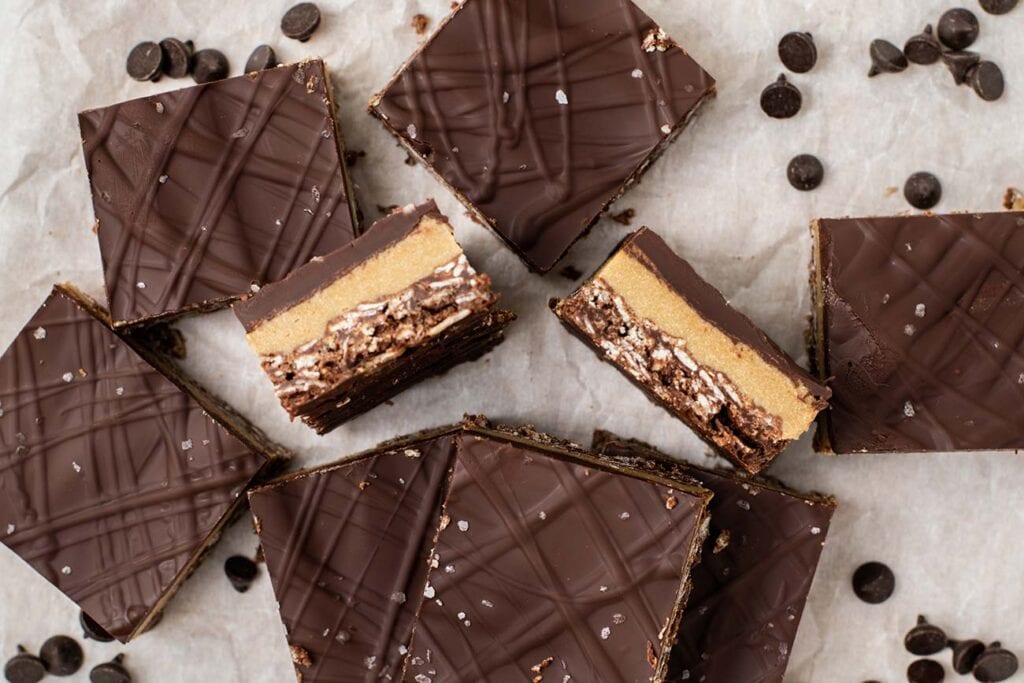 Gluten Free Sandwich Cookies
The ultimate sandwich cookie, made healthier! This fun gluten free Oreo cookie recipe is made with a dark chocolate crunchy cookie and a layer of creamy vanilla buttercream. Fun for kids to help make (and eat!).
My famous Vegan Oatmeal Cookies with a layer of ice cream sandwiched in the center. Use your favorite ice cream to make these delicious treats!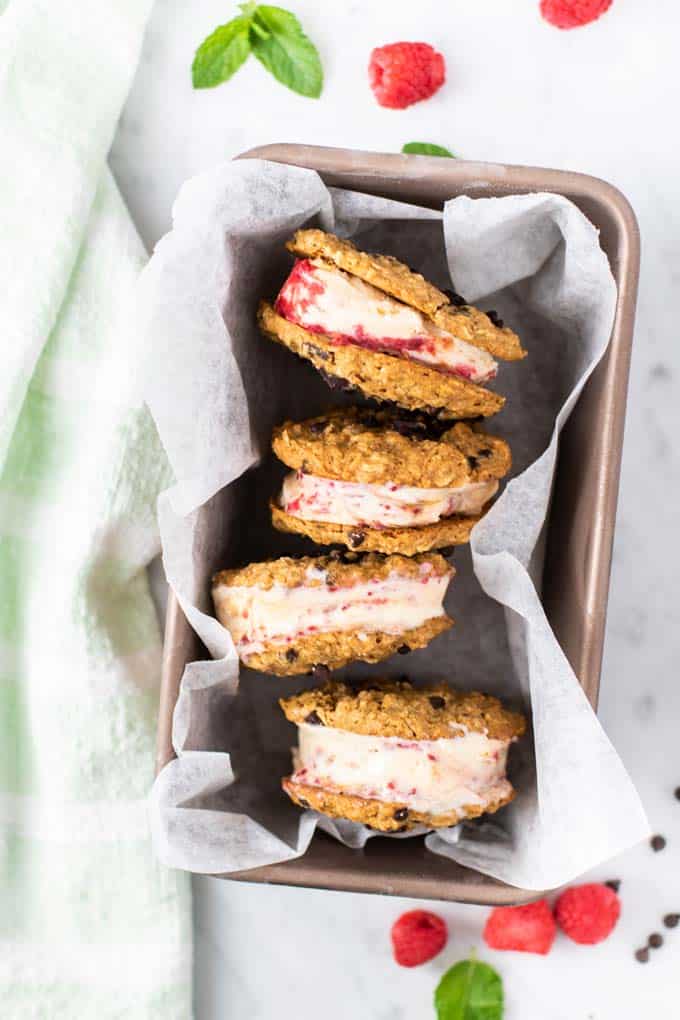 Forget the cookie sandwiches in the plastic wrappers — homemade are best! These Oatmeal Cream Pies are made with gluten free cookies and a creamy vanilla buttercream.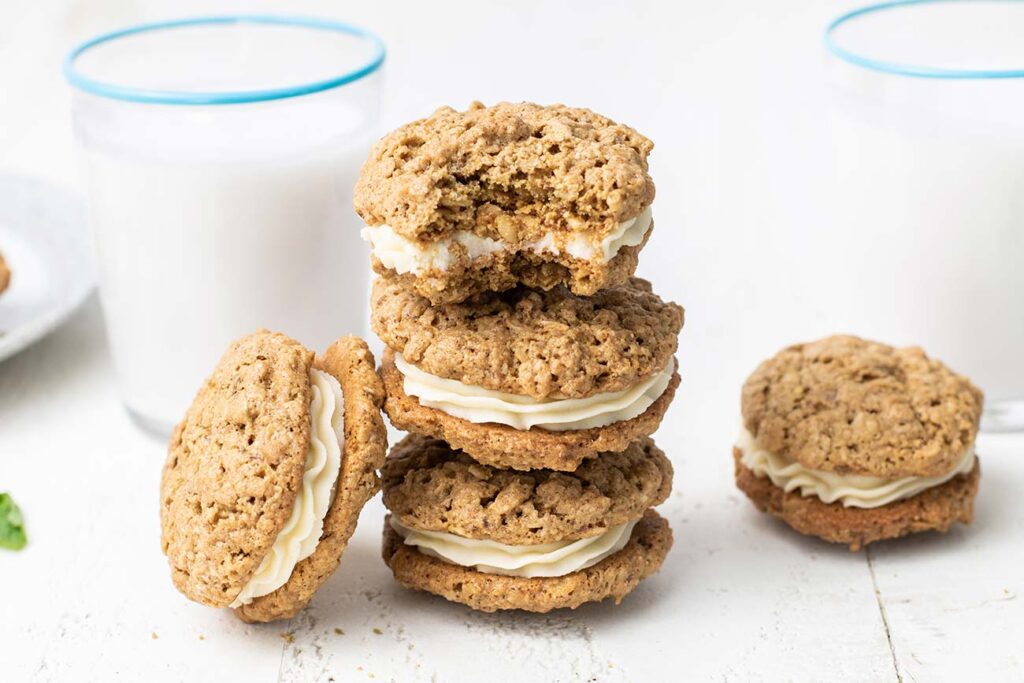 Gluten Free Christmas Cookies
My favorite Christmas cookie, remade healthier! Gluten free ginger cookies have the perfect combo of sweet and spicy! Made with a combo of oat and almond flour, these bake up with a crisp exterior and a deeply flavored, chewy interior.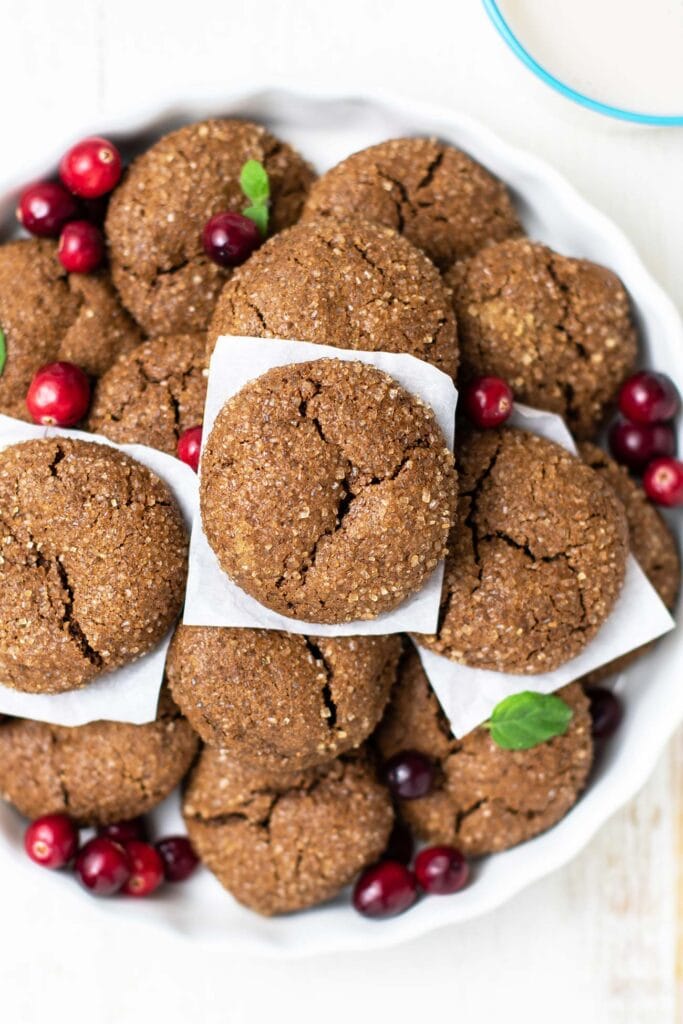 Quite possibly the best snickerdoodle recipe you'll find, gluten free or not! Made with almond flour and oat flour, these have a pillowy soft texture and a crunchy, cinnamon and sugar coating.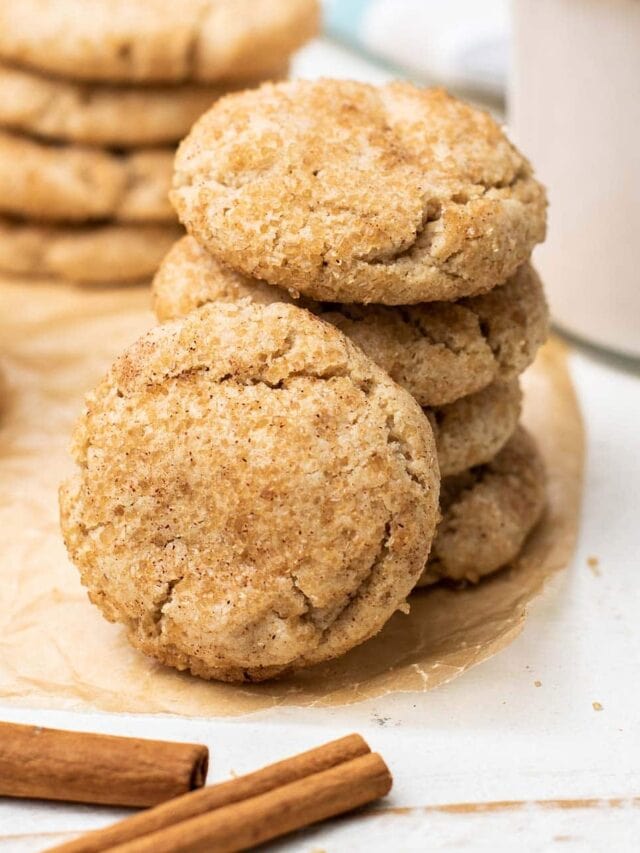 A chewy coconut macaroon made with peppermint and dark chocolate, for the perfect Christmas cookie! We love these with a variety of flavors — orange extract, almond extract, or plain vanilla extract all work in place of the peppermint!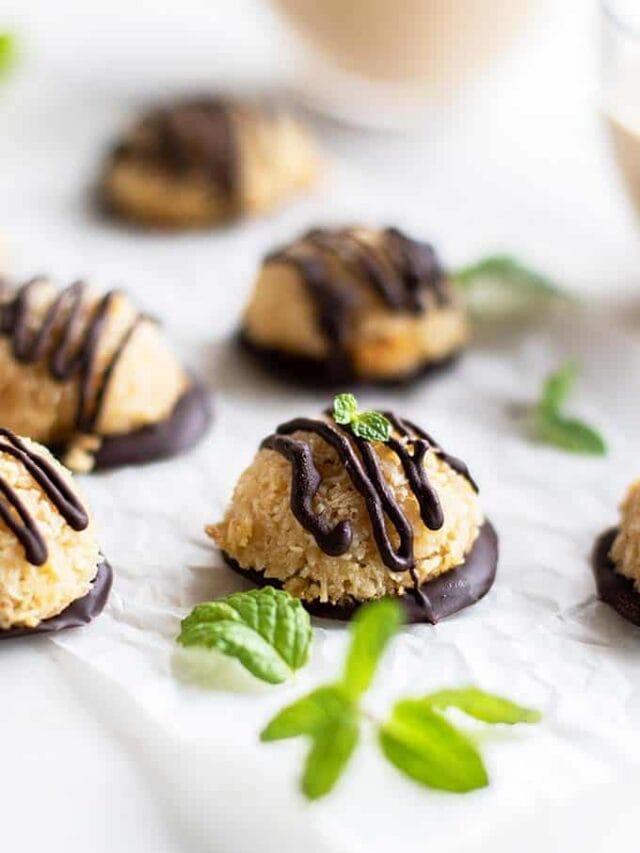 A french macaron cookie with vanilla bean – the perfectly white, chewy almond flour cookie! For a holiday twist, I filled these with raspberry and matcha-mint fillings.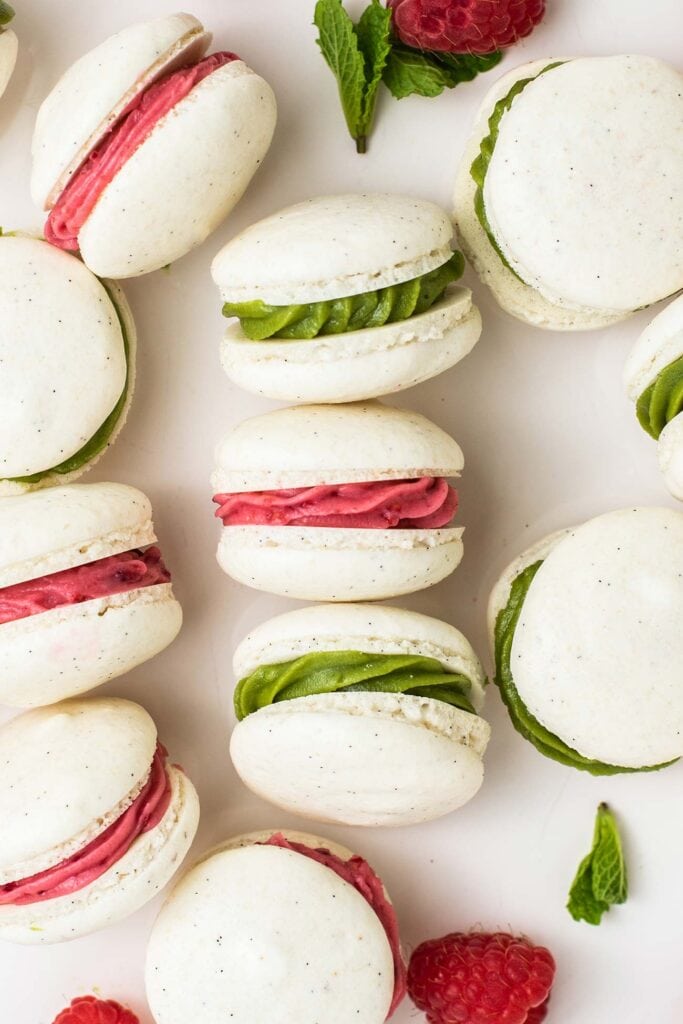 A healthier, gluten free version of Panera's Kitchen Sink Cookies. We love these with caramels, dark chocolate, and pretzels. Add potato chips and sprinkles if you're feeling adventurous!
Gluten Free No Bake Cookies
My favorite candy bar, remade into no bake cookies! These take about 5 minutes to mix up and press into mini muffin pans, and are a delicious treat that's a cross between a cookie and candy! Make with almonds on top, or "Mounds" style with no nuts.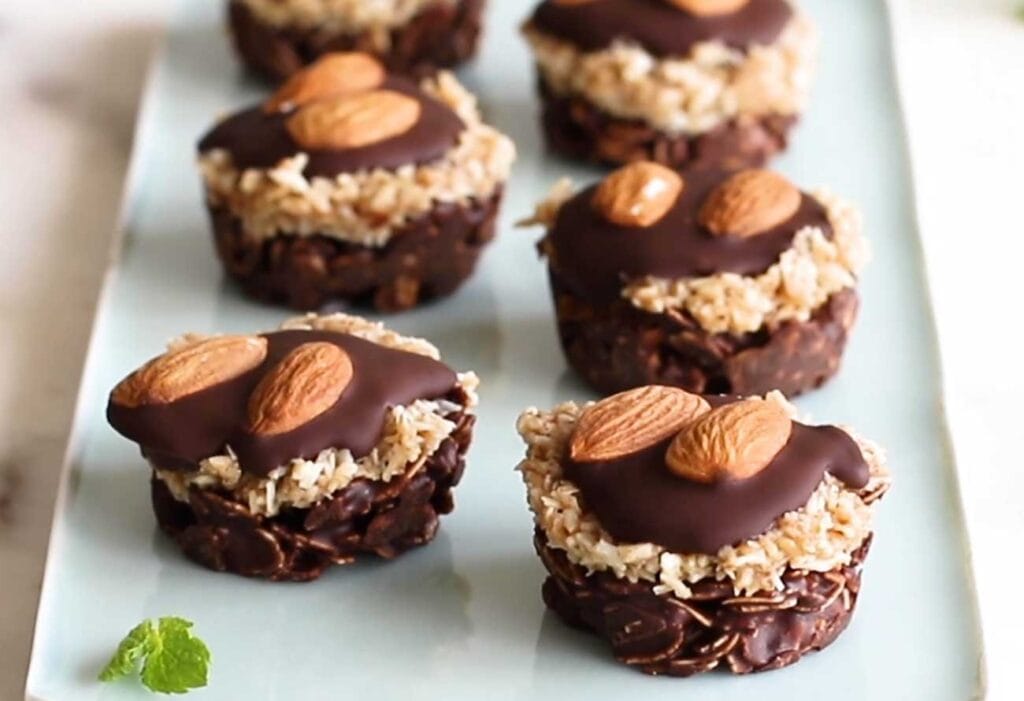 This keto version of lemon bars is made with a crunchy coconut crust, and a gelatin-thickened lemon curd. I use monk fruit sweetener to keep these sugar free, but feel free to use powdered sugar or maple syrup!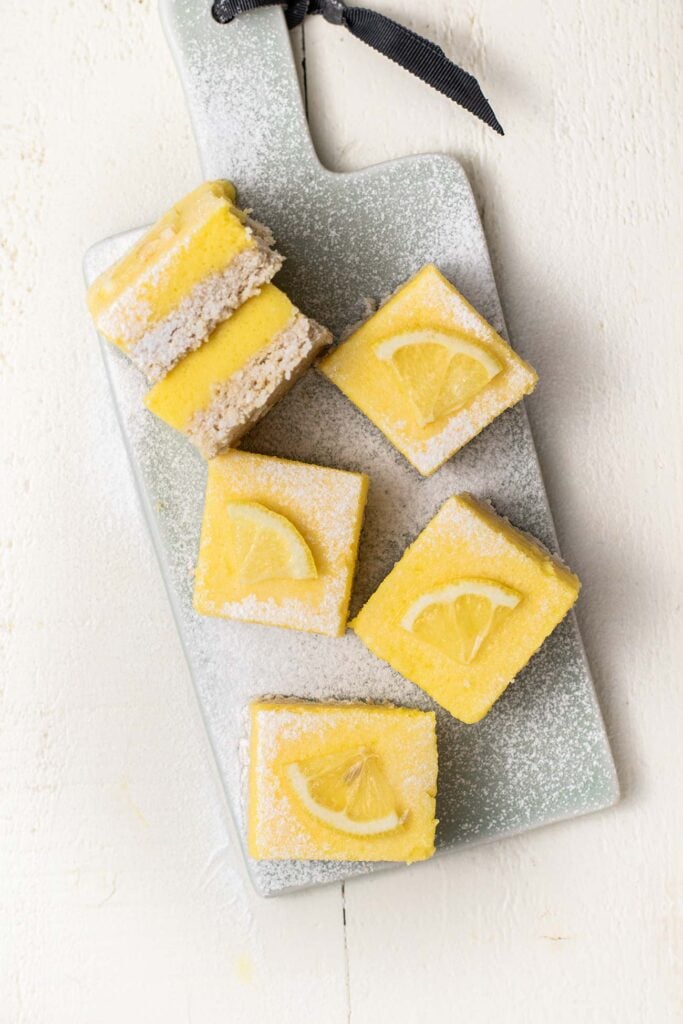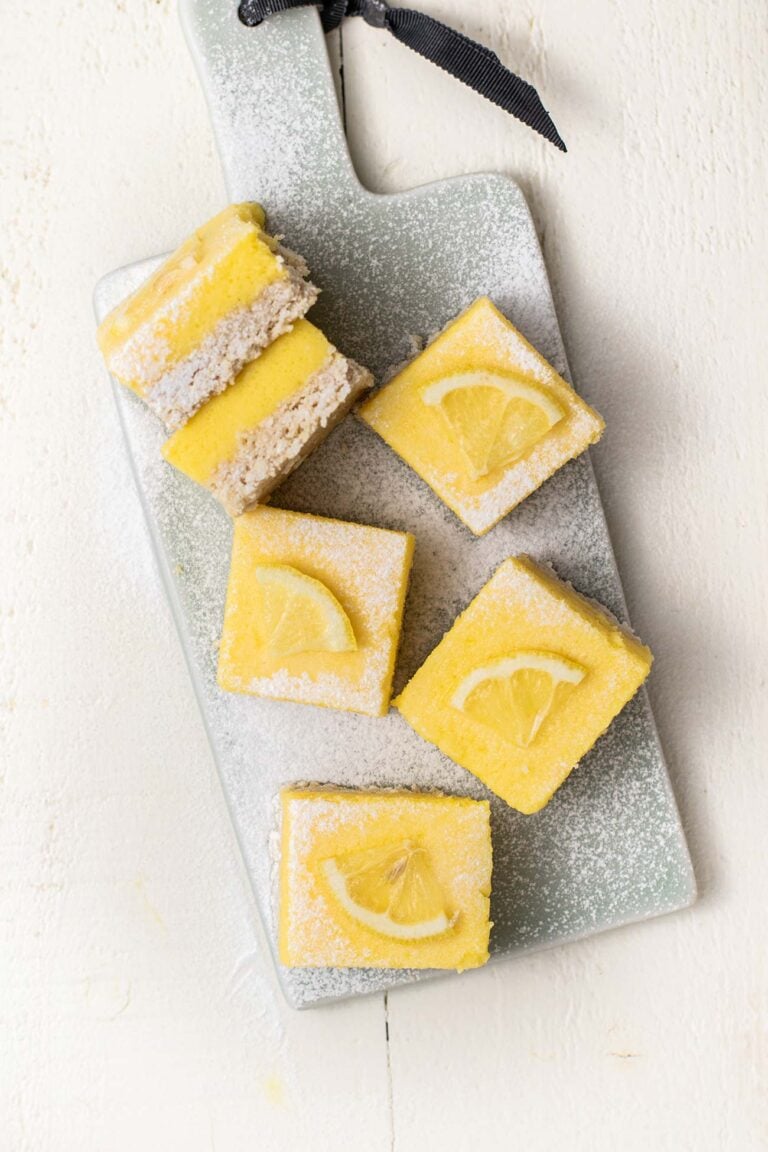 Comment below if you have a favorite cookie recipe you'd like to see remade into a gluten free cookie recipe! I love taking requests from readers and will do my best to add them to my list!