This post may contain affiliate links. Please see my full
Disclosure Policy
for details.
The Pegan Diet is based in functional medicine – using food to heal! Delving into how foods affect our bodies helps us understand how to prevent and treat common diseases, from diabetes to mental health issues. Learn the basics of the pegan diet, find pegan diet recipes, and explore how transforming your eating can improve your life.
What is the Pegan Diet?
The Pegan Diet was created by Dr. Mark Hyman, a term he coined to explain that he draws on the healthiest aspects of a paleo and vegan diet.
I am drawn to the pegan diet more as a tool of understanding which foods promote health, and which are known to commonly cause inflammation and disease. It's a great guide to understanding which foods belong in our kitchens (and bodies!) and which things promote disease.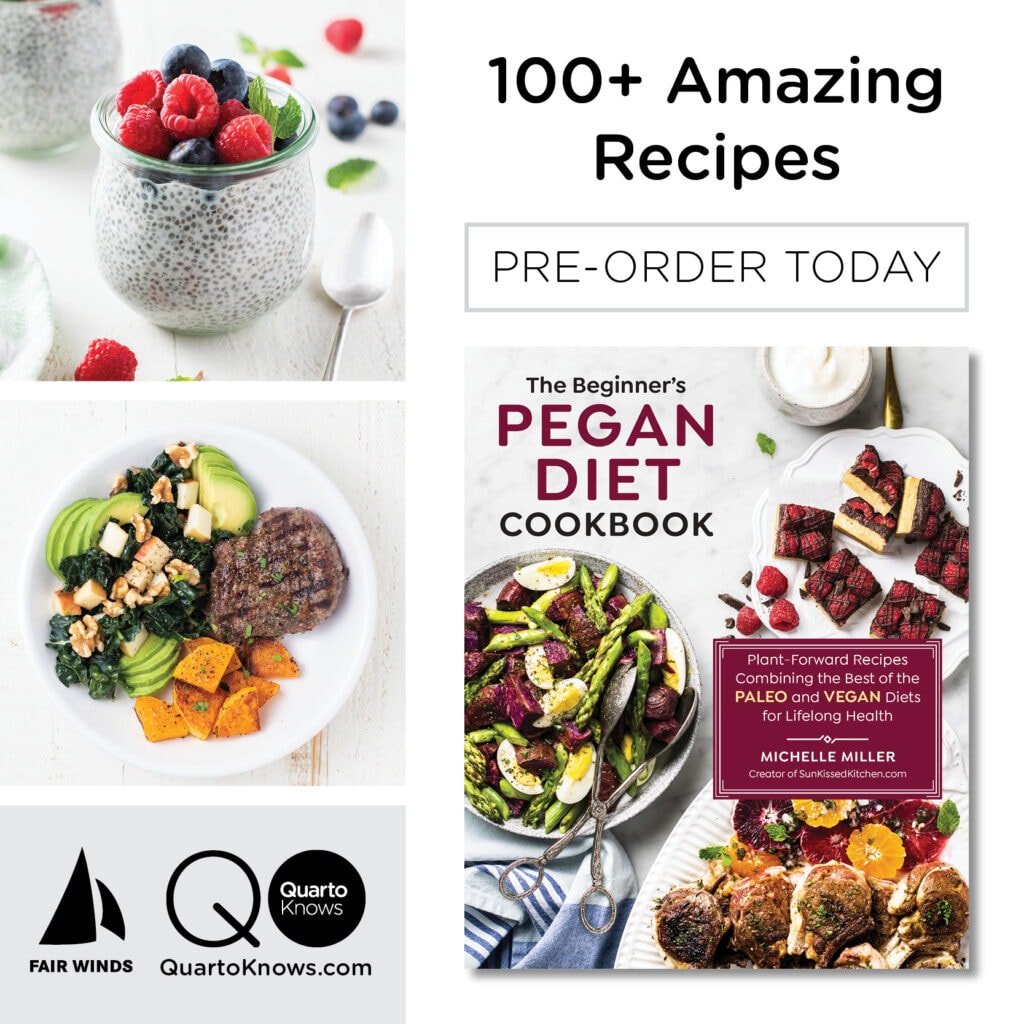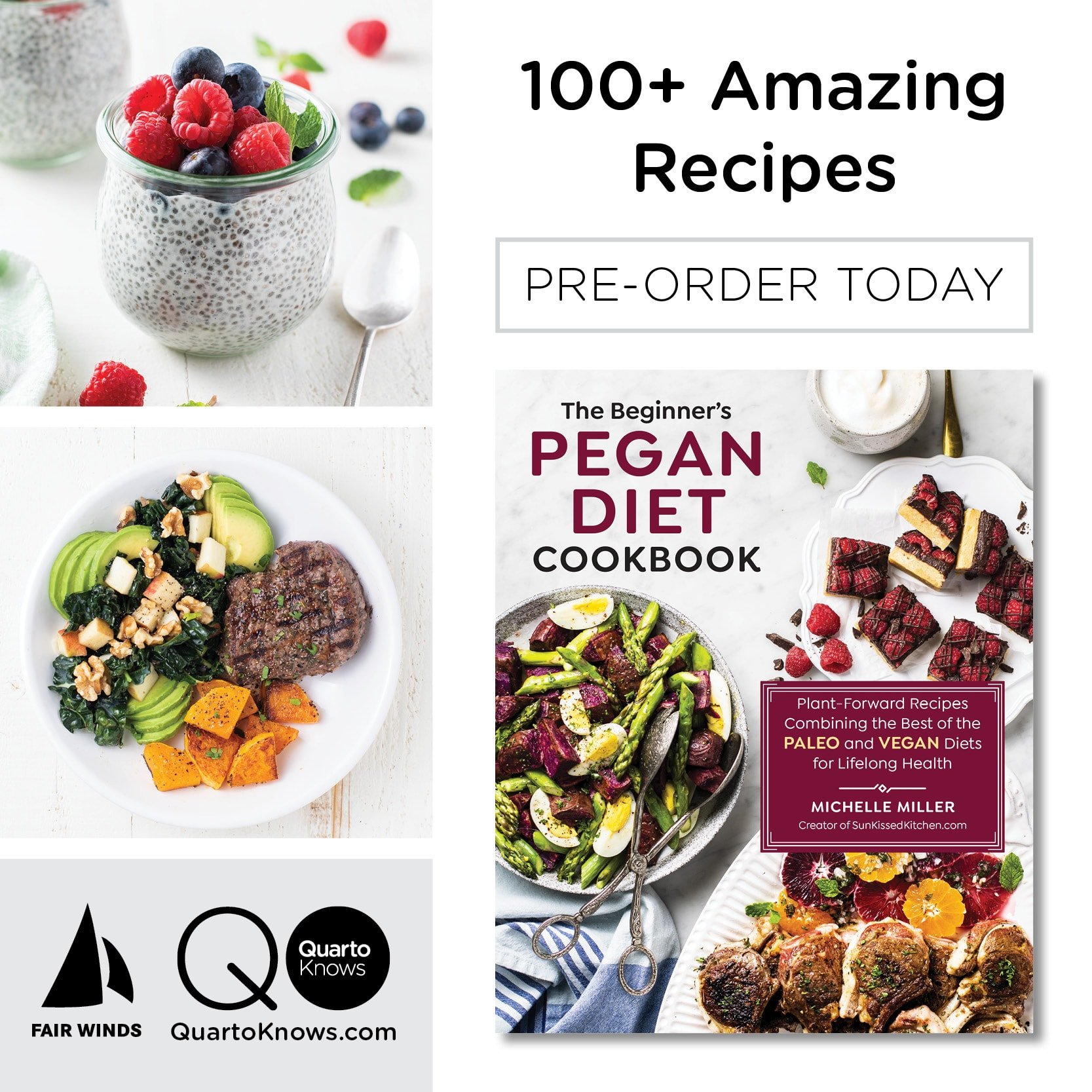 When first reading about the pegan diet, I realized that I naturally ate and created recipes based on his principles. It helped me define what I already was doing in my kitchen and with most of the recipes that I share on Sunkissed Kitchen.
The pegan diet has been criticized for being too restrictive, but in my opinion it's anything but. It emphasizes eating real, whole, unprocessed foods. It's only restrictive in that processed foods, sugars, and foods that are well known to cause intolerances are nixed.
The "diet" is less of a regimented eating program, and more rules for eating for lifelong health and longevity.
Preorder The Beginner's Pegan Diet Cookbook – and receive a free starter's guide!
Last year, I created 101 recipes specifically around the principals of the pegan diet!
Preorder The Beginner's Pegan Diet Cookbook today!
But you don't have to wait for April 6th to get started with healthier eating. You'll instantly receive this guide to the pegan diet, along with recipes for a full day of pegan diet recipes.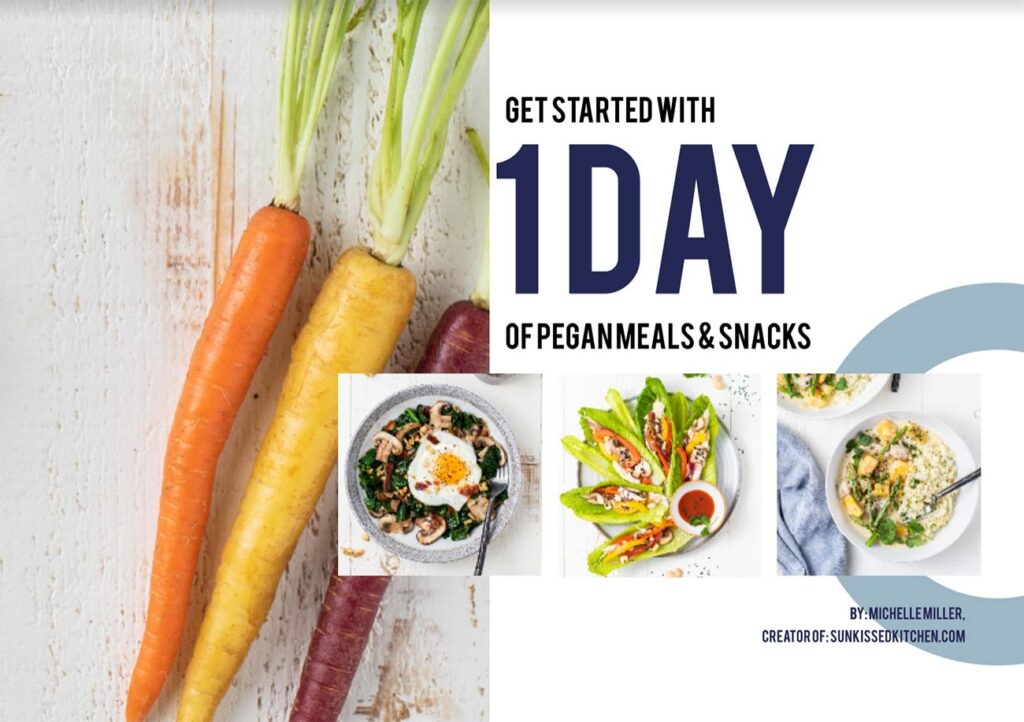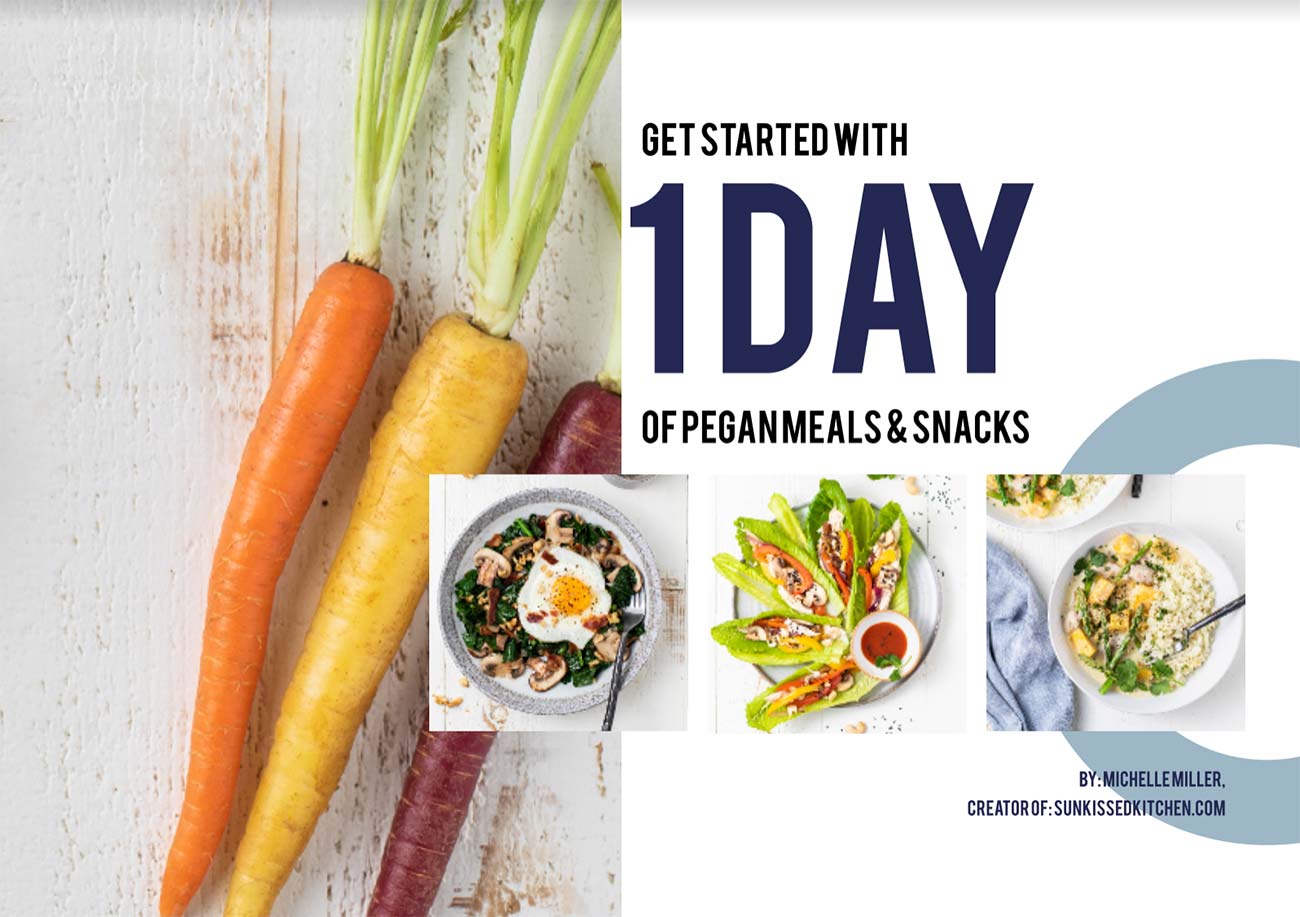 Stay away from sugar: This applies to both processed sugars and high sugar whole foods like fruit.
Eat mostly plants: The pegan diet utilizes a "75/25 plate" rule — meaning 75% of your plate should be low glycemic index (GI) vegetables, and 25% should be protein, like meat, nuts and seeds, grains, or legumes.
Add fruit in moderation: Fruit is a healthy addition to a diet, but is high in sugar and high on the GI. Therefore, fruit should be consumed in moderation and avoided in people who have diabetes or struggle to lose or maintain a healthy weight. Low GI berries are an exception and can be consumed in moderate amounts.
Stay away from pesticides, antibiotics, hormones, and GMO foods: The diet stresses eating foods that are natural, not made in a lab. Eating foods that are as close to how they naturally occur is key. Foods that have been hybridized and altered to increase starch and sugar content (lots of fruit, grains like wheat and corn), and animals who have been given antibiotics and hormones, aren't as healthy or nutritious.
Include plenty of healthy fats: Nuts, seeds, avocados, oils like coconut, avocado and olive, and grass fed dairy like butter and raw cheeses, are a part of a healthy diet. These fats contain omega 3s essential to health.
Avoid most vegetable, nut and seed oils: These oils are high in omega-6, and make it difficult to maintain an ideal omega-3 to omega-6 ratio. A diet too high in omega-6 fatty acids is inflammatory.
Choose dairy wisely: Many people are intolerant to dairy products. If these products cause digestive issues, they should be avoided. If no problems occur, the healthiest choices are grass-fed butter and heavy whipping cream, and raw cheeses.
Think of meat and animal products as condiments: Meat and seafood is are the best sources of protein, a macro nutrient necessary for maintaining or building muscle mass.
Eat sustainably raised, low mercury seafood: Smaller fish, like salmon, sardines, herring and anchovies are great additions to a diet, providing high quality protein and fats. Larger fish higher on the food chain have higher levels of mercury and other toxins.
Avoid gluten: About 3/4s of the world's population has some varying degree of gluten intolerance, although not commonly known or addressed. Research is now showing gluten damages the gut even in people who are not intolerant.
Eat gluten-free whole grains sparingly: Grains can be a part of a healthy diet, but are high in starch and provide relatively low nutrient value. Some healthier options are wild rice, buckwheat, and quinoa.
Eat beans occasionally: Legumes (peanuts, soy and beans) have low protein quality compared to animal products, and are high in starch. They are healthy additions to a diet in moderation, but should be avoided by people who have trouble digesting them, are diabetic, or struggle to lose or maintain a healthy weight.
Get tested to personalize your diet: We are all different, and have varying nutrient needs and personal histories. Pinpointing nutritional deficiencies or issues like heavy metal toxification can be instrumental in finding optimal health.
Who Created the Pegan Diet?
Dr. Mark Hyman specializes in functional medicine. He is the founder of the Ultra Wellness Center.
Functional medicine is a practice of identifying the causes of illness, rather than treating the symptoms. It delves deep into a patient's history and personalized treatment based on what's discovered.
Modern Western medicine focuses on treatment rather than prevention. Functional medicine seeks to find imbalances and often uses diet rather than medication to treat problems.
Dr. Mark Hyman has written over 15 books, promoting food as medicine, low carb diets, and most recently, the pegan diet.
What are the Best Foods for our Bodies?
Low carb vegetables, like greens, broccoli, peppers, tomatoes, and green beans.
Low glycemic index fruit, like fresh berries, citrus, and stone fruits.
Meats raised with sustainable practices, like organic and pastured poultry, grass fed beef, and pastured pork.
Low mercury seafood, like wild Alaskan salmon and sardines.
Nuts and seeds, except peanuts which are a legume
Pastured eggs Grass-fed butter, coconut oil, avocado oil, and olive oil.
Pegan Diet Recipes
TONS of Sunkissed Kitchen Recipes adhere to the pegan diet principles.
Get started with these ideas:
Pegan Diet Breakfast Recipes:
Pegan Diet Entree Recipes:
Healthy Treats and Snacks:
Browse All Pegan Diet Recipes
The Beginner's Pegan Diet Cookbook
Last year, I delved into researching the pegan diet, and understanding how to plan meals that adhere to its principles.
I know you'll be as excited as I am about these delicious recipes and meal ideas!
The book will be released April 6th.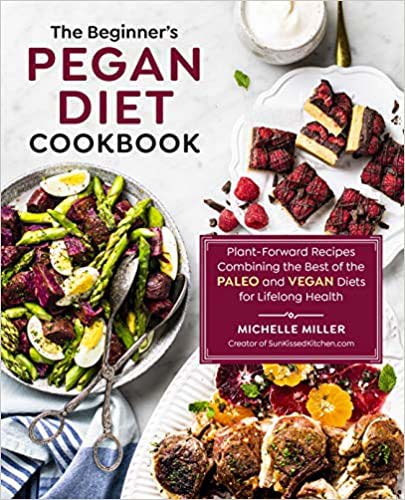 If you order the book now, you'll receive a FREE guide to jumpstarting the pegan diet and eating for a healthier life today, plus 4 bonus recipes.