This post may contain affiliate links. Please see my full
Disclosure Policy
for details.
This decadent, vegan Avocado Chocolate Pudding is full of nutrient-rich ingredients! Dark chocolate is bursting with antioxidants, and this vegan chocolate pudding is also filled with green vegetables. The perfect vegetable recipe for people who don't like vegetables!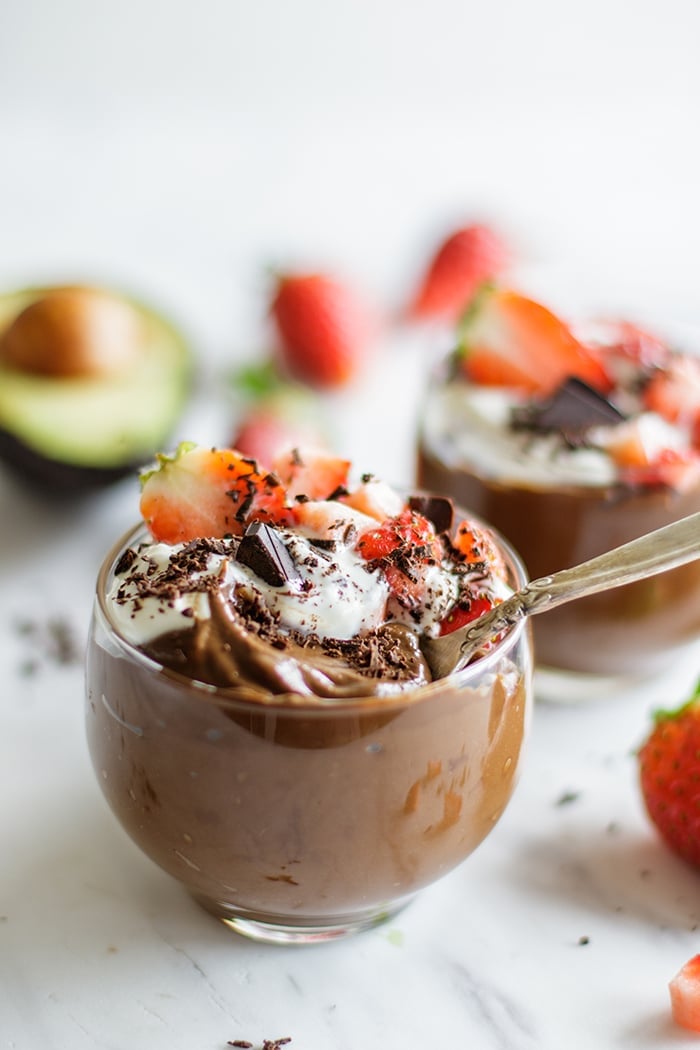 This post is sponsored by Life Extension, a provider of high quality vitamins and supplements, and a brand I have relied on for many years personally. I only work with companies who's products I've used and love, and as always, all opinions are my own.

The Best Vegan Chocolate Pudding
Chocolate pudding is one of those things that brings back memories of childhood!
Of course, when I was a child, it was a snack pack in my lunch box. Boy, did opening my lunch box and seeing one of those brighten up my day.
Although I no longer buy snack packs, I still have a big sweet tooth. I actually love salads and vegetable dishes, but I have really persistent sugar and carb cravings. Because I'm always watching my weight and trying to make healthy swaps, I often choose to have a sweet dessert instead of a meal, especially when I am busy and don't have time to make a full meal.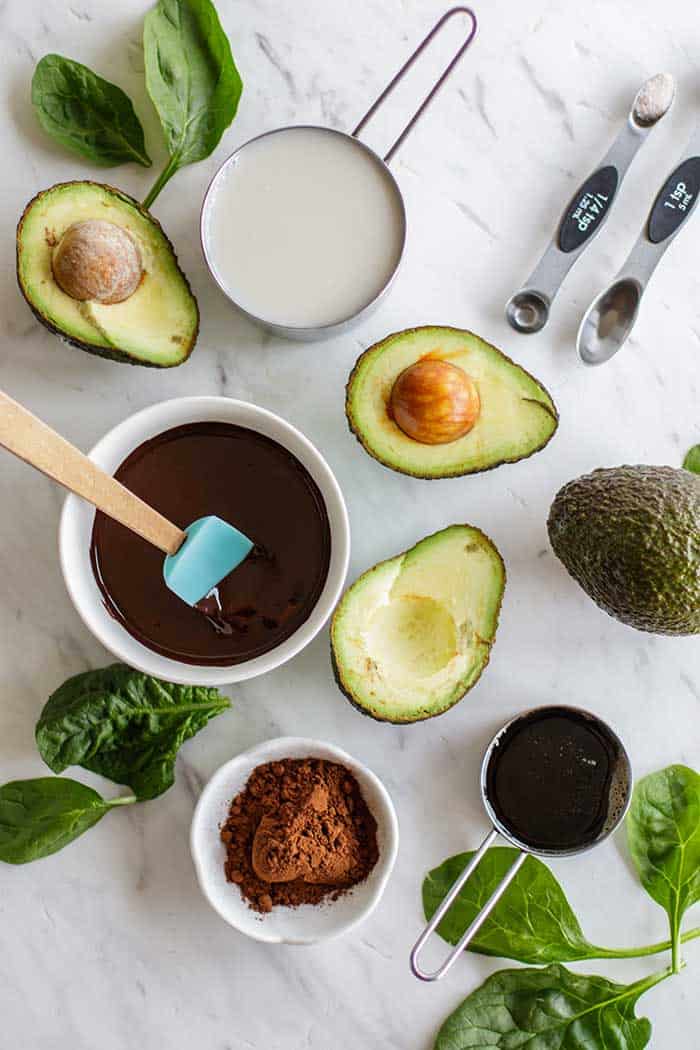 This healthy vegan pudding recipe is a great meal stand-in, or a nutritious dessert for your family. It's made with creamy avocado, a handful of spinach, and rich dark chocolate. I lightly sweeten it with my favorite liquid sweetener, date syrup, but swap that out for any liquid sweetener you like to use, such as maple syrup or raw honey, if you need this to be a paleo chocolate pudding.
Vegetable recipes for people who don't like vegetables
While I DO love my vegetables, I know there are a lot of people out there who are like me, and have an undeniable sweet tooth. I also know that we all have that person in our family who just doesn't like to eat vegetables. For me, it's my toddler.
Adding vegetables to smoothies, desserts, or using vegetables in place of carbohydrates, like diced cauliflower in place of rice, is a great way to fill the gap. Our bodies need the nutrients that vegetables provide, such as the potassium, iron, vitamin A and vitamin C. These nutrients are vital to living our healthiest life.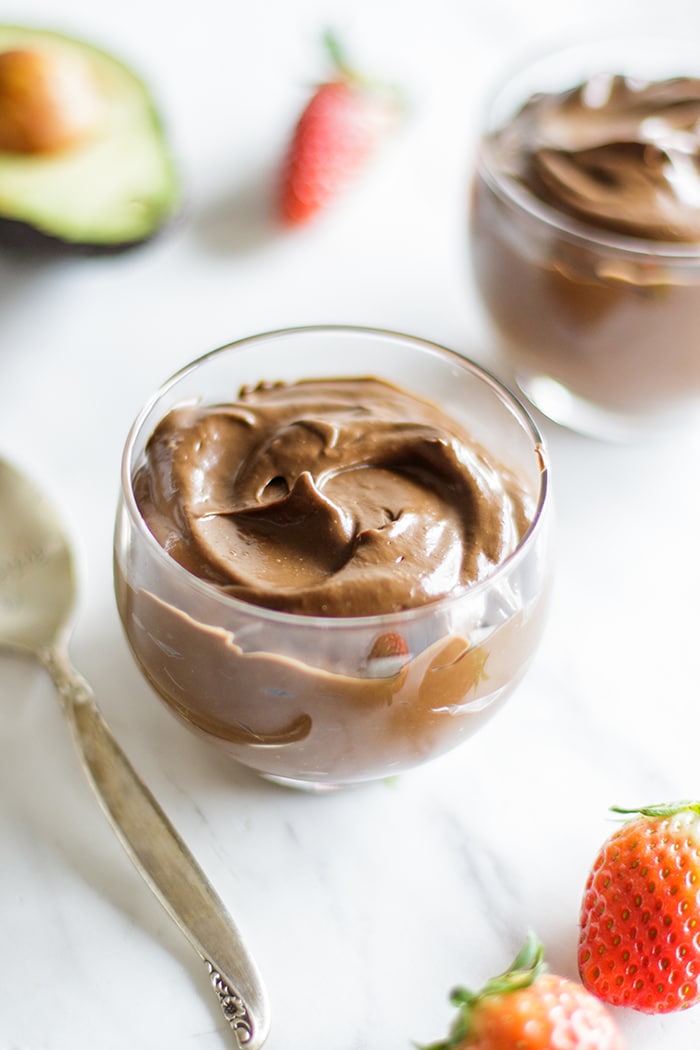 While I believe it's best to get the vitamins and minerals we need from food, I am far from having a perfect diet. I do eat smoothies or desserts in place of balanced meals, I skip meals, and when I travel, you can often find me diving into a basket of french fries for dinner. LIFE HAPPENS! Even to those of us with the best intentions.
Years ago, my doctor recommended Life Extension probiotics and Vitamin D to ward off illnesses while traveling, and because I liked both products so much, I started using Life Extension multi vitamins as well.
What I really appreciate about Life Extension vitamins is they are formulated to have the amount of vitamins and minerals for optimum health, not just the base recommendation (the RDA).
If you don't like vegetables, or have a family member who doesn't, I have two recommendations:
Find a high quality multi vitamin for them, like Life Extension 2-A-Day vitamins.
Prepare vegetables in new and interesting ways, or "hide" them in dishes you wouldn't normally find them in, such as in this avocado chocolate pudding recipe.
Try one of these recipes:
1. Chocolate Chip Mint Smoothie
This sweet and creamy smoothie tastes just like a milk shake – but a large part of the drink is actually spinach! The spinach lends a beautiful natural green color, but is completely undetectable in taste.
These gluten free pancakes are packed with sweet, caramelized squash. The end result is spiced and is much like having pumpkin pancakes, so don't be scared off by the squash!
This creamy macaroni and cheese is loaded with 4 vegetables. If you really don't want to see your veggies, omit the broccoli – the sauce still has 3 vegetables, in addition to lots of gooey cheese!
4. Chicken Sausage Spaghetti Sauce with Zoodles
If zoodles in place of noodles is pushing the limits for you, go ahead and use your favorite pasta or even rice along with this sauce. This traditional pasta sauce is loaded with tomatoes, peppers, and onions, but also lots of delicious chicken sausage.
5. Creamy Potato, Kale and Sausage Soup (Copycat Zuppa Toscana)
If you love Olive Garden's Zuppa Toscana, you just might love my version even more! The cream is replaced with a ultra dreamy cauliflower cashew "cream," so even if you opt to leave out the kale, you'll still be getting a ton of veggie goodness!
6. Slow Cooker Mexican Chicken and Rice
There isn't a whole lot better than a huge plate of chicken and rice smothered in a Mexican red sauce and tons of cheese.
This version is lightened up by using brown rice instead of white and is half cauliflower rice.
This is another soup I make with my cauliflower cashew cream. Filled with sweet corn, everyone loves this soup.
I love cauliflower rice and make it often. The first time I tried it was for this recipe inspired by the side dish at Mexican restaurants. My husband didn't even know it wasn't actually rice! All the flavor, but tons more nutrients!
9. Secret Veggie Mint Fudge Chunk Frozen Yogurt
Seeing the avocado pudding trend on the internet, I thought using it in an ice cream recipe would be a good move. Boy, was I right. This frozen yogurt gets its beautiful natural green color from avocado and spinach.
#10 – this beautiful Avocado Chocolate Pudding!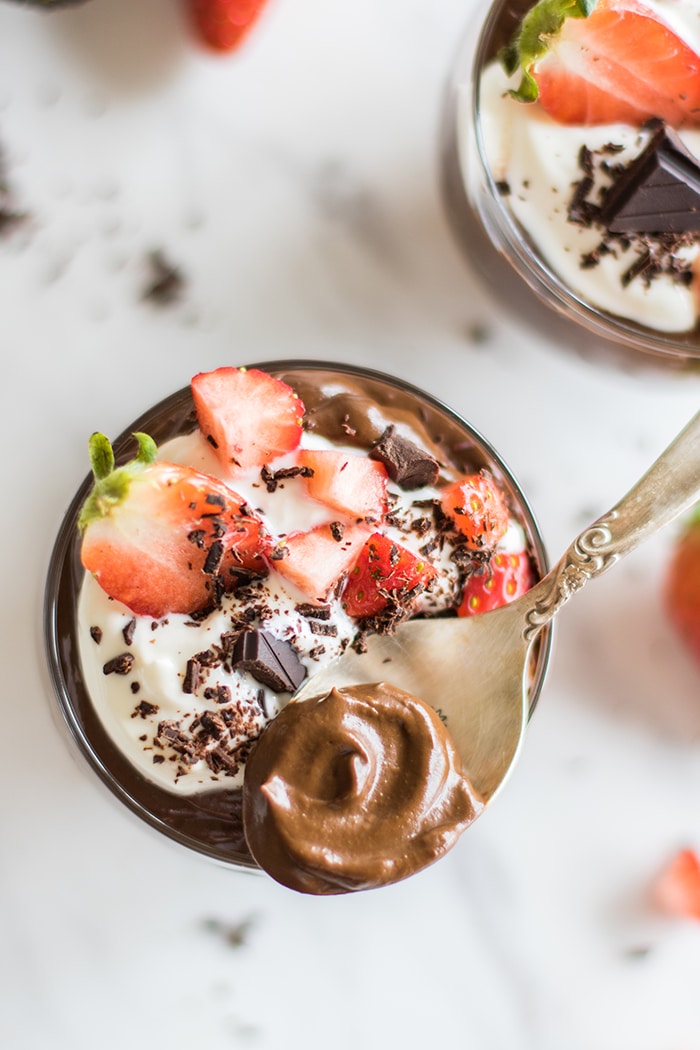 Making the Best Avocado Pudding
Make it Gluten Free: The great thing about avocado pudding is that you need no thickener – the avocados lend enough creaminess to keep it nice and thick!
Make it Paleo: I love using date sryup in this recipe, but swapping maple syrup or raw honey will keep this avocado chocolate pudding paleo approved.
For the Family: I use 1/3 cup sweetener in this recipe, and 100% dark chocolate (no sugar added). To make it sweeter for family members who are used regular desserts, either up the sweetener to 1/2 cup, or use a 70% dark chocolate bar instead.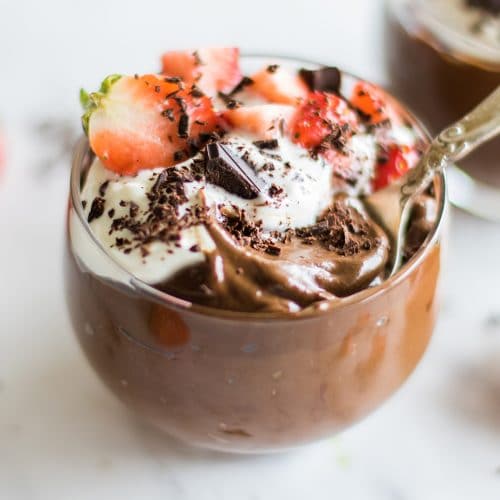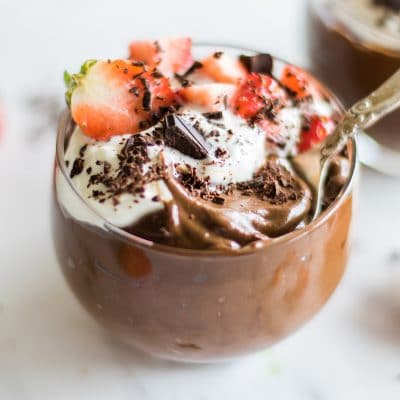 Avocado Chocolate Pudding
This delicious and thick vegan pudding recipe is one nutritious and decadent dessert! Instead of using milk and a starchy thickener, it's based on avocado, and a handful of spinach to up the nutrient value.
Print
Pin
Rate
Ingredients
2

avocados

ripe or overripe

3/4

cup

almond milk

unsweetened

1/3

cup

date syrup

or sub maple syrup

1

cup

baby spinach

optional

3

tablespoons

natural cocoa powder

1

teaspoon

vanilla

1/8

teaspoon

sea salt

80

grams

100% dark chocolate
Instructions
Add peeled and scooped avocado to a blender. It's okay to use overripe avocados that are beginning to turn brown in this recipe - in fact, this is a great way to use those up!

Add almond milk, spinach, date syrup, cocoa powder, sea salt, and vanilla to the blender, and blend until the mixture is very smooth and creamy.

Melt the dark chocolate bar in a small bowl in the microwave. Alternatively, use a double boiler to melt the bar.

Add the dark chocolate to the blender, and blend into the pudding mixture.

Fully cool for the thickest and richest pudding.

Top with berries, coconut whipped cream, or toasted coconut, if desired.
Notes
Using 1/3 cup of sweetener, there is a mild avocado flavor. If you'd like to completely cover the flavor, use 1-2 tablespoons more sweetener, and considered adding an extra tablespoon of cocoa powder also.
The avocados I used were on the small side. If you're avocados are very large, you might need to add an extra 1-2 tablespoons of almond milk, cocoa powder, and sweetener. Adjust to your tastes once it's made. It will continue to thicken as it cools and the chocolate solidifies in the mixture, making is almost mousse-like in texture.
Nutrition
Calories:
266
kcal
|
Carbohydrates:
34
g
|
Protein:
3
g
|
Fat:
15
g
|
Saturated Fat:
2
g
|
Sodium:
148
mg
|
Potassium:
601
mg
|
Fiber:
8
g
|
Sugar:
24
g
|
Vitamin A:
850
IU
|
Vitamin C:
12.1
mg
|
Calcium:
81
mg
|
Iron:
1.4
mg
I'd love to connect with you on social media! Find me on Facebook or Instagram where I post daily healthy eating and lifestyle inspiration.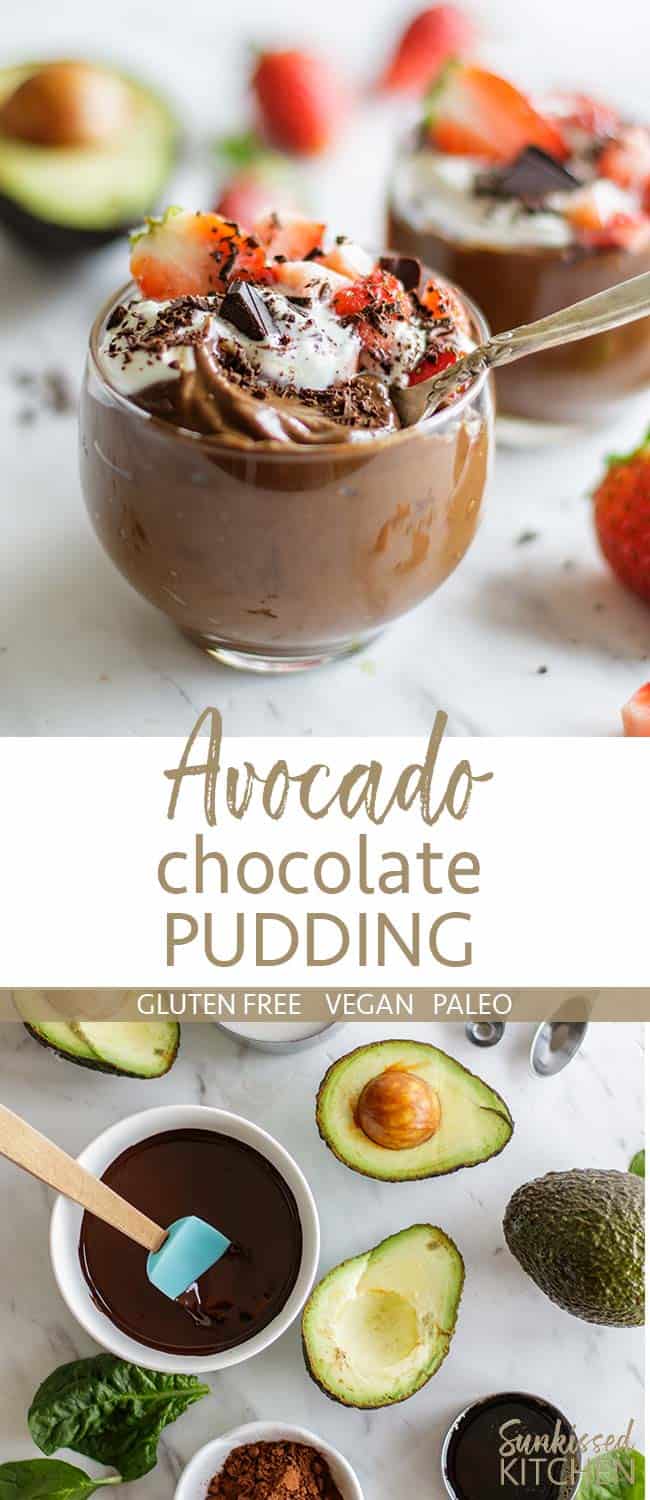 This post contains affiliate links, which means I receive a small portion of the sale if you choose to make a purchase. This helps me continue developing healthy and delicious recipes and sharing them here!
I am not a doctor or nutrition professional, and do not provide medical advice. Readers are advised to do their own research and make decisions in partnership with their health care provider. If you are pregnant, nursing, have a medical condition or are taking any medication, please consult your physician. Nothing you read here should be relied upon to determine dietary changes, a medical diagnosis or courses of treatment.
FDA Disclaimer: The advice & statements on this blog have not been evaluated by the Food & Drug Administration. Any information on this blog is not intended to diagnose, treat, cure, or prevent any disease.