This post may contain affiliate links. Please see my full
Disclosure Policy
for details.
These carrot cake cupcakes are not my recipe. The recipe is from Elana's Pantry, otherwise known as The Queen of Grain-Free Baking. I don't experiment a lot with my own baking. I favor baked goods made with high quality (read: expensive!) ingredients, and I don't like to waste them.
Plus, Elana's recipes are fail proof. I have never made a recipe off her site that I didn't absolutely love.
The only way I changed her recipe here was to add 1/3 cup of shredded unsweetened coconut. And, I didn't use her suggested frosting.
I decided I wanted a frosting low in sugar, and that I wanted to add pineapple to the frosting, since the carrot cake recipe doesn't have any in it. I am a "kitchen sink" type of carrot cake girl– bring on the raisins, walnuts, coconut, and pineapple. However, I know that grain free baked goods are a delicate balance of wet and dry ingredients, and Elana's recipes have been tested to derive perfect proportions.
The first time I made this, I just "crushed" pineapple in my food processor, and added it to the cream cheese. It was good, but the frosting wasn't very thick. I decided to partially oven-dry the pineapple on my next trial, and the result was better than expected. The pineapple became even sweeter, which meant needing less honey in the frosting.
Alex would like this carrot cake in the house at all times. I make 2 small cakes (divide the recipe into 2 smaller pans), and freeze one for when the first one runs out. I've made it at least 5 times since I first discovered the recipe last summer- when I made it for Jack's birthday in Portland. The recipe for the frosting is enough to generously ice both cakes. I also freeze the leftover frosting, and it defrosts beautifully.
Carrot cake just screams spring, doesn't it? Healthy Easter dessert?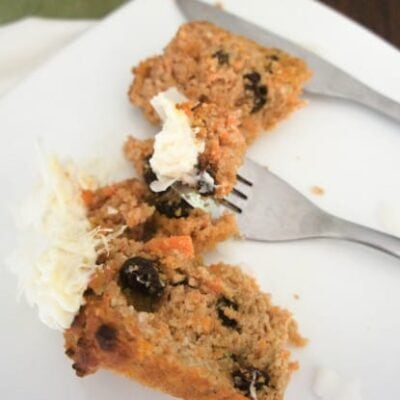 Carrot Cake Cupcakes + Pineapple Cream Cheese Frosting
The Carrot Cake recipe comes from Elana's Pantry. The only thing I change is to add ¼ cup of shredded, unsweetened coconut to the recipe. This is completely optional. The frosting is a healthy substitute for processed-sugar-laden traditional cream cheese frosting. Partially over-dried pineapple and a small drizzle of honey add plenty of sweetness!
Print
Rate
Ingredients
12

oz

reduced fat cream cheese

1 1/2

cups

sliced fresh pineapple

(I've also used canned - just rinse well!)

2

tablespoons

honey

1

tablespoon

butter
Instructions
First, lightly crush the pineapple in a food processor (or just cut into small, thin pieces). Add the pineapple to a baking sheet, and bake at 275 degrees f for 45 minutes.

Place room-temperature cream cheese, honey, and butter to food processor. Process until smooth and fluffy. Add pineapple, and pulse until mixed in well.

Use as a frosting for carrot cake, cupcakes, or as a sweet topping for bagels or graham crackers.
Notes
When I've forgotten to add it to my carrot cake, I have also added ⅓ cup of coconut into this frosting. Very good addition!
If you'd prefer a sweeter frosting, a few more Tbls. of honey will not thin it out too much
Maybe I should recommend this recipe to Natawan– for her bakery. I imagine her fresh pineapple would blow away even the store bought pineapple I buy here in Malaysia!