This post may contain affiliate links. Please see my full
Disclosure Policy
for details.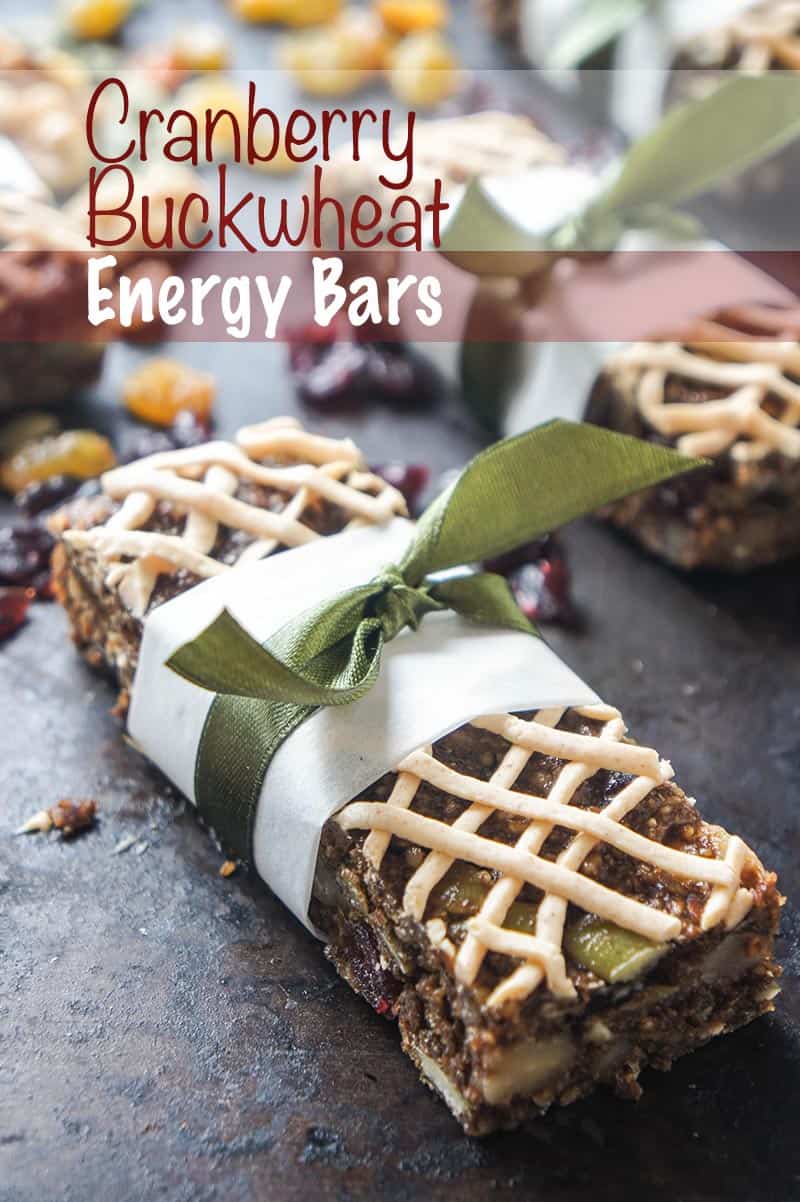 Move over Larabar. And Cliff Bar. And even those Pure Bars that I actually do like, once in a while. These Cranberry Buckwheat Energy Bars are loaded with healthy fats and natural sugars to give you a boost, without the sugar crash. My kind of snack.
It's great to have healthy treats in the freezer to snack on throughout the week. These are an option that are easy to bake up, and then can be stored in the freezer for weeks. I think the next time I make them, I'll make a double batch for sure. Alex comes home from work a lot of nights, grabs a quick snack, and runs out to the gym or to play squash. If I don't have an option like this ready for him, his snack might be chips. Not such a great energy source!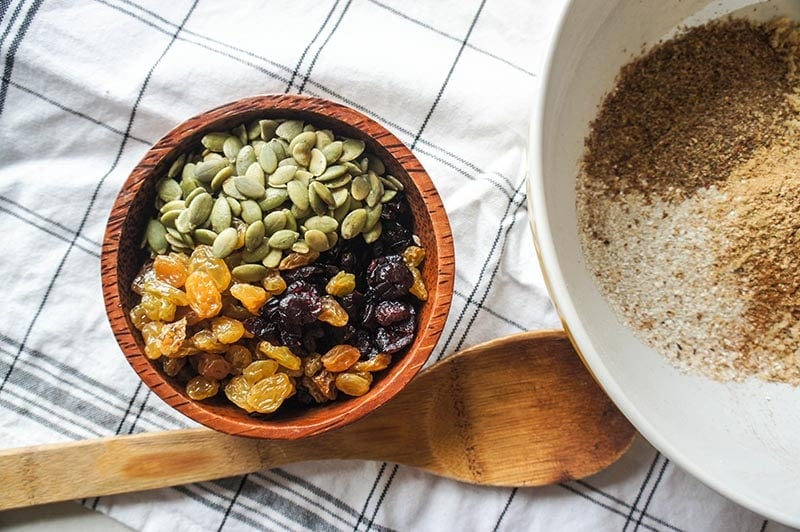 I've been in love with buckwheat flour this year- since I realized how easy it is to make, and what a wonderful, earthy, grainy (in the best way) texture it adds to baked goods. I started using it for protein pancakes, and, no joke, ate them every. morning. for a couple of months straight.
I really love the texture it adds to cookies, but unfortunately, it bakes up a bit crumbly. I've found that the best binders when using buckwheat are flax seed, and some puree, like applesauce or pumpkin. This recipes uses flax and pumpkin- and even though I would love it if the pumpkin flavor shined through, it doesn't. It's just there to hold these beauties together!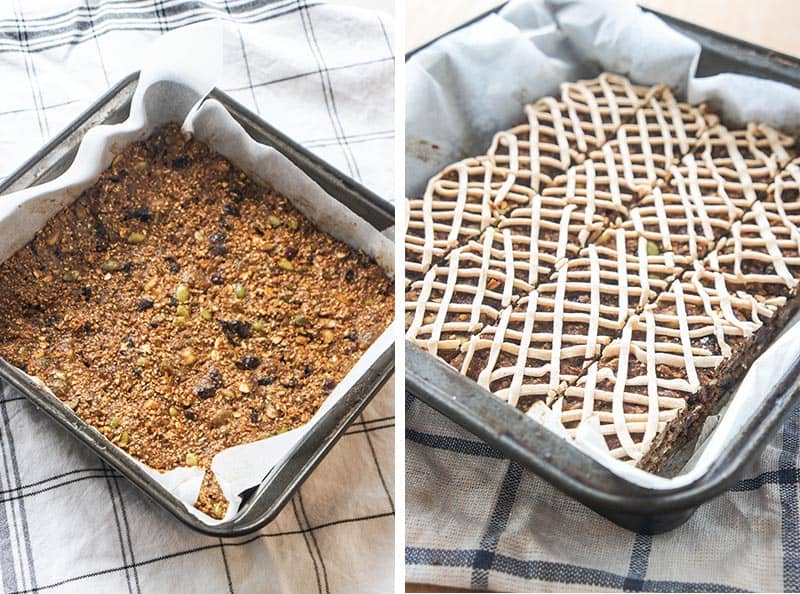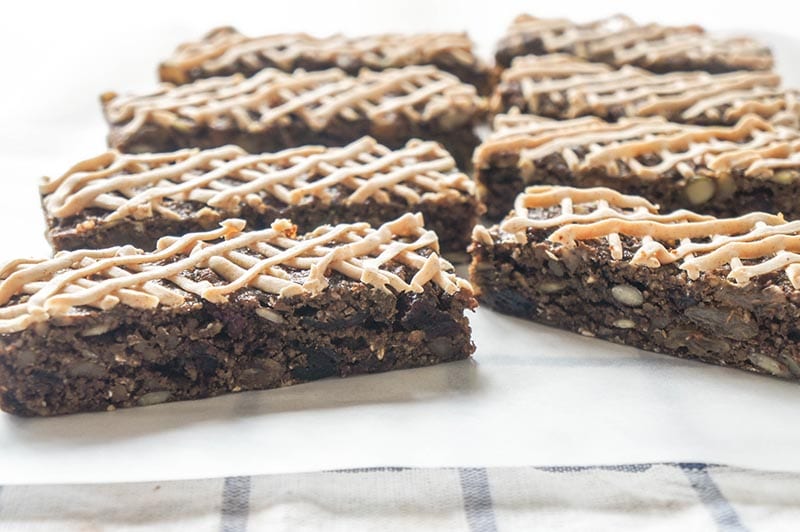 So, the autumn-y flavor of the pumpkin doesn't shine through, but these babies are loaded with lots of other fall flavors- cranberries, toasted walnuts, molasses and cinnamon– and I just couldn't resist adding a bit of the autumn spiced "buttercream" left over from the last batch of hazelnut cupcakes. It's so low in sugar, and high in protein, I figured it just added to the healthiness of these bars!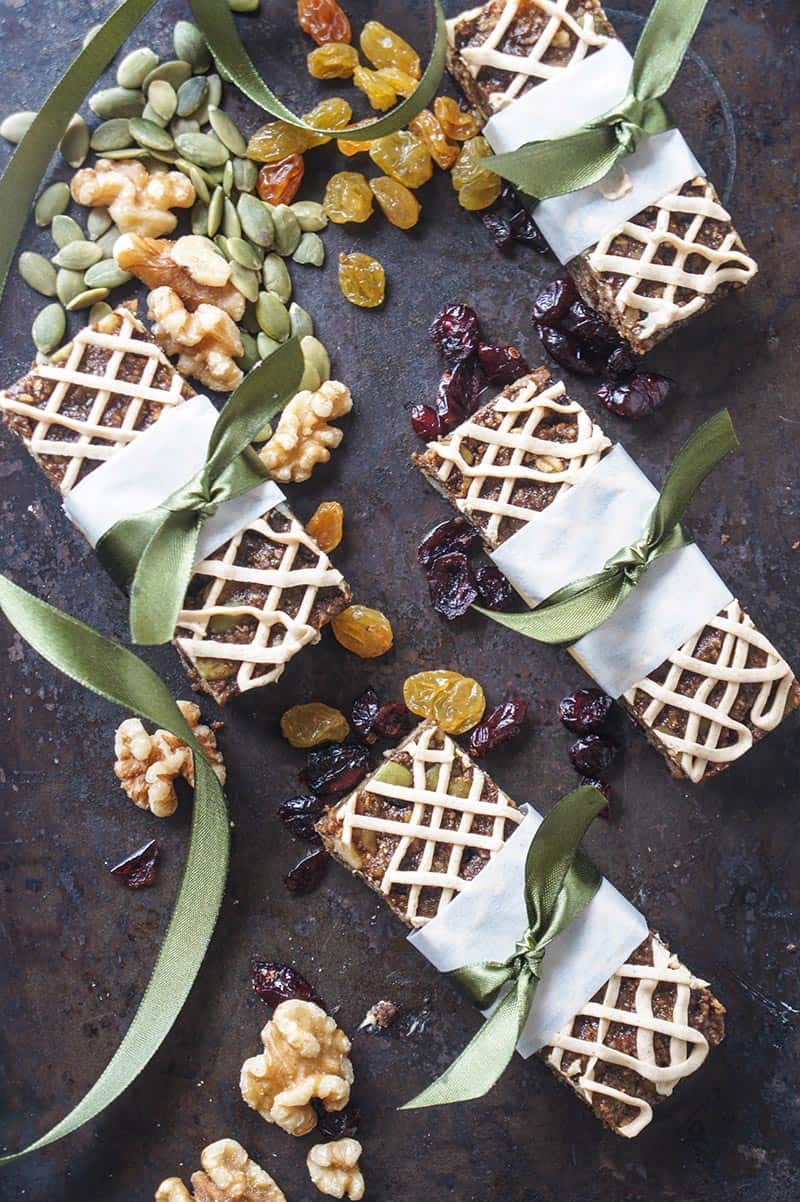 To get the pretty lattice, I used the cheater frosting method- filled a plastic ziplock bag, and cut a hole in the corner. Then I froze them before slicing, because even though they do hold together pretty well, they slice much nicer if they're completely chilled first.
When warm, they are a bit crumbly, but taste amazing! I was thinking maybe I need to make an apple crisp with a topping similar to this bar recipe- put it in a place it's supposed to be crumbly. Good idea. Really, really good idea.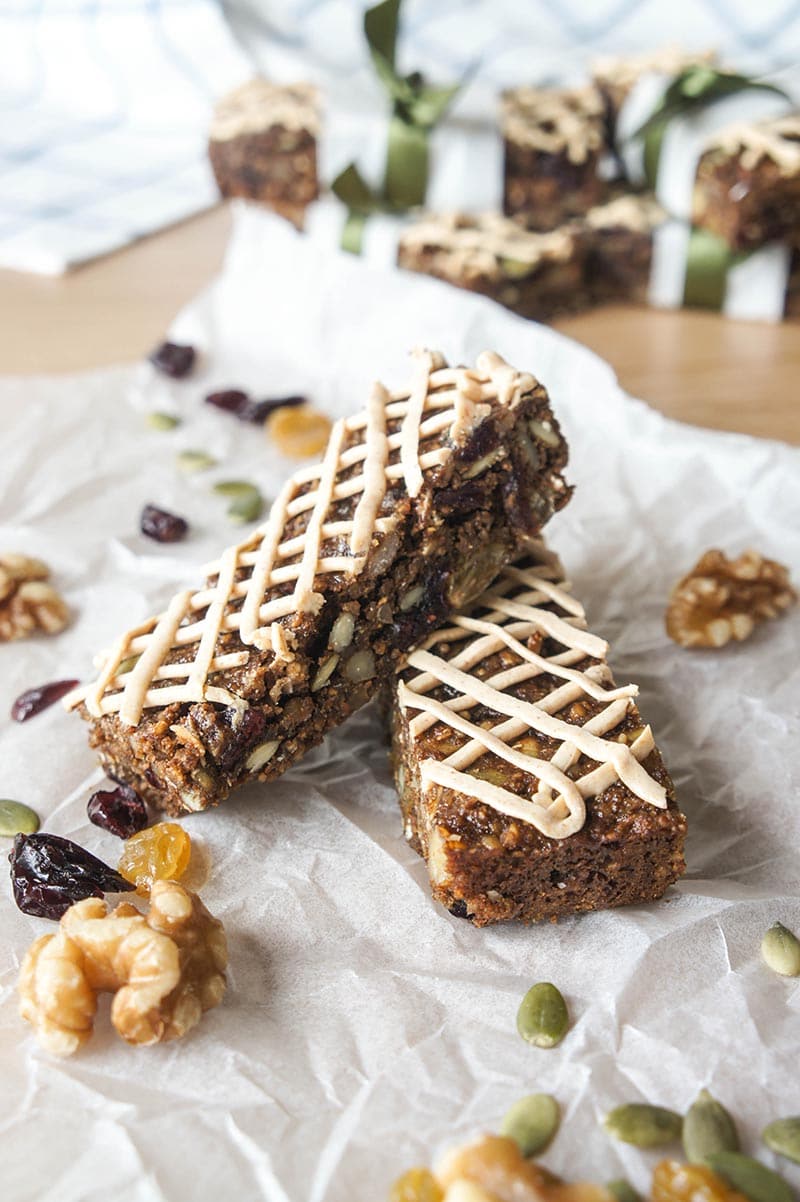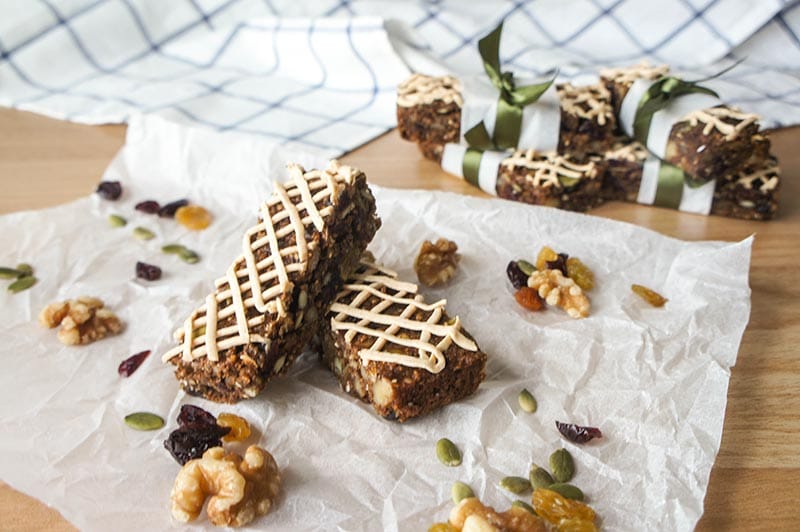 Cranberry Buckwheat Energy Bars
A fall spiced energy bar flecked with cranberries, golden raisins, walnuts, and pumpkin seeds. Molasses and spice pair perfectly with the earthy buckwheat flour. Use freshly ground buckwheat flour, not the store bought kind. Take whole, raw buckwheat groats, and process in a blender for 2-3 minutes. It couldn't be easier! If you'd like to frost them, my Autumn Spiced Buttercream is a healthy choice.
Print
Rate
Ingredients
Dry
1/2

cup

almond meal

(a little less than 1/2 cup almond ground finely in a blender or food processor)

1/2

cup

buckwheat flour

1/4

cup

oat flour

(grind whole oats in blender or food processor)

1

tablespoon

flax meal

1/2

teaspoon

cinnamon

1/2

teaspoon

ground ginger

1/4

teaspoon

nutmeg

(freshly grated is worth the extra effort!)

1/4

teaspoon

baking soda

1/4

teaspoon

sea salt
Mix-Ins
1/2

cup

dried cranberries

1/2

cup

walnuts

chopped

1/4

cup

golden raisins

(or sub more cranberries)

1/4

cup

pumpkin seeds
Instructions
Mix all the dry ingredients together in a mixing bowl. Using freshly ground buckwheat flour is important to this recipe. It's okay to sub almond flour, but I like to use freshly ground almonds when possible. I also prefer grinding my own oat flour and find it has a much better texture than store-bought oat flour.

In a small bowl, mix together the wet ingredients, stirring until the honey and molasses are incorporated.

Pour the wet ingredients into the bowl with the dry, and stir until there are no more dry spots.

Fold in the cranberries, chopped walnuts, golden raisins, and pumpkin seeds.

Bake for 18 minutes, being careful not to over bake.

Cool completely before slicing. They will be very crumbly when warm. I like to freeze them before slicing.

Store bars in the freezer for best results.
Nutrition
Calories:
251
kcal
|
Carbohydrates:
27
g
|
Protein:
6
g
|
Fat:
15
g
|
Saturated Fat:
4
g
|
Cholesterol:
32
mg
|
Sodium:
157
mg
|
Potassium:
227
mg
|
Fiber:
3
g
|
Sugar:
14
g
|
Vitamin A:
453
IU
|
Vitamin C:
1
mg
|
Calcium:
46
mg
|
Iron:
2
mg
 What are your favorite snacks to have on hand?
Have you found any good store bought bars with clean ingredients?