This post may contain affiliate links. Please see my full
Disclosure Policy
for details.
This Soy Free Teriyaki Sauce is easy to make and gluten free – so everyone can enjoy! It takes about 5 minutes to make a batch, and is a super easy way to make an everyday meal delicious! A gluten free teriyaki sauce is a great way to ensure everyone can enjoy the meal.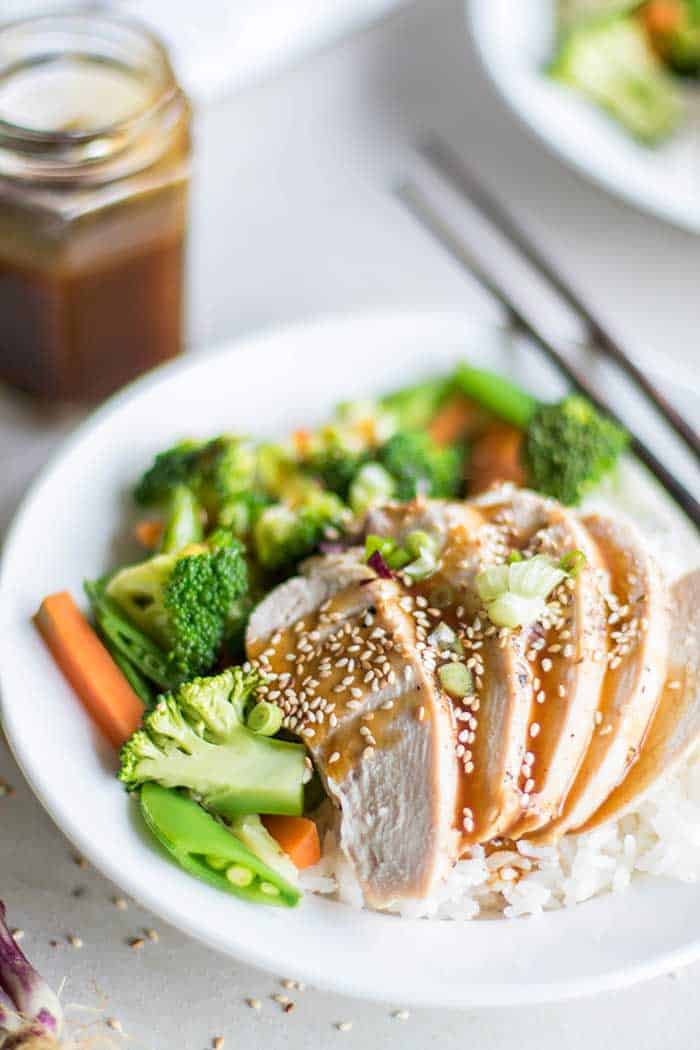 An Easy, Delicious, Soy Free Teriyaki Sauce
I've been so excited to share this recipe for over a month, but have been too busy to actually photograph it! Since I came up with this simple, easy (DEElicious!) recipe, we have been making it every week. Monday's have become our official "teriyaki" night. It's so simple to saute some veggies, poach some chicken or fish, and steam a pot of rice or other grain. I make a huge batch, and we have healthy lunches for a few days also.
This is definitely one of those back-pocket recipes that are so important to have in your clean-eating kitchen arsenal. Buying teriyaki sauce at the store will derail your efforts.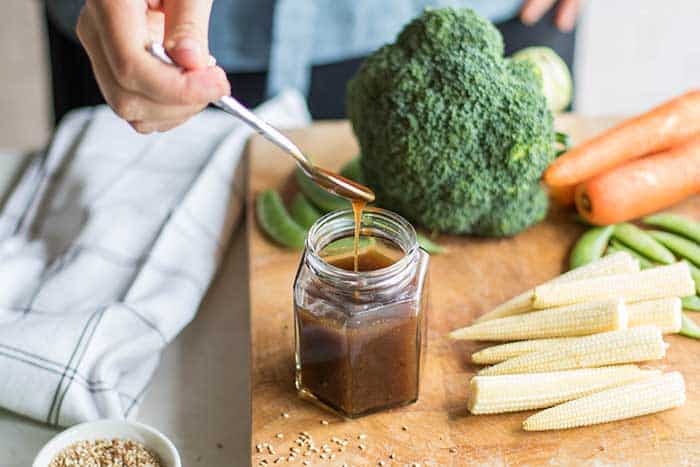 A Soy and Gluten Free Teriyaki Sauce Alternative
A typical teriyaki sauce is loaded with refined sugar – a serving of a store bought brand has close to 15 grams of sugar for a serving similar to this recipe (which has 8 grams of sugar). Another reason I prefer to make my own condiments is that I get to control the quality of the ingredients. I prefer soy and gluten free alternatives, so I use Coconut Aminos in this recipe. There are options in case you'd prefer to use gluten free Tamari or regular soy sauce in place of it.
The first few times I made this I put it in the microwave! It certainly works just fine — but I've been making it in a sauce pot the last few times because I find it gets a bit thicker. Do what works for you in the time you have!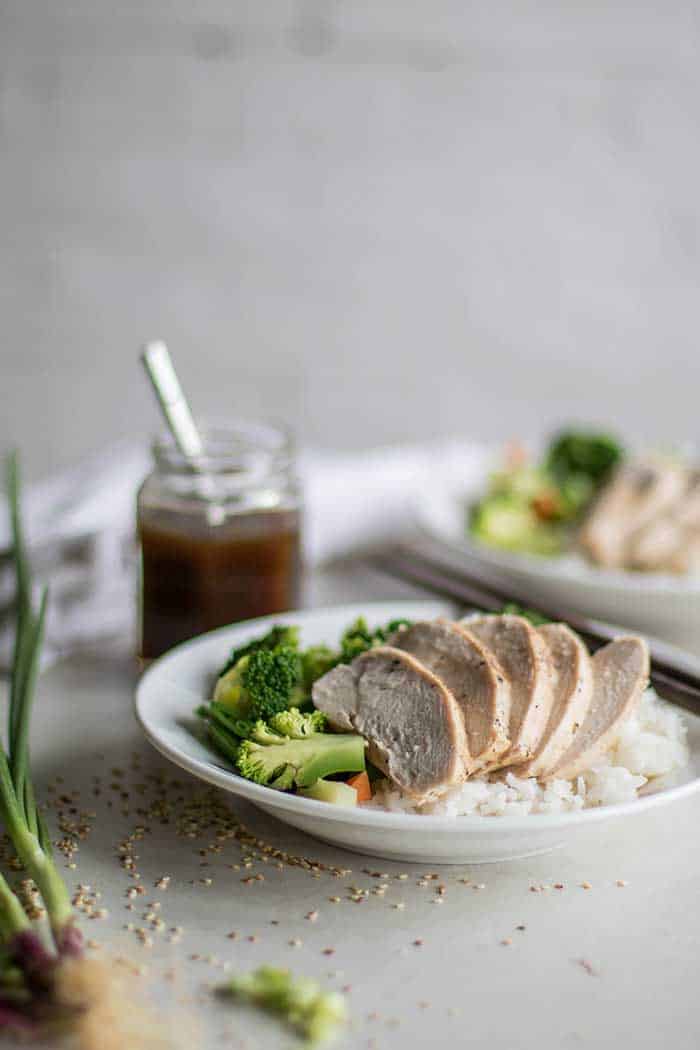 This version has toasted sesame oil — so much delicious flavor and healthy fats! I like this addition because I typically serve this with poached chicken or fish, and steamed veggies and rice. Sesame oil is a great source of vitamin E and is one of my favorite oils to cook with.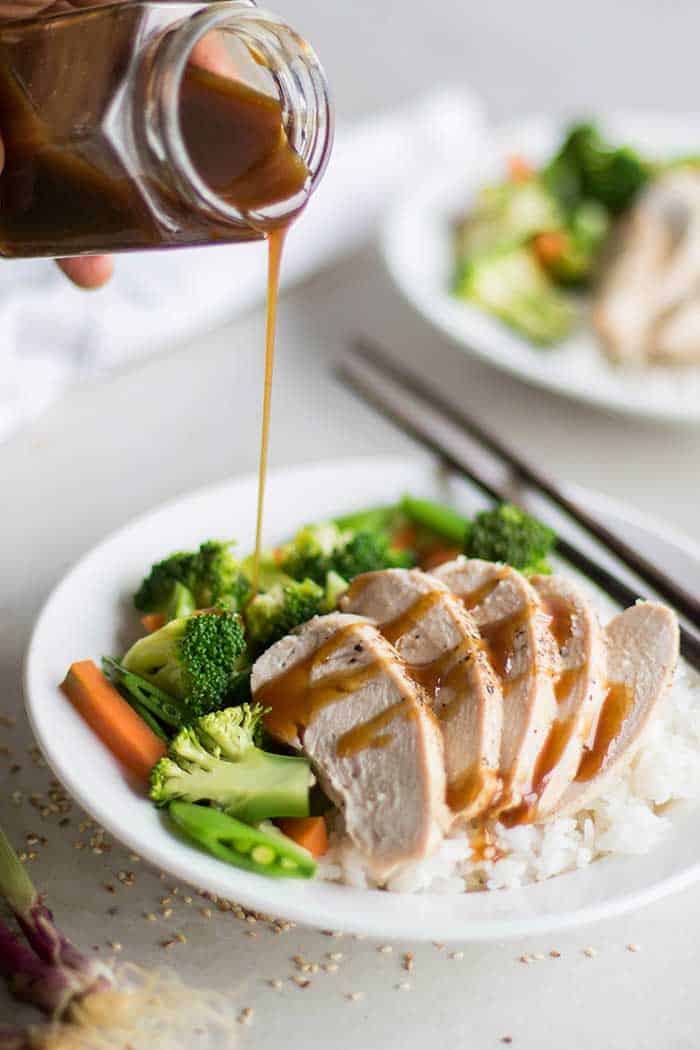 If you're thinking this chicken teriyaki is looking pretty delicious, you don't need a recipe for it! You can use leftover roast chicken, or just lightly poach chicken breasts or saute them in sesame oil. In a pinch, you can use a microwave bag of steam-fresh vegetables (frozen vegetables are a great way to get them in when you have a very busy schedule!). Otherwise, just chop up a few stir fry veggies and lightly steam them.
Tips for a Healthy Teriyaki Sauce
Don't want to buy Coconut Aminos? It's a great soy-free alternative, so I love to use it. We have also made this with tamari (gluten free soy sauce), but Coconut Aminos are less strong/salty. If you sub tamari (or soy sauce), use 3 tablespoons tamari, and 1/4 cup water (in place of the amounts in the recipe).
Make it Gluten Free: Both Coconut Aminos and Tamari are gluten free. Avoid soy sauce if you need this recipe to be strictly gluten free.
Save time: This recipe can be MICROWAVED! Which is actually how I started off making it. After combining all ingredients, whisk with a fork (don't worry about removing all the clumps). Microwave for 40 seconds, whisk again, and then microwave for 30 seconds more. You might have to do this 3-4 times before the sauce begins to thicken, and it will thicken more once it's been refrigerated.
Make it Paleo: Coconut Aminos are Paleo, but date syrup is not. To keep this refined sugar free, you can sub honey, but it will give your sauce a honey flavor, which is why I prefer date syrup. If you also don't use rice wine vinegar, sub 1 Tbsp. of white wine vinegar in place of it.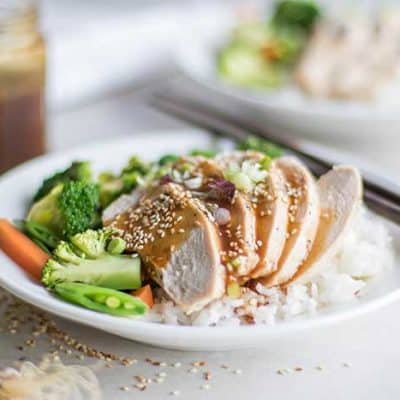 Soy Free Teriyaki Sauce
This soy free and gluten free homemade teriyaki sauce can be made in 5 minutes, and will elevate simple weeknight meals!
Print
Pin
Rate
Instructions
Combine all ingredients in a sauce pan (or microwaveable dish). Whisk together.

Bring mixture to a low simmer, and allow to gently simmer for 2 minutes, or until the sauce has thickened nicely.

Drizzle on rice, veggies, chicken, salmon, shrimp, or tofu, for a simple and delicious meal! We love to garnish our teriyaki bowls with toasted sesame seeds.
Nutrition
Calories:
90
kcal
|
Carbohydrates:
14
g
|
Fat:
3
g
|
Sodium:
509
mg
|
Sugar:
8
g

Other Easy Condiment Recipes:
I'd love to connect with you on social media! Find me on Facebook or Instagram where I post daily healthy eating and lifestyle inspiration.
Recommended for this Recipe
To make a soy free teriyaki sauce, you'll need to seek out Coconut Aminos. They are available at Whole Foods and similar stores, but if you're an Amazon Prime member, just order a bottle!
Coconut Aminos has a similar flavor to soy sauce, but it is made from coconut tree sap and salt. It is less strong, and less salty than traditional soy sauce or tamari. When I make this teriyaki sauce with tamari, I use more water than tamari, but I use only a small amount of water with the coconut aminos and the flavor is almost identical.
Many people are intolerant to soy, or avoid it because of food allergies or specific diet requirements. Soy is also one of the largest GMO crops, which is another good reason to avoid it.
This post contains affiliate links, which means that if you click on one of the product links, I'll receive a small percentage of any purchases made.