This post may contain affiliate links. Please see my full
Disclosure Policy
for details.
Try these Three Healthy School Lunch Ideas to help get your kids excited to eat what you pack. These simple and easy lunches are healthy, vegetarian options, that can be made in about 5 minutes. Packing healthy school lunches is a fun process if you allow for some creativity!
This post is sponsored by Fruit Bliss— a company committed to bringing healthy snack options to our kitchens. I only work with brands whose products I genuinely love. Thank you for supporting the brands that help keep Sunkissed Kitchen running!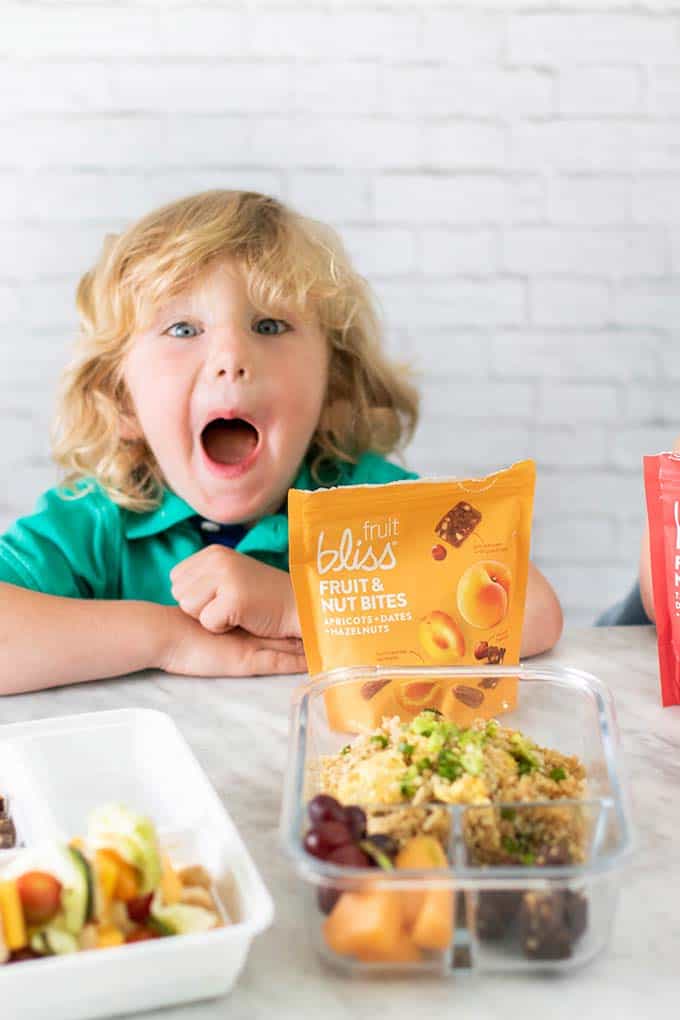 Packing Healthy School Lunches
Back to school is upon us! My son just started preschool, so we are a year away from needing to pack school lunches, but he likes packing meals in his lunch box just to take into the back yard or to the park.
There is something about those little compartments that automatically makes the food more fun.
If your child is a picky eater, like mine, switching things up, focusing on favorites, and getting a little creative is a must. I know how frustrated I feel watching full plates of food being returned to my kitchen, and I hear the frustration of other parents who take care in packing lunches that are brought home nearly full at the end of the day.
These three healthy meals are ones that are EASY to make, FUN to eat, and also — easily customizable to what you have on hand and what your child really loves to eat.
The Best Foods for Easy School Lunches
Kids' meals are best kept simple. This helps with ease of packing, but also with likelihood that your child will eat it.
I always think first about the the protein.
Great Protein Options: 
Leftover sliced meats from dinner
Hard boiled eggs
Cheese
Quinoa
Beans
Hummus
Next, add some nutrients by packing fruits and veggies.
Lunchbox Friendly Fruits and Veggies:
Strawberries, blueberries, or blackberries
Melons
Bananas
Apple or pear slices
Baby carrots
Sliced cucumbers
Pickles and olives
Broccoli or cauliflower florets
Kids typically need carbs to keep their bellies full!
Best Whole Food Carbs for Kids' Meals:
Whole grain or rice crackers
Whole grain bread, pita, or wraps
Leftover quinoa or rice
Sweet potato fries (try making extra for dinner!)
Baked potatoes
And last but not least – add something sweet, because you want your child looking forward to opening his or her lunch box every day!
My favorite sweet treats for kids – Fruit Bliss Fruit and Nut Bites. They come in three delicious flavors, and are made with the organic and non-GMO dried fruits the company makes, along with nuts. Simple, nourishing ingredients!
These healthy little snacks are a favorite amongst kids — I had to work extra hard during this photoshoot to keep the kids from eating all of them!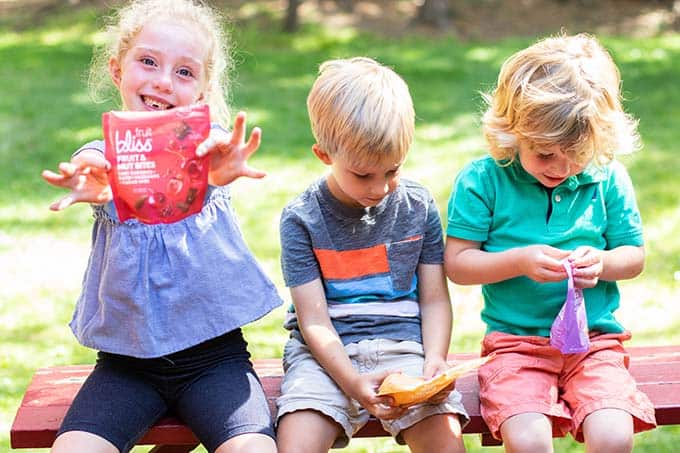 If you haven't tried Fruit Bliss yet, I recommend you pick up a bag!
I love FRUIT BLISS because:
The dried fruit products are simply that — dried fruit and water. Nothing else. A huge draw for me!
Fruit Bliss Fruit & Nut Bites are a nutritious mix of dried fruit, nuts, and a bit of rice flour to keep it together. How's that for a nutritious sweet treat?
The products are organic & non-GMO.
Hummus Dippers
A snack style box is popular with kids — and bonus: super easy to make!
I like to use hummus or a black bean dip as the protein, and often add something like a hard boiled egg for added protein. This helps little tummies stay full throughout the day!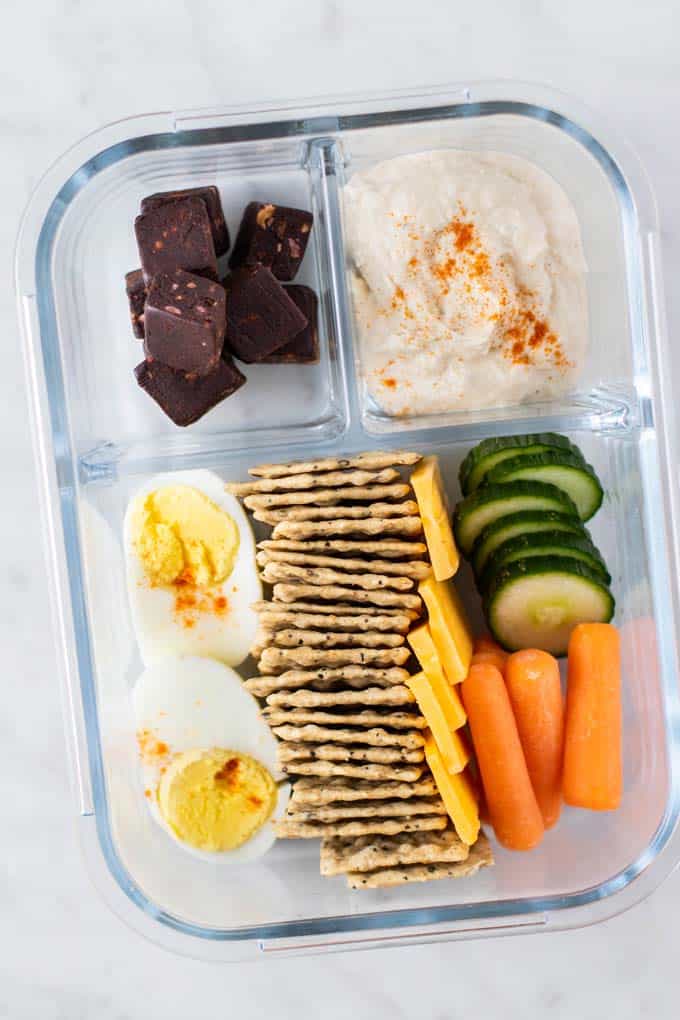 Layer in some veggies, crackers, and optionally, cheese, and this box is rocking!
Make it sweeter by adding your child's favorite fruit, and then irresistible by adding some Fruit and Nut Bites.
Sandwich Skewers
This next option is a fun presentation to the standard lunchbox sandwich! If your child is picky about what he or she eats, giving the meal a special presentation helps.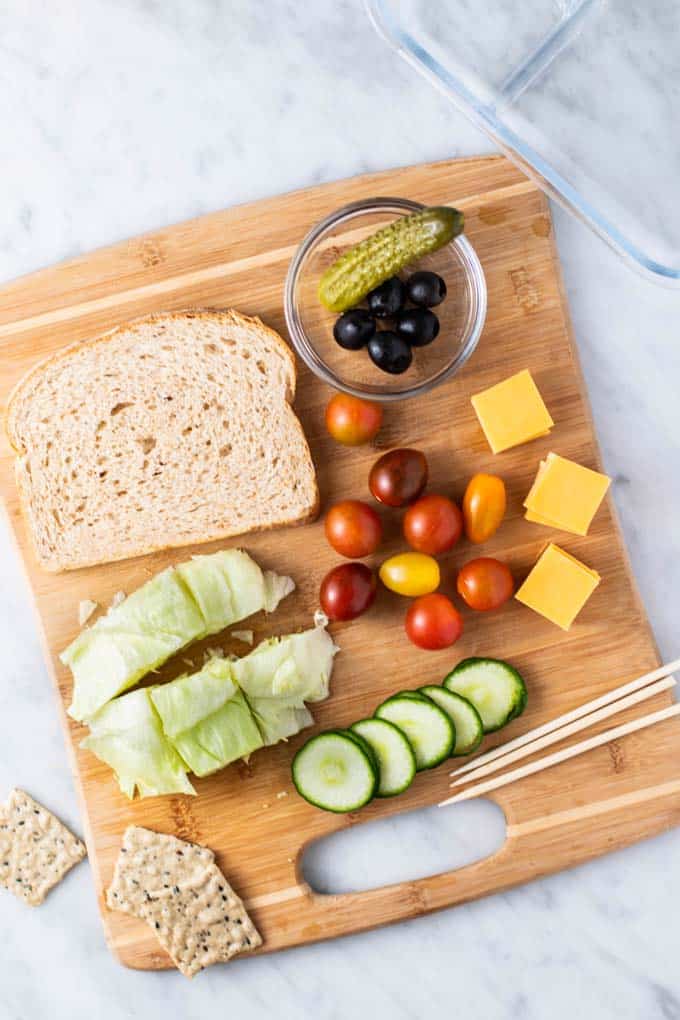 Choose whatever sandwich fillings your child enjoys — I kept it vegetarian (and easy!) by making a cheese and veggies sandwich on a stick. Add lunch meat, leftover chicken, or sliced sausages to up the protein.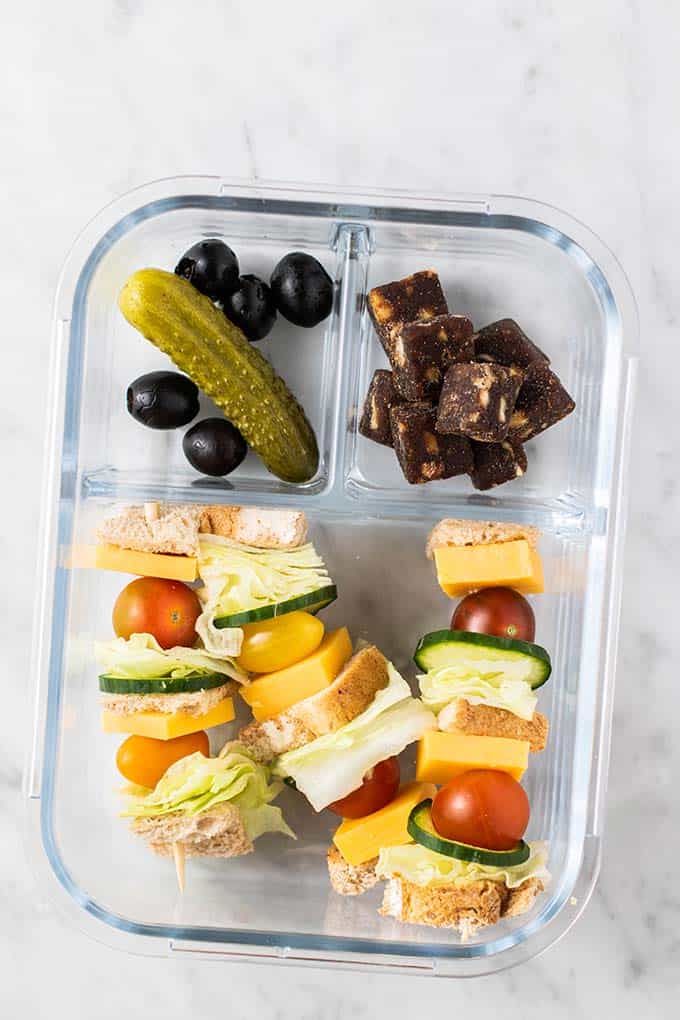 A skewer can be a dangerous item for a lunch box! I use scissors to cut off the ends of a thicker skewer (not as sharp!), but if this still concerns you or your child is very young, try a piece of thicker pasta, like fettuccine. The pasta is less likely to result in an accident when children are eating unsupervised!
Veggie Fried Rice
The last lunch I put together this week requires a little cooking — but believe me when I say, it's easy enough to do in the morning! This can also be made the night before and served cold.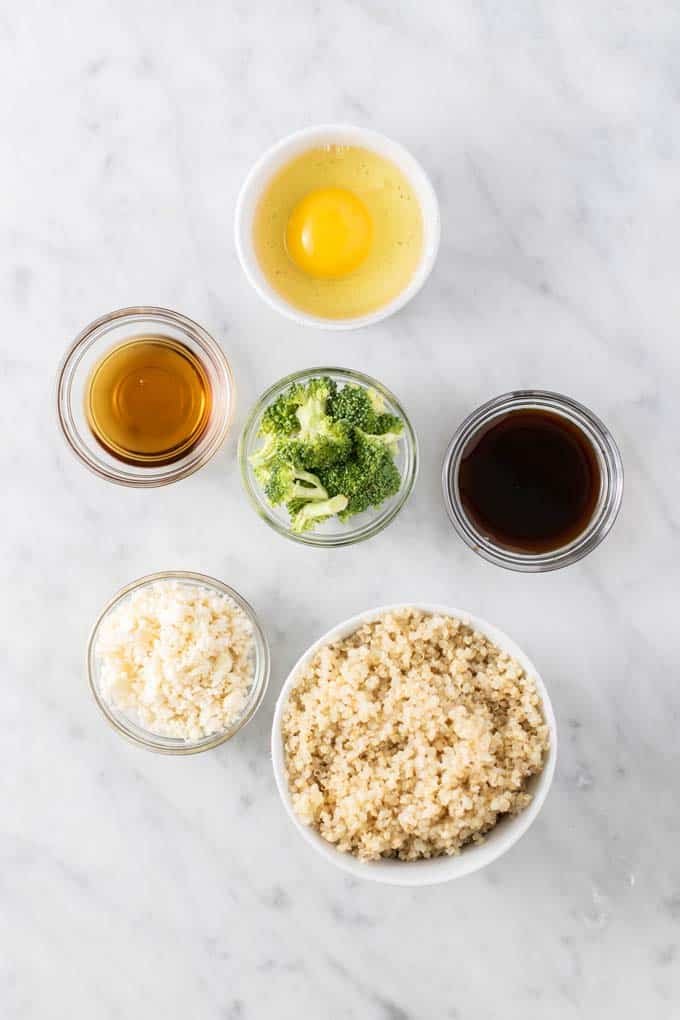 It only needs a few ingredients, including:
Leftover rice or quinoa. I think the quinoa tastes better cold, but use whatever your child is more likely to eat!
Sesame oil & coconut aminos (use soy sauce is you prefer).
Egg – an easy protein source! You can also add leftover chicken, pork or steam.
Veggies! I used cauliflower rice (a great way to sneak in veggies that are difficult to "pick" out), and broccoli, since it's the most kid-friendly vegetable I know! Also try carrots, zucchini, or cabbage, based on what you know your child will look forward to.
First, scramble the egg, and then set it aside. Stir fry the veggies, and add the quinoa and coconut aminos. Once the mixture is warmed through, it's ready to add to the lunch box!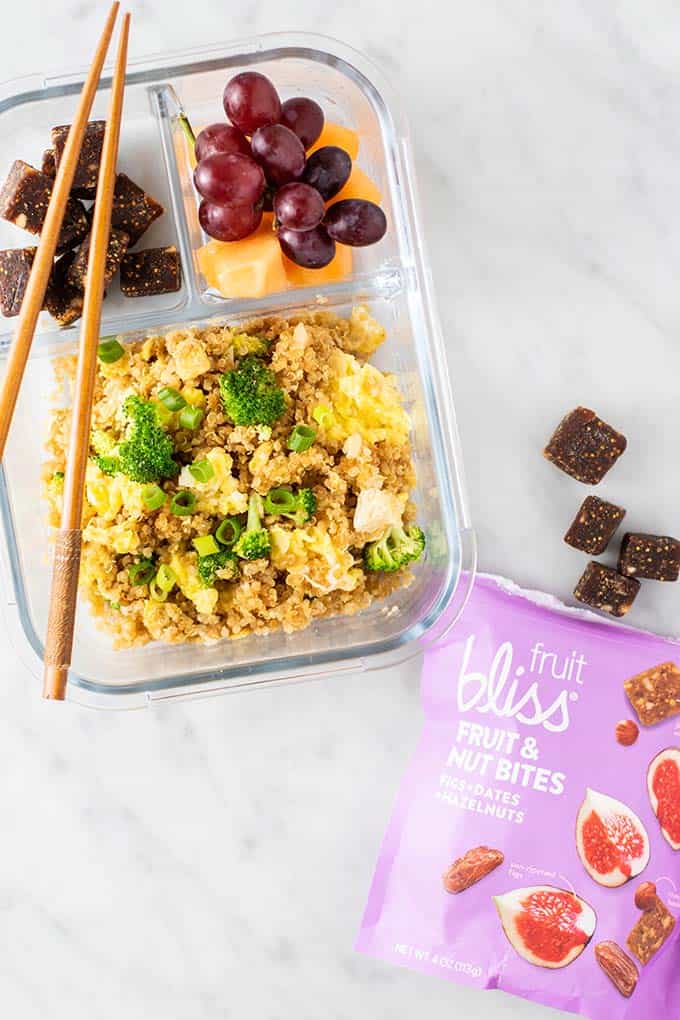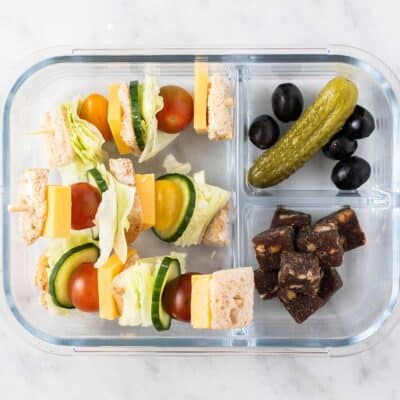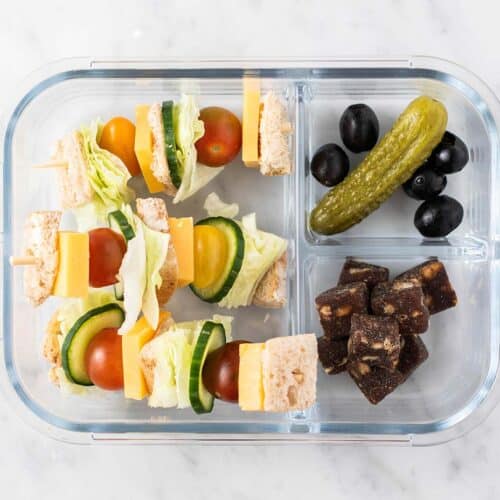 Veggie Quinoa Fried Rice
Turn leftover rice or quinoa into a lunch kids love! Use any veggies your kids love, and add some egg for extra protein.
Print
Pin
Rate
Ingredients
1

tablespoon

sesame oil

1

egg

beaten

1/4

cup

broccoli florets

1/4

cup

cauliflower rice

1

cup

quinoa

cooked, or rice, leftover or cold

2

tablespoons

coconut aminos

or sub 1 tablespoon soy sauce or tamari
Instructions
In a small skillet, add sesame oil over high heat.

Add beaten egg, and lightly scramble. Set aside while cooking vegetables.

Add in cauliflower rice and broccoli florets. Stir fry until soft.

Add quinoa, coconut aminos and scrambled egg. Mix together until warm.
Notes
*Nutrition facts are from fried rice only.
Nutrition
Calories:
454
kcal
|
Carbohydrates:
43
g
|
Protein:
14
g
|
Fat:
21
g
|
Saturated Fat:
4
g
|
Cholesterol:
164
mg
|
Sodium:
763
mg
|
Potassium:
1209
mg
|
Fiber:
6
g
|
Sugar:
1
g
|
Vitamin A:
379
IU
|
Vitamin C:
40
mg
|
Calcium:
115
mg
|
Iron:
9
mg
I'd love to connect with you on social media! Find me on Facebook or Instagram where I post daily healthy eating and lifestyle inspiration.
This Healthy School Lunch Ideas post may contain affiliate links, meaning if you make a purchase, I will receive part of the sale as a commission. This helps me continue to bring you lots of fresh and inspired recipes!