This post may contain affiliate links. Please see my full
Disclosure Policy
for details.
These Healthy Scratch Margaritas are kept fresh, sweet and tangy with fresh squeezed fruit juice and natural unprocessed sweetener. These call my name as soon as the first warm days of spring arrives!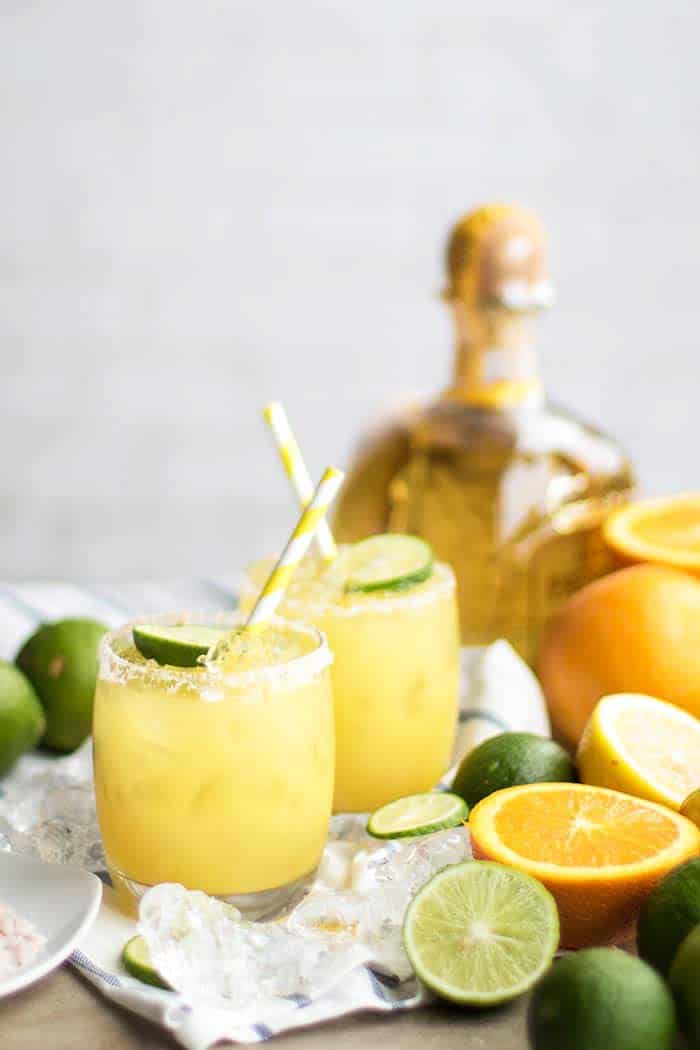 Who doesn't love a margarita on a warm day? Living in Portland in my 20s, I used to crave those first warm days of spring. The city would be so lively at night with everyone dining on the newly opened patios of the restaurants in the Pearl and NW.
Chips & Salsa + Margaritas = True Happiness. Right? At least very, very close to it.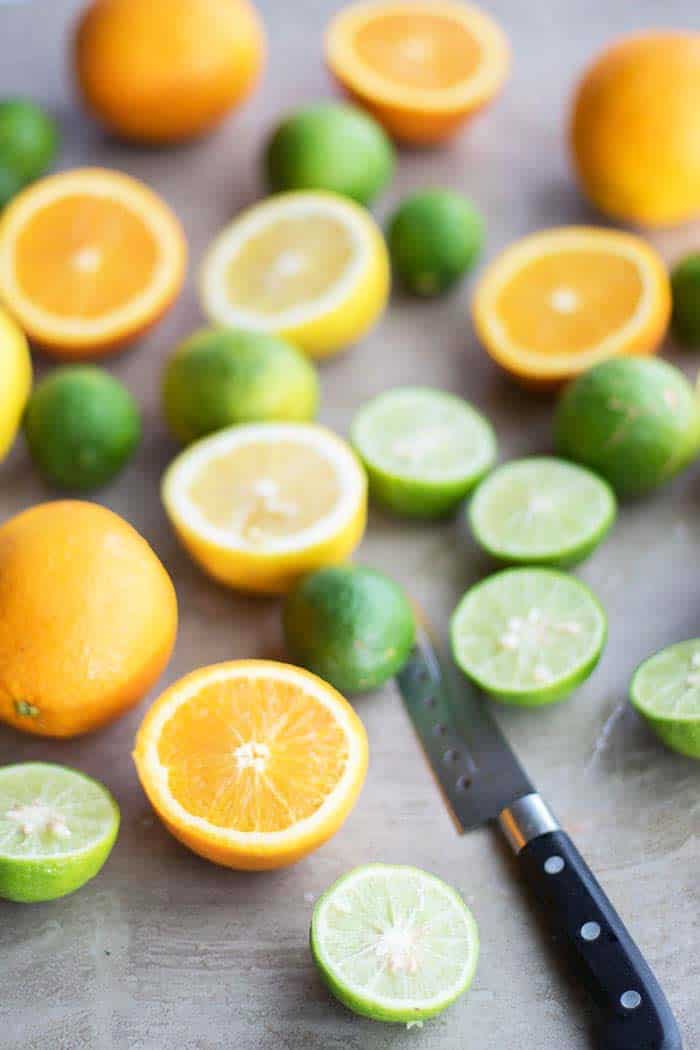 While tequila certainly can't be classified as a superfood, when enjoyed in moderation, it isn't all that bad for you! I do believe in eating a diet that is mostly whole foods that contribute to your overall health, but there is always some wiggle room for things like margaritas, right? Especially if you make these healthy scratch margaritas that are made without all the processed stuff found in a typical Mexican joint version.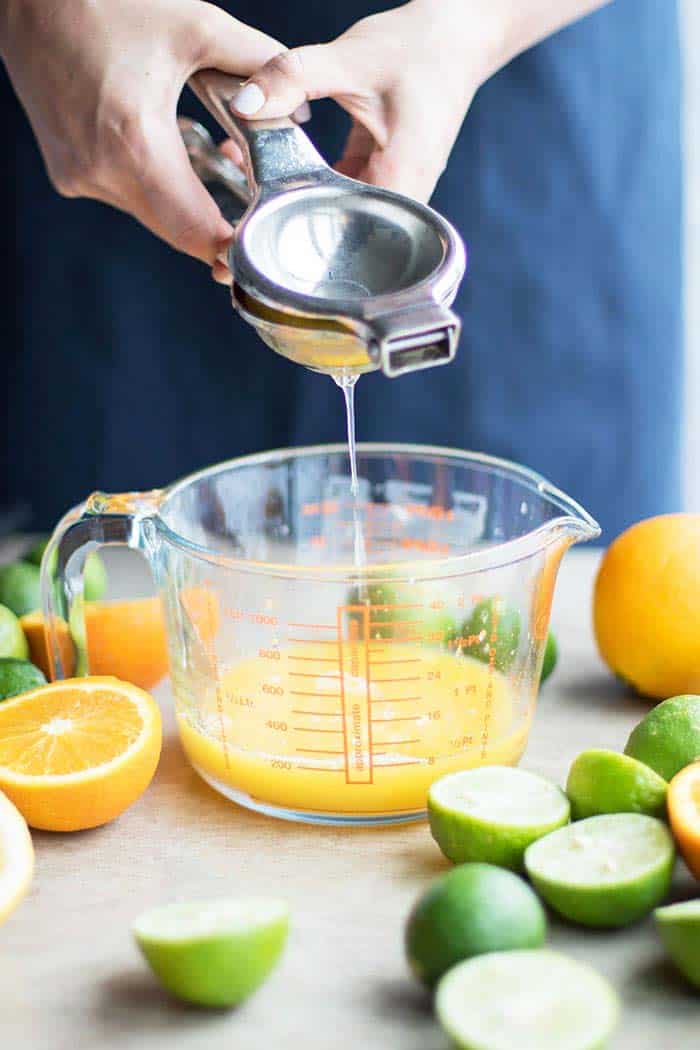 If you're concerned about drinking alcohol and weight gain (aren't we all?!), tequila is actually a better choice than other alcohols – agavins, the type of sugar alcohols in tequila, don't raise blood sugar levels in the same way as other alcohols, so many of the calories pass through your body without being absorbed.
There are several things that raise red flags to me about cocktails and a clean eating diet. One, alcohol is generally combined with tons of processed sugar in order to tame the heat of alcohol and make it more palatable (or easier to drink faster). If you want to enjoy a cocktail, but don't want to consume a ton of calories, the best way to order it is with soda water and a lemon or lime. If you want to add a bit of sweetness, ask for a splash of a real fruit juice (like fresh grapefruit or orange juice).
Two, alcohol makes you hungry! It stimulates your appetite, and also lowers your self control, meaning dinner might be less healthy, and much larger, than if you had passed on happy hour.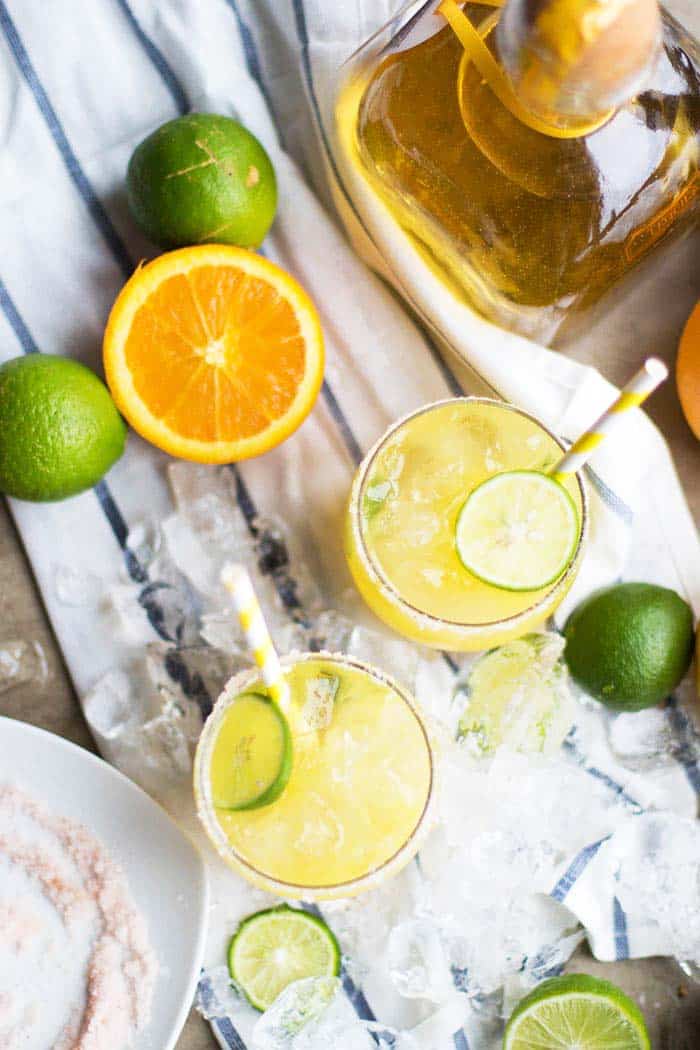 I really rarely drink these days, mostly for those reasons, but also, coffee. I just love coffee, and that's my drink of choice in the afternoon. Iced. I drink water with lemon or soda water in between.
Lately, I've been staring at the 4 bottles of tequila we've picked up in duty free over the past few years (we used to have margaritas at home at least a couple of times a month!), but haven't even opened. I've been thinking about the margaritas I used to sip with my girlfriends on hot summer evenings.
We would order "scratch margaritas," meaning made with fresh squeezed juices rather than sweet and sour. Sweet and sour, unless you go to a really nice place that makes its own, is just sugar, maybe some actual juice, or often just artificial flavors, and water.
Here is my favorite version of a scratch margarita. There are two versions in the recipe– one is what I make when I have friends over, and is sweetened with a touch of date syrup. The 2nd is how I prefer to drink them – half fresh juices, half soda water, no need to sweeten.
Tips for Healthy Scratch Margaritas
I bought a bar grade citrus juicer (hand held one) because I hate cleaning my juicer– using a hand held one is just as effective at extracting the juice, plus all you have to do is cut the fruit in half. It's so easy!
Save Time: You can buy very good, organic citrus juices now. If you need to make these for a crowd, buy high quality juices and mix.
Make it Ahead: If making these for a gathering, you'll want to press the juices ahead of time so you can just pour them. Just multiply the recipe below (which makes 4 margaritas) and have them ready in advance (fresh squeezed juices don't last as long as store bought pasturized, so try to do this the same day you will be making them).
Other Cocktail Recipes Recipes:
I'd love to connect with you on social media! Find me on Facebook or Instagram where I post daily healthy eating and lifestyle inspiration.
Healthy Scratch Margaritas (Naturally Fruit Sweetened!)
These Healthy Scratch Margaritas are kept fresh, sweet and tangy with fresh squeezed fruit juice and natural unprocessed sweetener. These call my name as soon as the first warm days of spring arrives!

Print
Pin
Rate
Ingredients
1/2

cup

orange juice

fresh squeezed

2

tablespoons

lime juice

fresh squeezed

2

tablespoons

lemon juice

fresh squeezed

2

tablespoons

water

3-4

ounce

tequila

1-2

teaspoons

date syrup*

(see notes on a sugar free version)
Light Version
orange juice

fresh squeezed

lime juice

fresh squeezed

lemon juice

fresh squeezed

tequila

soda water
Instructions
Fresh squeeze the juices, or to save time, use high quality store bought 100% juices.

Add juices, water, tequila and date syrup to a shaker, and shake well.


Use a citrus wedge to wet the edge of the glasses, and rim them in a course salt. Fill the glasses with ice.


Pour the margaritas over the ice, and serve.


If you'd like to blend these, don't add the 2 tablespoons of water. Blended margaritas are the best when you use chilled tequila so the ice doesn't melt too much making a watered down margarita.

Notes
I don't drink often, so when I do, I don't mind freshly squeezing the juices for the best cocktail. If you are making these for a crowd, it's find to buy high quality 100% juices to blend. *Sometimes when I want a cocktail, but don't want to calories, I will make a "light" version of this. For 1 "light" margarita, I will use 2 tablespoons orange juice, 1/2 tablespoon both lemon and lime juices, 1 ounce of tequila, and then top the cocktail off with soda water for some sparkle. It's fresh and light and still a perfect evening drink.

Nutrition
Calories:
143
kcal
|
Carbohydrates:
11
g
|
Sodium:
2
mg
|
Potassium:
124
mg
|
Sugar:
8
g
|
Vitamin A:
125
IU
|
Vitamin C:
41.3
mg
|
Calcium:
7
mg
|
Iron:
0.1
mg