This post may contain affiliate links. Please see my full
Disclosure Policy
for details.
Follow my blog with Bloglovin
This low-carb hash is made with . . . (spoiler alert) turnips! I love the bite of turnips, rutabagas, and parsnips, but I know not all people do. So if you aren't a turnip lover yet, maybe I can persuade you otherwise? By slow cooking turnips like you would a potato hash, the flavor mellows and sweetens a bit. They don't taste like potatoes, but they are very good in their own right!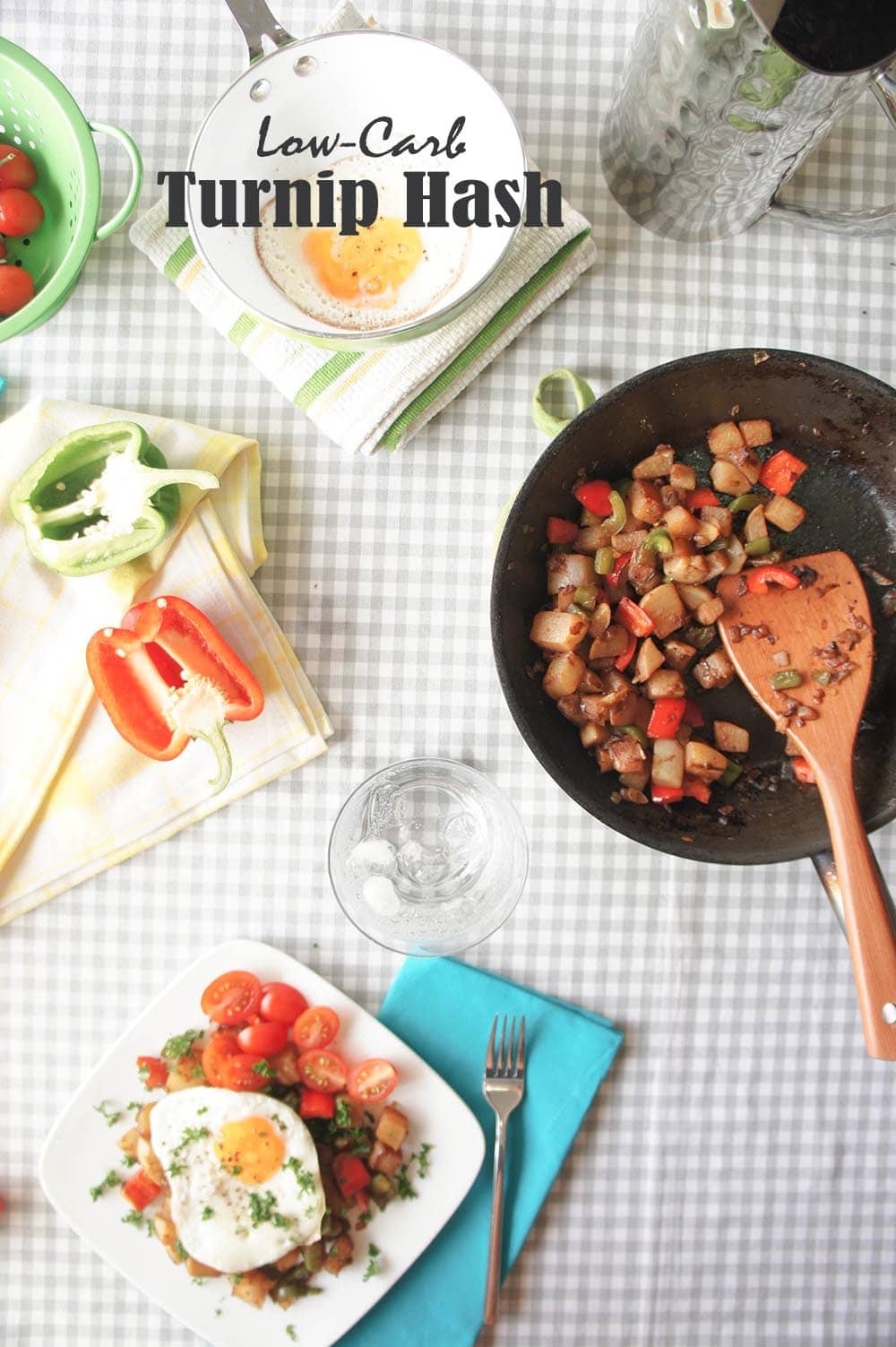 Now, I love carbs. Oatmeal and pasta and potatoes . . . if I wasn't worried about my waistline, I would eat perdominantly carbs at every meal. They are awesome. And necessary for cognitive functioning. But I was not blessed with a metabolism that will support high carb meals all the time!
High-protein breakfasts can get a bit boring. So, I decided to get a bit creative and see what veggies would make a good potato substitute for a breakfast hash. Turnips were a winner! (and several others were also- coming soon!).
Have you used the new "compare" feature on Google yet? It's super simple to use. In the Google search bar, type "Compare X and Y," or "X vs. Y" — like I did here for potatoes and turnips.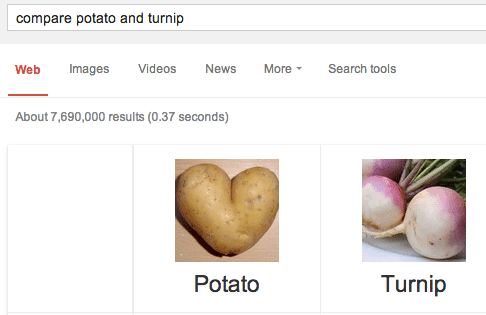 Easy to see that turnips are much lower in calories and carbs than potatoes. If you open up the compare box even more, you can see a more complete nutritional comparison of the two- and you also see that turnips also have more vitamin C and calcium that potatoes.
Now, of course I don't believe calories and carbs are the only ways to compare foods. Potatoes have a lot more potassium than turnips. But if you're trying to slim down (or just want to try some different!), turnips are a tasty alternative and will add variety to your diet.
Both Alex and I really enjoyed this breakfast. We've had it several times this summer. Great for days when you don't have a lot of activity planned early, and don't want breakfast leaving you feeling tired and heavy. If I know I'm going to be active early on, I don't mind just having potatoes.
Meals like this — quicky & easy, healthy & yummy — make me prefer breakfast at home than out these days. Especially here in Kuala Lumpur, getting vegetables with breakfast is very difficult! Many places here serve the "Big English Breakfast" — fatty meats, fried eggs, fried potatoes, baked beans, toast. Refined oil and carb fests. I wonder why more restaurants aren't more adventurous with vegetable offerings? It can't be because no one will purchase meals like this– look how popular green smoothies/juices have gotten! People do want healthy options.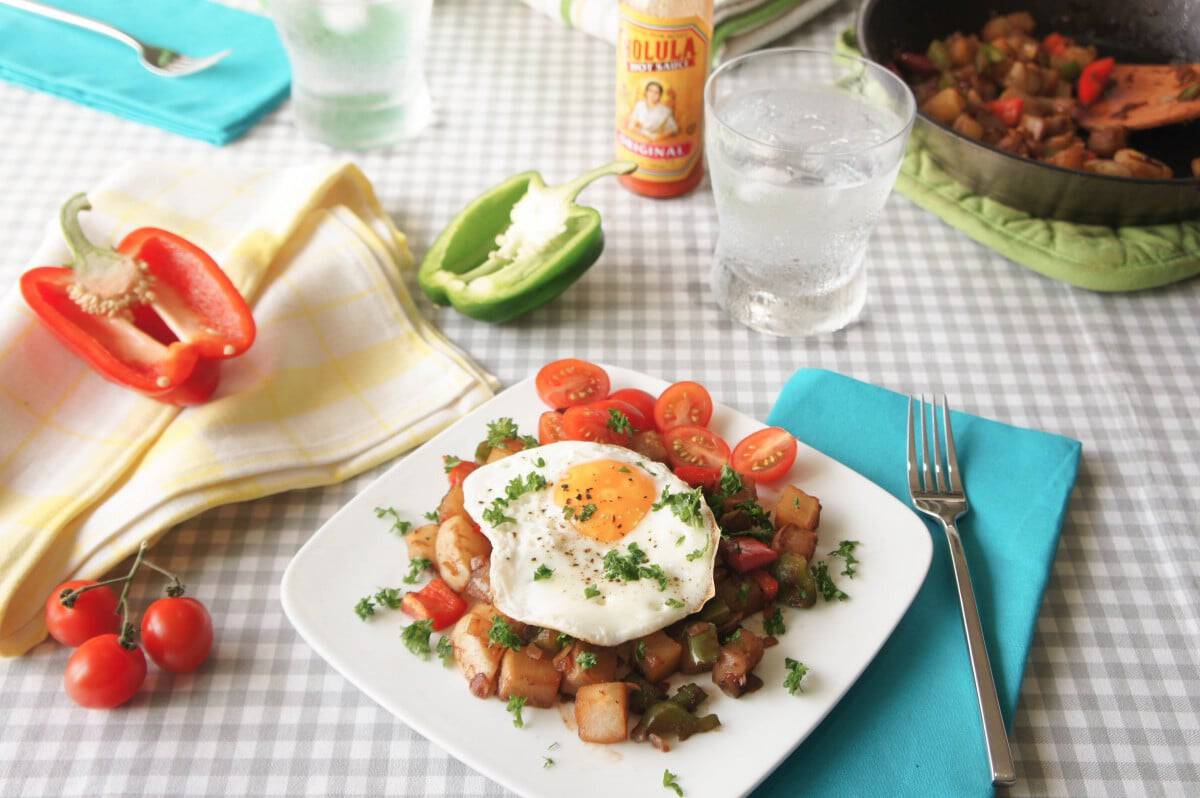 Until then, I'll be here, cooking in my kitchen, then heading out for coffee afterwards.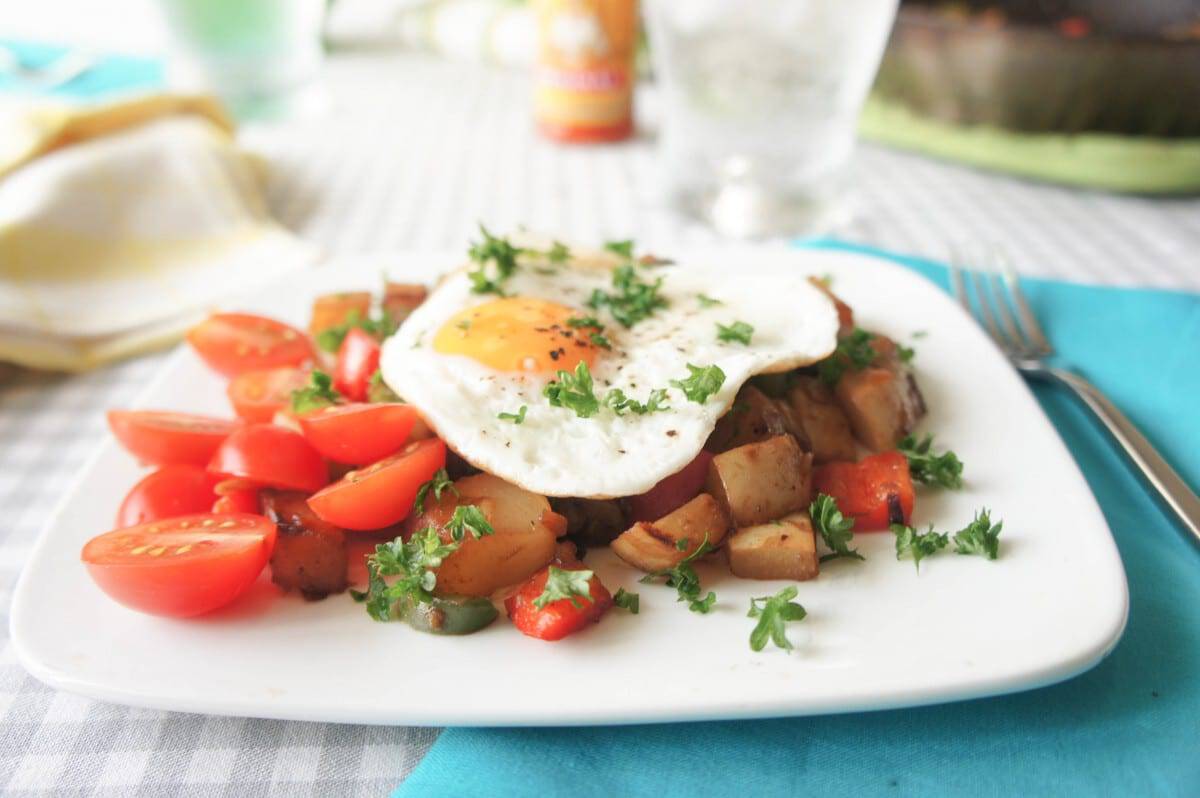 Low Carb Hash
A breakfast hash made with turnips in place of starchy potatoes. A great light, low-carb options for days you don't want to be weighed down.
Print
Rate
Ingredients
1

teaspoon

olive oil

1/2

medium

onion

(minced very finely)

1/2

teaspoon

sea salt

(or more, to taste)

black pepper

to taste

1

large

turnip

1

bell pepper

(I used half a red, half a green)

2

teaspoons

balsamic vinegar

cumin

(optional, to taste)

oregano

(optional, to taste)
Instructions
Add olive oil to a frying pan, and add minced onions. Sautė over medium-low heat until onions are soft and translucent. Add sea salt and pepper to season the onions well.

Cut the turnip in small cubes. After the onions are cooked, add the turnip, stir the onions and turnips to mix, then let it cook without stirring for 10 minutes, to allow the turnips to brown.

Add the bell peppers, and optional seasonings. I sometimes add extra seasoning, but mostly prefer just salt, pepper, and balsamic.

Once the turnips are fully cooked, and peppers have softened, add 2 teaspoons of balsamic vinegar, and allow to cook down and thicken for 1-2 minutes.

Serve with eggs or sausage for a complete breakfast.
Nutrition
Calories:
51
kcal
|
Carbohydrates:
9
g
|
Protein:
1
g
|
Fat:
2
g
|
Saturated Fat:
1
g
|
Sodium:
432
mg
|
Potassium:
227
mg
|
Fiber:
2
g
|
Sugar:
5
g
|
Vitamin A:
1242
IU
|
Vitamin C:
65
mg
|
Calcium:
23
mg
|
Iron:
1
mg