This post may contain affiliate links. Please see my full
Disclosure Policy
for details.
These no-bake German chocolate cookie bars are a great treat, sweetened without the need of refined sugar.
German chocolate cake was my favorite when I was a kid. Well, actually, it wasn't the cake– it was the frosting. These bars capture that flavor without the sugar crash afterwards.
Alex travels a lot for work, and a while back, I started once in a while making him cookies or muffins to take along with him for the flights. This has turned in to an obligatory thing. He now expects it. And, I feel better knowing he is sitting at the airport Starbucks enjoying a treat I've made with wholesome ingredient alongside his cappuccino.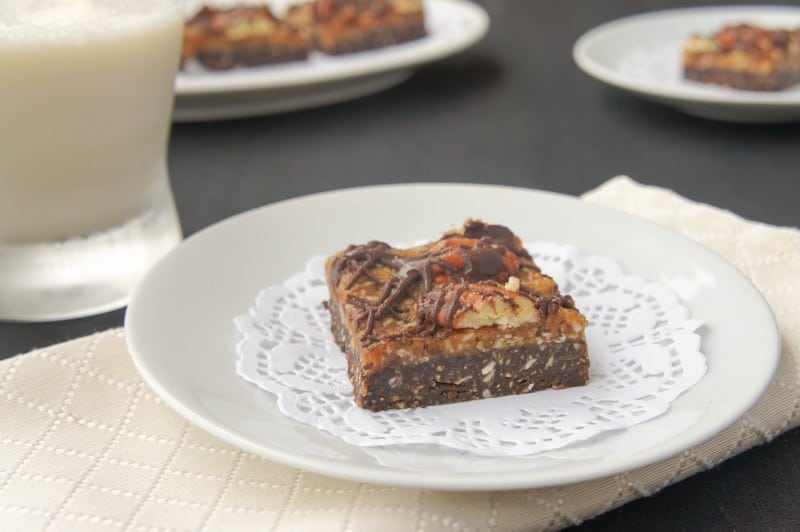 The date bars from Ohsheglows started the no-bake bar trend in this house. They are Alex's favorite, so I make them often. We always spend his birthday in Thailand, so I never get to bake him a cake. Last year, I made those date bars, since they are dense and I knew they wouldn't fall apart while we were traveling. I added a layer of chocolate under the date layer, and sprinkled the top with coconut to make them a bit extra special and birthday-treat worthy. And they were good. Like, german chocolate cake good. These bars are a spin off of that little experiment.
The one bad thing about those bars is that since they are made with coconut oil, the crust gets a bit crumbly when it's at room temperature. Maybe not room temperature in Oregon, but coconut oil is always liquid at Malaysia-room-temperature. I keep the bars in the freezer at home, but they don't make the best airport snack (somehow Alex still manages).
On my first attempt at these bars last week, I used coconut oil. I decided this time to try something a bit different to help bind the crust and help keep them together. I've always wanted to try using cocoa butter, but since that's not an ingredient available in Kuala Lumpur, I used an 85% chocolate bar, melted, as the oil ingredient. Chocolate is always a good choice, no? And besides, chocolate is a health food.
I stil like to enjoy these out of the freezer. At room temperature, these hold together nicely, and are a bit of a soft chewy cookie bar. Either way, they are winners in my book!
The question is . . . now that Alex has two batches of these in the freezer, what will I  make for his birthday coming up in a few weeks?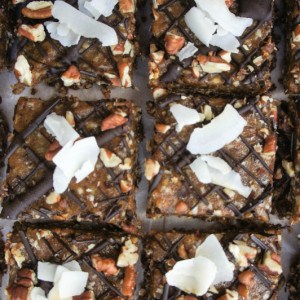 No-Bake German Chocolate Cookie Bars
A gooey, carmel, coconut, and pecan cookie bar, sweetened only with dates. No-bake, so perfect for the summer when you don't want to turn the oven on. Inspired by OhSheGlows Date Bars
Print
Rate
Ingredients
Topping
2

cups

dates

pitted

1/2

cup

coconut

1/2

teaspoon

lemon juice

1/2

teaspoon

sea salt

1/4

cup

pecans

toasted

1

ounce

85% dark chocolate
Instructions
Crust
Measure out the dates in a bowl, and pour hot water on top. Let soak for about a minute, then drain.

Add the pecans and oatmeal to a food processor. Process until the pecans and oatmeal are broken up into a course meal.

Add 1 cup of the dates, and pulse in. Process until the dates form a dough with the pecans and oatmeal.

Sprinkle the sea salt over the dough, and pour in the melted chocolate. Pulse to combine.

Press the dough into an 8x8 bake pan lined with parchment or baking paper. Put in the freezer to harder while making the topping.
Topping
Add the remaining 2 cups of soaked dates to the food processor. Process until the dates are smooth and resemble caramel, approximately 3-4 minutes, scraping down the sides of the bowl as necessary.

Add the coconut, lemon juice, and salt. Pulse to combine well.

Spread the date and coconut mixture over the crust in an even layer.

Top with toasted pecans and a drizzle of melted chocolate.
Notes
I cut these bars into 16 squares. They are very rich, so I will probably cut them all into half to make smaller cookies.
Even if you don't like really dark chocolate, I suggest you use the darkest you can find. The dates are very sweet, so the chocolate does not have a very dark taste.
The recipe uses 1 large 100 gram chocolate bar (3½ ounces). Use approximately ⅔ of a large bar for the crust, and the other ⅓ for the chocolate drizzle on top.