This post may contain affiliate links. Please see my full
Disclosure Policy
for details.
This Roasted Carrot Hummus is creamy, sweet, and has layers of flavor. It's made from carrots, and is a bean-free hummus. Keep this healthy appetizer a Whole30 Hummus by serving it with chopped veggies, or add gluten free crackers or pita bread for a more traditional offering.
If you love hummus recipes, try my Pesto White Bean Hummus and this vibrant Beet Hummus.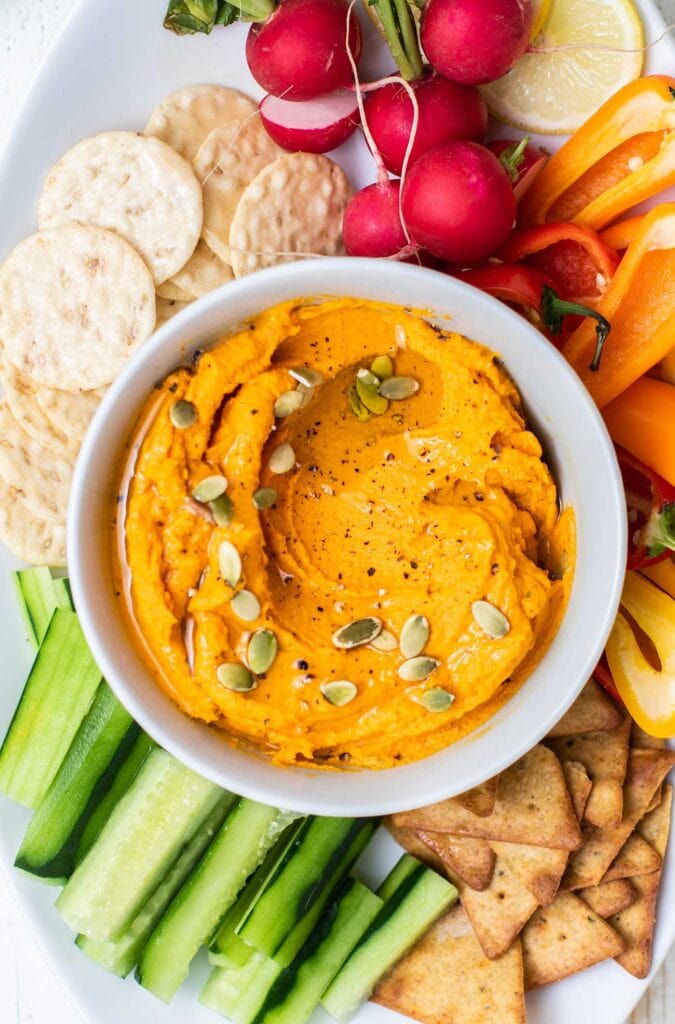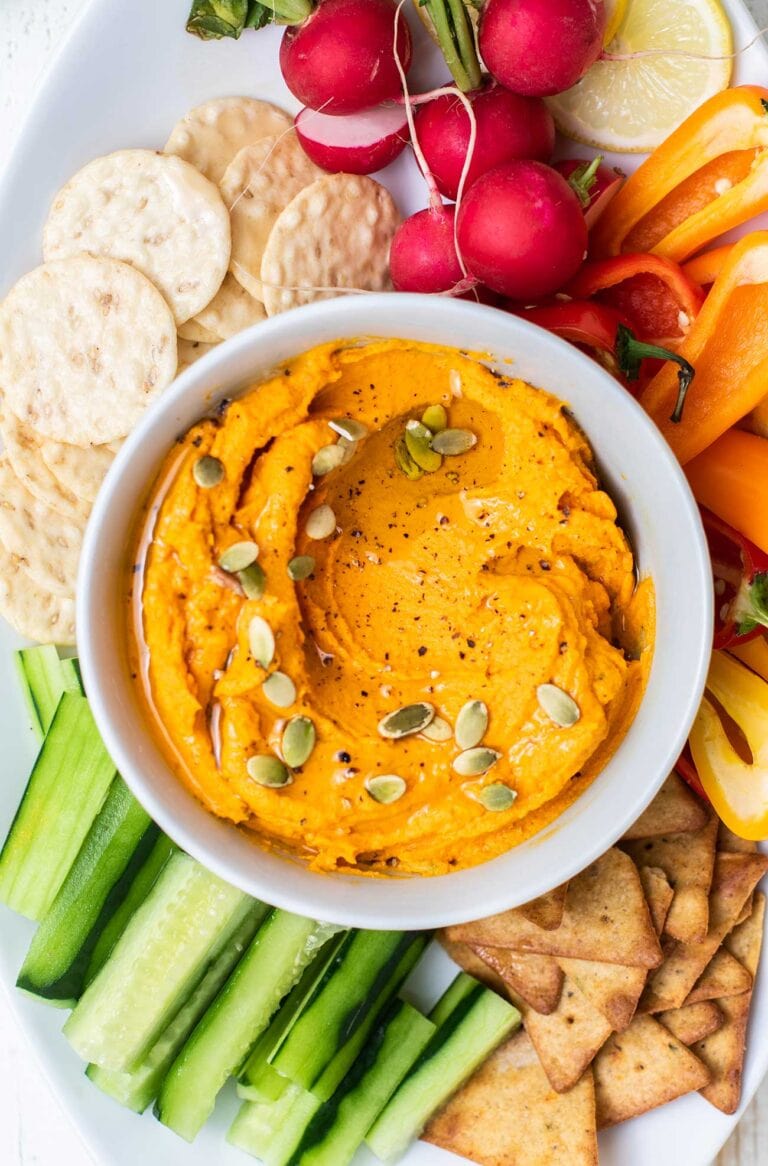 A Vibrant Whole30 Hummus Recipe
Insanely creamy, a bit sweet, with layers of flavor, this Roasted Carrot Hummus will have you hooked from the first bite!
A few years ago, I tried a Carrot Hummus at a restaurant here in Bend. I am allergic to chickpeas, so was thrilled they had a bean-free option.
It was so full of flavor, so creamy, and absolutely delicious. After thinking about it for a few weeks, I knew I needed to recreate it at home.
Roasted carrots are processed into dreamy perfection with TAHINI!, lemon juice, olive oil, sea salt, and black pepper. After it's creamy and super smooth, it's infused with fresh garlic and cinnamon flavors.
A veggie lovers dream! This makes a great snack option, appetizer, or even a salad, sandwich, or bowl topper!
This roasted carrot hummus recipe is great for a variety of diets – from Vegan, to Paleo and Whole30, everyone can enjoy this dip!
What You'll Need
Carrots (lots of them!)
Olive Oil
Lemon Juice
Sea Salt
Fresh Garlic Cloves
Cinnamon Sticks (a little ground ginger is great too!)
Black Pepper
Pumpkin Seeds, optional, to garnish
Fresh Dill, Parsley, or Cilantro, to garnish, optional, to garnish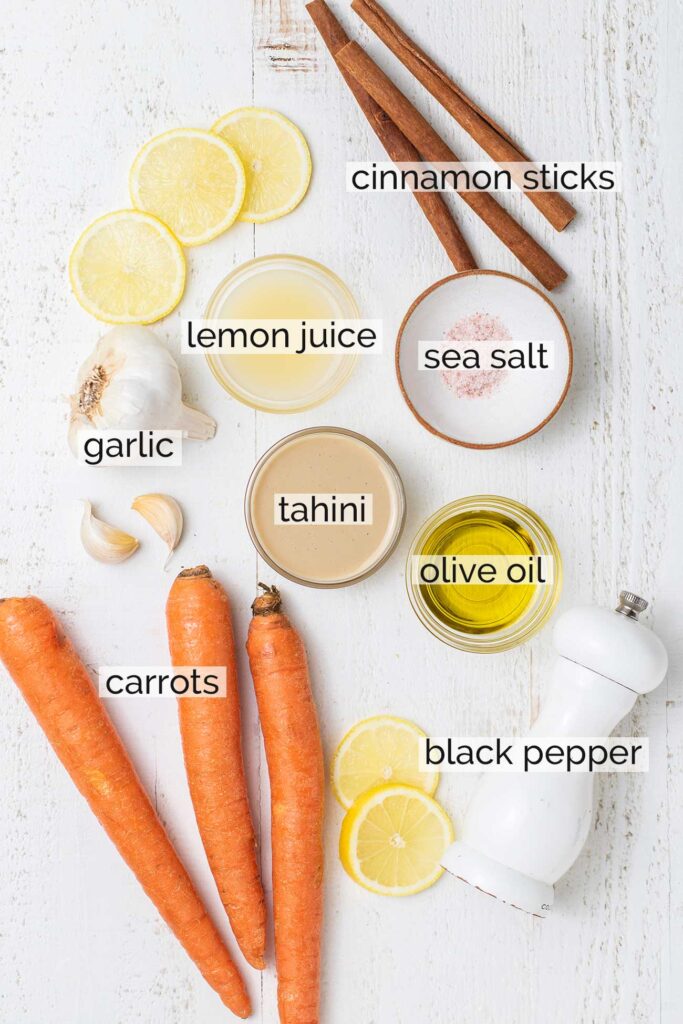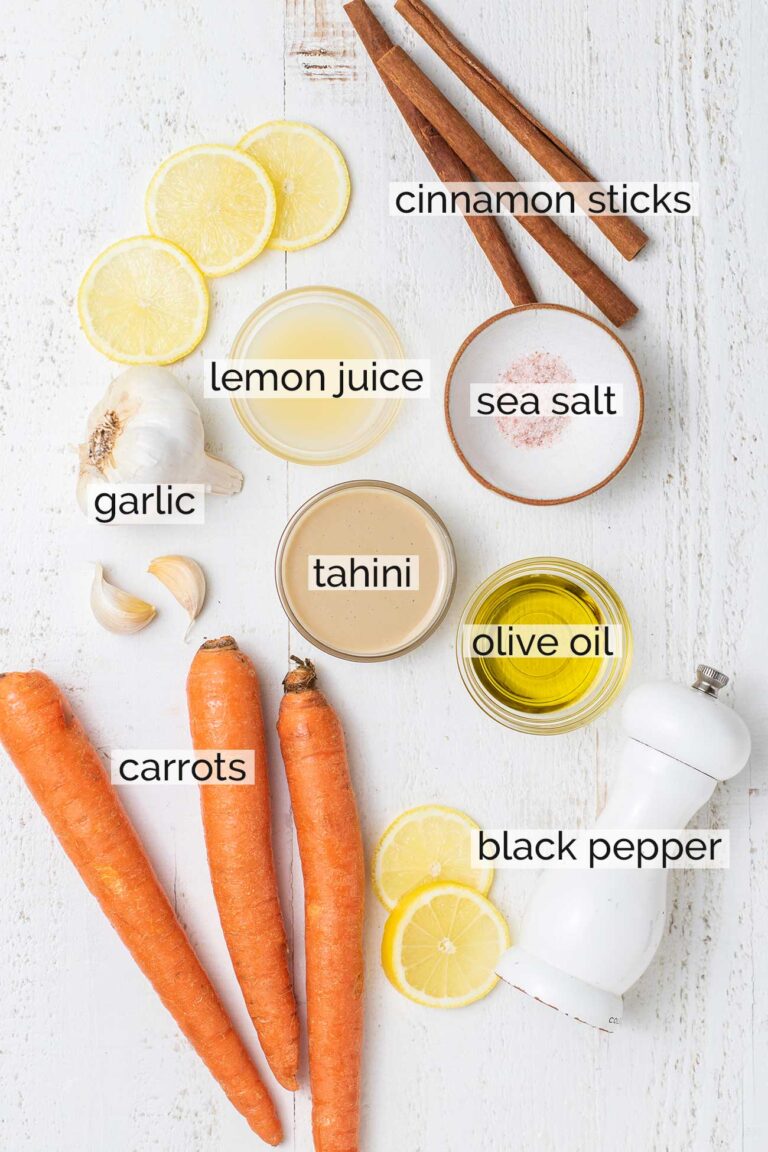 How to Make Carrot Hummus
Step 1: Add sliced carrots to a baking sheet, and spray or drizzle and toss with 1 tablespoon of olive oil. Roast the carrots in the oven at 400º F for 30 minutes, until very tender and just starting to brown.
Step 2: Add the roasted carrots, tahini, lemon juice, olive oil, salt and pepper to a food processor or blender with tamper stick.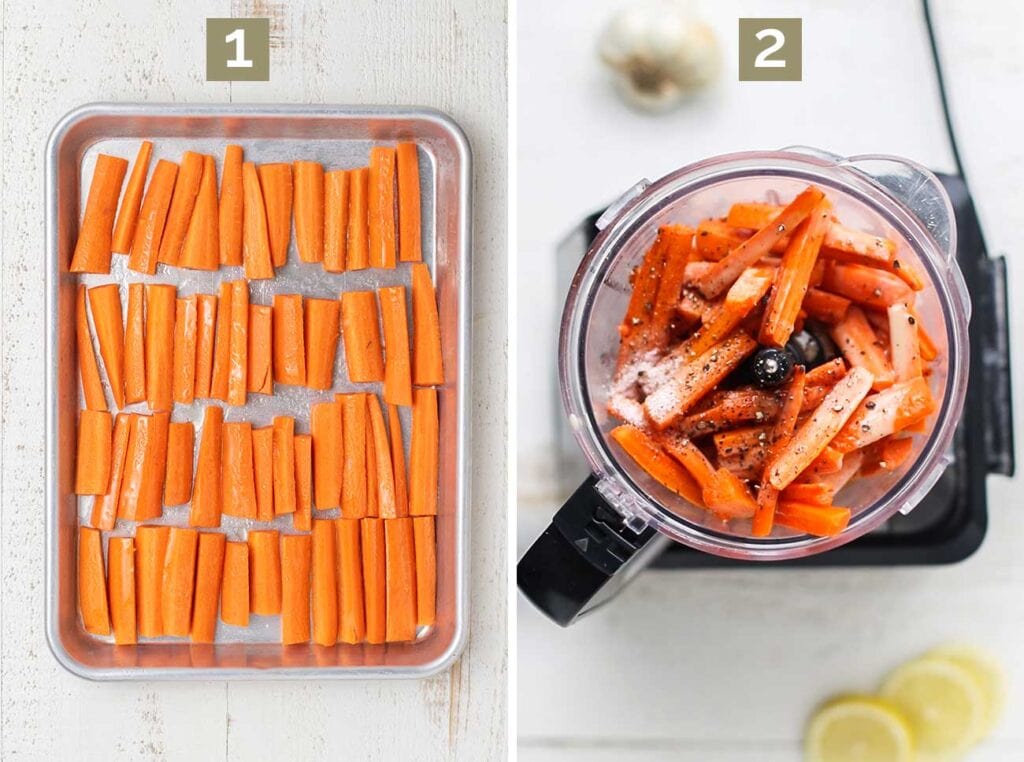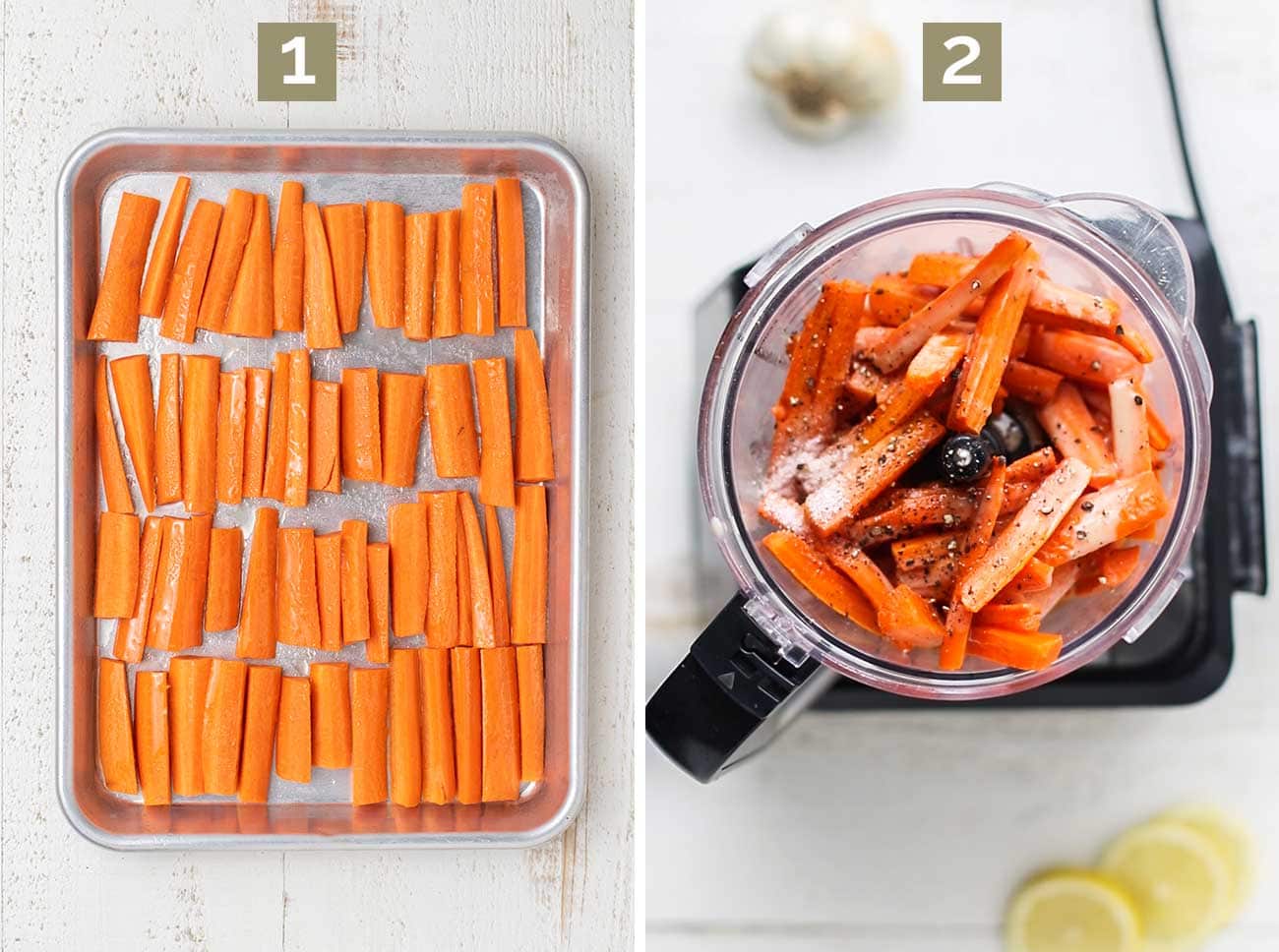 Step 3: Process or blend the carrots until they form a very smooth and creamy mixture. Stop once in a while and push the carrots down into the blade, scraping the sides, to get the whole mixture processed well. The carrot hummus will become light and almost have a fluffy texture.
Step 4: Grate fresh garlic into the hummus, and mix it in. Taste, and adjust the lemon juice, garlic, and salt to taste. The garlic flavor will intensify as it sits and the oils are released.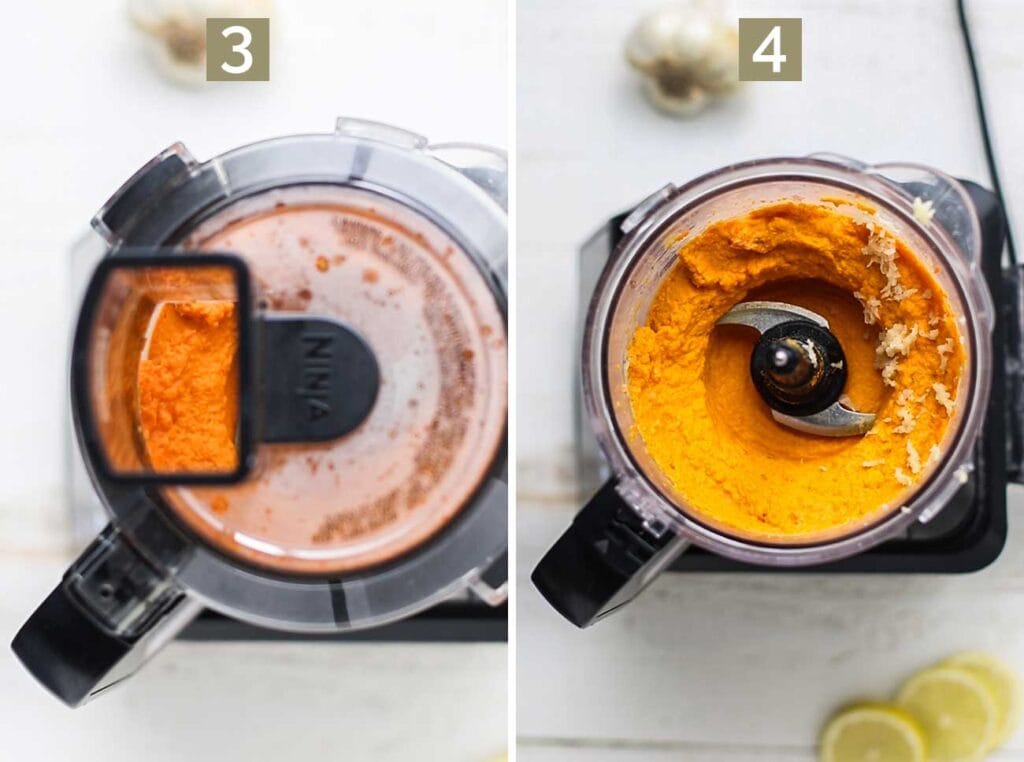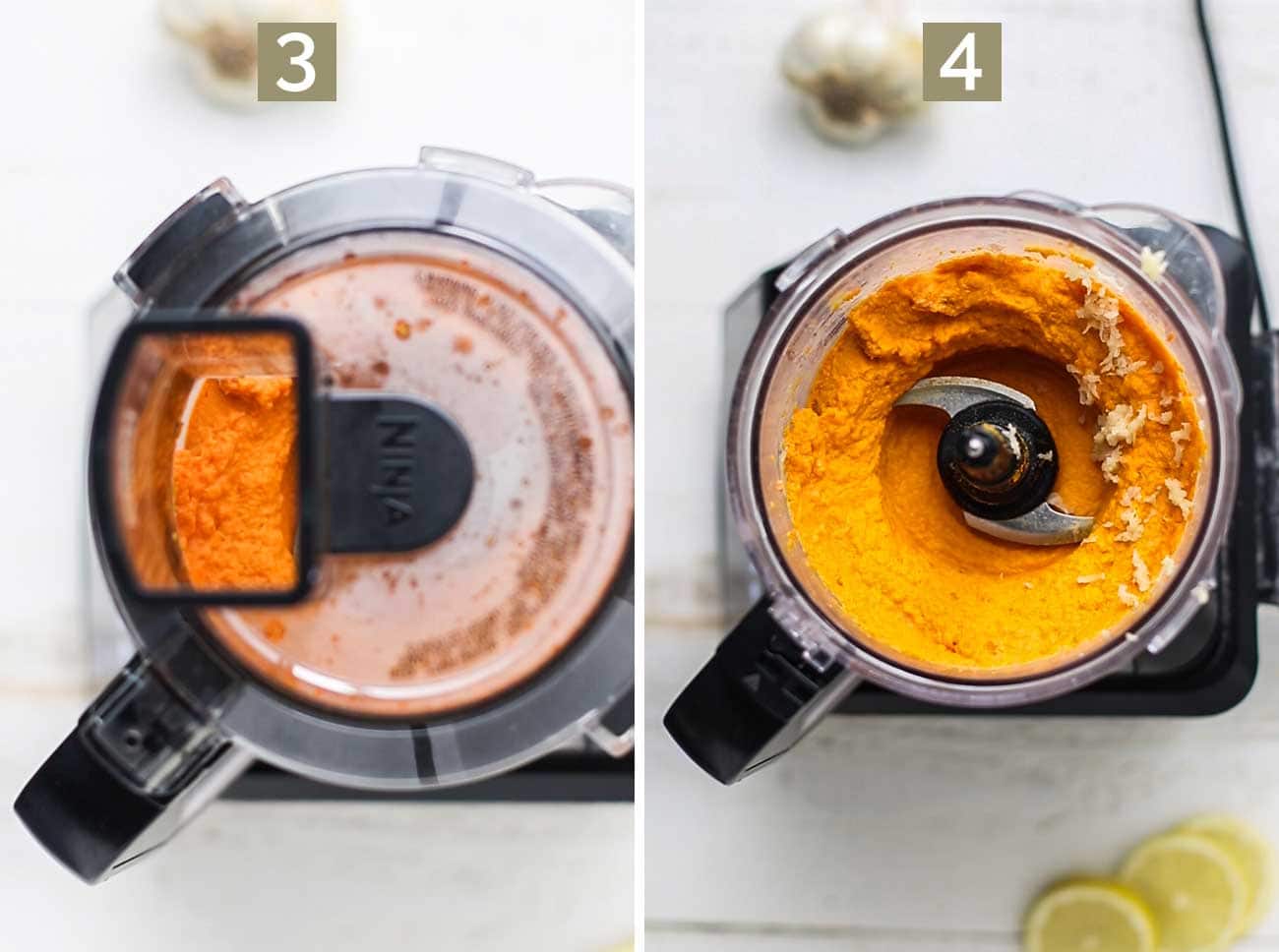 Step 5: Add the carrot hummus to a storage container, and press cinnamon sticks into the hummus, coating the sticks with hummus. Refrigerate for at least an hour to chill and infuse the hummus with cinnamon flavor.
Step 6: Serve the hummus optionally garnished with a drizzle of olive oil, black pepper, and pumpkin seeds.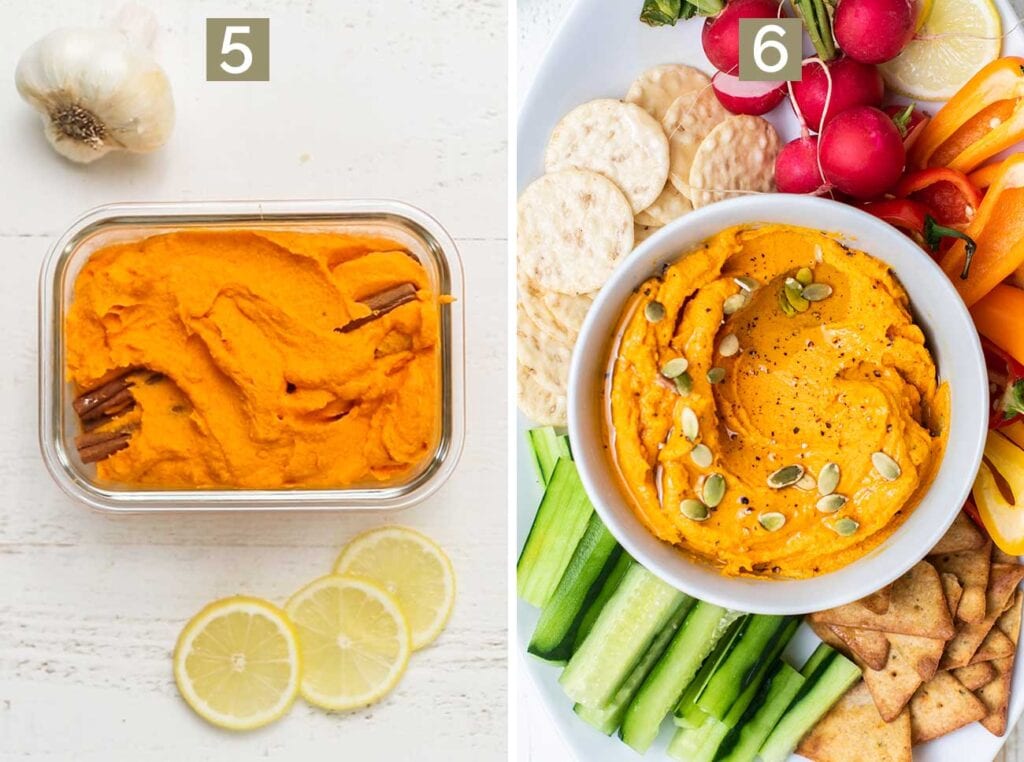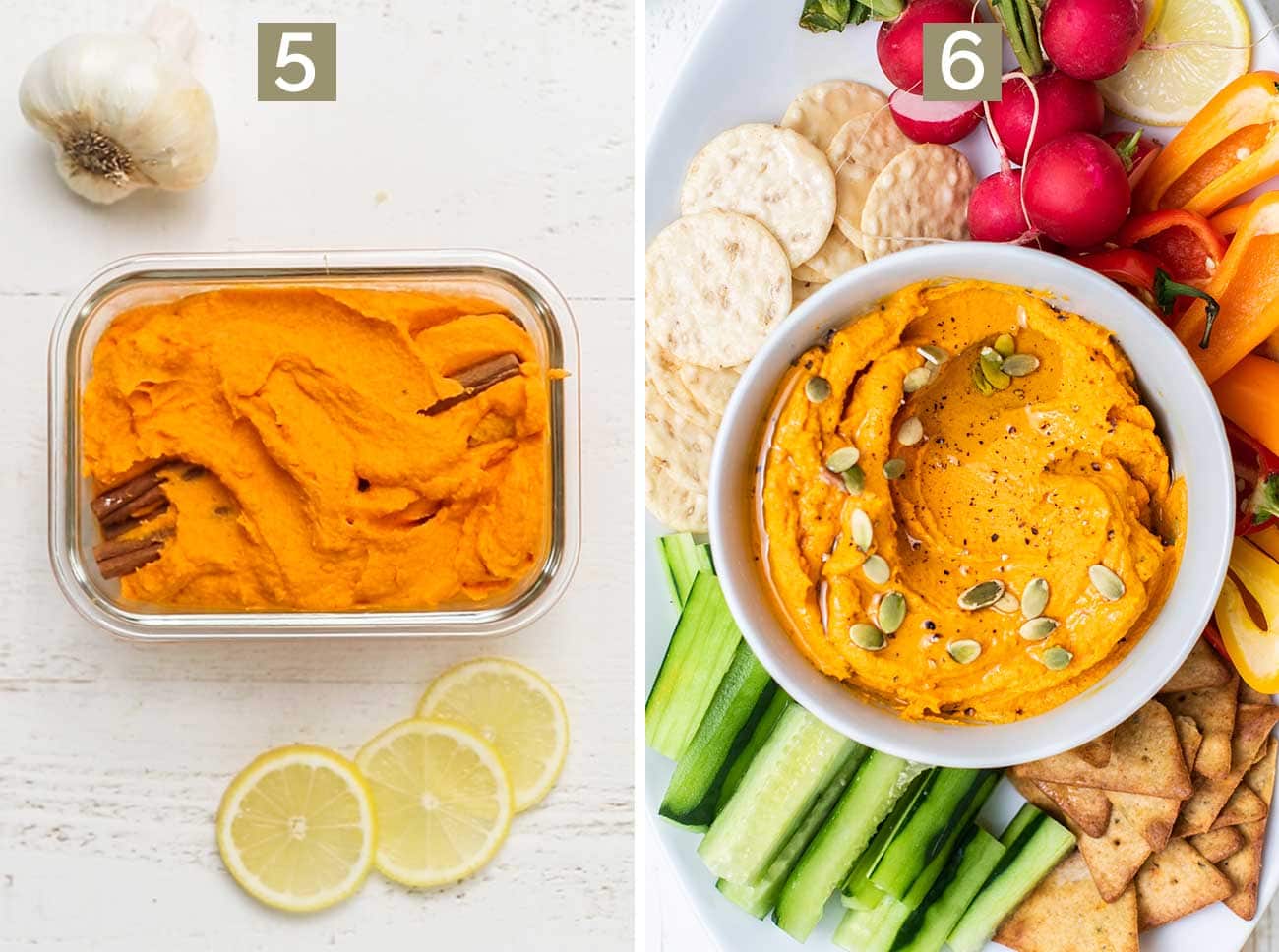 How to Store Leftover Carrot Hummus
Store leftover carrot hummus in the fridge in an airtight container for up to 1 week. I do not recommend freezing this recipe.
Is Hummus Whole30?
No. Beans are not Whole30 compliant, so traditional hummus made with garbanzo beans is not compliant.
This roasted carrot hummus uses roasted vegetables in place of the beans, so it is Whole30 compliant.
Tips for Roasted Carrot Hummus
What goes well with Hummus?
Gluten Free Hummus Dippers
Veggies! We love cucumbers, celery, peppers, radishes, and cherry tomatoes
Gluten free crackers (like rice crackers or almond flour crackers)
Tortilla Chips
Whole30 Hummus Suggestions
Serve hummus with veggies
Top grilled meats or fish with hummus
Top salads with carrot hummus
What low carb vegetables can you eat with Hummus?
Sliced bell peppers
Cauliflower
Broccoli
Snap Peas
Cherry Tomatoes
Endive (so good!) or hearts of romaine
Raw Green Beans
Cucumbers
Sliced Zucchini (raw!)
Other Ways to Use Carrot Hummus
As a sandwich spread.
As a salad topper – it makes a great flavor addition! Shake some up with a couple tablespoons of lemon juice for some extra flavor.
Make hummus toast – spread a thick layer onto toast, and top with roasted red peppers, sun dried tomatoes, avocado, or an egg.
Serve with your favorite roasted vegetables to add some flavor, healthy fats, and fiber.
How to Make Hummus Less Boring
If you find hummus boring, try dressing it up with some additional zest! Extra tahini, lemon juice, and garlic go a long way. If you're into spice, add some red chili flakes or even some hot sauce into the mix.
This roasted carrot hummus has a mild cinnamon flavor, but kick it up a notch by adding some fresh or ground ginger as well.
The last tip is to serve it with dippers you really enjoy – from pita chips, to your favorite raw veggies!
Other Hummus Recipes
If you make this recipe, be sure to share it with me! Find me on Facebook or Instagram and be sure to tag #SunkissedKitchen @SunkissedKitch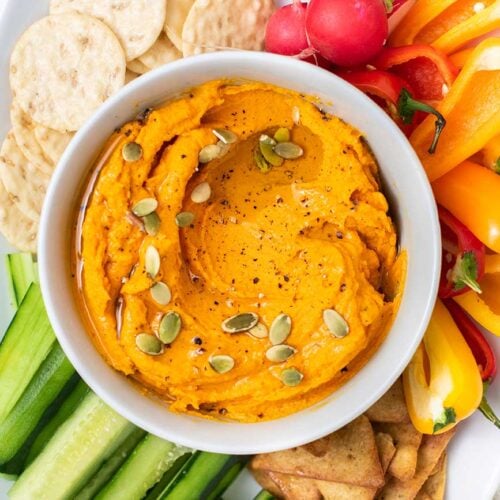 Roasted Carrot Hummus
This creamy and sweet hummus is made from roasted carrots – not a bean in sight! It's perfect served with raw veggies, endive, or gluten free crackers. It would also be great served with wedges of whole grain pita bread. Whole30 and Paleo!
Print
Pin
Rate
Ingredients
2

pounds

carrots

peeled and sliced

2

tablespoons

olive oil

divided

3

tablespoons

tahini

3

tablespoons

lemon juice

1/2

teaspoon

sea salt

4

cinnamon sticks

fresh ground black pepper

to taste

garlic

minced, to taste
Instructions
Preheat oven to 400 degrees F.

Add carrots to a cookie sheet, and drizzle with 1 tablespoon olive oil. Bake for 30-35 minutes until well roasted and slightly browned on the bottoms.

Add carrots, tahini, lemon juice, olive oil and sea salt to a food processor or high speed blender. Process until the mixture is very smooth, 3-5 minutes in a food processor or less time in a high speed blender.

Taste, and adjust salt and lemon juice to taste. Add freshly ground black pepper to taste, and freshly grated garlic, if desired. I usually leave the garlic out of this hummus.

Add the hummus to a container, and place the 4 cinnamon sticks along the top to infuse the hummus with flavor. Completely chill in the refrigerator before serving. Remove the cinnamon sticks and stir well when ready to serve.
Notes
Gluten Free Hummus Dippers
Veggies! We love cucumbers, celery, peppers, radishes, and cherry tomatoes
Gluten free crackers (like rice crackers or almond flour crackers)
Tortilla Chips
Whole30 Hummus Suggestions
Serve hummus with veggies
Top grilled meats or fish with hummus
Top salads with carrot hummus
Nutrition
Calories:
115
kcal
|
Carbohydrates:
13
g
|
Protein:
2
g
|
Fat:
6
g
|
Sodium:
225
mg
|
Potassium:
396
mg
|
Fiber:
4
g
|
Sugar:
5
g
|
Vitamin A:
18945
IU
|
Vitamin C:
8.4
mg
|
Calcium:
63
mg
|
Iron:
0.7
mg