This post may contain affiliate links. Please see my full
Disclosure Policy
for details.
Start your New Year off right with these healthy, Low Carb Cilantro Lime Shrimp Burrito Bowls, topped with black beans, avocado, and salsa. This low carb shrimp recipe uses cauliflower rice as the base, and here you'll find tips for making the best cauliflower rice.
Today I'm partnering with Marina Del Rey Foods – Marina Del Rey sells top quality wild, responsibly caught, frozen seafood.  Thanks for supporting me and the brands I work with.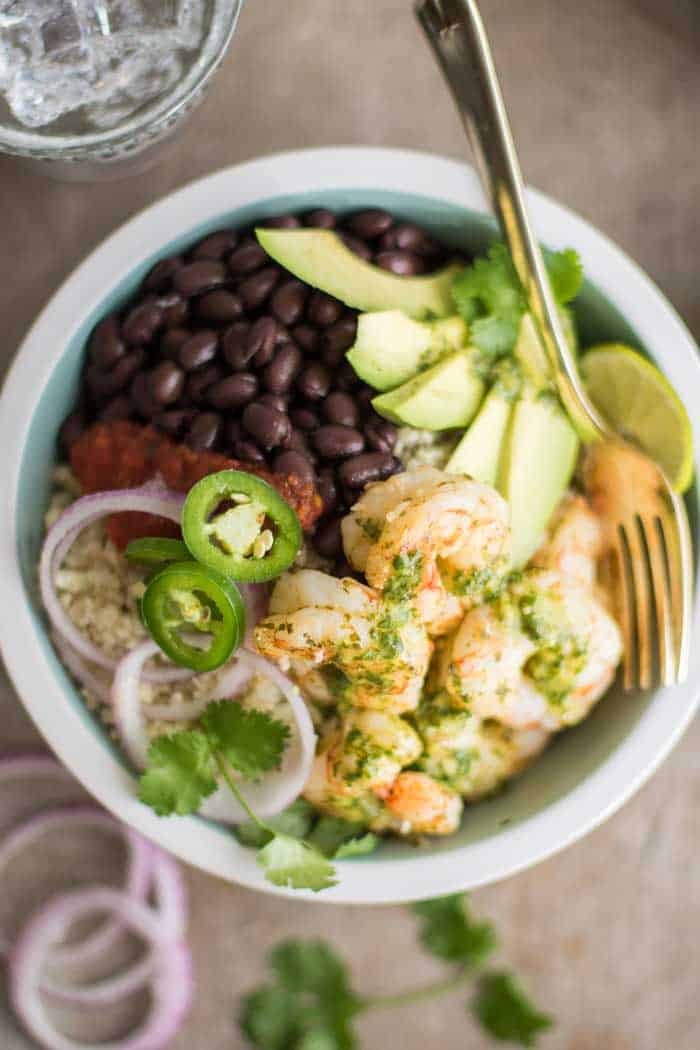 How to Marinate Shrimp
If you love shrimp, but don't cook it often at home like me, this recipe is a great one to start with! When looking for seafood, I like to look for wild caught – and often it's difficult to find, or too expensive, so I just skip it. The shrimp in this recipe was a game changer!
I'm on a mission to incorporate more seafood in my diet – high in omega 3s and proteins. A tasty way to do this is to make shrimp burrito bowls!
I was thrilled to be introduced to Marina del Rey shrimp from my friend Robyn over at Simply Fresh Dinners. If you're looking for a super simple shrimp recipe, check out her Roasted Harissa Shrimp.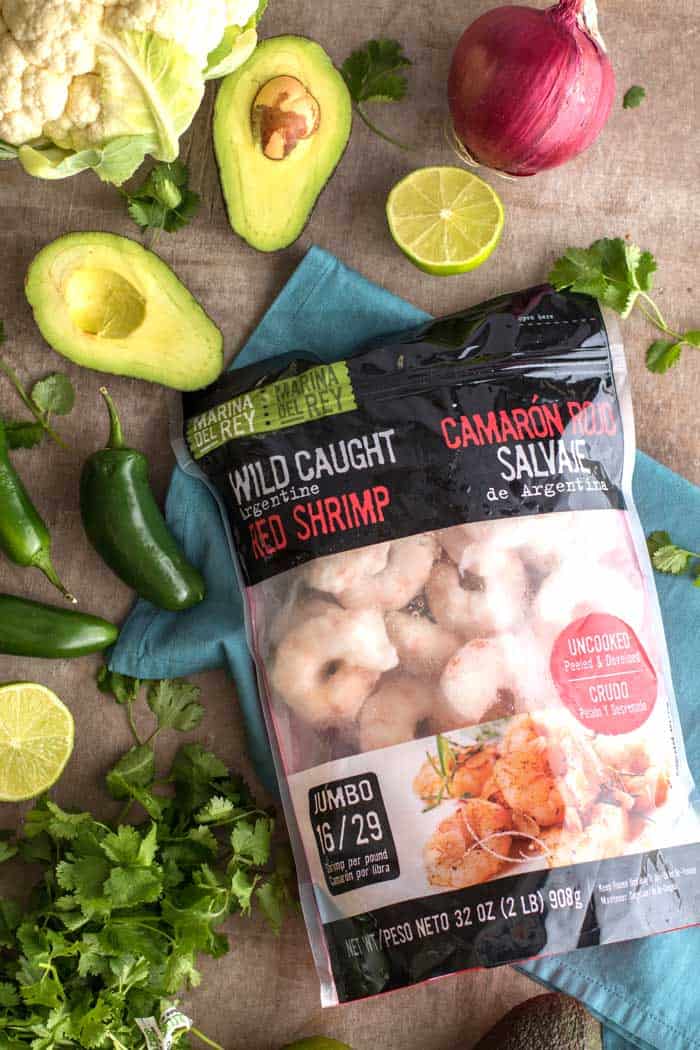 I wanted this recipe to be full of fresh, vibrant flavors, that would complement how fresh tasting this shrimp is. Good seafood only requires very simple marinades.
The great thing about marinating shrimp is that it doesn't take long. For this recipe, I make the shrimp marinade, pour it over the shrimp, and after I've made the cauliflower rice, my shrimp is ready to cook.
Leaving shrimp in an acidic marinade for longer than 30 minutes will begin to cook the shrimp – and then you'll end up with ceviche instead of nicely marinated shrimp.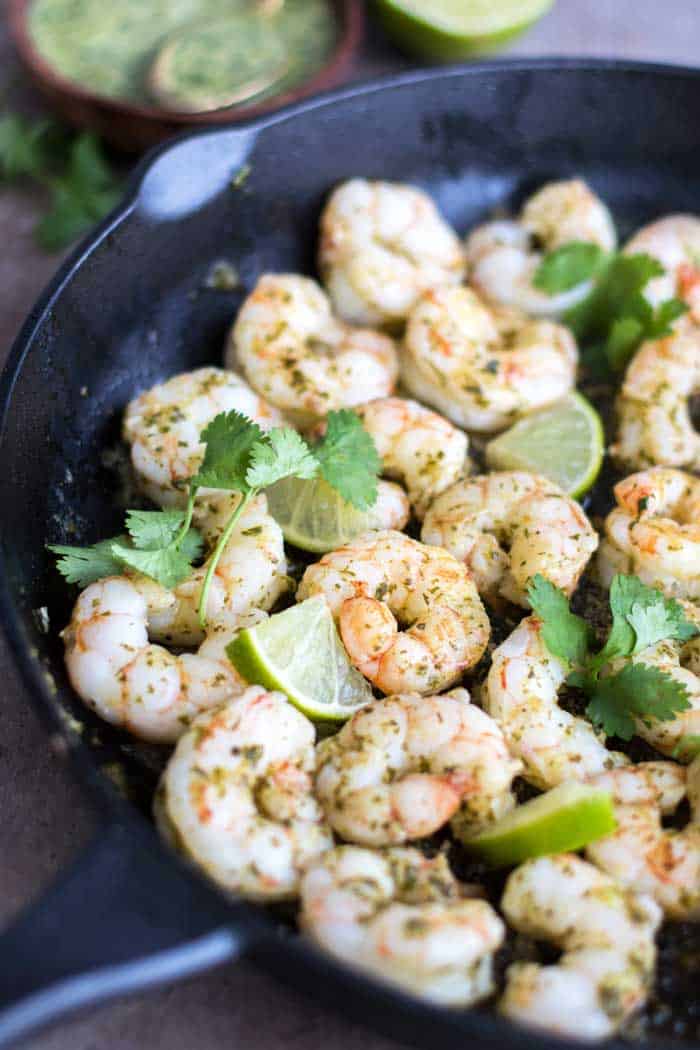 Marina del Rey Wild Argentinean Shrimp comes in easy peel, peeled and deveined, and cooked varieties, so you can choose which option is the best for your recipe.
Marina del Rey shrimp is so juicy and flavorful — and the jumbo shrimp is perfect for topping bowls like these! If you're a shrimp fan, I highly recommend jumping over to their website and checking out their products or looking at their store locator! In the US, it's carried at all Sam's Clubs, and it's in a variety of retailers across Canada.
The Best Cauliflower Rice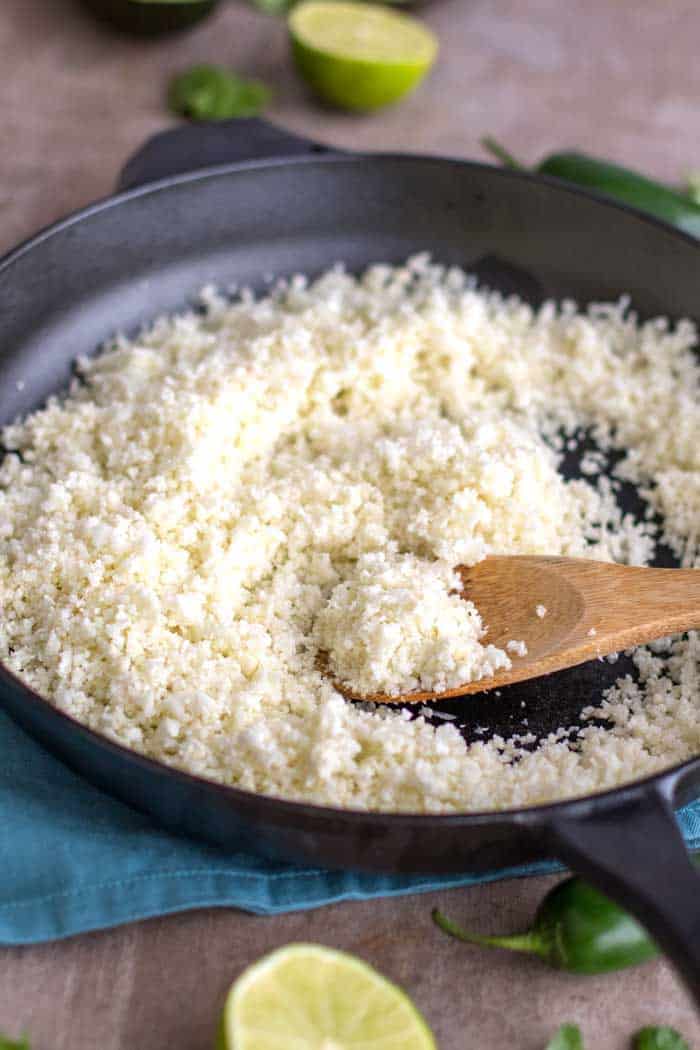 These bowls are kept low carb by swapping rice with cauliflower. If you haven't tried riced cauliflower, you're missing out!
It's so simple to make, and the texture is similar to rice, so you won't miss the real deal at all.
That said, I've seen some pretty bad batches of cauliflower rice. It can turn out watery and mushy if you haven't prepared it right.
To make the best cauliflower rice:
First, chop your cauliflower into fairly small pieces, so it can evenly chop in the food processor.
Second, don't over fill your food processor. If you only fill it about half way, and process your cauliflower in batches, you can evenly chop it.
If you process the cauliflower too long, the mixture will start to turn into a mushy watery mess — and you definitely don't want that. Stop processing when the cauliflower is in pieces the size of rice, or even a bit larger.
Last, preheat your skillet on high, and then cook your rice quickly. It only takes a couple of minutes. Use a large skillet (or cook it in batches) so you can spread it out in a fairly thin layer across the pan (again, this helps reduce the moisture so it doesn't get too watery).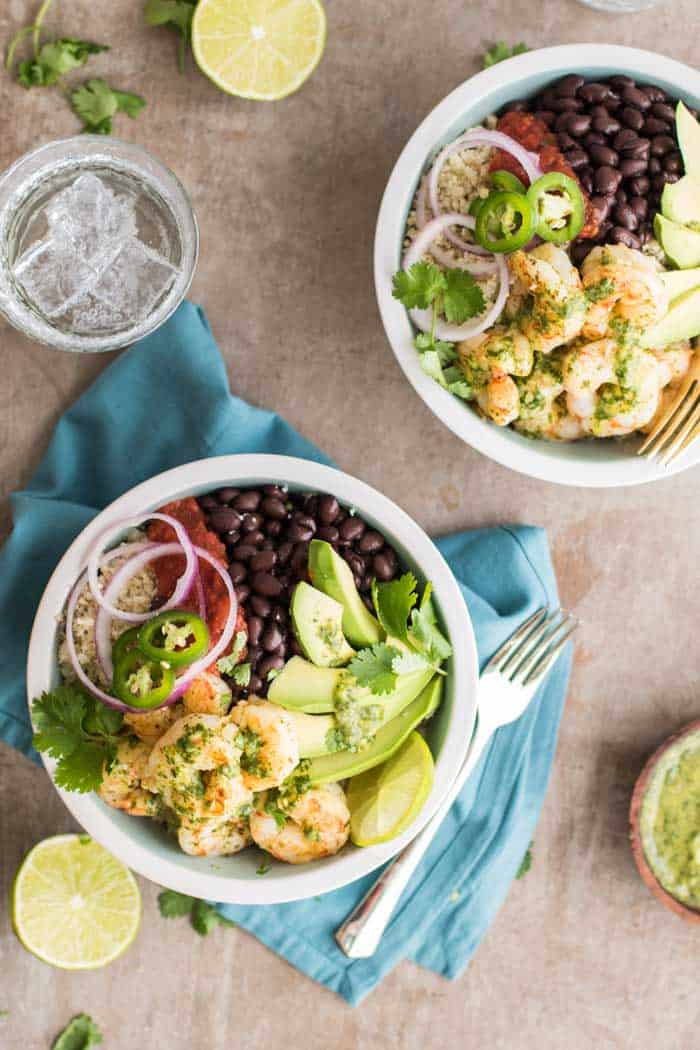 Make it your Own Healthy Shrimp Burrito Bowl
Make it Paleo or Whole30: The only thing in this bowl that isn't compliant are the black beans. It's easy to omit them, and then try subbing some roasted chunks of sweet potatoes or butternut squash. Chopped olives are easy and would also be delicious.
Save Time: Cauliflower rice doesn't take long to cook, but it is a bit more prep work that just cooking rice. This bowl is still a healthy gluten free option with either brown or white rice. I often making cauliflower rice for myself, but serve my husband and son white rice.
Go Crazy: If you really want to do it up, add shredded cheese, sour cream, and guacamole.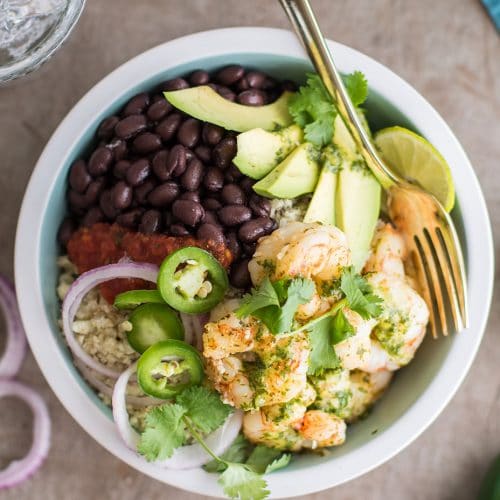 Cilantro Lime Shrimp Burrito Bowls
If you're on the hunt for low carb shrimp recipes, this one is for you! Packed with flavor, and nutrient dense ingredients, like black beans, avocado, and marinated shrimp.
Print
Pin
Rate
Ingredients
Cilantro Lime Marinade
1 1/2

cups

cilantro

loosely packed

1/4

cup

lime juice

1/4

cup

olive oil

2

tablespoons

minced onion

1/2

teaspoon

sea salt

1/2

teaspoon

cumin

jalapeño

cut into thin slices, to taste
Shrimp Burrito Bowls
1

head

cauliflower

large

1/2

tablespoon

olive oil

1/2

teaspoon

cumin

sea salt

to taste

2

pounds

Marina del Rey Jumbo Shrimp

thawed

1

can

black beans

rinsed and drained

2

avocados

sliced

1 1/2

cups

salsa

sliced red onion

optional, to garnish

jalapeño

optional, to garnish

cilantro

optional, to garnish
Instructions
Prepare marinade by adding all ingredients to a blender, and blending until cilantro is chopped up finely and the sauce is a nice bright green color. Split your marinade into 2 containers. Use one to marinate the shrimp, and reserve the other to use as a topping.

Add the marinade to defrosted shrimp. If you're shrimp aren't thawed, it's easy to thaw them by adding them to a colander and running them until slightly warm water for a few minutes. Put the shrimp aside until the rest of the ingredients have been prepared.

While the shrimp are marinating, chop your cauliflower into chunks (I find smaller chunks work better in my food processor). Add the chunks to the food process, being sure not to overfill it. If you add too much cauliflower at once, it will be hard to get it evenly chopped. If you have a large food processor, you can probably chop all of the cauliflower in 2-3 batches.

Heat a skillet over high heat, and add 1/2 tablespoon olive oil. Once the skillet it hot, add the cauliflower "rice". Don't overfill the pan for the best results. It only takes a couple of minutes to cook, so if you need to, just cook your "rice" in two batches.

While the cauliflower is cooking, season with cumin and sea salt. Stir the cauliflower frequently, and remove from heat after 2-3 minutes.

Heat another skillet over high heat, and add shrimp. Use a spatula to lay the shrimp out across the pan to ensure even cooking. Flip, and cook the otherside, being sure not to overcook. The shrimp will only take a couple of minutes per side.

Layer cauliflower rice, (heated) black beans, and shrimp, and then top with salsa, avocado, onion, jalapeno and extra cilantro. Drizzle with extra cilantro lime sauce.
Nutrition
Calories:
450
kcal
|
Carbohydrates:
25
g
|
Protein:
38
g
|
Fat:
22
g
|
Saturated Fat:
3
g
|
Cholesterol:
381
mg
|
Sodium:
1863
mg
|
Potassium:
1098
mg
|
Fiber:
11
g
|
Sugar:
5
g
|
Vitamin A:
680
IU
|
Vitamin C:
64.4
mg
|
Calcium:
282
mg
|
Iron:
5.5
mg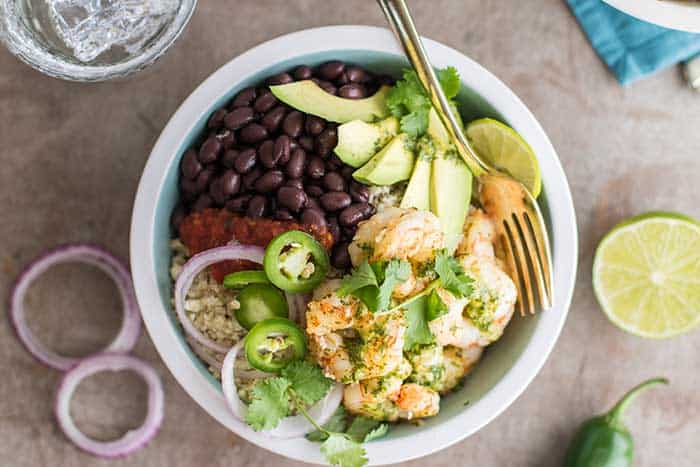 Other Low Carb Shrimp Recipes:
I'd love to connect with you on social media! Find me on Facebook or Instagram where I post daily healthy eating and lifestyle inspiration.
 This post contains affiliate links, which means that if you click on one of the product links, I'll receive a small percentage of any purchases made.