This post may contain affiliate links. Please see my full
Disclosure Policy
for details.
I live in Malaysia. Tropical weather, people. Summer year round. And yet, I don't BBQ most of the year. What is wrong with me? Because really, what tastes better than a simple meal of grilled meat and vegetables?
Luckily I still experience seasons internally, because the end of the school year always restores my desire to fire up the grill on the balcony. I live in a condo, so the only option is a gas grill. To BBQ, it takes a mere 30 seconds to walk out, attach the nozzle to the gas container, and start up the grill. And best of all, no pan to clean off after the chicken is done cooking!

I have two favorite ingredients for meat marinades– beer and yogurt (not together!). Both do wonders at helping spices penetrate the meat and keeping it moist even after grilling at a high heat. This yogurt marinade tastes best if you can leave it marinating overnight. If you only have the day, 4-6 hours works. Last weekend, I only had the 6 hours. It was still really good. This weekend, I was prepared, and made the marinade the night before. It really does make quite a difference- so moist! Plus, if you are planning on serving this to guests, it's nice to have all the prep work done, and be able to just BBQ and relax while people are over. This whole meal is great for that- because the salad really tastes better after a day also, when the parsley has fully softened in the lemon juice.
Right now, I can ease up on the mid-week meal prep, since it's my last week of work for the next 2 months. When the fall arrives again, I am going to see if I can marinade chicken like this for a few hours, then freeze it. I am thinking if thawed overnight in the fridge, this would be a great fast, weeknight option.
I love the freshness of parsley and lemon juice, and the flavors in this quinoa tabbouleh are a match made in heaven with this warm spiced chicken. Be sure to really chop the parsley up fine. When you think you're done- chop it for another minute or so. Then, before mixing it into the rest of the salad ingredients, pour the olive oil and lemon juice over the parsley and massage it well. Otherwise, parsley can be scratchy to eat, especially with as much as I like in this salad.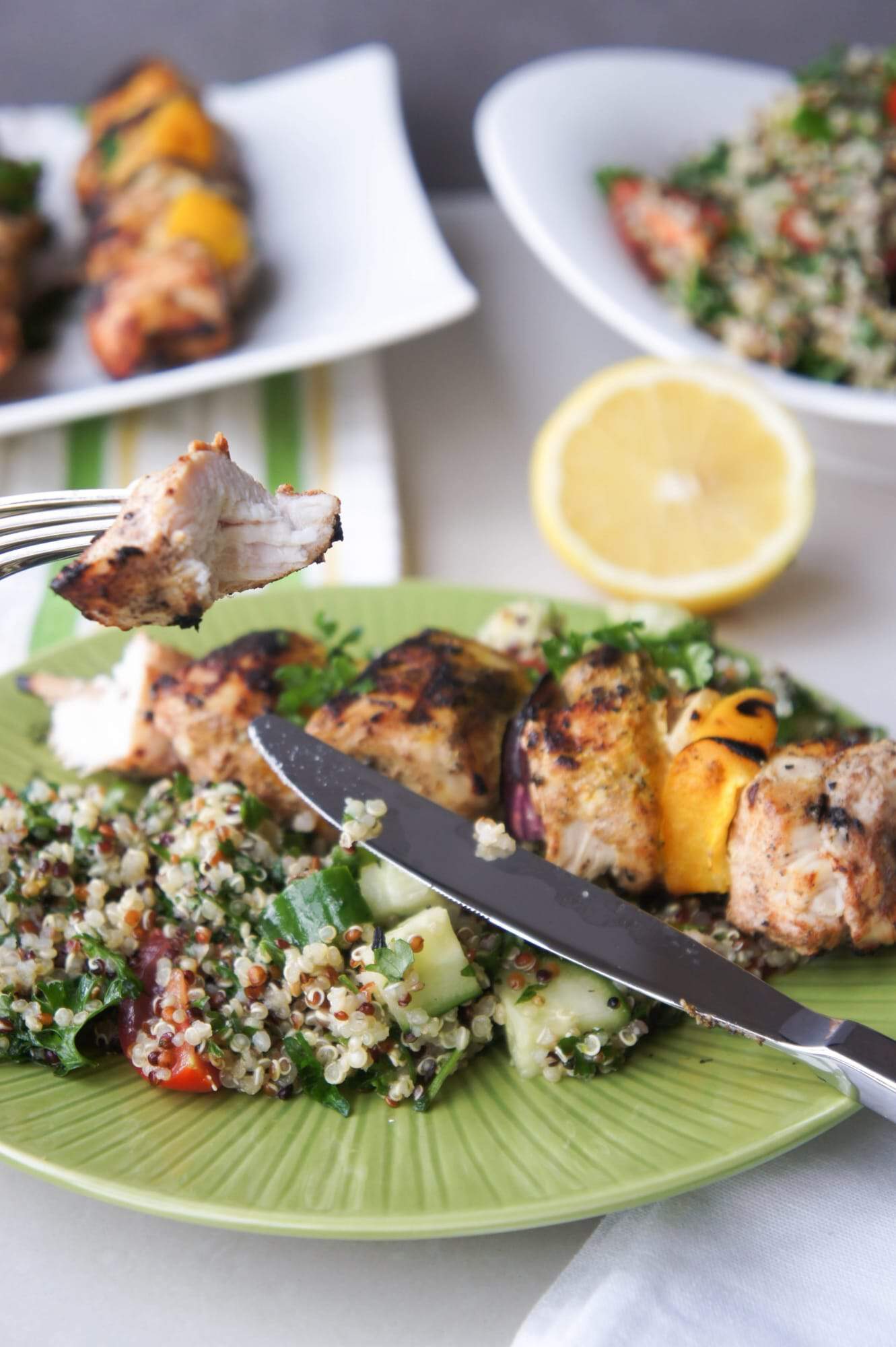 A light meal in itself, enough for a family, or for two with lots of leftovers for lunches (yes, yum!).
Spiced Yogurt Marinated Chicken Skewers with Quinoa Tabbouleh
A warm spiced yogurt marinade takes these chicken skewers to the next level! The marinade is best if the chicken is left in it overnight. The tabbouleh is actually it's best the day after it's made, too- making this a great meal to have when guests are over. If you don't have time, it's okay if you make both of these 4-6 hours before serving. Inspired by Against All Grain
Print
Rate
Ingredients
Chicken Skewers
2

pounds

chicken breasts

(boneless, skinless)

1

teaspoon

olive oil

1/2

tablespoon

salt

1

teaspoon

cinnamon

1/2

teaspoon

cumin

1/2

teaspoon

paprika

1/2

teaspoon

ground ginger

1/4

teaspoon

cayenne

1/4

cup

plain yogurt

1/2

yellow bell pepper

(cut into large pieces)

1/2

red onion

(cut into large pieces)

lemon juice

fresh parsley
Quinoa Tabbouleh
1

cup

dry quinoa

(cooked to package directions and cooled)

2

cups

chopped parsley

(chopped really fine)

1

cup

cherry tomatoes

(quartered)

1

cup

cucumbers

(sliced and quartered)

3

tablespoons

lemon juice

3

tablespoons

olive oil

1/2

teaspoon

sea salt

(or more, to taste)

freshly ground pepper

to taste
Instructions
Chicken Skewers
Chop the chicken into large chunks. Place in a container to marinade, and rub with olive oil.

In a small dish, mix together the salt, cinnamon, cumin, paprika, ginger and cayenne. Add yogurt, and mix well.

Add yogurt and spice mixture to the chicken, and coat evenly. Put in the fridge to marinate overnight, or for at least 4 hours.

When ready to grill, alternate chunks of chicken with the peppers and onions on skewers.

Grill over high heat for 10-15 minutes, until chicken is well done.

Squeeze lemon juice over cooked skewers, and sprinkle with chopped parsley.
Quinoa Tabbouleh
Make sure parsley is very finely chopped. In a bowl, add the olive oil and lemon juice over the parsley, and work into the parsley so it is very well saturated. This will help soften the parsley.

Add all over salad ingredients into the bowl over the parsley, but don't mix together until ready to serve. Leave the parsley marinating in the oil and lemon juice blend so the parsley softens well.

When ready to serve, mix the salad together, and season with salt and pepper.