This post may contain affiliate links. Please see my full
Disclosure Policy
for details.
This artichoke millet salad was inspired by a recent cooking adventure of my mom's . . .
Let me start off by saying I love my mom's cooking. It's simple and healthy. When I'm at her house, I love the huge salads, steamed vegetables, and grilled meats. She doesn't exactly venture into "gourmet" territory though. And when I share recipes with her that she "must try" (because I know she'll love them), she prints them off, hangs them on her refrigerator, and then leaves them there for 8 months until I fly home and make them for her.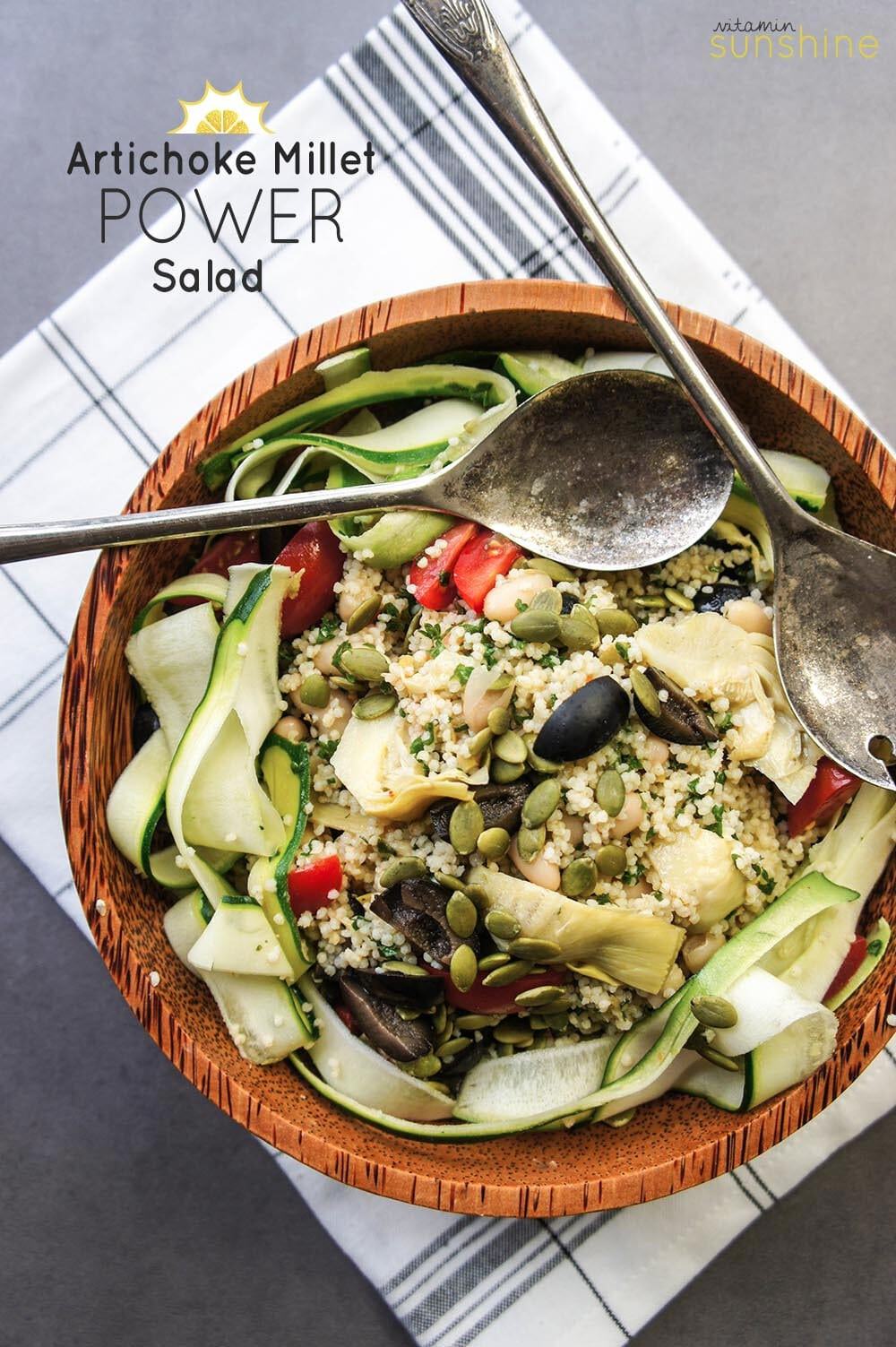 So when she called me last week to tell me about the Artichoke Tapenade Salad she had made (recipe from Trader Joe's), I was floored. "You made what?"
Sounded right up my alley, so I went out and bought the ingredients, and made one for dinner and lunches last week. I made quite a few changes to the one she made from Trader Joe's, but the artichokes and olives are the important part, right?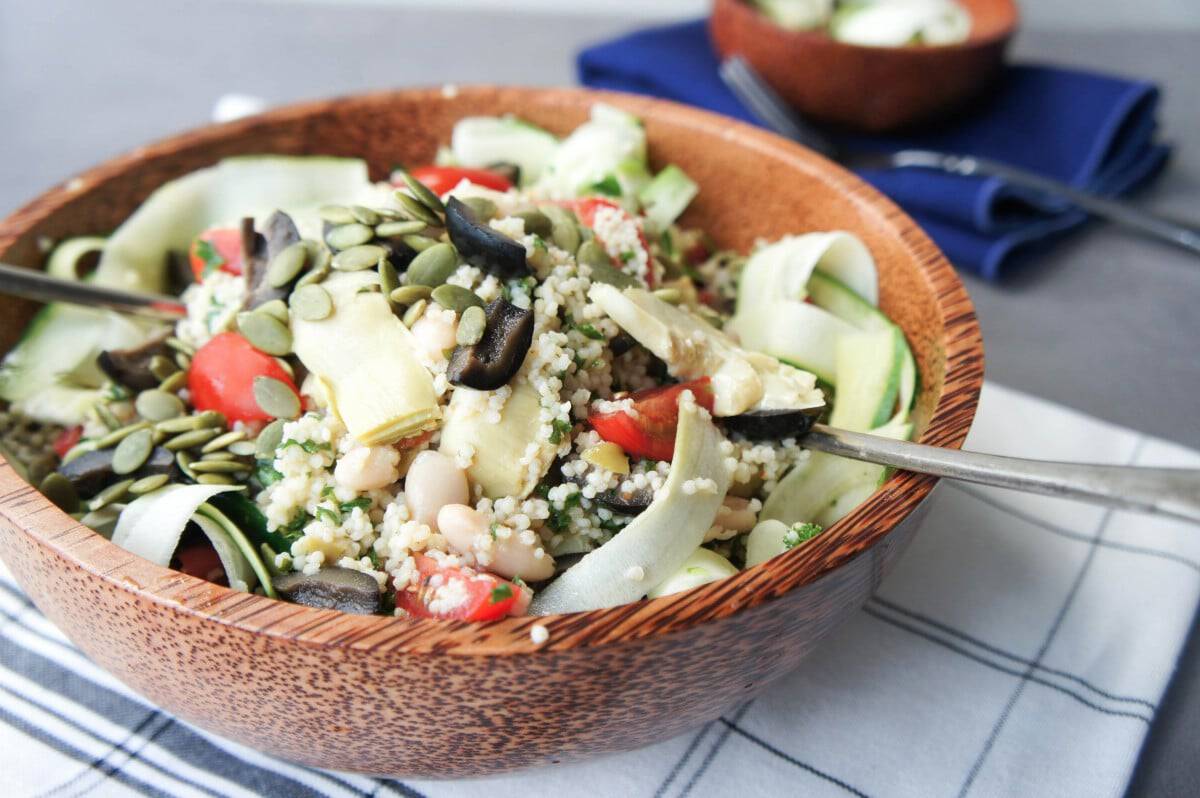 What is Millet?
Millet is a grain, like quinoa, praised for its high protein content (6 grams in 1 cup cooked). It also has a high magnesium content, and is touted to reduce the symptoms of asthma in children, protect heart health, lower the risk of type II diabetes, prevent gallstones, and lower the risk of cancers, including breast cancer. (Wow, food is an amazing medicine!)
When prepared, millet can take on a creamy consistency, almost like polenta, or be light and fluffy like rice. The brand of millet I buy here in Malaysia is dependent on what's available, so sometimes it's creamy, sometimes it's light and fluffy. It's a good thing I enjoy it both ways. To the best of my knowledge, it isn't in how you prepare it, but rather the type of millet you buy. All the packages here just say "millet," and I haven't paid attention enough to tell you which brand cooks in which way.
The "light and fluffy" type is much better for salads like these. I actually had planned to buy quinoa for this salad, but it has been unavailable for much of the past 6 months around here, which is actually what spurred me to finally try it. Another good thing about millet? At least here in Malaysia, it's much cheaper than quinoa (quinoa can run US$6-10 for a small bag. Millet, only about US$2).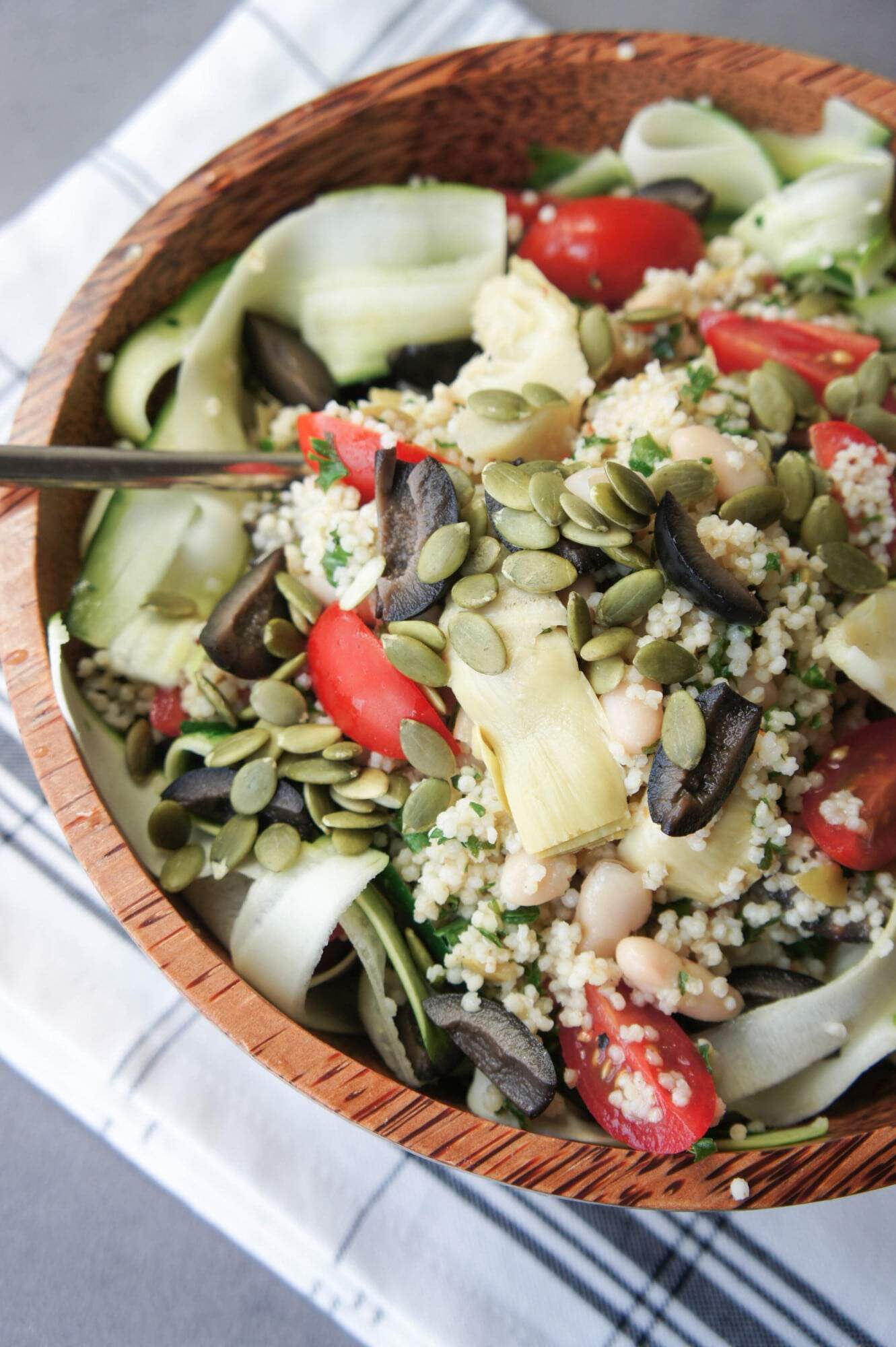 Serving Ideas
I added white beans to this salad to make it a meal with complete proteins on its own, so it's a great meatless option, especially great for lunch. The bright lemon and parsley flavors make it a great addition to fish.
Both times that I've made it, I've served it with salmon, and put the salad on top of crunchy romaine leaves. I take the romaine and wrap up the salad and salmon together like lettuce wraps. It's so good!
I also ate some of the leftover salad with an egg cooked on top for breakfast.
This salad is very versatile. It would be great with other vegetables, like bell peppers, roasted eggplant (I can see that happening in my future!), or with a different type of bean or grain.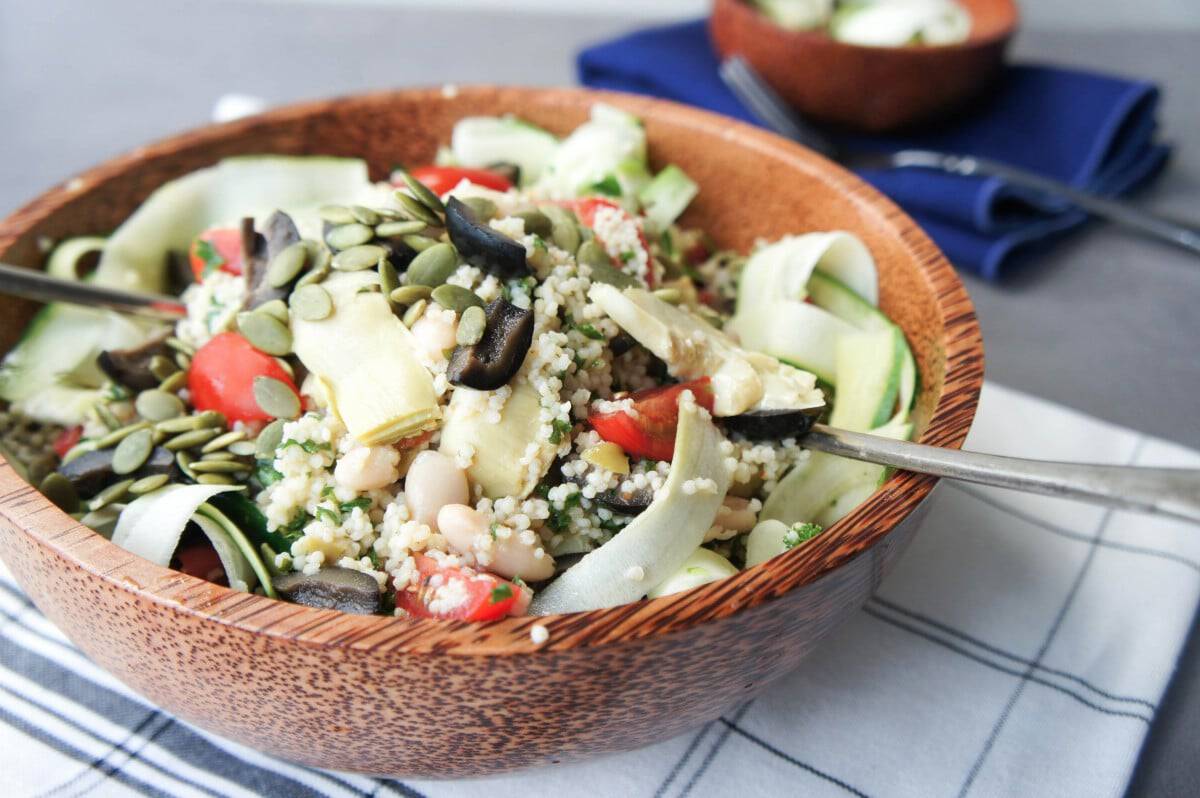 Artichoke Millet Power Salad
A white bean and grain salad filled with artichokes, olives, parsley and lemon. A meal on its own, or a beautiful side dish for grilled fish or chicken. Inspired by Trader Joe's Artichoke Tapenade Bulgur Salad.
Print
Rate
Ingredients
1

cup

millet

(prepared to package directions)

1

cup

parsley

very finely chopped

1/4

cup

+2 talespoons lemon juice

2

tablespoons

balsamic vinegar

1

tablespoon

olive oil

1 15-

ounce

can cannellini beans

1 15-

ounce

can artichoke hearts

(in water, quartered)

1 15-

ounce

can black or kalamata olives

(quartered)

1

pint

cherry tomatoes

(quartered)

1

zucchini

(cut into ribbons with a vegetable peeler)

1/2

teaspoon

oregano

freshly ground black pepper

to taste

sea salt

(optional- I didn't feel it needed any)

1/2

cup

pepitas

(to garnish)
Instructions
Cook and cool the millet.

In a large bowl, add the chopped parsley, lemon juice, balsamic vinegar, and olive oil. Massage together to soften the parsley.

Cut all the vegetables, then add them to the salad, along with the cannellini beans. Season with oregano, black pepper, and optional salt.

Refrigerate before serving. Garnish with pepitas (pumpkin seeds) right before serving to keep them crunchy.
Notes
Substitute quinoa for the millet, if you have that on hand.
Lots of vegetables would be good in this salad. The parsley and the lemon juice are what really give this salad a zing, so those items are not optional, in my opinion!
Always start recipes with less vinegar and lemon juice that what the recipe calls for. After you've tried it, add more in to your liking. I found 6 tablespoons of lemon juice to be perfect, but I suggest starting with ¼ cup if you don't like things as tangy.
Nutrition
Calories:
454
kcal
|
Carbohydrates:
50
g
|
Protein:
13
g
|
Fat:
25
g
|
Saturated Fat:
3
g
|
Sodium:
1646
mg
|
Potassium:
469
mg
|
Fiber:
12
g
|
Sugar:
5
g
|
Vitamin A:
2346
IU
|
Vitamin C:
57
mg
|
Calcium:
135
mg
|
Iron:
5
mg
What salads have you been enjoying this summer?
How would you serve this salad? On it's own, or with accompaniments?
---
Sources
Millet, The World's Healthiest Foods