This post may contain affiliate links. Please see my full
Disclosure Policy
for details.
Chicken italian sausage is a great way to boost the flavor of pasta sauces, soups, and PIZZA! The problem with store bought sausage is it's full of ingredients I don't want in my body. In addition to being the "dumping ground" of unused meat parts, sausage also is full of preservatives, flavor enhancers, and tons of other additives to improve texture, taste, and lengthen it's shelf life. Traditionally, sausages were encased in animal intestines. That doesn't gross me out nearly as much as knowing that today, many casings are actually made of plastic.
That's not how I roll.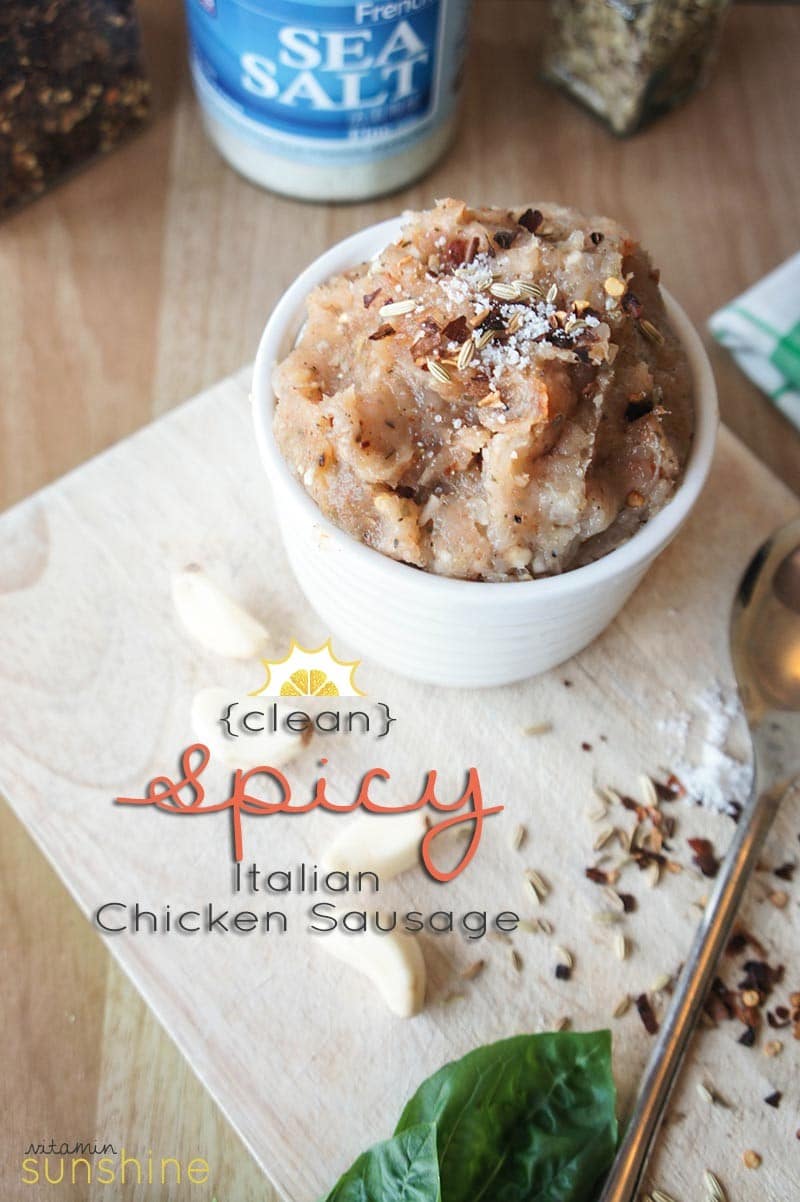 To be honest, I came up with this recipe out of necessity. Many of my homemade recipes were spawned out of necessity- living abroad in countries where the food was much different, and wanting to create familiar meals from back home. It seemed like a big hassle at first, but I am so glad I learned how easy, and how much better, the homemade versions are.
And as I've gotten older (and hopefully wiser), I've started to pay a lot more attention to all those small ingredients listed after the "chicken" and "spices." Here is the nutrition label for a popular brand of sausage in America. If you focus just on the calories, protein, and fat, it looks like it might be pretty healthy for you (and I used to buy sausages like this thinking if it was lean, that meant it was healthy!).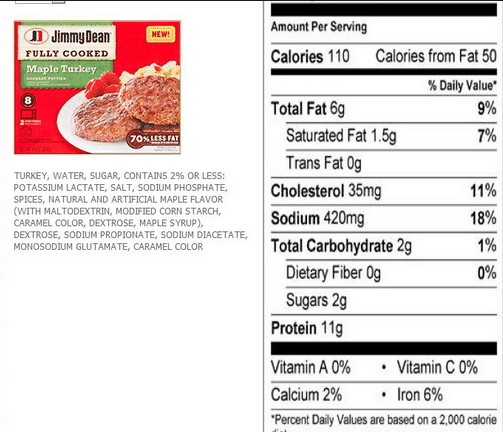 [source]
I certainly can live without – well, all except the first ingredient. Where are the real food ingredients and spices? Artificial this and that, MSG– and carmel coloring (made from wheat, for those who are sensitive) is listed twice!
I'll take my sausage free of those ingredients, even if it means having to clean out my food processor.
Variations
Don't like it spicy? Reduce the chili flakes.
Prefer Sweet Italian Sausage? Omit the chili flakes, and add a bit of brown sugar or honey.
Add fresh herbs. I often use shallots and basil.
Use chicken thighs, and omit olive oil, for sausage with more iron and nutrient density. Animal fats in moderate amounts are actually very healthy! If I could get boneless thighs, I would make this with 1/2 breasts, 1/2 thighs.
Need a low sodium diet? Just omit, or lower the amount of salt added, to suit your needs.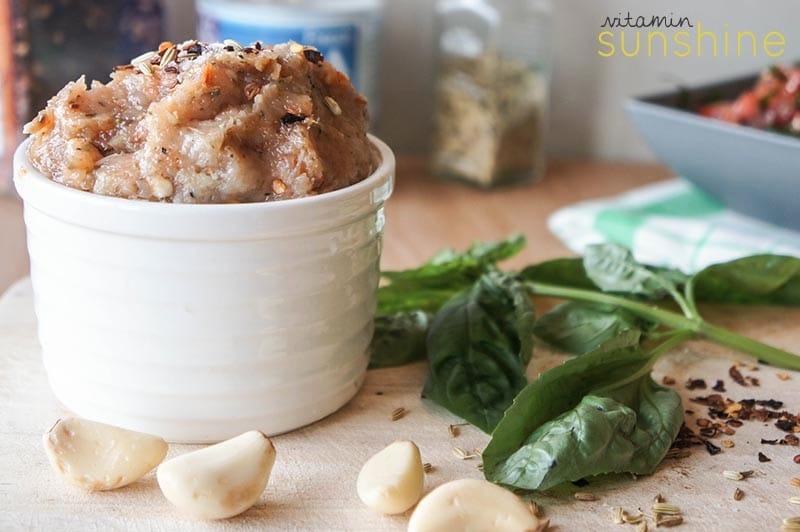 Avoiding Cross Contamination in the Kitchen
The biggest hassle of making this sausage is cleaning the food processor once you're done! I make a big batch of this (twice this recipe) and freeze it in smaller packages, so I don't have to clean the food processor as often. To make sure it's washed thoroughly, I follow these steps:
Rinse the processor bowl and blade, and use a sponge and soap to clean off all the chicken residue.
Pour boiling water from a kettle over the washed bowl, and let soak for a few minutes.
Pour bleach into the bowl, let it sit for a few minutes, then rinse well.
This might seem a bit excessive, but it's much more convenient than ending up with food poisoning or salmonella.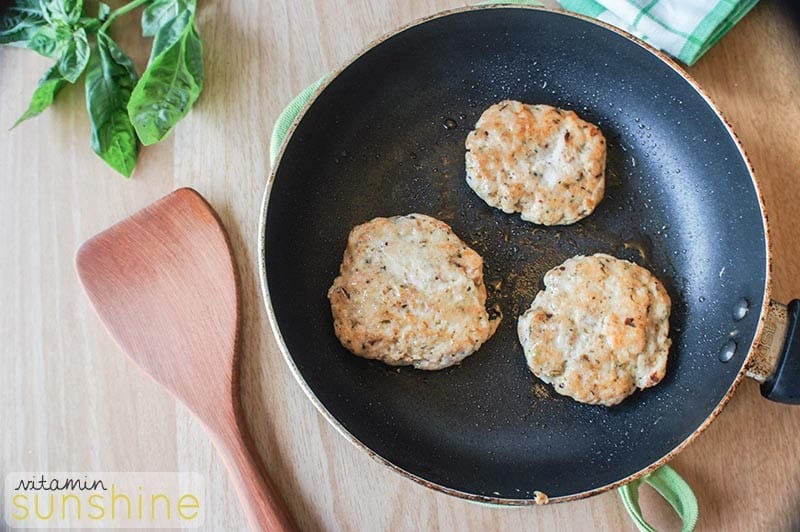 Serving Suggestions
I made sausage patties for dinner last night, and topped them with a tomato basil bruschetta and balsamic vinegar. It was a great low-carb, simple summer meal.
It's great scrambled with eggs, or in in a frittata or quiche.
Soups! (I have a few I will post that use this recipe in the coming weeks)
The extra boost of spices in this sausage makes it a great pasta sauce component.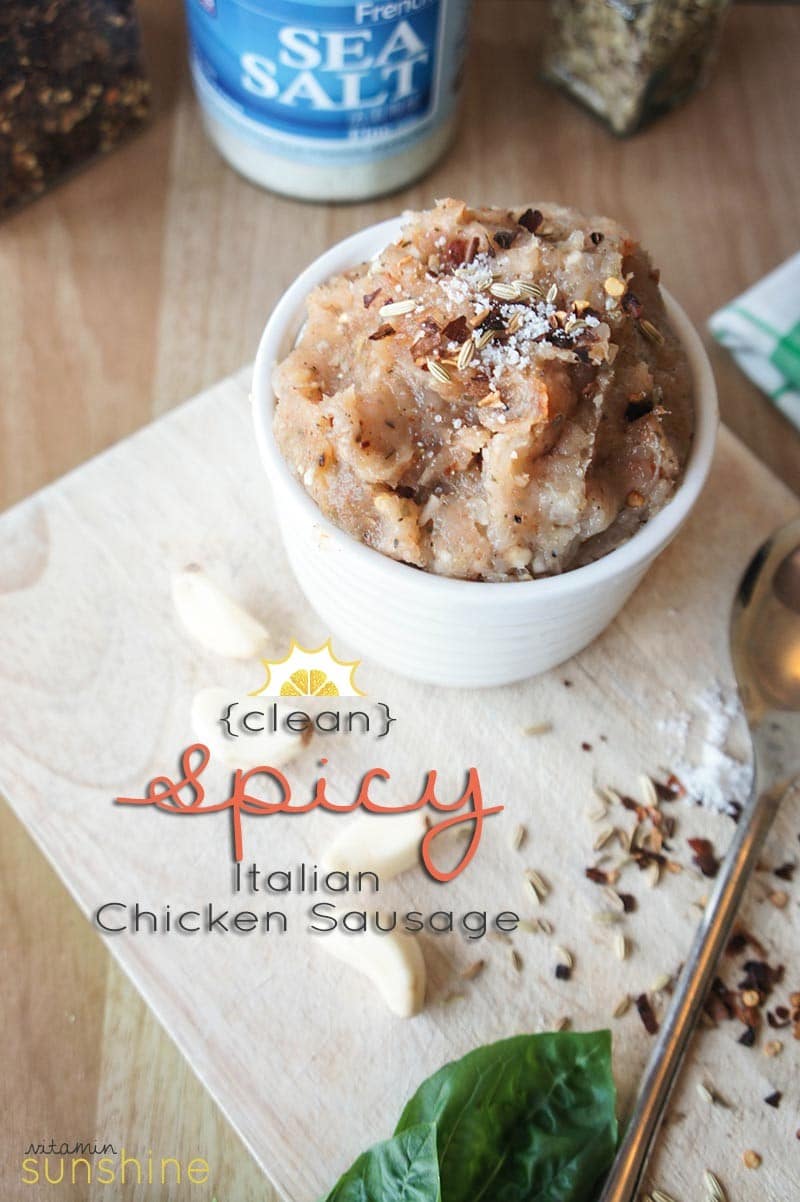 Clean Spicy Italian Chicken Sausage
A lean and spicy chicken sausage made with italian seasonings. It's a snap to make, and controlling the ingredients means you're only eating what's best for your health.
Print
Rate
Ingredients
1 1/2

pounds

chicken breasts

3

cloves

garlic

fresh and minced

2

teaspoons

olive oil

1

tablespoon

italian seasoning

1 1/4- 1/2

teaspoons

sea salt

(or more, to taste)

1

teaspoon

red pepper flakes

(adjust to taste)

1

teaspoon

paprika

1/2

teaspoon

fennel seed

freshly ground black pepper

to taste
Instructions
ut chicken breasts into smaller pieces (a large breast into 3 pieces is good). Add minced garlic, olive oil, 1¼ teaspoons of sea salt, and all the other seasonings.

Process until the chicken is minced and all the spices are incorporated.

Cook a tablespoon of sausage mixture in a frying pan, and add more sea salt or red pepper flakes, if desired.

Prepare fresh, or freeze extra.
Notes
Since the sausage is very lean, it's best cooked with 1-2 teaspoons of olive oil to help with browning.
Have fun with the spices, and try fresh herbs! Let me know your favorite combinations.
Nutrition
Calories:
148
kcal
|
Carbohydrates:
2
g
|
Protein:
24
g
|
Fat:
4
g
|
Saturated Fat:
1
g
|
Cholesterol:
73
mg
|
Sodium:
816
mg
|
Potassium:
450
mg
|
Fiber:
1
g
|
Sugar:
1
g
|
Vitamin A:
311
IU
|
Vitamin C:
2
mg
|
Calcium:
24
mg
|
Iron:
1
mg
Are there any foods you make at home to avoid the ingredients in processed foods?
---
Sources