This post may contain affiliate links. Please see my full
Disclosure Policy
for details.
Cute dessert alert! Your party guests will love these individual-sized Chocolate Cheesecakes. I use gluten-free graham crackers, and lighten up a classic cheesecake recipe with Greek yogurt.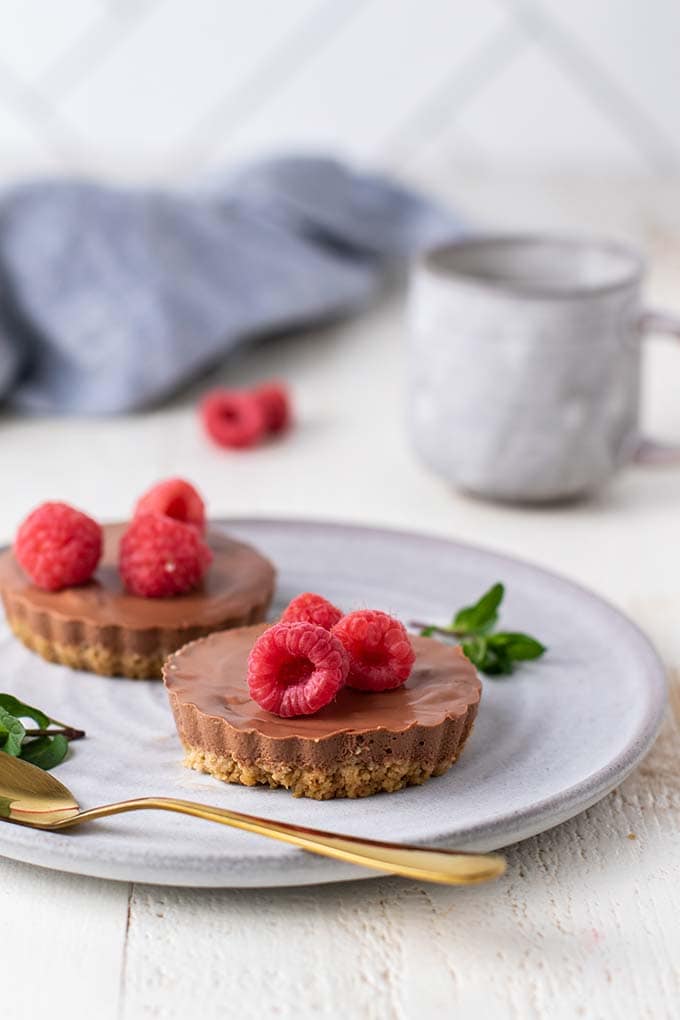 A Perfect Party Dessert
Parties and gatherings might look different this year, but despite continued social distancing, I am sure we are all getting ready for some small but meaningful gatherings!
These mini chocolate cheesecakes are a great individually portioned dessert. They look stunning on a platter, and are just so delicious!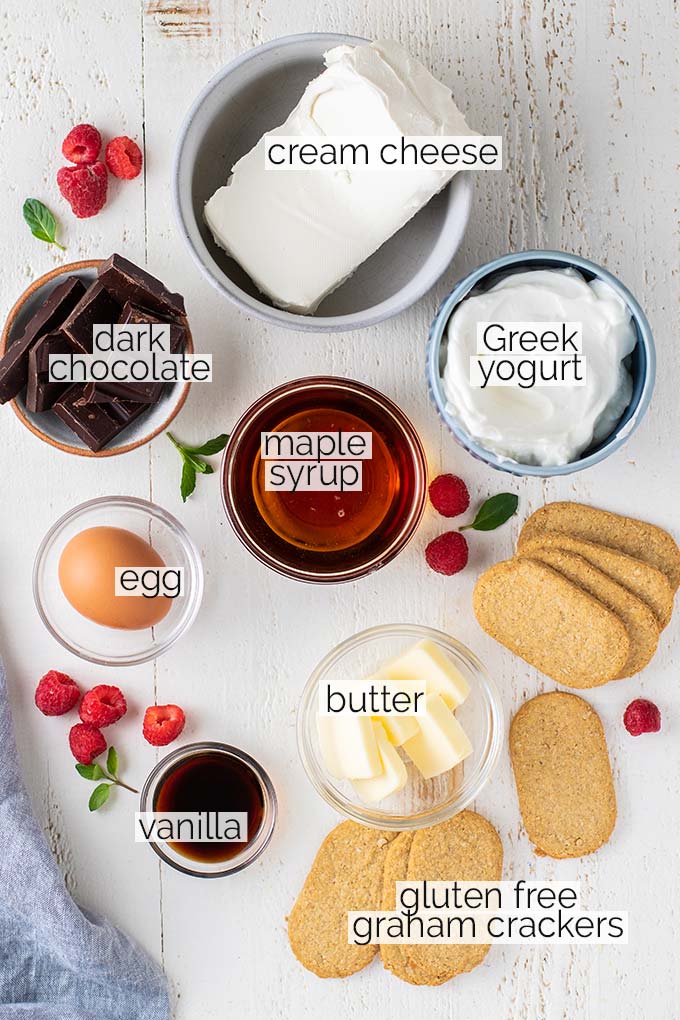 You'll LOVE this recipe because:
The rich chocolate cheesecake has a light, but ultra-creamy texture, thanks to the addition of Greek yogurt. This also brightens up the typical sweetness of cheesecake, making it a great summery dessert option.
It's naturally sweetened with maple syrup – just enough without going overboard on added sugars!
The base is just 2 ingredients — gluten-free graham crackers and butter. It takes minutes to put together!
They are stunning served with fresh berries and mint. I went with raspberries, but strawberries, blackberries, or banana slices would be equally as good!
How to Make Mini Chocolate Cheesecake
I use this silicone mold, which makes 12 perfect sized cheesecakes in your Sharp Superheated Steam Countertop Oven. The mold can also be used for homemade nut/seed butter cups, so it's one you'll likely get a lot of use out of! If you don't have this pan, use a muffin tin lined with parchment paper liners.
Step 1: Prep the crust by adding gluten-free graham crackers to a food processor and forming a crumb. Then, add melted butter and pulse to combine into a crumbly mixture.
Step 2: Scoop 1 heaping tablespoon of the graham cracker crust into each cavity.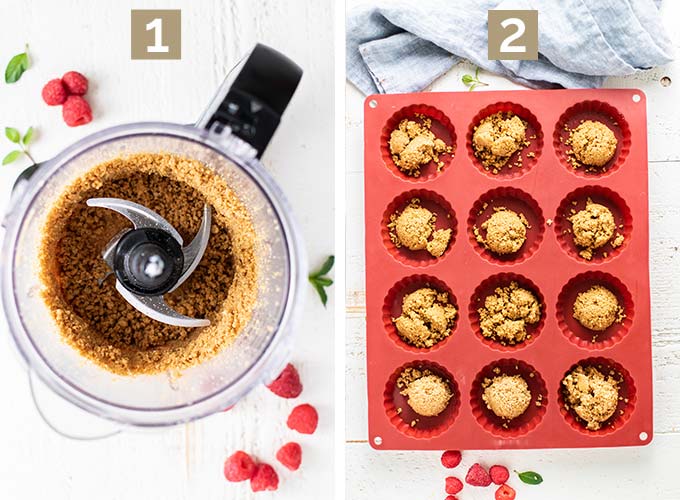 Step 3: Use slightly wet fingers to press the crust down into each hole. I find this easier to do using the bottom of a glass ramekin about this size. Maybe the bottom of a pint glass would work too?
Step 4: Prepare the chocolate cheesecake mixture by first softening the cream cheese in the food processor, scraping down the sides as necessary, to lighten up the cream cheese so it mixes well into the other ingredients. Add the rest of the ingredients, and process to combine, stopping to scrape a few times. Try not to let it process for too long, because you don't want air bubbles on the tops of your cheesecakes!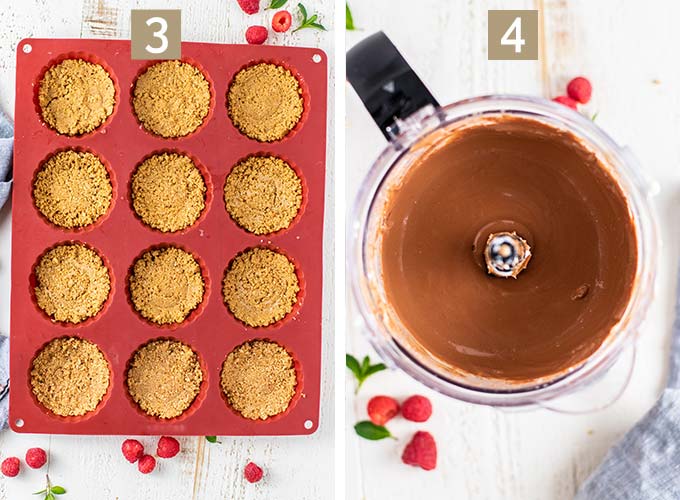 Step 5: Divide the chocolate cheesecake batter equally between the 12 mini cheesecakes. Loosely cover the pan with foil.
Step 6: I used my Sharp Superheated Steam Countertop Oven to bake these cheesecakes, meaning this step was super easy — no water bath required! If you do not have a steam oven, you need to fill a baking dish with hot water and place the pan semi-submerged in the water. I use ramekins to hold it up off the bottom of the pan and pour water in until it's just touching the bottoms of the pan. Just be really careful not to splash the water into the cheesecakes when putting them in the oven!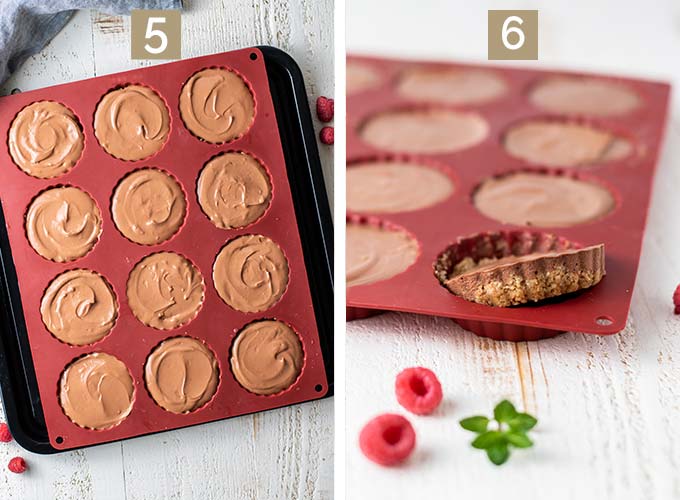 I use my Sharp Superheated Steam Countertop Oven all of the time! It's truly such a time saver.
There's no preheating required, meaning I can reheat leftovers or make Xander a pizza in no time flat. It really is the ultimate tool for mom's that have hectic schedules or are working from home during these tough times and are looking for a convenient way to cook. I love that this countertop oven features count-down cooking, meaning that when the cooking time is over, the oven turns off. It helps prevent me from overcooking my dishes if I run into another room for a few minutes.
Getting to use it for special desserts like this is a bonus — especially in the summer, when baking the cheesecakes in that oven means I don't have to turn on my big oven. It is such a relief and saves me time and money on my air conditioning bill.
Hop on over to the Sharp Home USA website to learn more about their luxury appliances.
How to Top Mini Chocolate Cheesecakes
These cheesecakes are a gorgeous dessert all on their own. Definitely try them with raspberries on top!
If you want to get a little more creative, I suggest:
A dollop of whipped cream or coconut whipped cream
A spoonful of Raspberry Chia Jam
Mixed berries — add blackberries, blueberries, and sliced strawberries.
Chopped and toasted pecans
Toasted coconut flakes
Other Delicious Cheesecake Recipes:
If you make this recipe, be sure to share it with me! Find me on Facebook or Instagram and be sure to tag #SunkissedKitchen @SunkissedKitch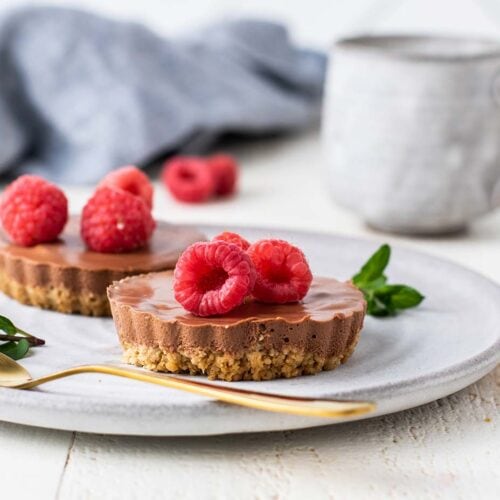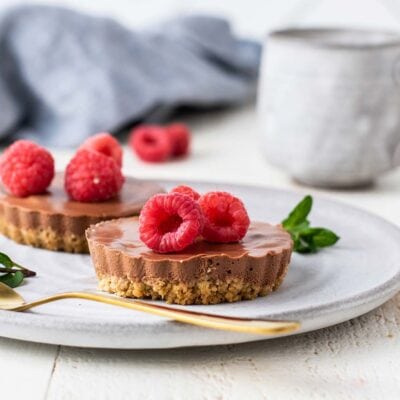 Mini Chocolate Cheesecakes
A fun individual sized cheesecake recipe, with a gluten free crust. These rich dark chocolate cheesecakes are perfect served with berries.
Print
Pin
Rate
Ingredients
Chocolate Greek Yogurt Cheesecake
8

ounces

cream cheese

full fat

1

cup

Greek yogurt

full fat

6

tablespoons

maple syrup

3

ounces

unsweetened baking chocolate

melted

2

teaspoons

vanilla

1

egg
Instructions
Graham Cracker Crust
Prepare the crust by adding the graham crackers into a food processor, and processing until crumbs form. Add the melted butter, and pulse a few times until combined. Press the graham cracker mixture into the bottom of a 9-inch springform pan.
Chocolate Greek Yogurt Cheesecake
See below for instructions on how to bake this cheesecake in a regular oven.

Rinse out the food processor bowl, and add the cream cheese. Process to soften the cream cheese, stopping to scrape down the sides if necessary.

Add the Greek yogurt, melted chocolate, maple syrup, and vanilla. Process until mixed very well. Scrape down the sides as necessary to completely mix into the cream cheese.

Add the egg, and process again to mix well.

Pour the cheesecake batter into the springform pan on top of the crust.

Cover the pan with foil, and then bake in the Sharp Superheated Steam Countertop Oven by setting it to WARM on 275º F for 45 minutes. If baking in a conventional oven, cover the cheesecakes with foil, and bake on 275º for 1 hour.

Once the cheesecakes are finished baking, allow to cool, and then allow to set for at least 3 hours in the refrigerator.

Serve the cheesecake with berries or whipped cream.

Store the cheesecake in the refrigerator for up to 5 days. This cheesecake recipe also freezes well. Wrap tightly, and then store in the freezer for up to 3 months.
Notes
Using a food processor is an easy way to make the crust and the cheesecake batter in the same appliance. If preferred, use a stand mixer to make the cheesecake portion of this recipe.
**Make this recipe lower in sugar by substituting the maple syrup for 1/2 cup + 2 tablespoons Monk Fruit Sweetener.
Nutrition
Calories:
286
kcal
|
Carbohydrates:
25
g
|
Protein:
5
g
|
Fat:
20
g
|
Saturated Fat:
11
g
|
Cholesterol:
59
mg
|
Sodium:
183
mg
|
Potassium:
136
mg
|
Fiber:
2
g
|
Sugar:
12
g
|
Vitamin A:
419
IU
|
Calcium:
69
mg
|
Iron:
2
mg