This post may contain affiliate links. Please see my full
Disclosure Policy
for details.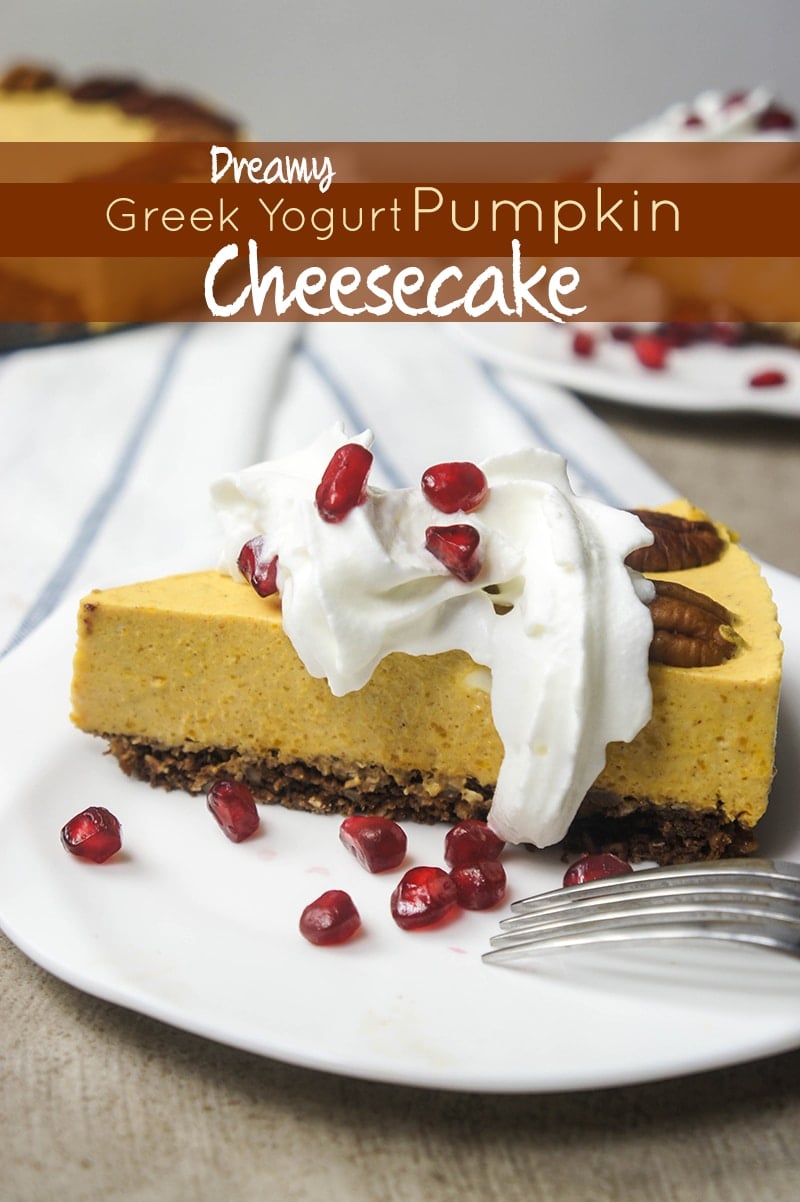 I've never been a cheesecake fan– with the exception of pumpkin cheesecake! And this greek yogurt version takes it over the top. Super creamy, a bit tangy from the yogurt, and full of pumpkin pie spices.
Living in a foreign country makes the holidays a bit different. Here in Malaysia, we get a lot of time off work for Malaysian holidays, Chinese holidays, and Muslim holidays. What we don't get off is American holidays!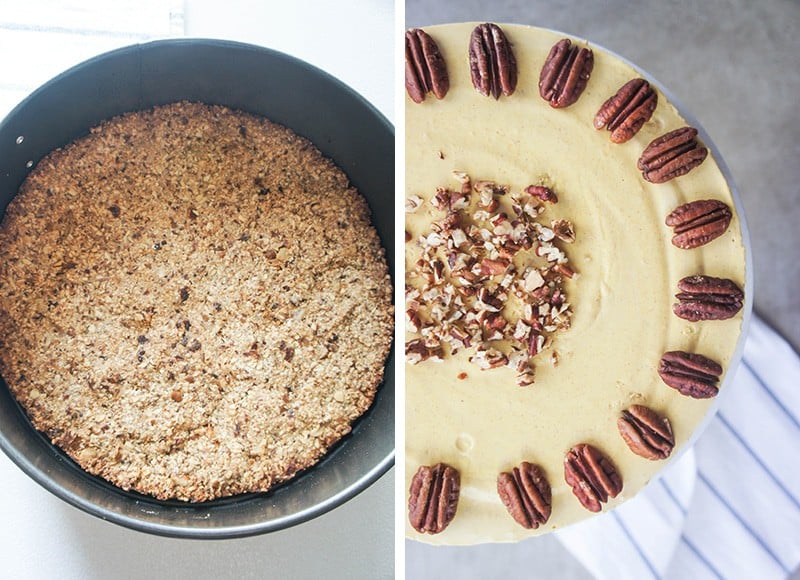 A lot of hotels around town do a Thanksgiving buffet. The first year I lived here, some friends and I decided to go into the city to one of the big hotels for their Thanksgiving dinner. Normally about a 20 minute drive, maybe 40 in bad traffic, ended up being a 2 hour drive that night. No, not because everyone was scurrying down to the city for Thanksgiving, but because a tree had fallen over one of the transit trains, and crews were blocking traffic trying to clean it up and get the train running again. Complete gridlock. Actually, not such an uncommon occurrence here!
I've also hosted dinner at my house on the weekend after the holiday. Friends from many different countries bring dishes that they think are American, and it usually turns out to be a pretty good meal. A few years, we've ended up with sushi on Thanksgiving (of course as a side to the turkey!).
Getting to know people from so many different parts of the world is what I cherish most about this experience. #PracticingGratitude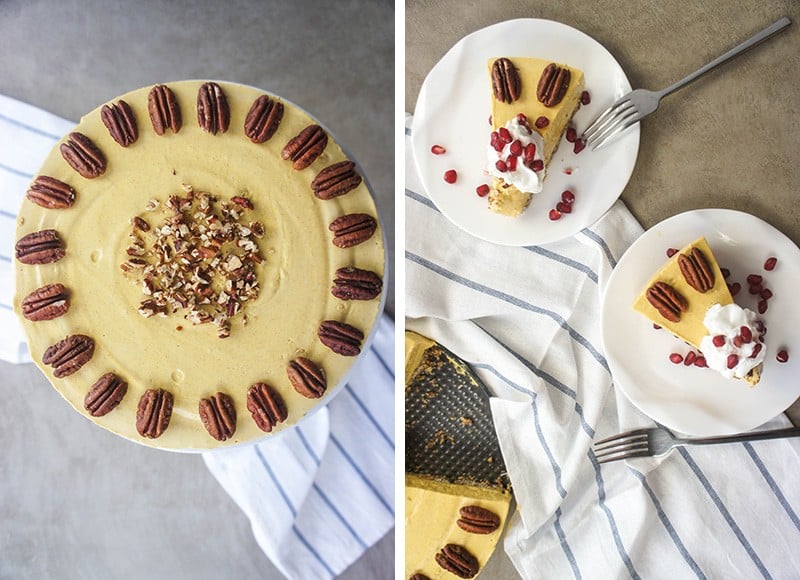 My brother's two favorite desserts are pumpkin pie and cheesecake- so I suggested this to my mom as a dessert to take to his house for Thanksgiving this year. She bought all the ingredients, but he was shocked at the idea of anything but traditional pumpkin pie. He's a purist– I am always experimenting!
I made this pie for my first informal Thanksgiving dinner last weekend at a friend's house. It was good, but not pumpkin-y enough, and the basic oatmeal pecan crust needed a bit more pizazz. To make the flavor more similar to pumpkin pie, I reduced the yogurt, and added more pumpkin and spices. I also added molasses and spices to the crust to give it a gingersnap flavor. Very good choices!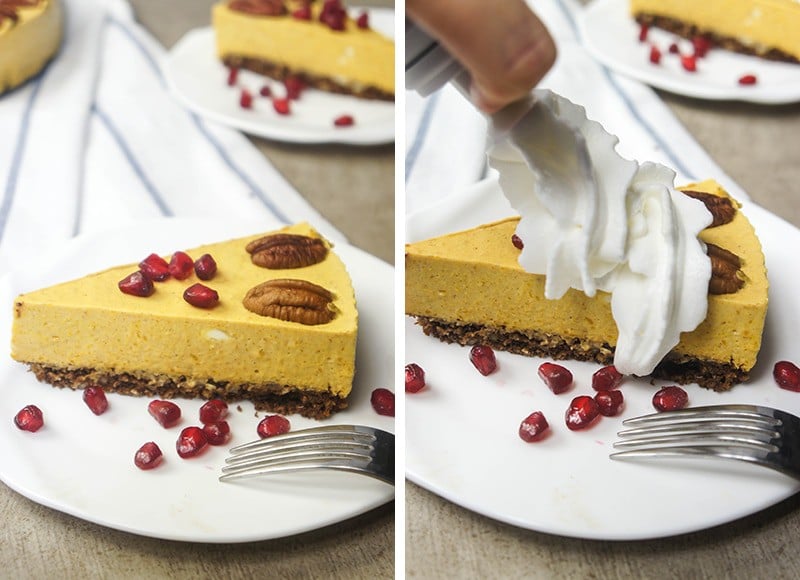 Now, what am I going to do with most of two cheesecakes left in my fridge? There are worse problems to have! I think my colleagues will get a surprise treat this Thursday. . .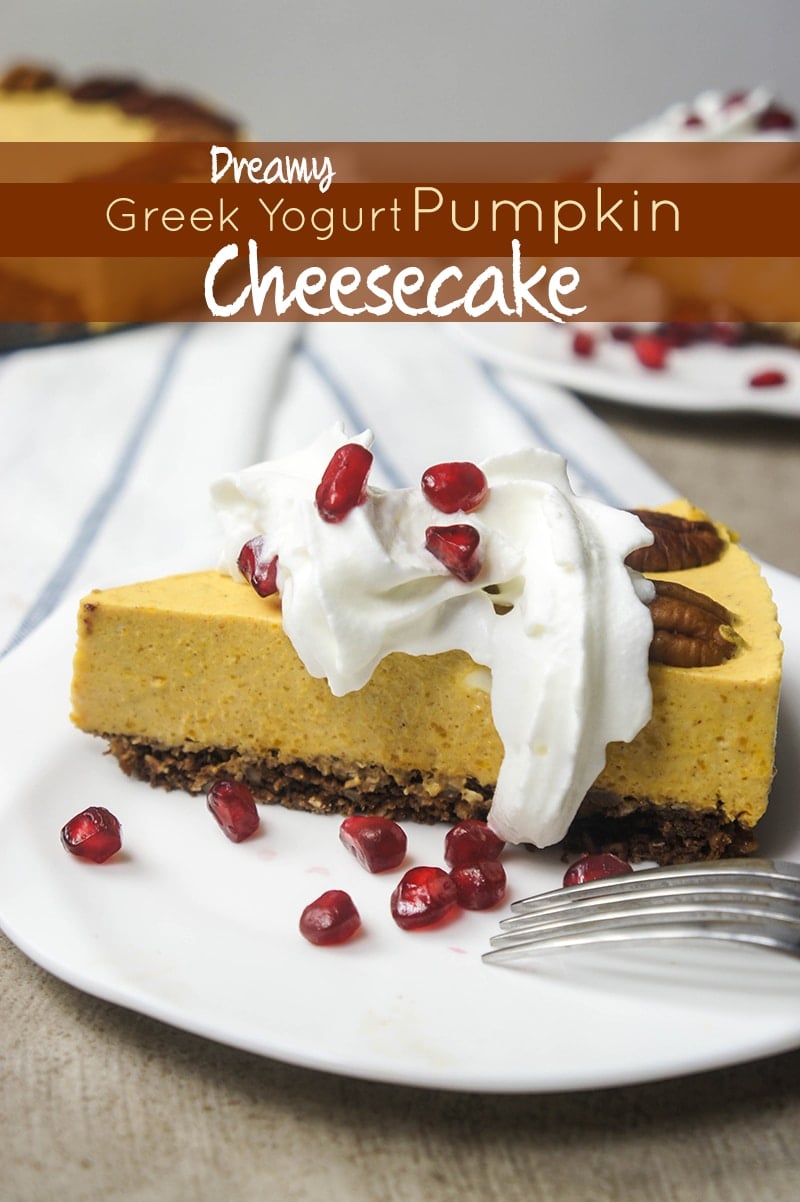 Pumpkin Greek Yogurt Cheesecake with Gingersnap Crust
An ultra creamy pumpkin cheesecake, lightened up with greek yogurt. The base is gluten free- a oatmeal gingersnap cookie crust! The best part? Only the base needs to be baked-- so this cheesecake doesn't take up oven space, and comes together very quickly! Adapted from Bon Appetit's Greek Yogurt Cheesecake and my Chocolate Covered Raisin Oatmeal Cookies.
Print
Rate
Ingredients
Cheesecake Filling
1

tablespoon

gelatin

+2 tablespoons water

8

ounces

cream cheese

(room temperature for a smooth cheesecake filling)

1 1/2

cups

pumpkin puree

1

cup

greek yogurt

(I used low fat)

1/4

cup

ray honey

2

teaspoons

vanilla

2

teaspoons

cinnamon

2

teaspoons

ground ginger

1/4

teaspoons

sea salt

freshly grated nutmeg

to taste
Dry
1

cup

oats

1/2

cup

pecans

1 1/2

teaspoons

ground ginger

1

teaspoon

cinnamon

1/4

teaspoon

baking soda

1/4

teaspoon

sea salt
Instructions
Gingersnap Cookie Crust
Preheat oven to 350 degrees f.

In a food process bowl, add oats. Process for 30-45 seconds. The oats should be midway between whole oats and oat flour.

Add pecans and the rest of the dry ingredients, and pulse 10-15 times until most pieces are broken up.

Add all the wet ingredients to a small bowl, and mix well.

Add the wet ingredients to the dry, and pulse 6-8 times until all the flour is mixed in.

The dough will be very wet. Press into the bottom of a 8" round springform pan. Other pans of similar capacity will also work. The filling sets well, so it should easily come out of any pan.

Bake for 18 minutes. At the end of the baking time, turn oven off, and allow some heat to escape the oven. Leave the cookie base in the oven for another 20-30 minutes before removing. This allows the cookie crust to crisp up.
Pumpkin Cheesecake Filling
Add gelatin and water to a small saucepan or frying pan. Leave to soften.

In a food processor bowl, add all other filling ingredients. Process until smooth. Don't process longer than necessary to smooth out the cream cheese. Over processing the filling will result in a very light and airy cheesecake- but I was after a denser filling.

Heat the gelatin over medium heat, whisking to smooth out all lumps. Remove any leftover lumps with a spoon before adding to cheesecake.

With the food processor running, drizzle in the gelatin.

Add the cheesecake filling to the pan with baked, cooled cookie crust.

Refrigerate overnight for best results, or for at least 6 hours.

When slicing, dip a knife in warm water between each slice.

Garnish with coconut whipped cream, whipped cream, pecans, or pomegranate arils for an extra festive dessert.
Nutrition
Calories:
221
kcal
|
Carbohydrates:
20
g
|
Protein:
6
g
|
Fat:
14
g
|
Saturated Fat:
7
g
|
Cholesterol:
22
mg
|
Sodium:
195
mg
|
Potassium:
203
mg
|
Fiber:
3
g
|
Sugar:
12
g
|
Vitamin A:
5020
IU
|
Vitamin C:
1
mg
|
Calcium:
63
mg
|
Iron:
1
mg

Other Non-Pie Pumpkin Dessert Recipes: