This post may contain affiliate links. Please see my full
Disclosure Policy
for details.
Soup is a regular in my kitchen. I love making a huge pot, and having it for several meals. It's so easy to heat up for a quick lunch or dinner. Pureed vegetable soups are comforting, super healthy, and very quick to make.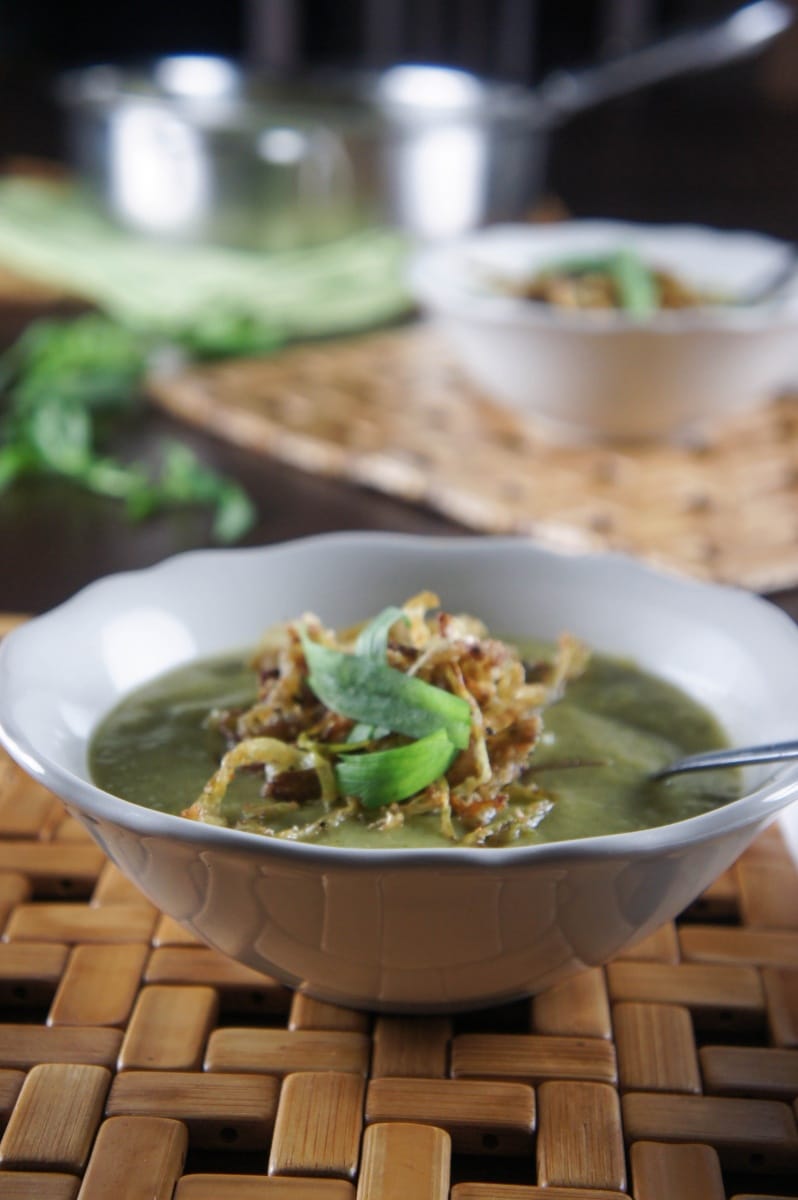 Soups are easy to dress up, too. This soup all on its own is a great side to a salad or sandwich for a meal. Add the crispy fried leeks, and it's a decadent dinner party starter.
The fried leeks are ahh-mazing. I always make a double batch, because I know I'll eat half of them as I'm frying them. And it's pretty easy to justify fried onions on top of such a virtuous soup.
Needless to say, there were no fried leeks left over after we ate this soup the first time. For lunch the next day, I turned it in to a meal by topping it with kidney beans, tomatoes, and hot sauce. Quick, easy, and soul-satisfying. In the past, I've taken soups similar to this, and put them into my coffee mug for breakfast when I've been in a hurry.
Another really wonderful thing about pureed soups? They freeze wonderfully. I don't like the texture of vegetables after they've been frozen and thawed- they tend to get chewy or mushy. But you don't notice a change in texture when the vegetables are already pureed. I love to have soup in the freezer ready to thaw and heat for weeknight dinners.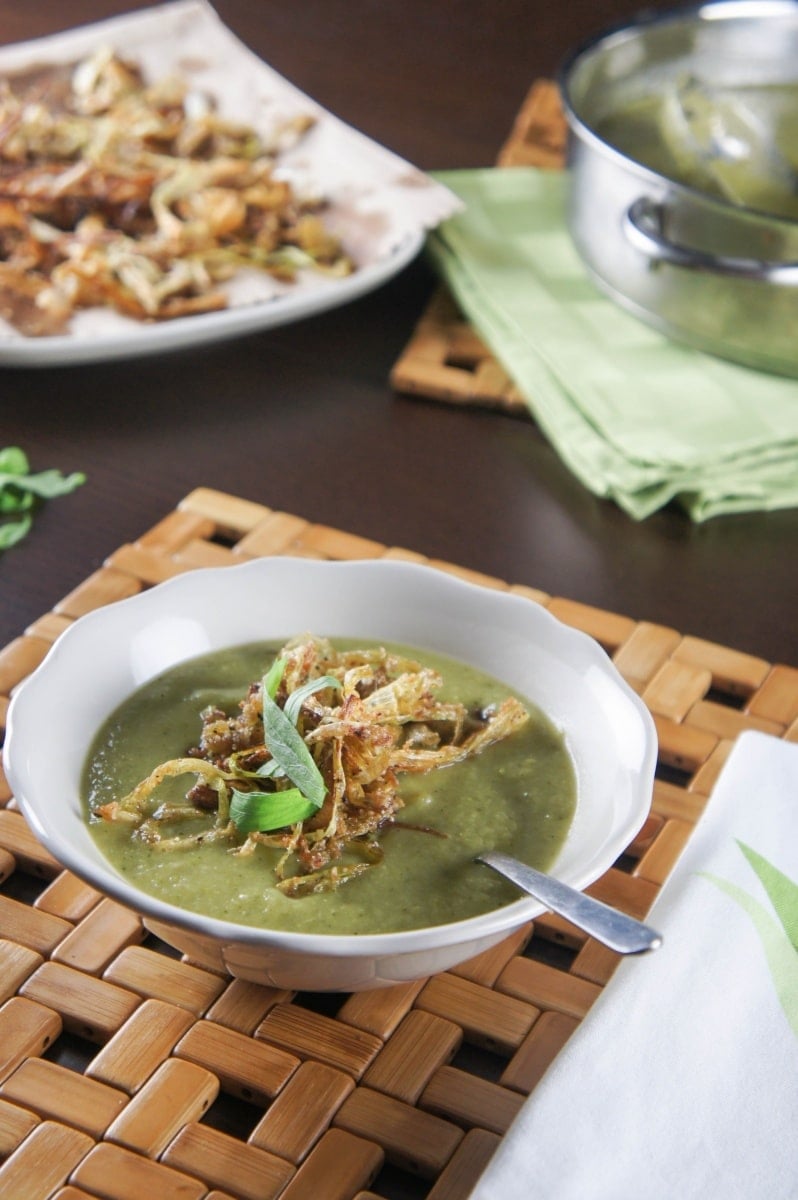 However or whenever you decide to eat this, you won't be sorry you took the time to make the soup at home. You control the ingredients, and the freshness will make you utterly unable to ever eat canned soup again. Or at least that's what happened to me after I started making homemade soups!
Broccoli Leek Soup
A creamy, vegetable filled soup, bursting with vitamin C and vitamin A. Enjoy on its own, or make crispy fried leeks to garnish for an elegant dinner starter.
Print
Rate
Ingredients
Soup
2

teaspoons

olive oil

4

cloves

garlic

minced

5

small

leeks

(save the bottoms of 3 for the garnish, if making)

1

medium

potato

skin intact, quartered

5-6

cups

water

2

vegetable bouillon cubes

(I use Rapunzel)

2

medium

heads broccoli

(or about 6-8 cups), roughly chopped

fresh ground black pepper

1/4

cup

fresh tarragon leaves

(optional)
Crispy Leek Garnish
Reserved white bottoms of leeks

(3-4 inches from the bottom)

1/4

cup

buckwheat flour

olive oil

for frying

sea salt

to taste
Instructions
Add olive oil to a large soup pot. Over medium heat, saute garlic. Chop the leeks in "half moons" (down the center, then slice in thin rounds). Only use the lower part of the leeks. When the leek gets difficult to cut, discard from that part up. Reserve uncut leeks if making the crispy fried garnish.

Add the leeks and potato to the pot. Continue to saute for about 5 minutes, until the leeks have softened. Add 4 cups of water and vegetable bouillon. Boil on high for 10 minutes, then add the broccoli. Continue to simmer at a low boil for another 10-15 minutes.

While your soup is cooking, make your leek garnish. Slice the leeks lengthwise, creating thin 3-4 inch strips. Rinse the leeks well, and while still wet, add to a small dish, and cover with buckwheat flour. Try to mix the flour in well, but don't worry about evenly coating. Add enough olive oil to the pan to partially submerge the leeks. Once the oil is hot enough for frying (it should pop when you add a strip of leek to the pan, but not burn it), add the leeks to the frying pan. Cook until golden brown, and then let drain on a plate covered with paper towels or a brown paper bag.

Once the broccoli is tender, remove the pot from heat. Allow to cool for about 10 minutes, then add it to a blender (or use an immersion blender), and process until smooth. Add the fresh tarragon while the soup is in the blender to keep the flavor fresh. Don't over process. The idea is to have a nice pureed soup, but not make it super smooth.

Add the pureed soup back into the pot, and add another cup or two of water until it reaches the right consistency. Season with cracked black pepper. I didn't need to add extra salt, but that is also a seasoning option.

Garnish wish fried leeks, or enjoy as is!
Notes
I find that Rapunzel Vegetable Bouillon has the best flavor for soups. It has a more concentrated flavor than canned varieties, and is easy to keep on hand. In the United States, you can find it at Whole Foods or other natural food stores. In Malaysia, you can find it at Mercato, BIG, or Village Grocer in the natural foods sections.