This post may contain affiliate links. Please see my full
Disclosure Policy
for details.
I've dressed up this easy caramel corn recipe and made it perfect for appealing to young ones on Halloween! This Monster Cookie Caramel Corn was inspired by my healthy nut-free Monster Cookie recipe.
This post is sponsored by Sunbutter— makers of my favorite Sunflower Seed Butter. As a peanut allergy sufferer, I value companies like Sunbutter who create healthy products that are not only delicious, but SAFE! Thank you for supporting the brands that help keep Sunkissed Kitchen running at full speed.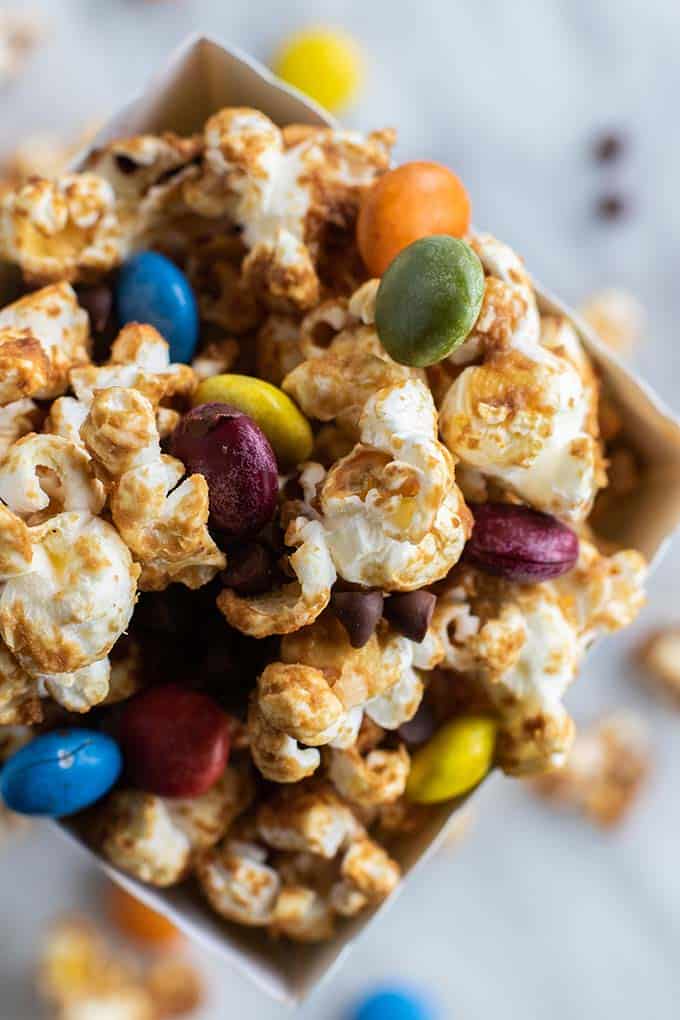 Have a Healthy, Happy and SAFE Halloween
My son is so excited for Halloween, and because of his obsession with M&Ms, I decided to make him a "monster cookie" type treat. Kids just love colorful candy pieces, and the holiday is a time for special indulgences!
As a child, my brother and I loved to go trick-or-treating, but I had a limitation — because of my severe peanut allergy, many of the types of candy given away were not safe for me. My mom would buy "replacement" candy, and we would trade her what we had accumulated throughout the night for the stuff she deemed safe.
This is a reality for so many children! In the United States, nearly 4% of the population has food allergies, which is almost 1 in 20 children. While many children are out having worry-free fun on Halloween, there are children who are being left out of part of the celebration.
Making safe treats at home is a great option, whether you're doing it because you'd like options made with healthier ingredients, or whether you're catering to food allergies.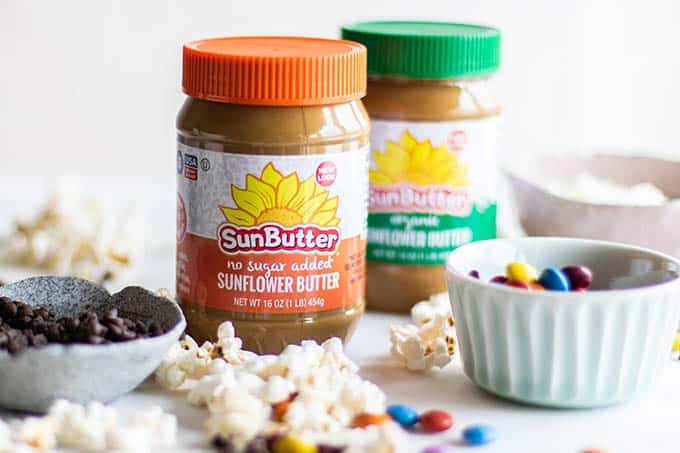 I am so thankful for companies like Sunbutter, who bring delicious and SAFE products into my kitchen. If you haven't tried it – I urge you to pick up a jar!
Years ago, a friend who's son had a peanut allergy told me about Sunbutter. She said it was the closest thing to actual peanut butter. I can't attest to that statement (I have never intentionally eaten peanut butter!), but I can tell you how amazing (and slightly addicting) it is!
Sunbutter is my favorite spread on pancakes, and if there is a jar in my fridge, it works its way daily onto my yogurt cups, bowls of oatmeal, and gets drizzled into my smoothies. Oh, and another really great use for it? Spread onto squares of dark chocolate!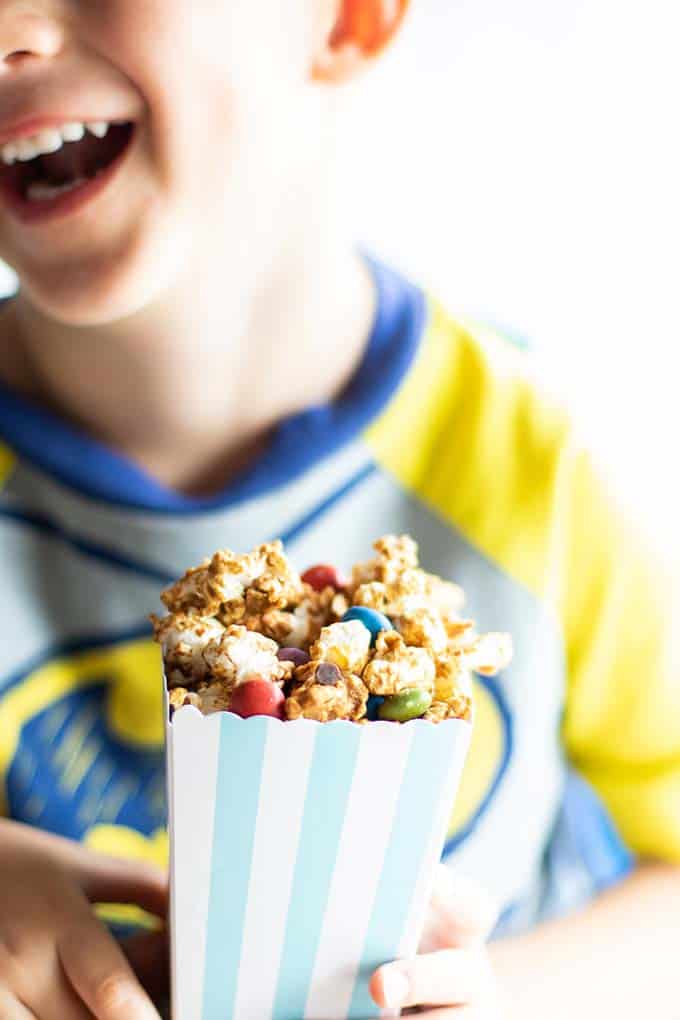 An Easy Caramel Corn Recipe with a Fun Twist!
When thinking of how to use Sunbutter to create a festive Halloween treat, I thought back to my peanut-free Monster Cookies, and wondered if I could use the same date syrup-Sunbutter combo to coat popcorn.
It not only worked wonderfully, and baked up super crunchy, I am pretty sure this is better than the traditional version!
This crunchy, sweet, and buttery tasting snack is made with a coating with only 2 ingredients — date syrup, and No Sugar Added Sunbutter (which has a touch of sea salt added to it). You can also use the Organic Sunbutter, but I recommend adding a pinch of sea salt to the recipe with that swap.
To help the ingredients combine and pour easily onto the popcorn, gently heat the date syrup. Once it begins to simmer, add the Sunbutter, and remove from heat. Combine well, and then drizzle over a bowl of popcorn. Working quickly, toss the popcorn to evenly coat it.
This version isn't as thickly coated as a traditional caramel corn recipe. I find that too sweet, and this version has some additional goodies added to it!
If you'd like a heavier coating, you can either make 1 1/2 times the Sunbutter coating, or reduce the amount of popcorn used.
This easy caramel corn recipe gets baked at a low temperature for a little over an hour.
While the caramel corn is still hot, sprinkle on the mini chocolate chips and chocolate candy pieces, then allow to fully cool. The chocolate chips melt on to the popcorn, which is a fun surprise while eating this treat!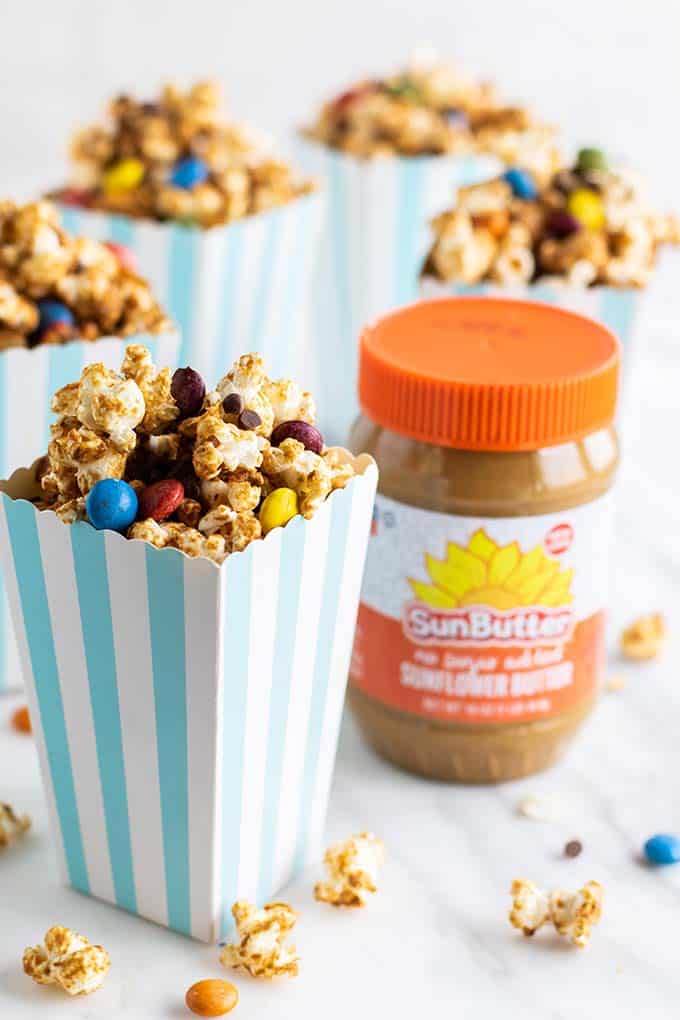 Variations for this Healthy Treat
How can you make this easy caramel corn recipe your own?
Keep it classic! You won't regret making this healthier caramel corn — if you leave out the "monster cookie" additions, you'll end up with a just really tasty sweet and salty coated popcorn.
Add nuts: If you and your loved ones do not have a peanut allergy, add cashews, or even peanuts to the mix!
Make it Vegan: This recipe is a vegan caramel corn recipe as written. Be sure to use vegan chocolate.
Change the Sweetener: Don't have date syrup? A light tasting (light in color) honey works as a swap! If you want to keep it vegan, you can use a combination of maple syrup and brown rice syrup. Use 1/3 cup of maple syrup and 3 tablespoons of brown rice syrup.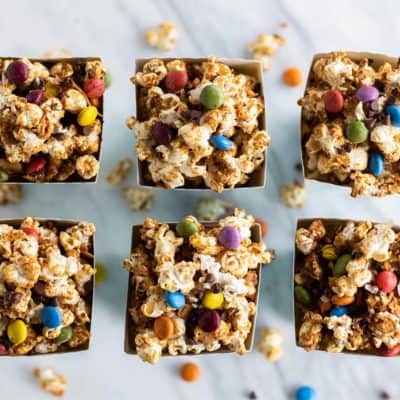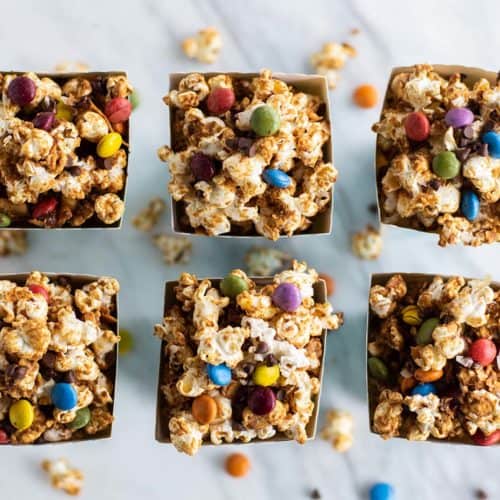 Monster Cookie Caramel Corn
An easy caramel corn recipe, with a special twist for Halloween! This fun popcorn recipe is inspired by my Monster Cookies, which I make allergy safe using Sunbutter. This version has crunchy coconut flakes, mini chocolate chips, and candy coated chocolate pieces!
Print
Rate
Ingredients
1/2

cup

popcorn

unpopped

1

tablespoon

coconut oil

optional (not needed if air popped)

1/2

cup

coconut flakes

unsweetened

1/2

cup

Sunbutter*

1/2

cup

date syrup

or sub a light tasting honey

sea salt

optional (if using an unsalted Sunbutter)

1/4

cup

mini chocolate chips

1/2

cup

candy coated chocolate pieces
Instructions
Preheat oven to 225 degrees F. Line a baking tray, and set aside.

Either pop popcorn on the stove using the coconut oil, or air pop the popcorn. Add to a large bowl, along with flaked coconut.

In a small saucepan, add date syrup, and bring to a low simmer.

Add Sunbutter, and turn off heat. Mix together to combine well.

Drizzle the Sunbutter mixture onto the popcorn, and then working fast (it will begin to harden), mix to evenly coat popcorn.

Add the popcorn to prepared baking sheet, and spread the caramel corn out evenly. This fits on 1 large baking tray, or split onto 2 smaller baking trays.

Bake for 1 hour 15 minutes, stopping to flip popcorn once during baking.

While the caramel corn is still hot, push it together, and then sprinkle the mini chocolate chips on top. They will melt to the caramel corn, and then stick once it has all cooled.

Add the candy coated chocolate pieces.

Store in an airtight container. This treat is best enjoyed the same day as it's baked, as it softens after sitting for a day.
Notes
*Any variety of Sunbutter can be used. I used the No Sugar Added Sunbutter, because I like to add the sweetener of my choice when baking with it. If using the Organic Sunbutter, add some sea salt (maybe 1/4 teaspoon, or to taste), to the recipe, because it has no salt added to it.
Nutrition
Calories:
454
kcal
|
Carbohydrates:
57
g
|
Protein:
7
g
|
Fat:
23
g
|
Saturated Fat:
10
g
|
Cholesterol:
3
mg
|
Sodium:
22
mg
|
Potassium:
106
mg
|
Fiber:
3
g
|
Sugar:
39
g
|
Vitamin A:
65
IU
|
Vitamin C:
0.7
mg
|
Calcium:
59
mg
|
Iron:
2.1
mg
Other Sunbutter Recipes: