This post may contain affiliate links. Please see my full
Disclosure Policy
for details.
This healthy Paleo Pizza Crust is made from whole foods, and in my opinion, is better than a regular wheat crust! Although this crust calls for yeast, the process of making it is much simpler than a wheat dough, and it bakes into a chewy crust with a crispy bottom – sturdy enough for all your favorite pizza toppings!
*Today I'm partnering with Sharp Home USA ~ Sharp creates quality home appliances that make life easier! I've been using the Superheated Steam Countertop Oven for the past few months, and can't wait to share how it makes cooking healthy meals easier. Thanks for supporting me and the brands I work with. I only share this space with the very best ~ and that's a promise.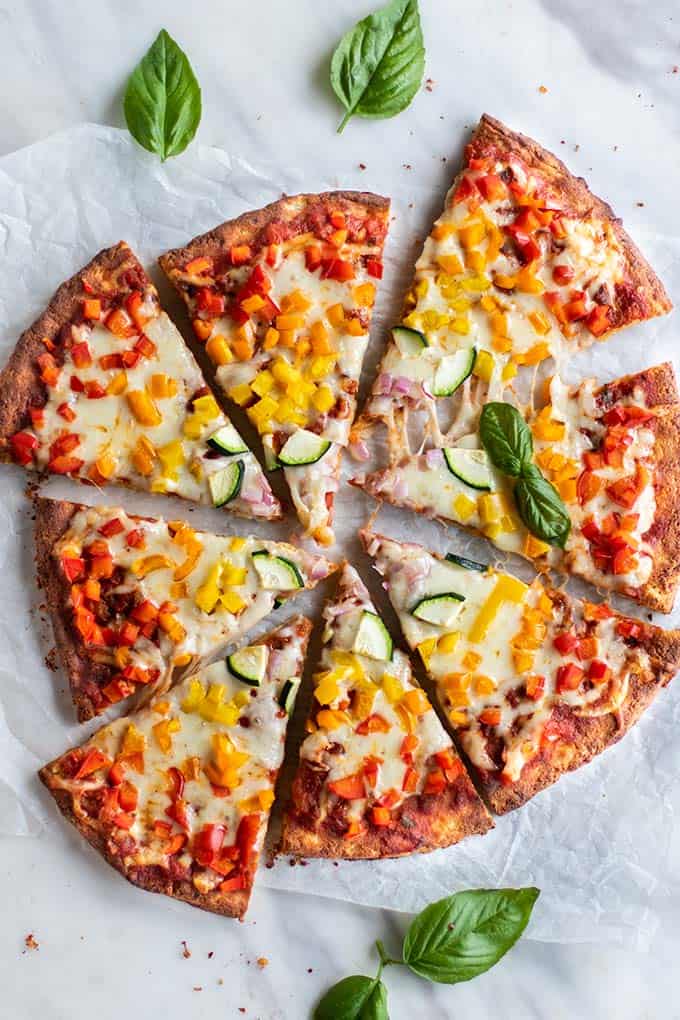 How to Make a Paleo Pizza Crust
Who's with me on Friday pizza nights? Pizza is the one food I know my picky toddler will actually be excited to see on his plate in the evening.
It's also one of my personal favorite foods.
Pizza gets a bad rap because it's often loaded with processed meats and large amounts of cheese, and a refined wheat crust doesn't add much nutritional value.
Enter: Paleo Pizza Crusts! This one is a favorite of mine. I also have a fantastic Paleo Sweet Potato Pizza Crust — if you're in the mood for something a bit more exotic than this one!
Another fantastic pizza crust to try if you're looking for something lower carb is my Cauliflower Pizza Crust. It does have cheese, but there is a suggestion for making it dairy free if you'd still like it to be paleo.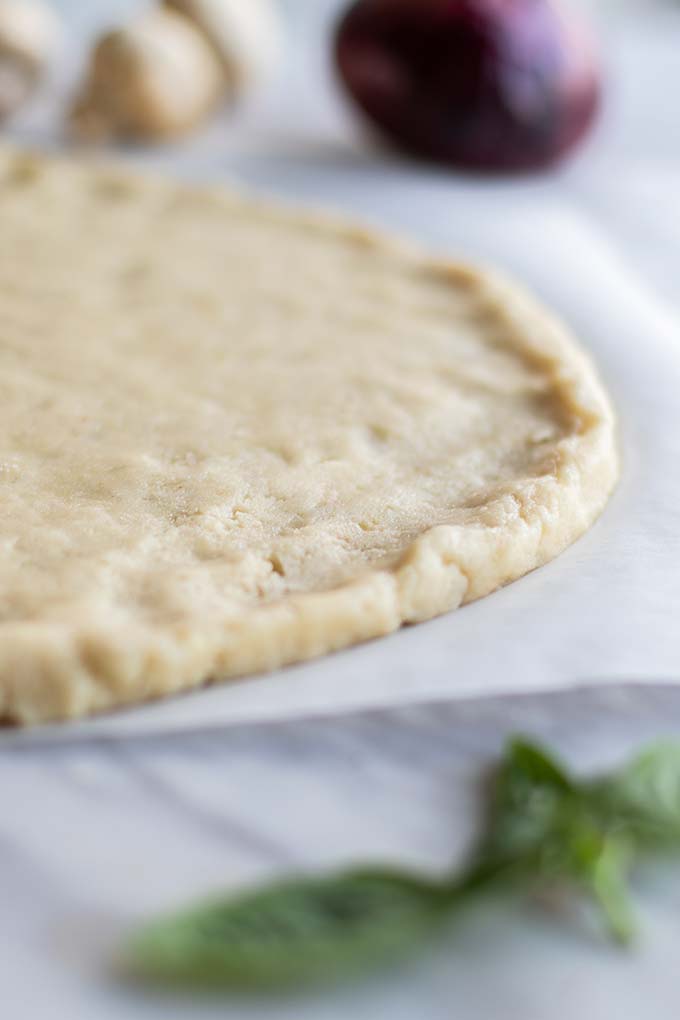 When searching for a more classic-looking and classic-tasting gluten free pizza crust, I came across many that were made with starches, gums, and processed grain flours. I knew that was not any better than serving my family a traditional crust (actually worse!).
After trying my hand at a gluten free crust I found that used grated potato and rice flour, I developed this recipe. Instead of rice flour, I swapped in paleo-friendly almond flour, a swap that ups the protein and nutrient value and lowers the carbs.
Not only was I pleased with this as a "paleo" crust, I was thrilled with it in general. The almond flour gives it a sweet taste, and the crust bakes up brown and crispy on the bottom, and soft and chewy in the middle.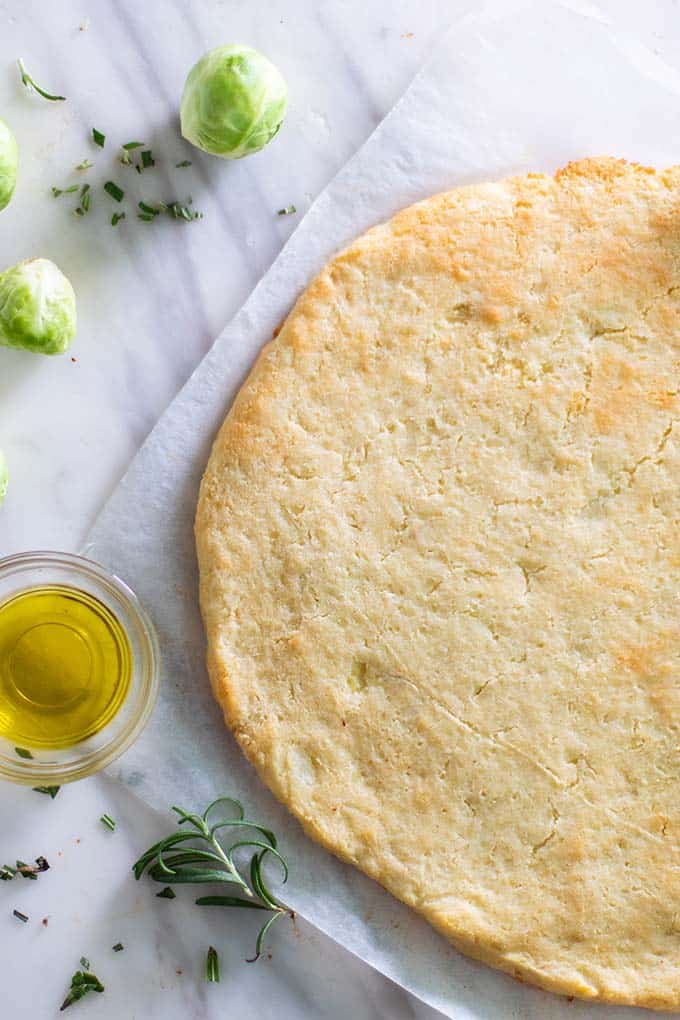 While this crust does require rising time and uses yeast, the dough is simply mixed together and set aside. No kneading!
To make this paleo pizza crust:
Peel and grate a boiled/steamed potato.
Mix together the almond flour, grated potato, and a few other ingredients, with a yeast mixture.
Allow to rise – this could take 10 minutes up to 30 minutes!
Roll out (this is unfortunately not a crust you can toss pizzeria style!).
Bake the crust while preparing your toppings.
Top, and return to the oven until the cheese is melted and the toppings are heated!
A Truly Special Pizza Oven
I've loved this pizza crust for years, but it has definitely been improved by my Sharp Superheated Steam Countertop Oven. This handy little oven cooks with a combination of superheated steam and convection heat, meaning it keeps food moist, but it also browns and crisps.
I have made this pizza crust for a couple of years in a standard oven, but my steam oven elevates it! The crust browns and gets crunchy on the bottom, and the crisper tray that comes with the oven is the perfect tool to get the job done!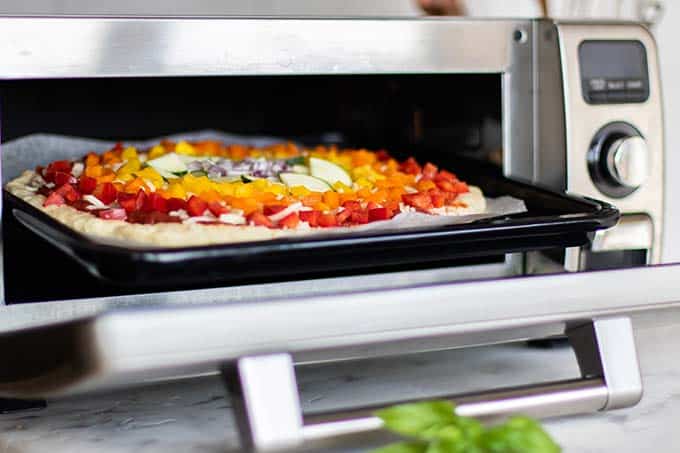 When I first brought home my Sharp Superheated Steam Countertop Oven, I took it out of the box and felt it was smaller than I expected for a pizzeria style oven. Open the door, and you'll see how roomy it is inside!
I use this oven to bake frozen pizzas as well. Perfect results in less time!
So Many Ways to Top your Paleo Pizza Crust!
I am a purist when it comes to pizza! There isn't much better than a pizza margarita, topped with tangy marinara sauce, lots of mozzarella cheese, and some fresh basil.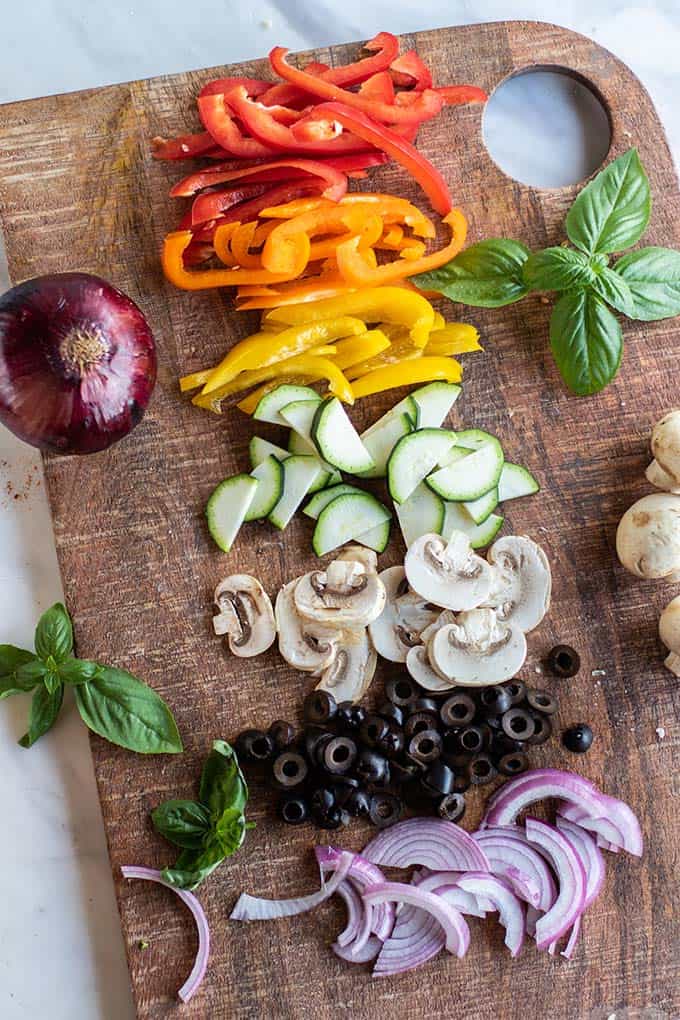 This week, I spiced it up a little bit! This beautiful rainbow pizza is just diced peppers, zucchini, and red onions. I had some mushrooms and olives ready to add, but they just didn't fit the rainbow theme.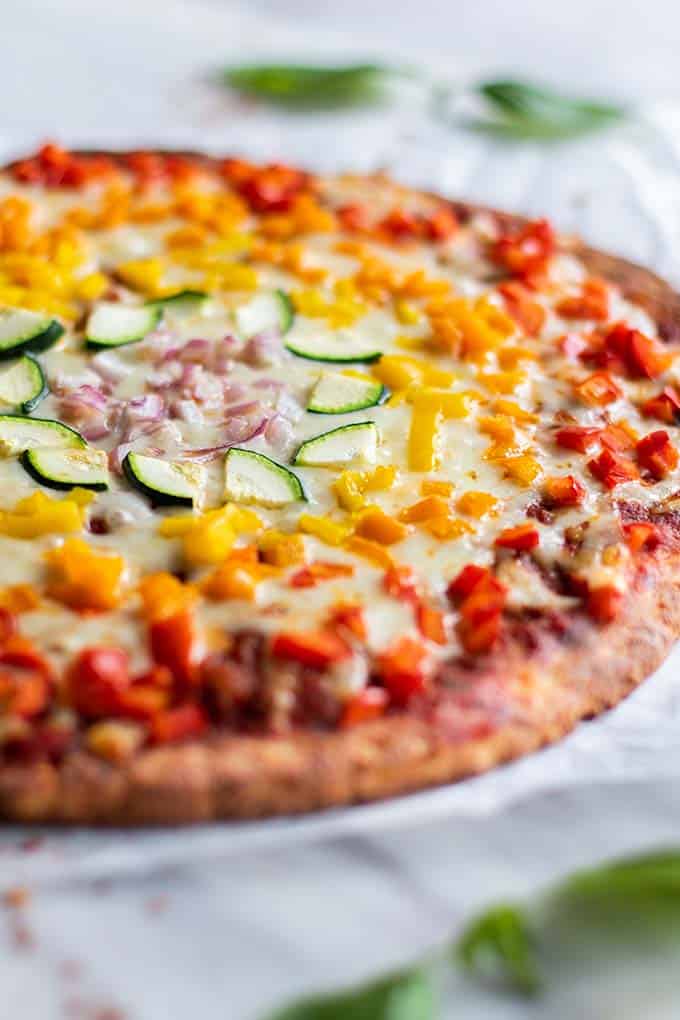 Other Topping Suggestions:
Keep it Paleo: Load this crust up with veggies! While testing this crust, I made a version with olive oil, rosemary, roasted butternut squash, shaved Brussels sprouts, and caramelized onions. So much flavor, no one will miss the cheese! (recipe coming soon!)
Go Full on Carnivore!: Layer on your favorite meats — pepperoni, bacon, sausage, ham, or even use leftover chicken!
Pile on the Veggies, Please!: Artichoke hearts, olives, pineapple, and peppers are my favorite pizza additions. You can also use zucchini, onions, spinach — the sky is the limit when it comes to PIZZA!
Bon Appétit!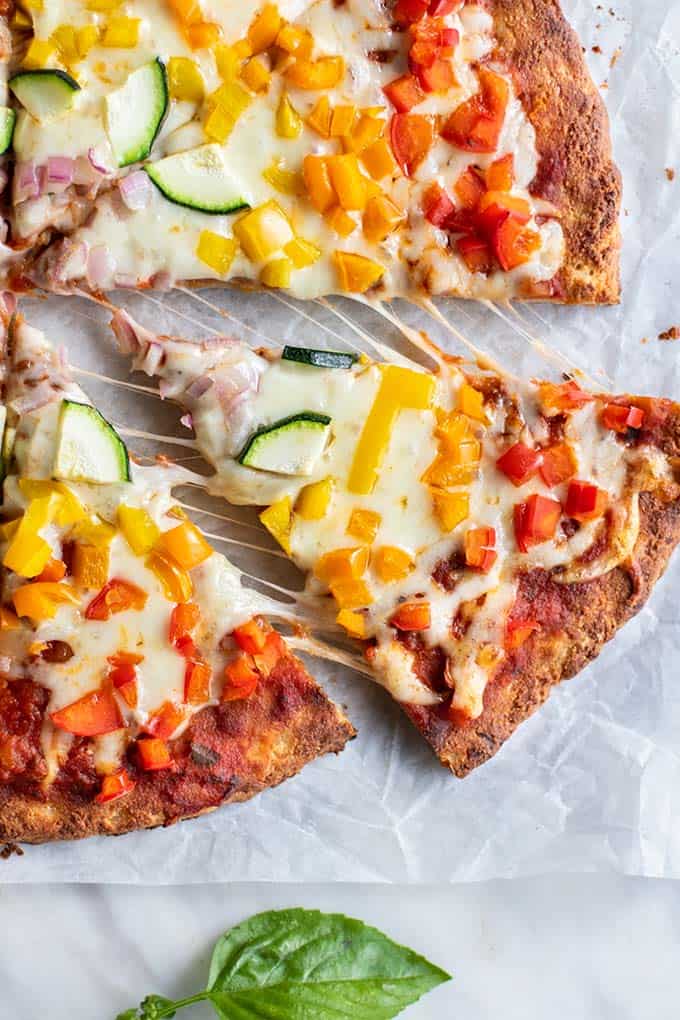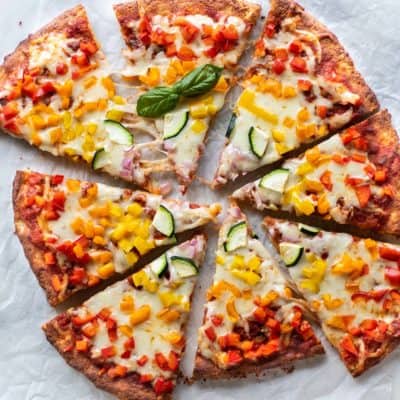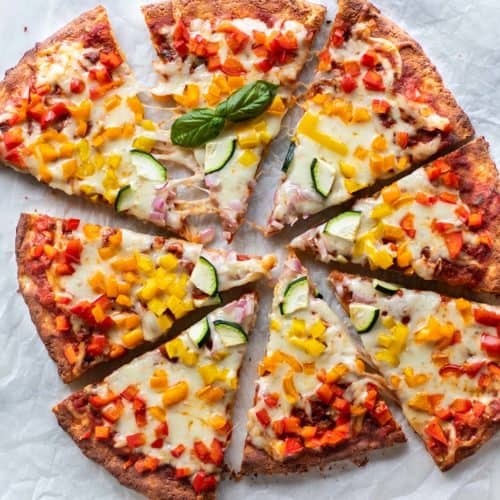 Paleo PIzza Crust
A healthy pizza crust that has a very similar flavor and texture to the real deal! We actually think it's better than the original. This whole foods based crust will be made often at your house!
Print
Rate
Ingredients
2

tablespoons

warm water

not hot

2

teaspoons

honey

1

yeast packet

1

potato

9-10 ounces, boiled

1 1/4

cup

almond flour

1/2

cup

arrowroot

1/2

teaspoon

sea salt

1

egg white

1

tablespoon

olive oil
Instructions
Mix together the water and honey, and stir until the honey is dissolved. Add the yeast, stir until combined, and then allow to sit until the yeast has proofed, about 5-10 minutes. If your mixture doesn't become bubbly, it's inactive, and it's best to start with fresh yeast.

Once your potato is boiled and then cooled, push the skin off with your fingers, and then grate the potato.

In a bowl, mix together the almond flour, arrowroot, and sea salt.

To the dry mixture, add the egg, olive oil, and yeast mixture. Stir together until combined.

Use your hands to form a ball with the dough in your bowl. It is much stickier than a traditional bread dough, but it will still hold together well in a rounded shape. Cover the bowl with a towel, and place in a warm area for 30 minutes to rise. The dough will nearly double.

Use parchment or baking paper. Use a large piece folded in half, and dump the dough onto one side of it, and then cover it with the other half. Use a rolling pin to flatten and shape into about a 10-11 inch pizza.

Cut off the top portion of the parchment, and slide the pizza crust onto a baking tray.

Bake in the Sharp Superheated Steam Countertop Oven on Bake/Reheat for 18 minutes on 425 degrees. If using a traditional oven, preheat the oven, and then bake the crust on 425 degrees for 25 minutes.

Top the crust as desired, and then return to the oven. Set the Superheated Steam Countertop Oven to Bake/Reheat at 425 degrees for 8-12 minutes, depending on how many toppings are loaded on top. In a conventional oven, the bake at 425 for an additional 12-15 minutes.
Notes
*Nutrition facts are for the crust alone and do not include toppings.
Nutrition
Calories:
165
kcal
|
Carbohydrates:
15
g
|
Protein:
4
g
|
Fat:
10
g
|
Sodium:
154
mg
|
Potassium:
116
mg
|
Fiber:
2
g
|
Sugar:
2
g
|
Vitamin C:
3.1
mg
|
Calcium:
48
mg
|
Iron:
1.5
mg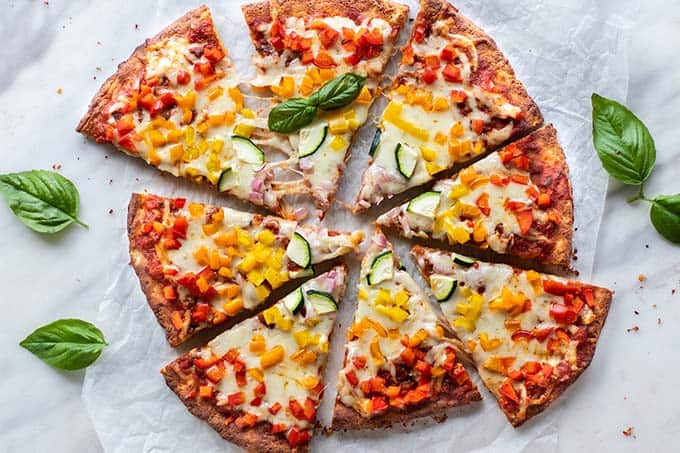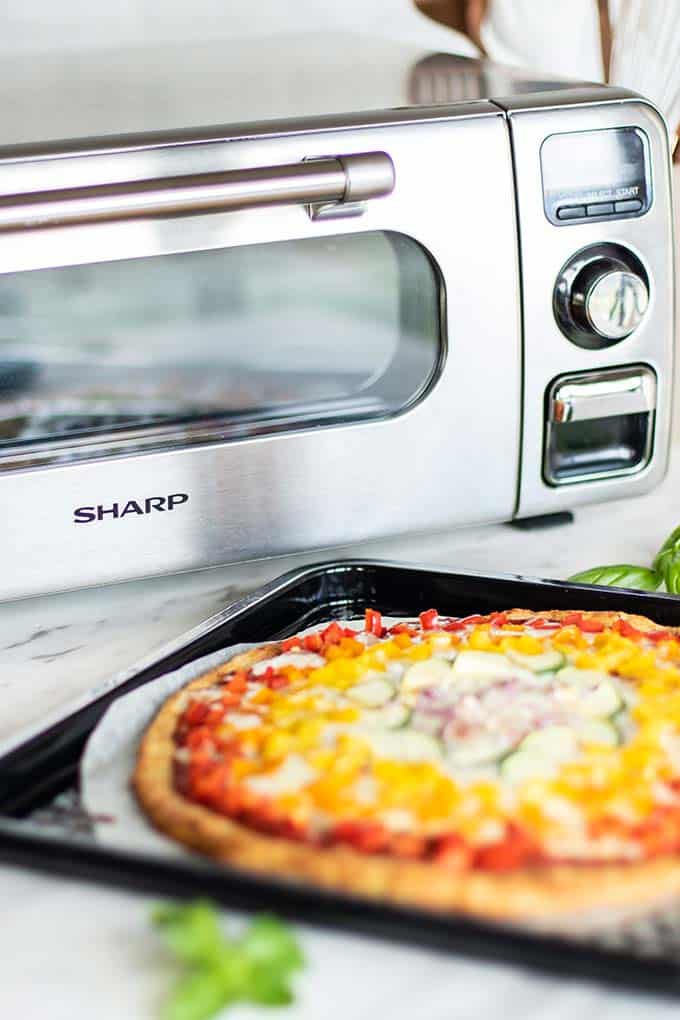 Other Gluten Free Pizza Crust Recipes:
I'd love to connect with you on social media! Find me on Facebook or Instagram where I post daily healthy eating and lifestyle inspiration.
This Paleo Pizza Crust post may contain affiliate links, meaning if you make a purchase, I will receive part of the sale as a comission. This helps me continue to bring you lots of fresh and inspired recipes!