This post may contain affiliate links. Please see my full
Disclosure Policy
for details.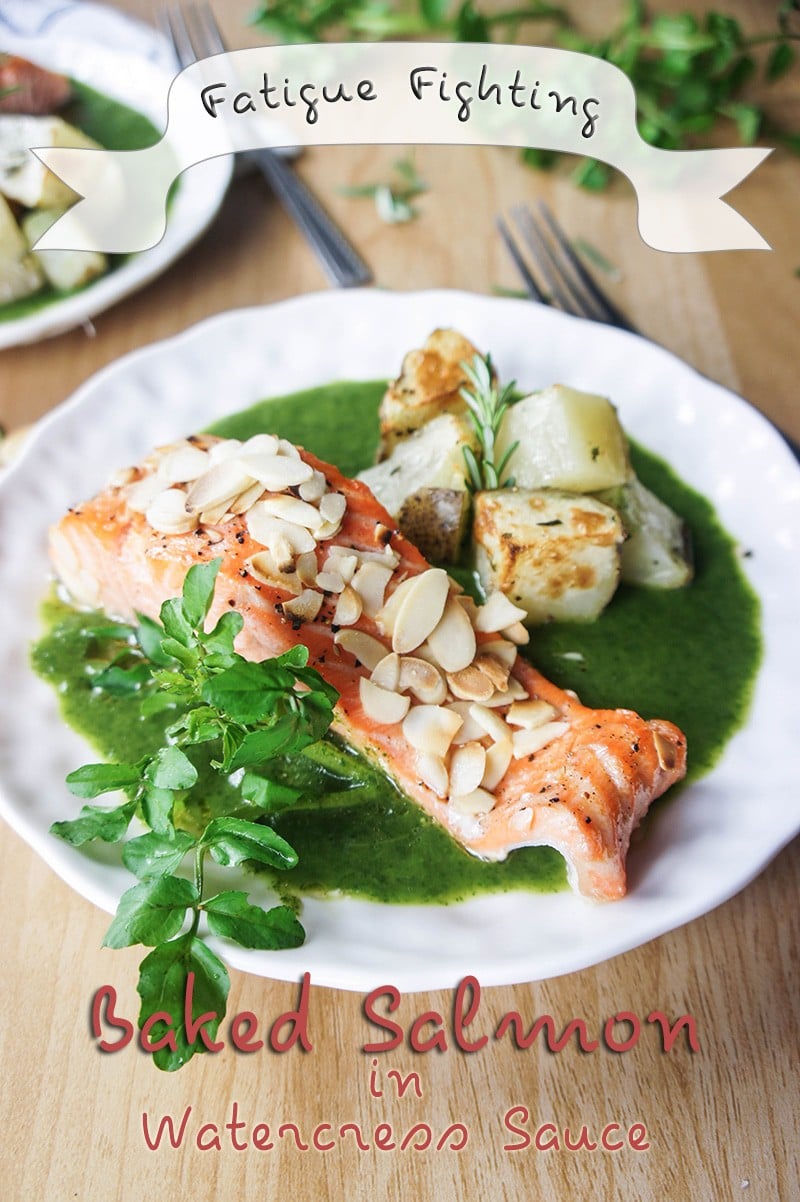 This salmon in watercress sauce is a complete superfood meal. Salmon, almonds, watercress, and even potatoes, are perfect foods for fighting the cold weather blues. Although, from what I've heard, those of you back in the States aren't dealing with freezing temps yet – yay for Indian summers!
If you're like me, and start to feel low as soon as summer slips away, adding nutrient dense ingredients to meals becomes even more important. Especially Vitamin D, the sunshine vitamin. I live in the tropics, and my doctor still recommends I use a Vitamin D supplement to help boost my immune system. I use Life Extension Liquid Emulsified Vitamin D3 (not an affiliate- just a fan!). They're a bit pricy, but I take a few drops every morning, and my bottle has lasted a year already– and I think I have a few more months in there still. I much prefer it to taking a pill, and the drops have little flavor, just a little sweetness.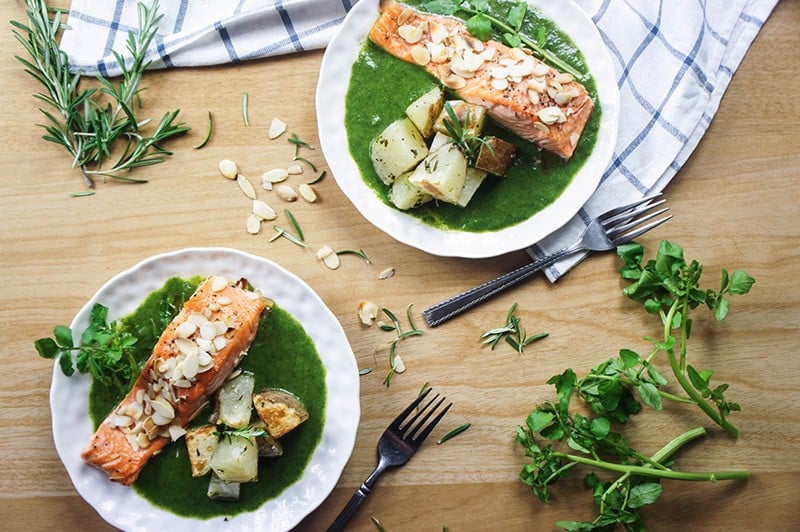 Other things I do to keep my mood up? Exercise more. It's sometimes difficult to muster up the energy to do it, when all I want to do is come home from work, curl up on the couch, and drink a mug of hot cocoa (and don't think I don't allow myself time to do this too!). But I know that I feel 100% better after a run or a yoga class. Even if all I do is get out for a 45 minute walk, my mood is significantly lifted.
And candles. I've started taking candles with my favorite fall flavors (spiced apple, cinnamon) to work for my desk. Not only do I enjoy the smell, but my coworkers who come to my room always comment on how relaxing the smell is. Although not fall scented- I also love peppermint and citrus scented candles, and feel those keep my energy stimulated.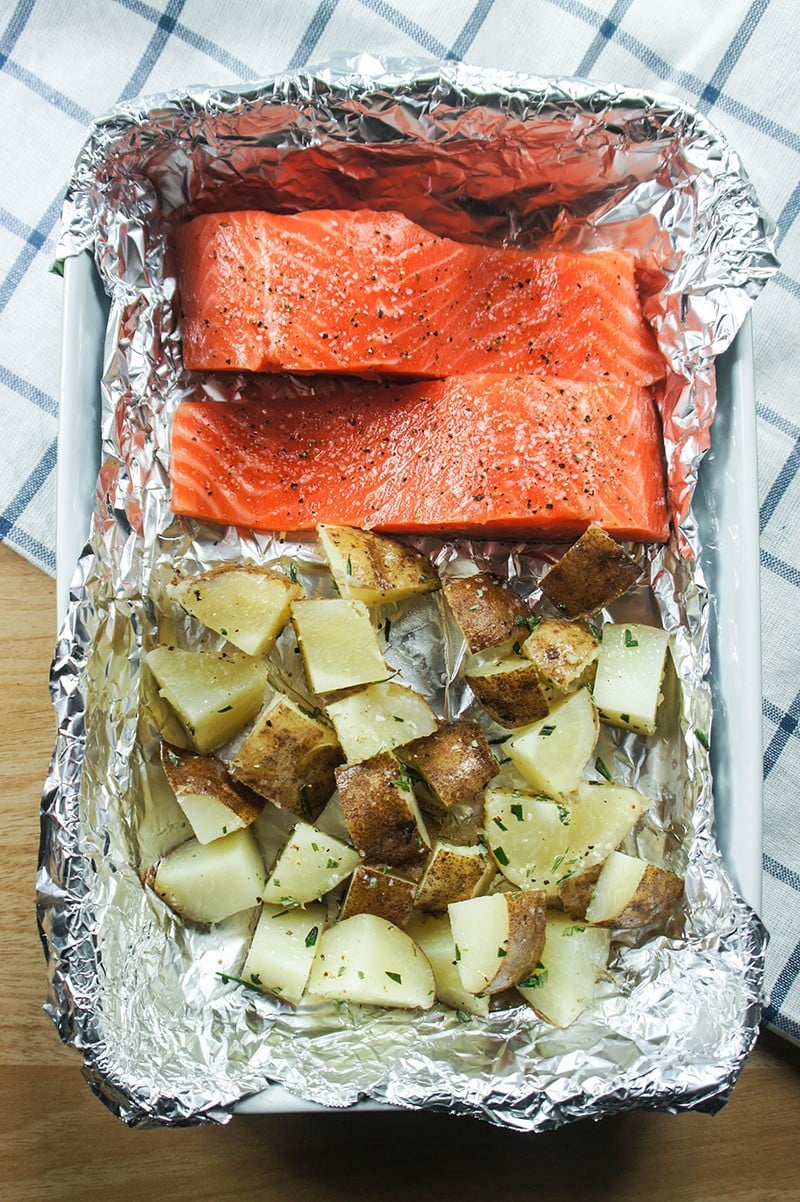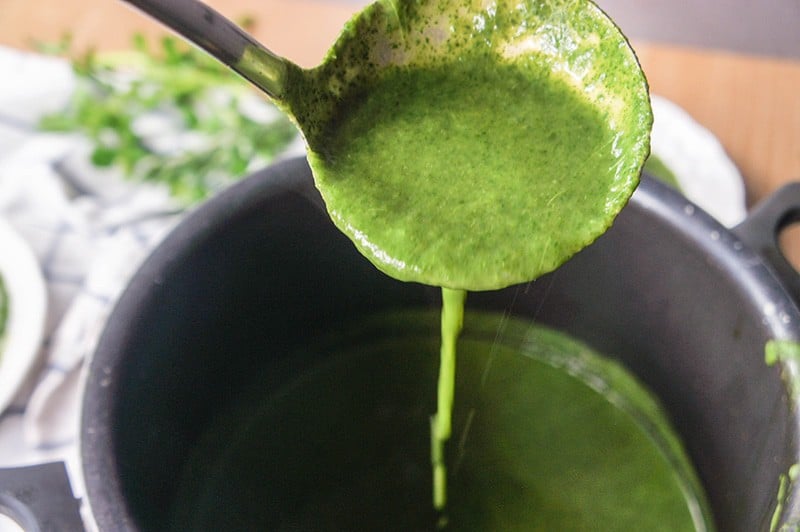 Now what makes this meal perfect for fighting the cold weather blues? Perfect for lifting fatigue?
Salmon
Yes, we all know that salmon is a great source of omega 3s, a fat that is essential for health. And actually, it's especially important for mental health. The DHA found in the omega 3s in fish has been found to reduce depression and improve mental functioning.
But there are two other nutrients found abundantly in salmon that I'd like to highlight that are great for preventing and treating fatigue- Vitamin D (aka, the sunshine vitamin), and B12.
Vitamin D is naturally produced in our bodies when our skin is exposed to sunlight. As the days get shorter, and cooler temps prompt more indoor activities, supplementing our diets with vitamin D becomes essential. A 4 ounce portion of salmon delivers 127% of the RDA of Vitamin D. Fish and egg yolks are the best natural sources of vitamin D.
Vitamin B12 is essential for the formation of red blood cells, and blood is how oxygen is carried throughout our bodies. A 4 ounce portion of salmon contains 236% of the RDA of vitamin B12.
Almonds
Almonds are a good source of manganese and copper, two minerals that help keep our mitochondria (the energy production centers of our cells) running.
The magnesium and potassium found in almonds also helps relieve our bodies of stress and improves blood flow, helping circulate oxygen and other nutrients throughout our bodies.
Watercress
I've occasionally used watercress in salads, but only recently did I realize what a powerhouse it is. An infographic floating around Pinterest compares the nutritional density of different greens. Kale has been all the rave the past few years, but it hasn't actually earned it's superfood fame. My favorite smoothie ingredient, spinach, actually fares a lot better when it comes to nutrients-per-calorie.
I was surprised to see watercress top the list, above the also highly rated spinach, beet greens, and chard. It's also low in calories (4 cals per cup), half from protein. This sauce packs 4 cups of the greens into each serving, providing 100% of both vitamin A and C RDAs, a whopping 400% of the RDA for vitamin K, and 24 mg of omega 3s.
Potatoes
Potatoes unfairly have gotten a bad rap. In truth, they are nutritionally dense foods, full of healthy carbs, which our body craves when our energy dips. When I'm tired, and craving carbs, a potato is a much healthier choice than giving in and reaching for a cookie or even bread. Potatoes are packed with vitamins C and B6, as well as healthy doses of calcium, iron, magnesium, phosphorus, copper and manganese.
Our serotonin levels often dip in the cold seasons, due to less sunlight, and less activity. Carbs boost seratonin levels, which is why we crave them when we're tired or depressed.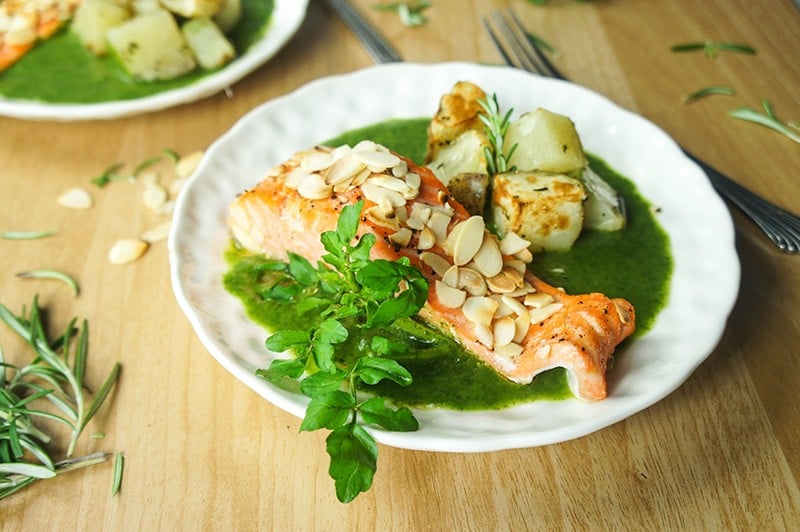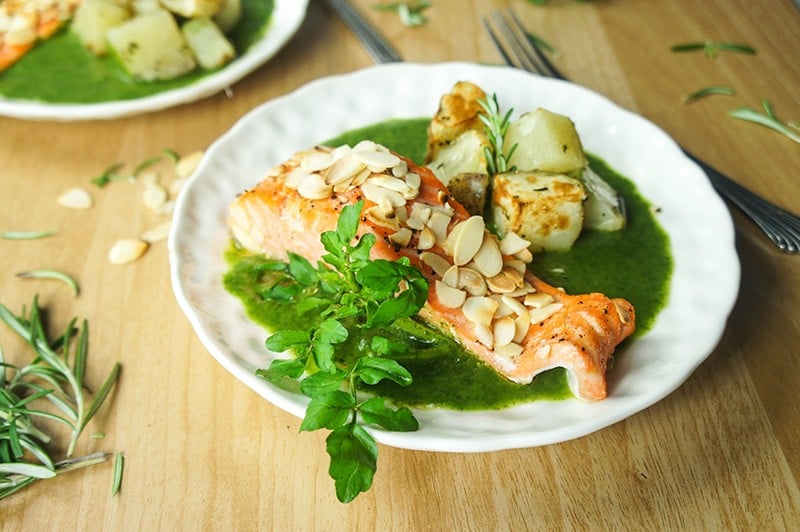 Baked Salmon in Watercress Sauce
Brimming with nutrition, but also wonderfully comforting, especially on a cool evening. The salmon is baked with toasted almonds, and served with a creamy watercress sauce. The sauce is actually more of a soup, and I usually serve this is a soup bowl to pack as much of the greens in as possible!
Print
Rate
Ingredients
4

small potatoes

(1 for watercress sauce, 3 to be baked)

3 3-4

ounce

salmon fillets

4 1/2

tablespoons

fresh chopped rosemary

1/2

tablespoon

butter

salt and pepper

to taste

lemon juice

to garnish
Watercress Sauce
1

teaspoon

olive oil

1/2

yellow onion

minced

1

clove garlic

minced

2

large bunches of watercress

(about 12-15 cups, packed loosley), large stems removed

3

cups

water

& 2 teaspoons vegetable bouillon powder (or sub 3 cups chicken or vegetable stock)

1

potato

cooked and peeled

1/2

teaspoon

lemon juice

salt and pepper

to taste
Instructions
Add all 4 potatoes to a pot of boiling water. Boil for about 10-12 minutes, until softened, but not fully cooked. Remove from pot. Chop 1 potato, and reserve it for the watercress sauce. Cut the other 3 potatoes in chunks, and coat in butter, and season with salt, pepper, and chopped rosemary.

Add salmon and potatoes to a baking dish. Season the salmon with salt and pepper. Bake for 15-20 minutes, until salmon is fully cooked, and potatoes are softened. Make watercress soup while the salmon and potatoes are baking. After the salmon is fully cooked, add 1½ tablespoons sliced almonds to each salmon fillet, and continue to bake, watching carefully to prevent burning, for another 3-5 minutes, until the almonds are toasted.

In a large saucepot, add olive oil, and minced onion and garlic. Saute over medium high heat for 5-7 minutes, until softened and fragrant.

Add reserved, peeled potato, water and bouillon (or stock), Bring to a boil, and continue to cook for another 5-10 minutes, until the potato is fully cooked. Add the watercress, and cook for another 5 minutes.

Transfer the watercress mixture to a blender, and process until smooth.

Return to pot, add the lemon juice, and season with salt and pepper.

Serve the salmon and potatoes over the watercress sauce. Drizzle lemon juice on each salmon fillet.
Nutrition
Calories:
240
kcal
|
Carbohydrates:
29
g
|
Protein:
15
g
|
Fat:
7
g
|
Saturated Fat:
2
g
|
Cholesterol:
36
mg
|
Sodium:
69
mg
|
Potassium:
1039
mg
|
Fiber:
5
g
|
Sugar:
2
g
|
Vitamin A:
190
IU
|
Vitamin C:
31
mg
|
Calcium:
61
mg
|
Iron:
4
mg
 
Sources
---
The Health Benefits of Watercress, Juicing for Health
How to Curb your Carb Cravings and Boost your Mood, Chatelaine
Potatoes, World's Healthiest Foods
Salmon, World's Healthiest Foods