This post may contain affiliate links. Please see my full
Disclosure Policy
for details.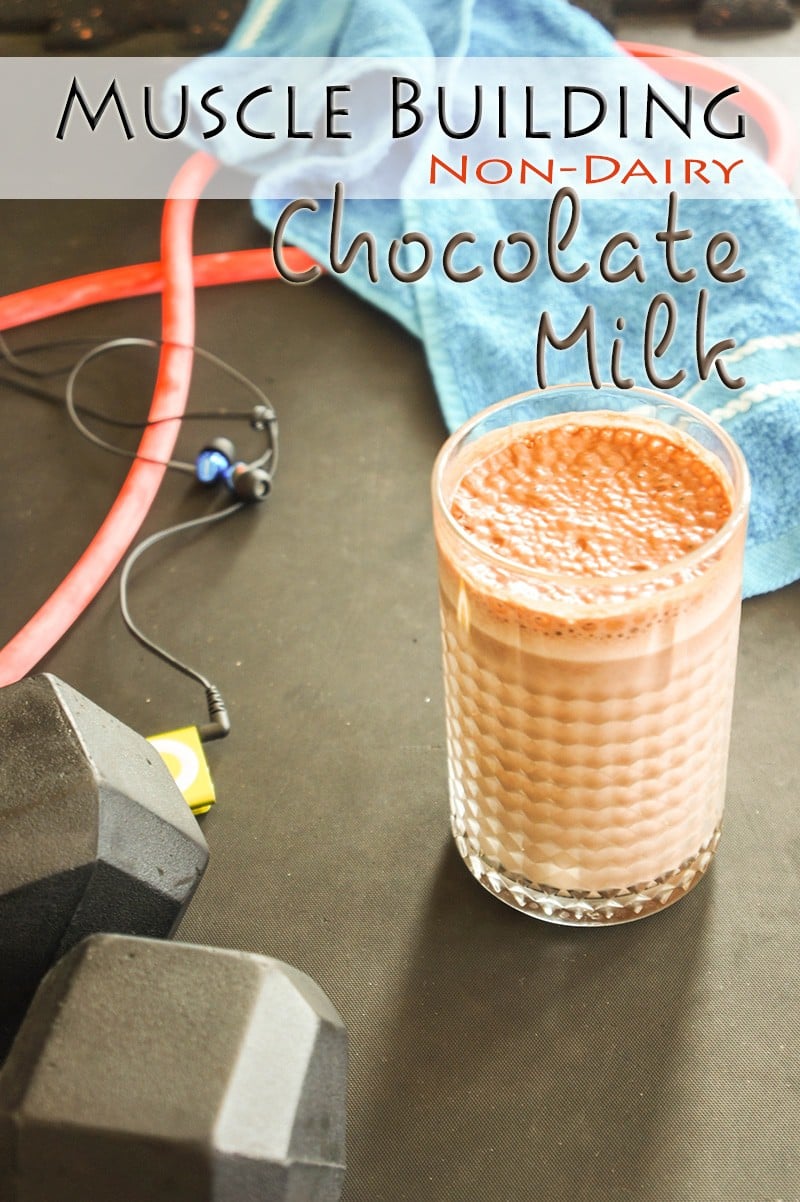 I work out often, and I've been trying to get myself to weight train more frequently. (<– was going great over my 2 month break from work, but hasn't been happening as "regularly" as I'd like since going back to work). It seems difficult for my body to build muscle though. Lately, I've been wondering if I am just not getting enough protein before and after workout sessions.
Recently, I read a study about weight gain, muscle gain, and overeating. In the study, all participants overate by 950 calories a day, but some maintained a high protein diet and the others a low protein diet. Throughout the study, their weight gain and body composition were analyzed. Both groups gained about the same amount of weight, but the group on the high protein diet gained muscle (and fat), and the group on the low protein diet LOST muscle and gained fat.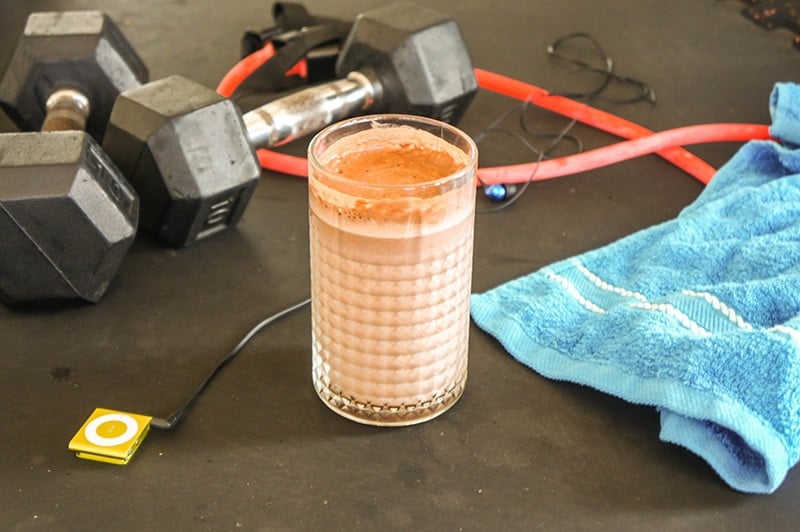 I know from personal experience that I feel better when I'm eating a higher amount of protein. However, it doesn't come easily to me. I crave carbs — oatmeal, fruit, smoothies, potatoes — yes, all healthy things, but carbs nonetheless. I could (and have) eat a completely vegetarian diet, and be 100% happy. And maybe if I wasn't allergic to soy, lentils, peanuts . . . in other words, most of the great vegetarian protein sources . . . I would. But I am a big believer in listening to your body, and to feel my best, I have to focus on getting enough protein.
I am not talking about body builder levels of protein here. I am talking about getting the 60-80 grams of protein a typical woman needs.
This muscle building non-dairy chocolate milk (sugar-free!) is one of my latest attempts! It's perfect for after a workout — I don't feel like eating a meal after a workout, especially a hard workout where my body really needs the boost of carbs and protein to rebuild itself. I rarely eat during the 30 minute-1 hour "recovery" window. While I can't see myself starting to make myself do that, I can stomach chocolate milk.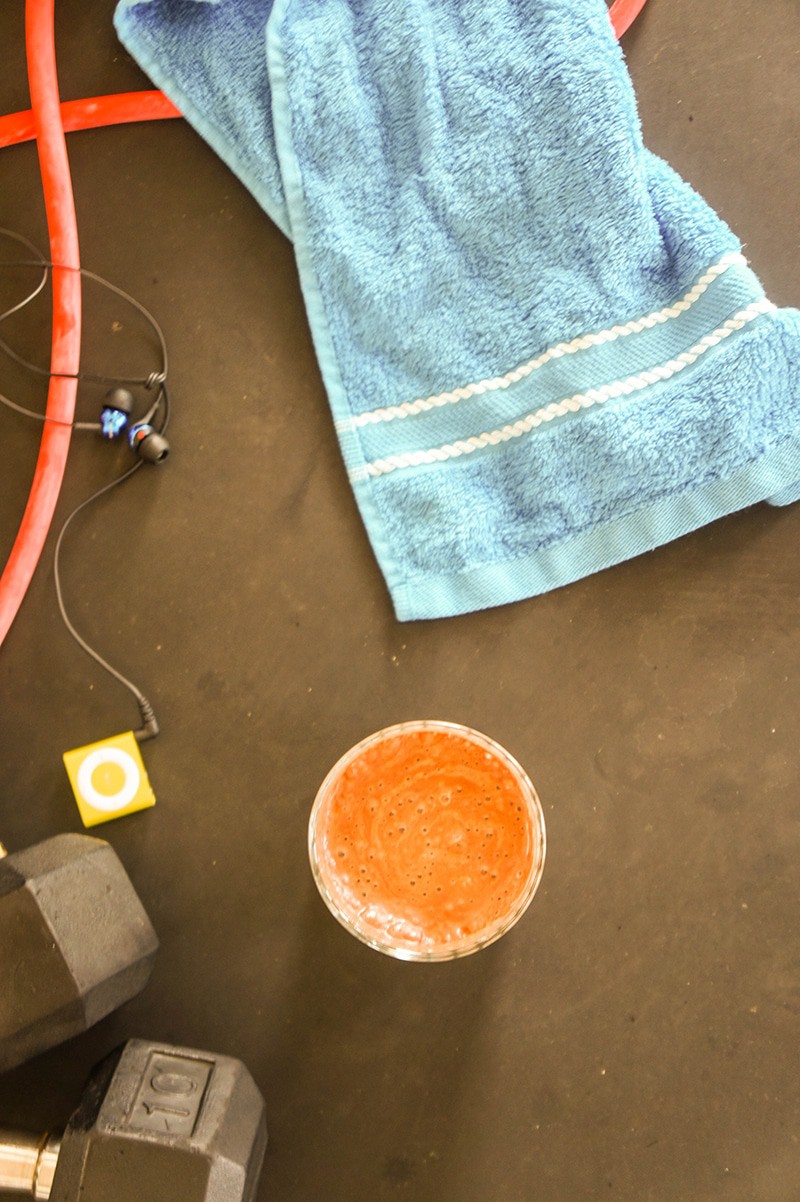 Chocolate milk isn't a new idea post workout. It has never been an option for me because 1). I'm lactose intolerant, and 2). Why would I want to fill my body with SUGAR right after working out?
This chocolate milk is made with non-dairy milk, and since almond milk doesn't have the protein cow's milk does, I supplemented with whey protein. I'm working on a post for later on why whey is my protein of choice, but any good tasting protein powder would work well here.
Of course, eating protein from natural, unprocessed sources is always best. However, if you're busy, and need more protein, it's a perfectly healthy and reasonable way to up your protein intake.
Ways to Boost your Protein Intake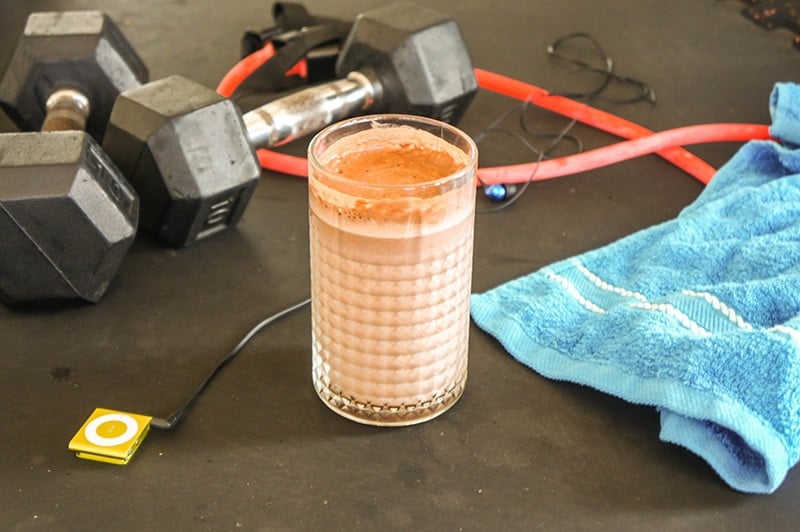 Muscle Building Non-Dairy Chocolate Milk
A non-dairy chocolate milk, supplemented with protein powder. I use ½ of a date, because I don't like really sweet drinks. Use a whole, or even two, if you want to sweeten it more!
Print
Rate
Ingredients
1/2-2

Medjool dates

1 1/2

cups

unsweetened almond milk

2

teaspoons

natural cocoa powder

5-10

grams

plain whey protein powder

(or favorite protein powder)
Instructions
Add a date (or 2) and ½ cup of almond milk to a blender. Blend until the date is fully mixed in. If your dates are hard, try softening them in hot water prior to this step.

Add the rest of the almond milk, plus the cocoa powder and whey protein. Blend until frothy.

Sometimes I also add an ice cube to make it super cold!
 What are your favorite tips for incorporating protein into your diet?