This post may contain affiliate links. Please see my full
Disclosure Policy
for details.
This is beyond a hazelnut iced chai latte. It's bliss.
I've been on a homemade coffee and tea kick ever since I made the Caramel Mocha Iced Coffee Concentrate. I loved it so much, I thought there needed to be a few variations. The first thing that came to mind was hazelnut! I knew I wanted the flavor to be from the actual nut itself, so I decided to make it with homemade hazelnut milk. The coffee version is amazing. So amazing, I thought it warranted turning it into a chai latte as well.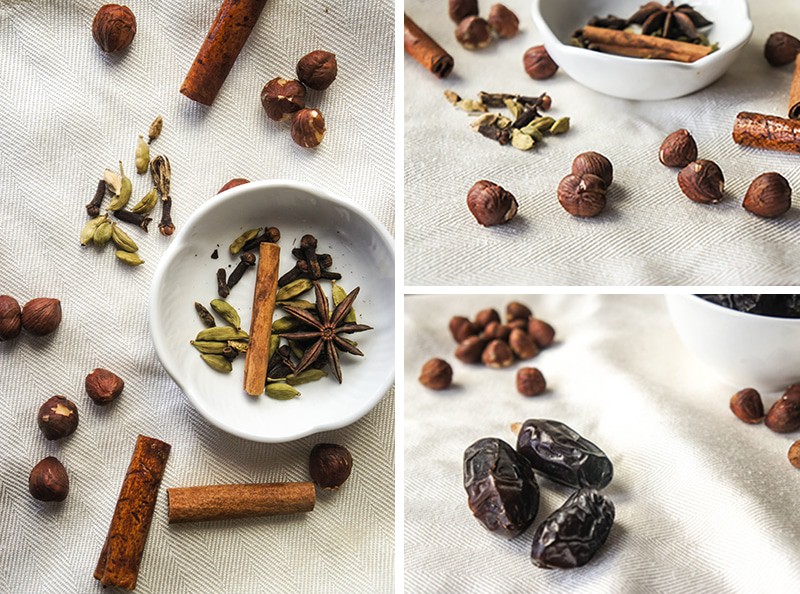 The coffee version will be posted soon, too. First, here's the chai version.
Chai lattes were all the rage when I was in college. Maybe they still are back in Oregon? I remember all the coffee shops used to have Oregon Chai— since I've always preferred not sweet, or on the less sweet side, drinks, I really appreciated that Oregon Chai had a slightly sweet version. The "slightly sweet" was actually pretty sweet, in my opinion.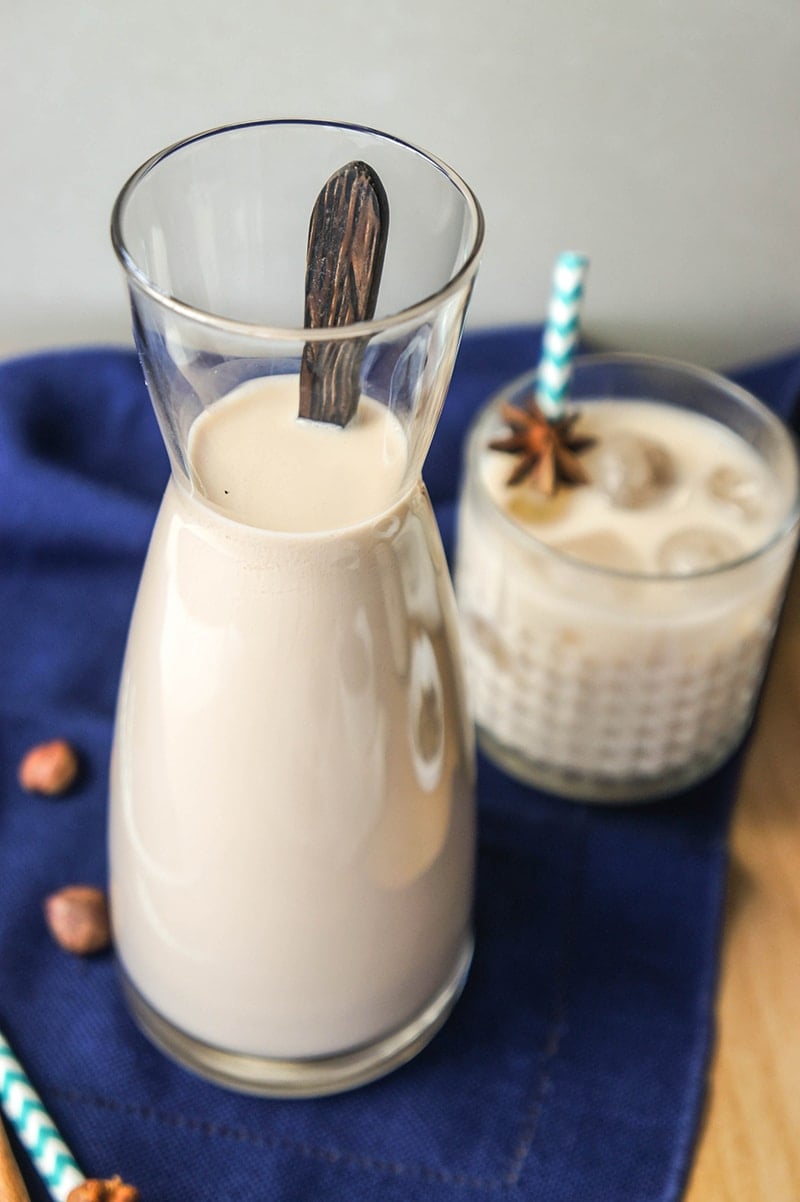 The best part of making things like this at home? (Besides saving tons of money, that is?) — you can customize it to suit your tastes. Add ginger. More dates for more sweet, fewer for less sweet. In fact, if you don't like hazelnuts (gasp!), you can use cashew or almond milk instead. The hazelnuts are really the star of the show here though.
I like to customize. It's a huge reason I cook so much. When I go out to eat, I am always thinking of the 10 things I would have done differently to the dish. More spice, less oil, more flavor, less sweet.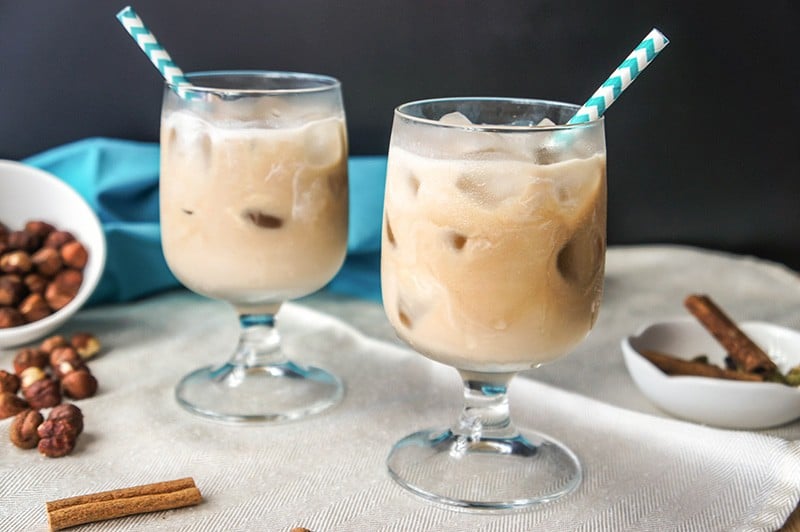 The first time I made this, I mixed the hazelnut milk and chai tea together. It was good, but only lasted for 2 days in the fridge. If you keep the hazelnut milk and chai tea separate, you can customize this drink to your own tastes, and it will last 3-4 days in the fridge.
I also have made the hazelnut milk several different ways. First, I made it half almond, half hazelnut. Really good, but not hazel-nutty enough. Then I made it 2/3 hazelnuts, 1/3 almonds, and that was really good. I decided the last time to see if cashews would make it a bit creamier- so 2/3 hazelnuts, 1/3 cashews, and it was creamier. I actually liked all 3 versions, so play around with the nuts and make it with what you have on hand!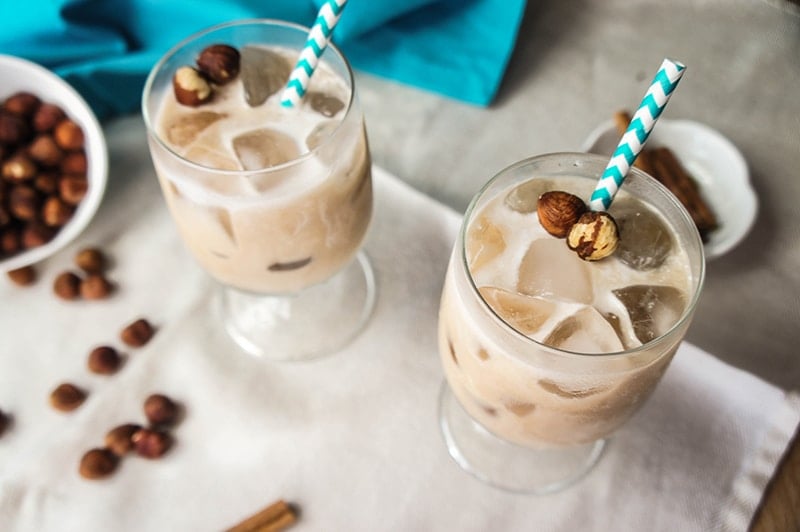 Ingredients
Chai Tea
3

cups

water

8

white peppercorns

8

whole cloves

8

cardamom pods

(slightly crushed)

4

cinnamon sticks

3

star anise

3

black tea bags

(I used English breakfast)
Hazelnut Milk
2/3

cup

hazelnuts

1/3

cup

cashews or almonds

(both are good!)

4-8

small dates

(I used 4, but it wasn't very sweet. Add more if you like your drinks sweet.)

1

teaspoon

alcohol free vanilla

pinch of sea salt
Instructions
Chai Tea
Add all the spices to a sauce pan with 3 cups of water. Bring to a low boil, then reduce and let simmer for 5 minutes.

Turn heat off, and add tea bags. Let steep for 3 minutes, then discard.

Remove the spices from the tea, and let cool.
Hazelnut Milk
Soak the nuts and pitted dates in water in the fridge overnight.

Rinse and drain the nuts and dates, and add them to a blender with 1 cup of water. Process until the nuts are broken down, for 2-3 minutes.

Add the other 2 cups of water, plus the sea salt and vanilla. Process for another minute.

Pour the milk through cheesecloth (I use a thin cloth bag that hooks around the edge of a pitcher), and let the milk drain through.

Squeeze as much liquid out of the nut pulp as possible.
Iced Chai Latte
Mix the hazelnut milk and chai tea together over ice. I prefer about 1 part tea to 2 parts hazelnut milk, but it's a preference!
Notes
Both hazelnut milk and chai tea can be bought prepared at the store.
If you'd prefer to buy hazelnut milk, sweeten the tea with dates. After you've removed the tea bags, add the dates into the tea to soften. Put the dates and ½ cup of tea into a blender and process until smooth. Strain through cheesecloth to remove any pieces of skin left.
If you'd prefer to buy chai tea bags, you can brew the tea, let it cool, and pour it over ice with homemade hazelnut milk.
The spices are suggestions, and the ones I like the best. I tried it with a bit of fresh ginger, and thought the flavor was overwhelming. If you only have a few of the spices, it's okay- cinnamon is the key player here! It will still turn out well.
Look for whole spices at a store like Whole Foods that sells spices in bulk.
Nutrition
Calories:
242
kcal
|
Carbohydrates:
18
g
|
Protein:
6
g
|
Fat:
19
g
|
Saturated Fat:
1
g
|
Sodium:
12
mg
|
Potassium:
337
mg
|
Fiber:
7
g
|
Sugar:
6
g
|
Vitamin C:
2
mg
|
Calcium:
120
mg
|
Iron:
3
mg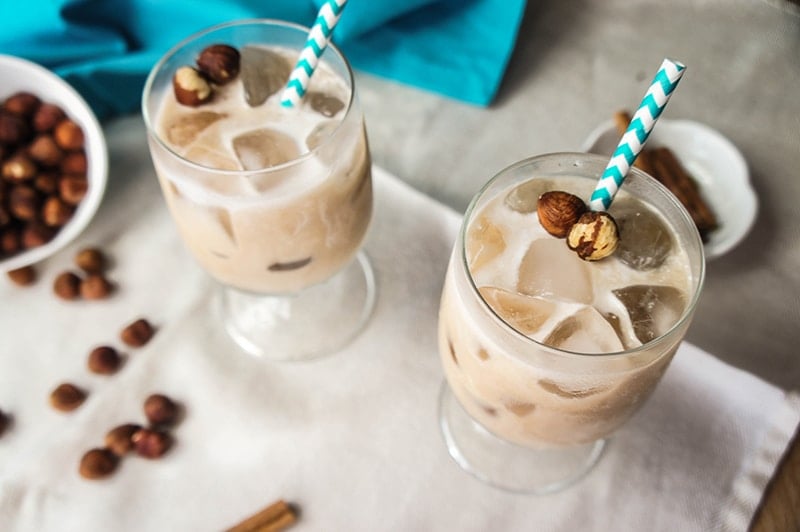 Other Iced Coffee & Tea Beverages: