This post may contain affiliate links. Please see my full
Disclosure Policy
for details.
Save money and enjoy delicious coffee drinks at home this summer! You'll love this Salted Caramel Mocha Iced Coffee Concentrate — made with either cold brew coffee, or save time by using instant coffee.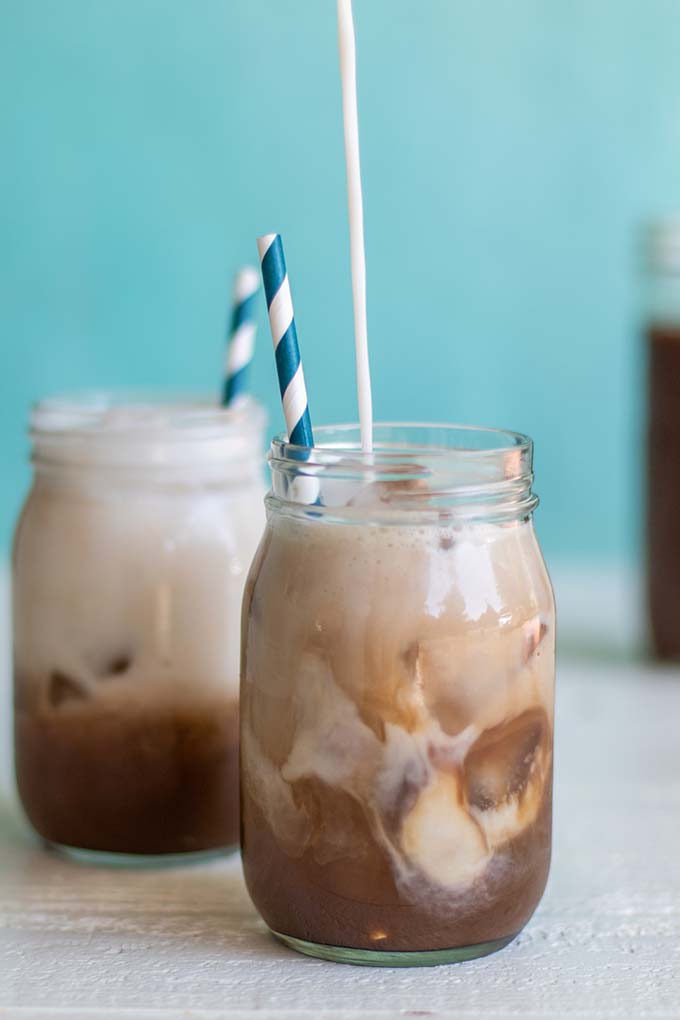 Start with Cold Brew or Instant Coffee
Starbucks is a small obsession of mine. Maybe not such a small obsession. Everyone knows it's my weakness.
And coffee 💙 swoon.
I love my iced coffees, and I've been known to spend quite a lot of money at Starbucks. After I started making coffee concentrates, like this Salted Caramel Mocha, my trips to Starbucks became less frequent because making treats like this at home costs pennies compared to dollars.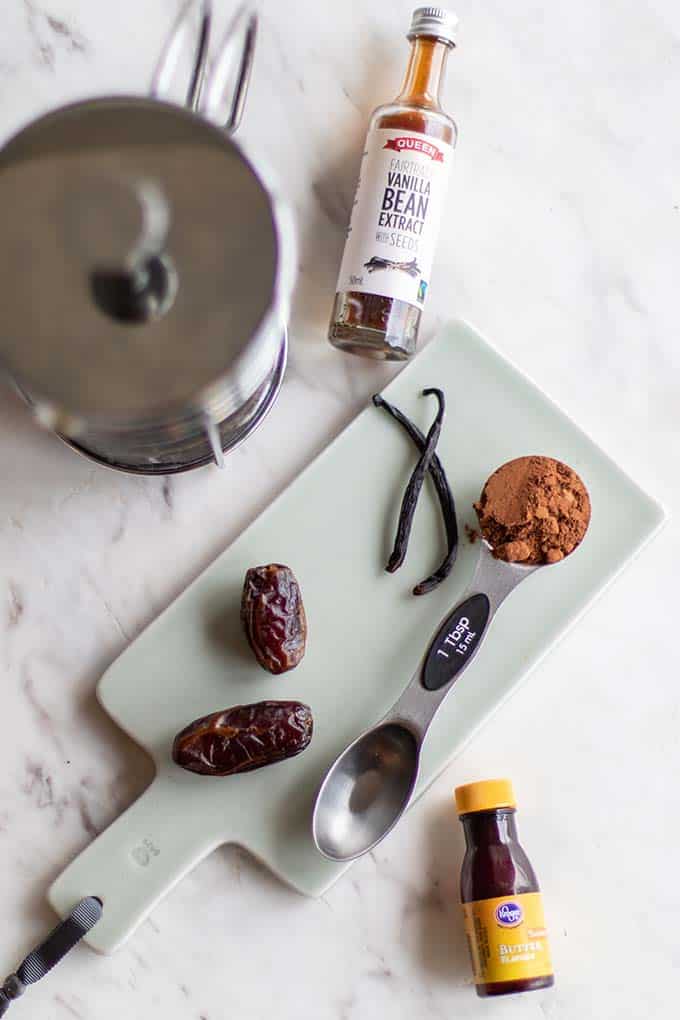 I often make this with Cold Brew, but if I don't want to wait a day for that to be ready, instant coffee works also.
Cold Brew is amazing because:
It stays fresh in the refrigerator for a week.
Cold brew is extra smooth and rich.
Instant Coffee is also awesome because:
It's so easy to have on hand, and stays fresh tasting about 3 days.
Instant has a lot less caffeine than cold brew or drip coffee.
How to Make Salted Caramel Mocha Iced Coffee Concentrate
I like to make a large batch of this coffee concentrate to have in the refrigerator for a week. When I am ready, all I need to do is add some almond milk or coconut milk and I've got a frosty, lightly sweet, rich and chocolatey coffee.
Easier than running to the coffee shop, I swear.
Starbucks Salted Caramel Mocha has nothing on this.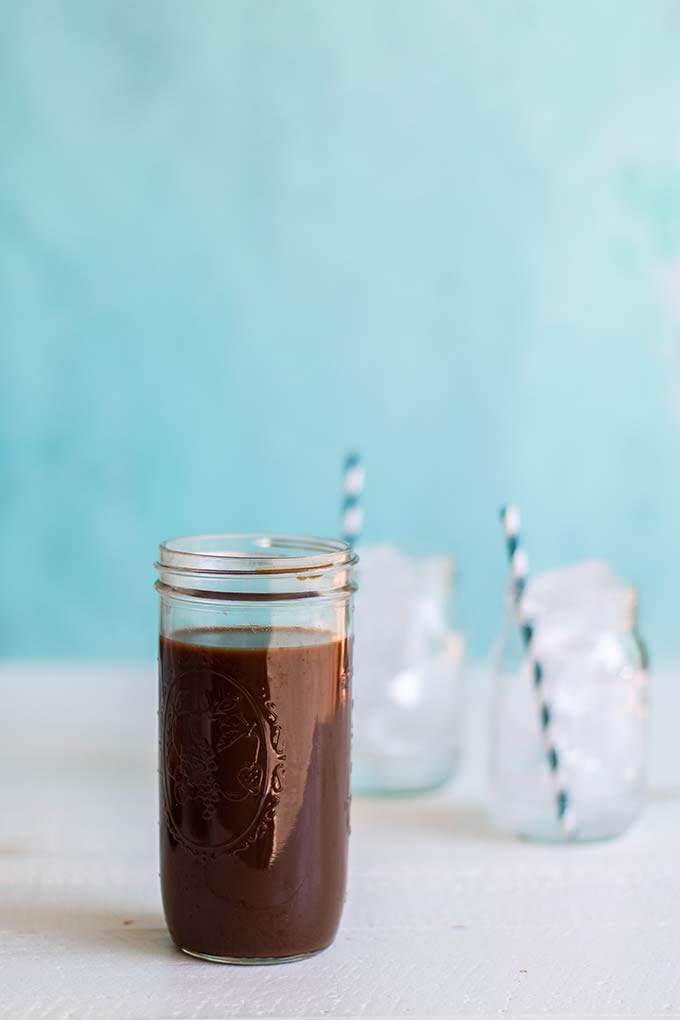 I don't order sweetened drinks when I am out. I don't like the taste of regular sugar, and I don't like how it makes me feel.
To make this beverage a healthy indulgence, I make it with:
Medjool dates
vanilla
butter extract (optional)
sea salt (you've got to do it! It's not caramel without it).
Once the cold brew is ready, I soak the dates in hot water (or if I am using instant coffee, it's okay to soak the dates directly in the hot coffee).
If you have never made cold brew before, check out my post on how to make cold brew, including lots of tips & tricks for making the perfect batch!
Toss the coffee along with the rest of the ingredients into the blender, and process until the beverage is completely smooth.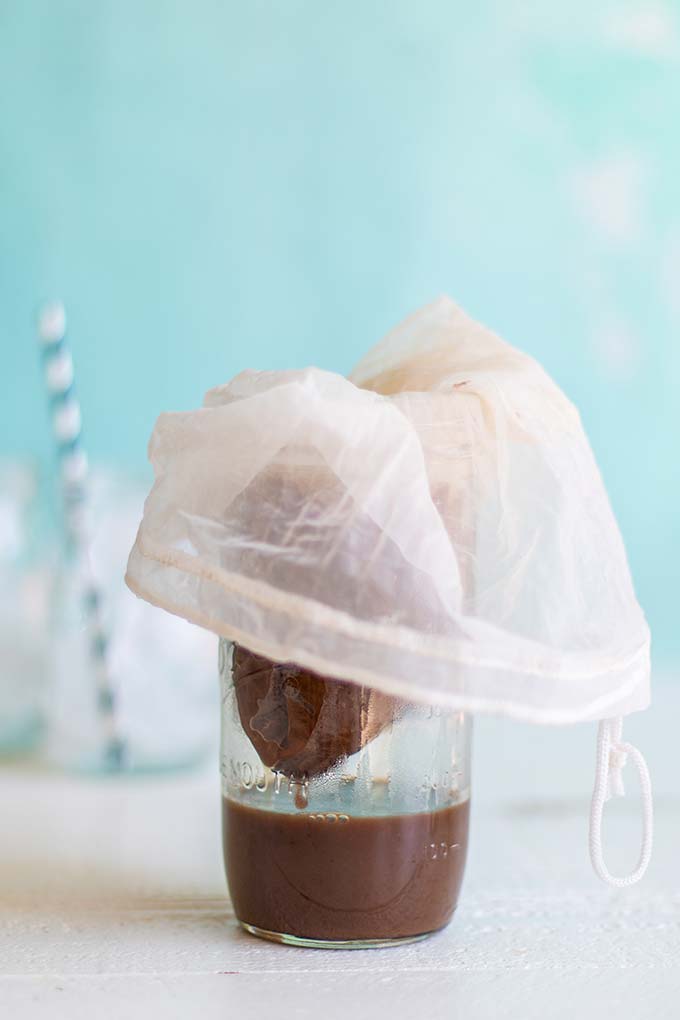 It's okay to drink the coffee directly out of the blender, but I find it tastes a little "thick" from the date and cocoa sediments. I like to strain the concentrate through a nut milk bag (cheesecloth would work).
Use this Coffee Concentrate to Blend your Perfect Beverage
What milk do you enjoy in your coffee? There is a plus to each of the different options!
⭐️ Regular Milk: Great if you can tolerate it because it adds protein!
⭐️Almond Milk: My "milk" of choice – low in calories, and still very creamy!
⭐️Low Fat Coconut Milk: I adore coconut milk in coffee, but find the light kind blends better into drinks.
⭐️NutPods Coconut/Almond Coffee Creamer: I ADORE this — a pricier option, but lower calories and just as rich as coconut milk
Depending on which option you choose, you could save quite a bit on your coffee habit!
The cost of enough concentrate for 2 "grande" iced coffees:
Coffee: $0.10
Dates: $0.54
Vanilla: $0.60
Cocoa powder: $0.12
Coconut Milk: $0.30
Grand Total:
$1.66 for TWO 16-oz drinks, or just $0.83 per coffee.
Other Homemade Coffee Drinks
I'd love to connect with you on social media! Find me on Facebook or Instagram where I post daily healthy eating and lifestyle inspiration.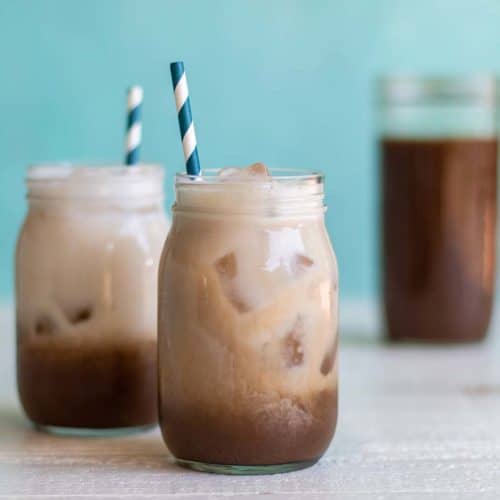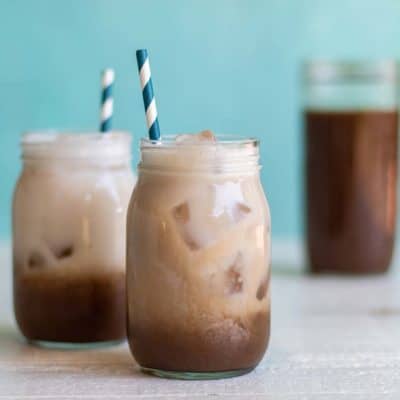 Salted Caramel Mocha Coffee Concentrate
A lightly sweet mocha made with a caramelly flavor, using sea salt and dates. Add a bit of butter extract to really exaggerate the caramel flavor, but I find the sea salt does the trick. I make this with cold brew, but instant coffee works in a pinch.
Print
Pin
Rate
Ingredients
4

cup

cold brew coffee

or 1/4 cup instant coffee + 4 cups water

5

medjool dates

2

tablespoons

cocoa powder

1

teaspoon

vanilla

1/4

teaspoon

butter extract

optional

1/4

teaspoon

sea salt
Instructions
If making this with cold brew, first soak the dates in hot water for a minute or two. Drain, and then add to a blender with the rest of the ingredients. Process until very smooth.

If making with instant coffee, add the instant coffee to a large container, and then add 4 cups of hot water. Add the dates and allow to soak for a couple of minutes, before adding to a blender with the rest of the ingredients. Process until smooth.

To make the smoothest coffee, strain the date and cocoa sediment out by straining the coffee concentrate through a nut milk bag or cheese cloth.

When ready to enjoy, add the coffee concentrate to a glass with ice, and then top with your favorite milk. I like about 2/3 coffee concentrate to 1/3 almond milk. Adjust to taste.
Nutrition
Calories:
73
kcal
|
Carbohydrates:
19
g
|
Sodium:
117
mg
|
Potassium:
197
mg
|
Fiber:
2
g
|
Sugar:
16
g
|
Vitamin A:
35
IU
|
Calcium:
18
mg
|
Iron:
0.5
mg
Hot Salted Caramel Mocha
For chillier days, reheat the coffee concentrate and add warmed milk for a hot mocha latte. I like to warm my almond milk and then froth it in the blender for a foamy coffee drink.