This post may contain affiliate links. Please see my full
Disclosure Policy
for details.
A Keto Donut made with wholesome coconut flour and sunflower seed butter! These delicious gluten free chocolate donuts are totally guilt free. Enjoy with coffee for breakfast, use as a lunch box treat, or serve for dessert!
*This post is sponsored by SunButter, a sunflower seed spread perfect for allergy-safe baking and cooking! Thanks for supporting the brands that keep Sunkissed Kitchen running.
A Completely Guilt-Free Treat!
Over the past 2 months, I've done something I wasn't sure was possible – cut the sugar from my 5 year olds diet!
As strict as I am with my own diet, I have been lazy about setting the groundwork for his. Kids are hard to feed, and their inner sugar demons are difficult to defeat.
At first, we added in lots of fruit and more nuts. Then, to add some fun, we started making some sugar free muffins, and my son's favorites — donuts!
I love that we can make something that is so fun and looks so indulgent. and while he's eating it, I know he's benefitting from the fiber, protein, and healthy fats of coconut and sunflower seeds.
SunButter No Sugar Added is one of my favorite baking ingredients. It keeps these treats nut-free, perfect for sending to school or sharing with friends who might have allergies.
Plus, I just believe sunflower seeds are more nutritious than peanuts! They are higher in protein, and 6 times more Vitamin E! Not only are peanuts highly allergenic, most peanut butters are loaded with added oils and sugar. SunButter has only 2 ingredients – sunflower seeds and salt!
If you haven't tried this delicious seed butter yet, hop on over to the SunButter website to check it out!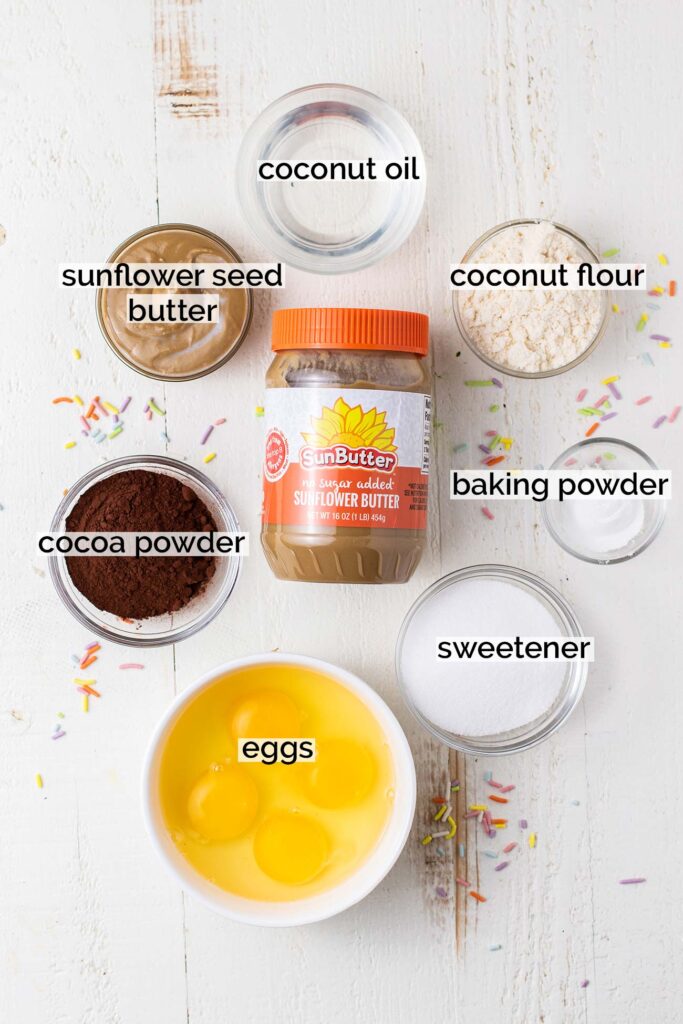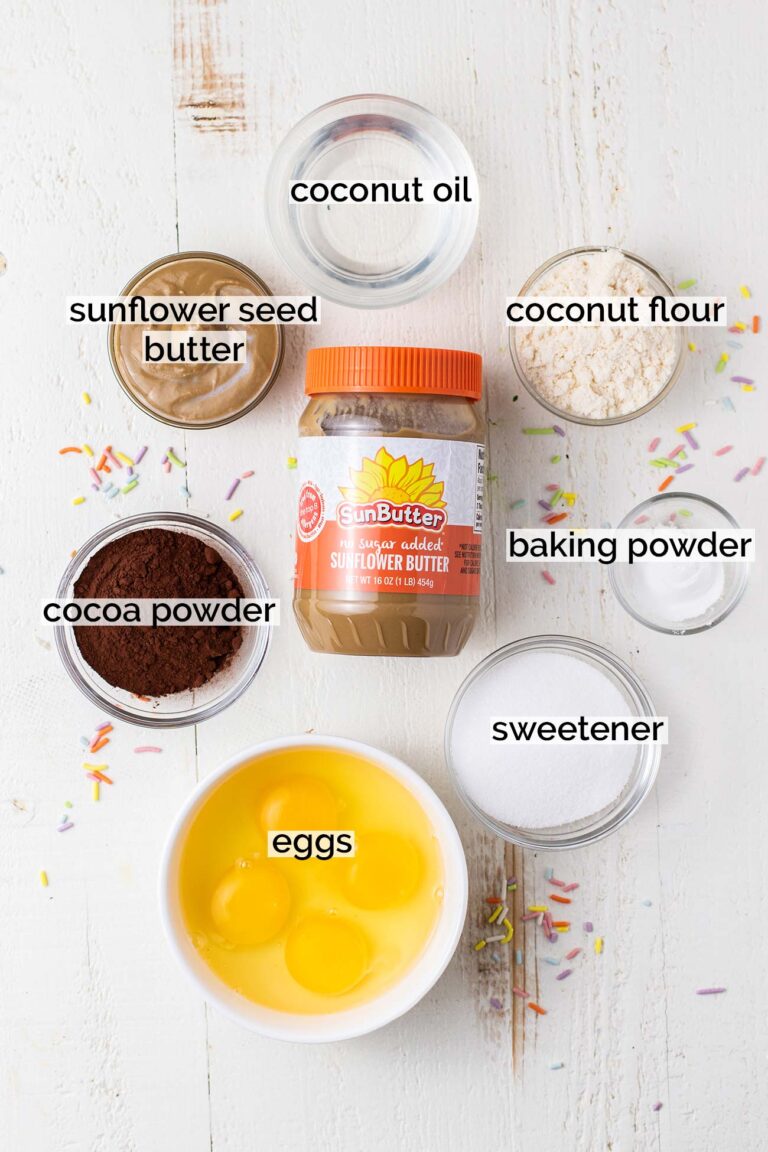 These delicious keto donuts are made with wholesome coconut flour and SunButter sunflower seed butter. Even the rich glaze is full of healthy fats from the cocoa butter and sunflower seed butter! A treat you'll definitely want to pull out for your family from time to time!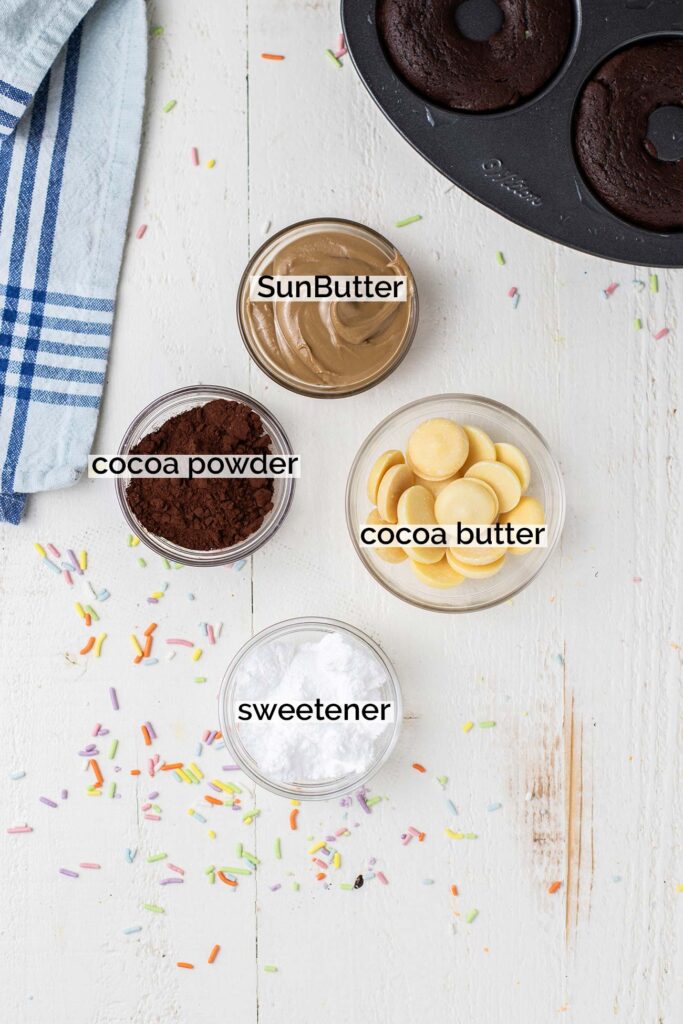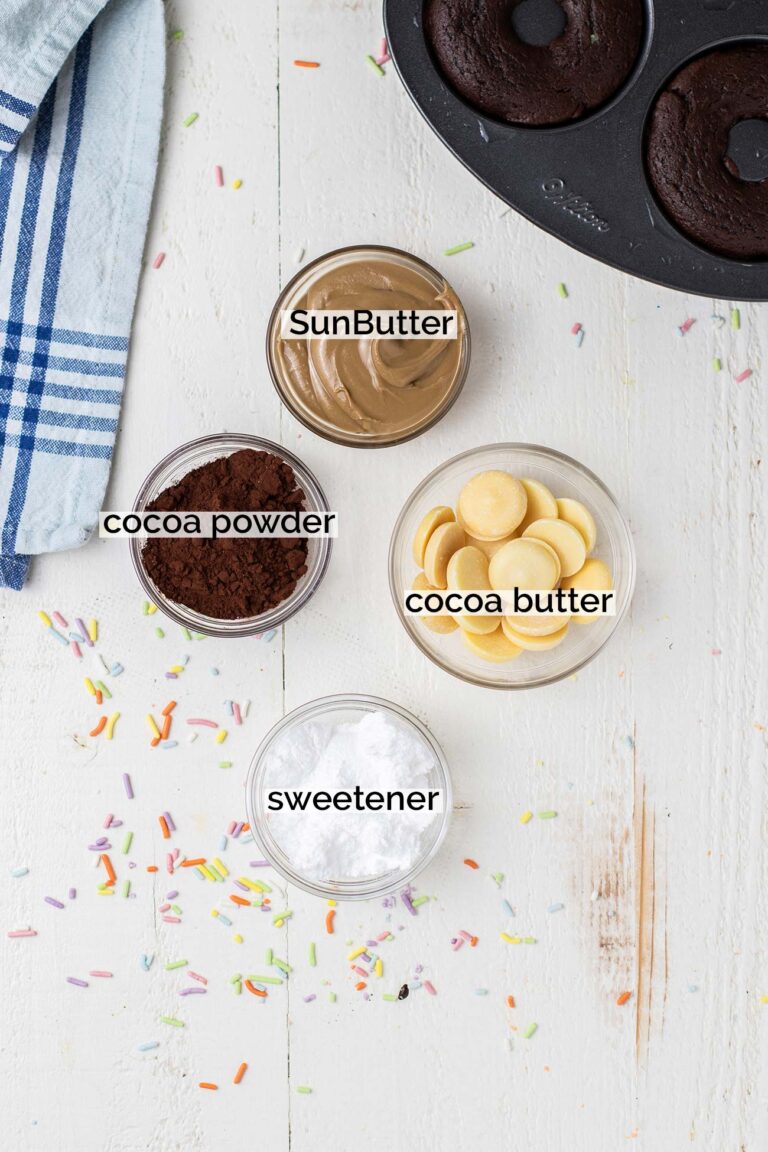 You'll LOVE these donuts because:
Chocolate + Chocolate = 😍 (who's with me here?!)
The combo of coconut flour and sunflower seed butter means these are high in fiber, protein, and healthy fats.
They bake up in 12 minutes and result in a dense, brownie-like treat.
These donuts are naturally sweetened with monk fruit sweetener and have no added sugar (unless you add sprinkles, which I highly recommend you do!).
Keto donuts make a super fun treat, especially when decorated with toasted coconut, chopped pecans, or these naturally colored sprinkles!
And if you're into keto treats, you will also LOVE these Keto Almond Cookies.
How to Make Keto Donuts
Step 1: Add the dry ingredients to a food processor bowl or blender, and pulse a few times to mix it all together.
Step 2: Into the food processor bowl, add the coconut oil, eggs, and SunButter. Pulse until all the dry ingredients are incorporated. The best thing about using coconut flour is you don't have to worry about over mixing, so make sure your batter is clump-free!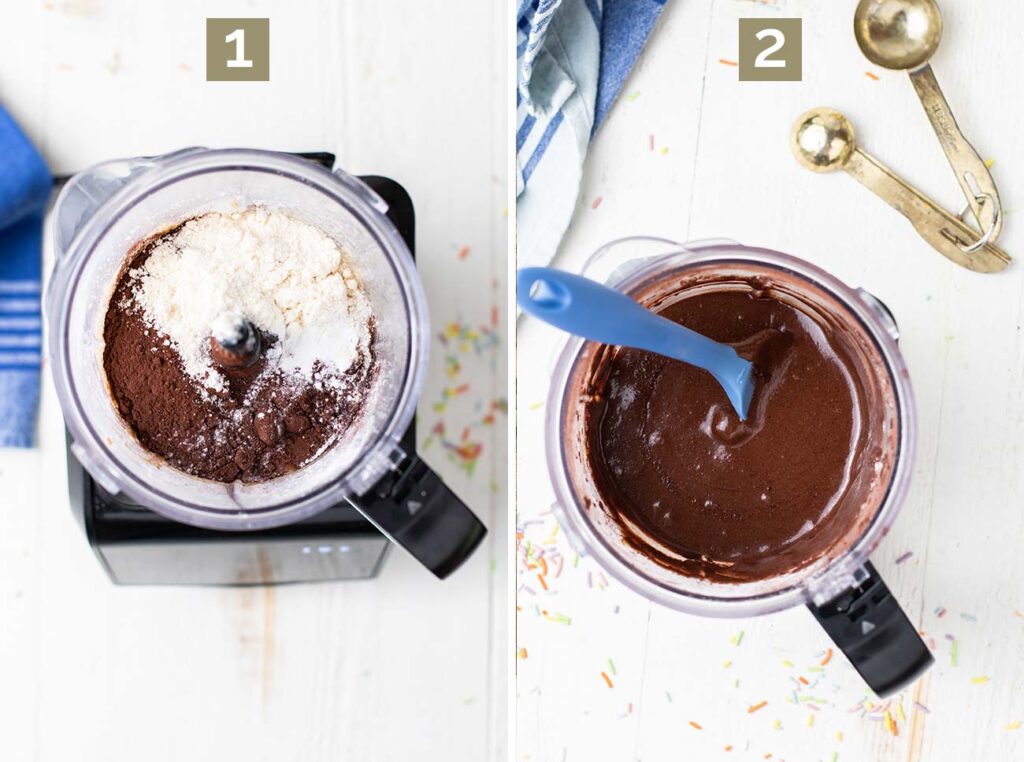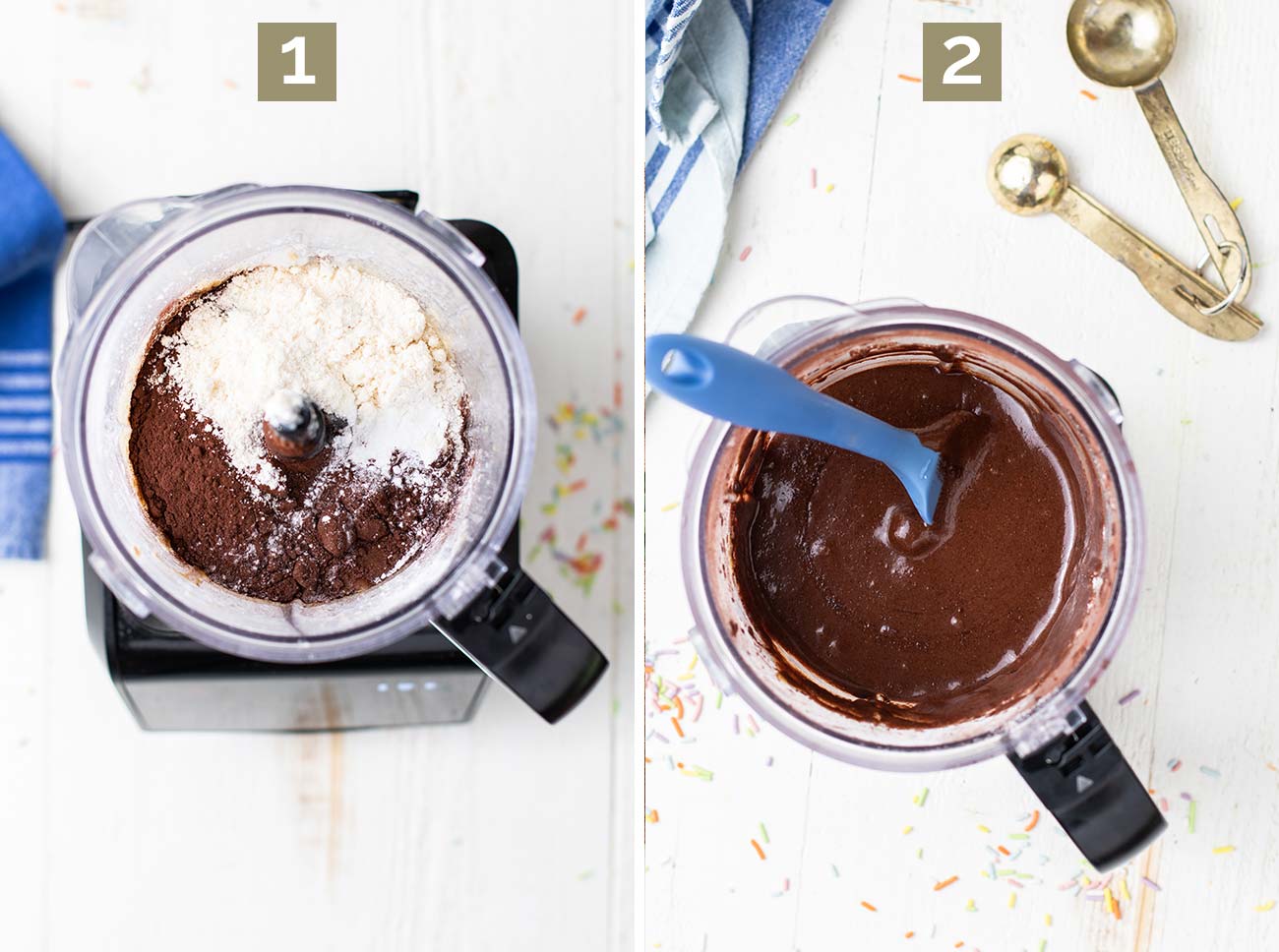 Step 3: Add the batter to a well-oiled donut pan. I take coconut oil and grease the cavities, as well as the pan around each cavity. The donuts will bake up around the edges and will stick if you haven't oiled the whole area.
Step 4: Bake the donuts at 325º for 12 minutes. Coconut flour dries out quickly if it's over baked – so be sure to get these babies out as quickly as possible! Allow them to completely cool before using a butter knife to run around the edges of each donut, and then underneath to help pop them out. They will be more fragile than a wheat-based product.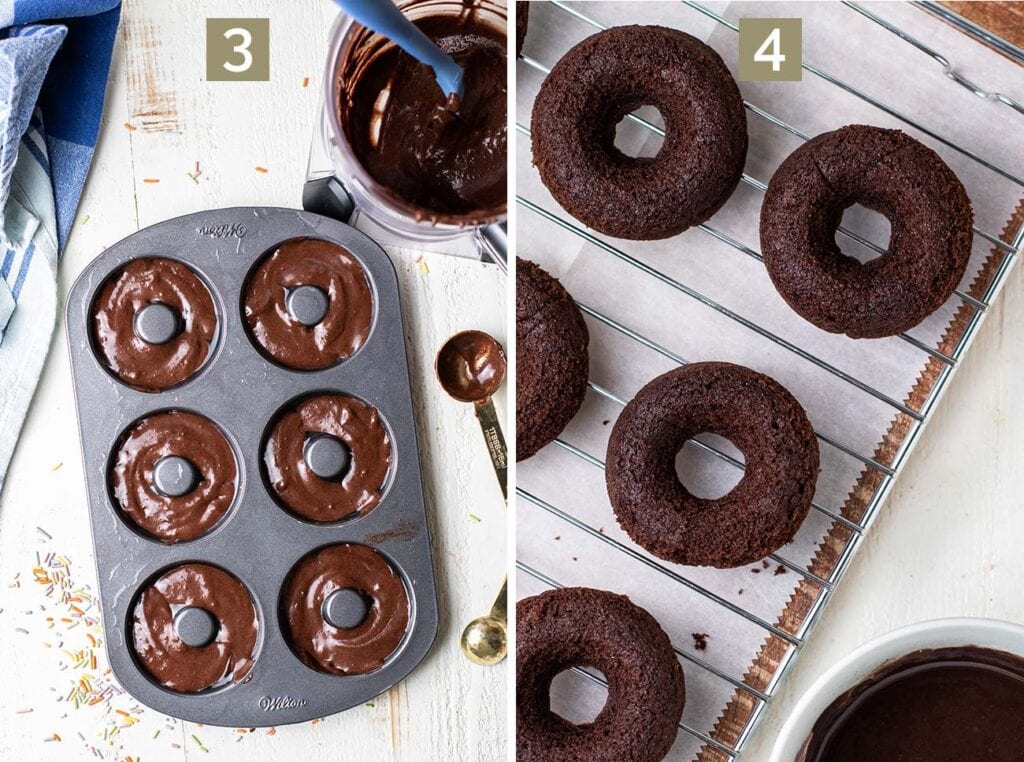 Step 5: Melt the cocoa butter, and then whisk it with cocoa powder, SunButter, and sweetener, until a rich, smooth glaze is formed.
Step 6: Dip the top of each donut into the glaze, and then put back onto the rack to set. While they are still wet, you can decorate them with sprinkles, toasted coconut, or chopped pecans.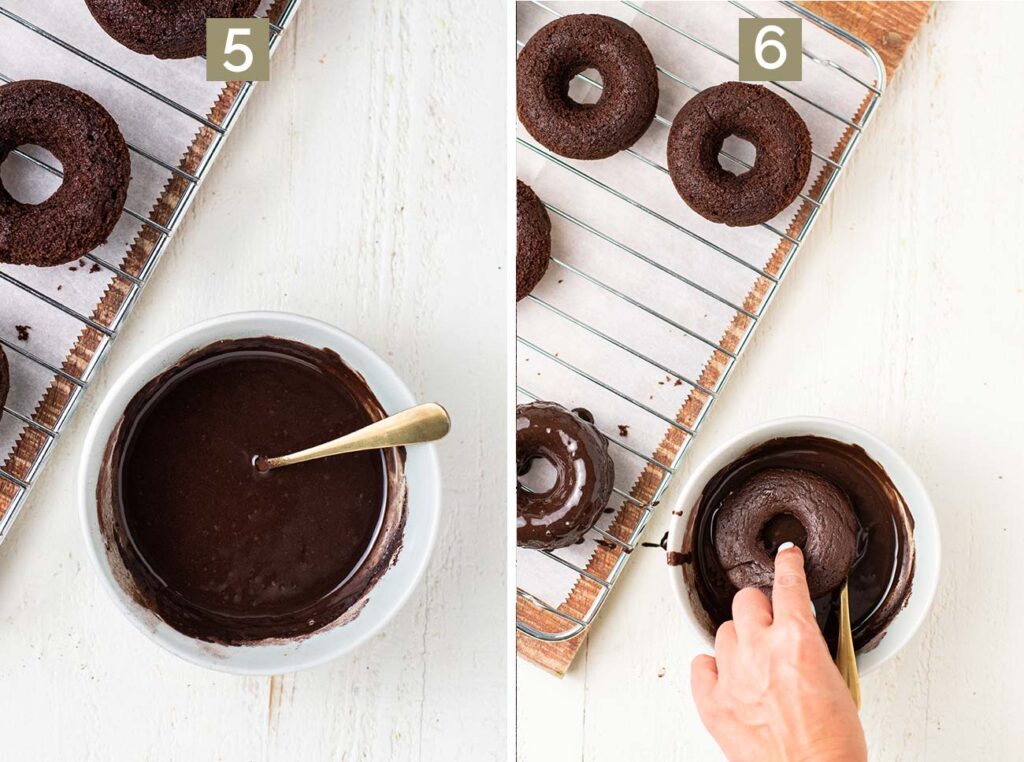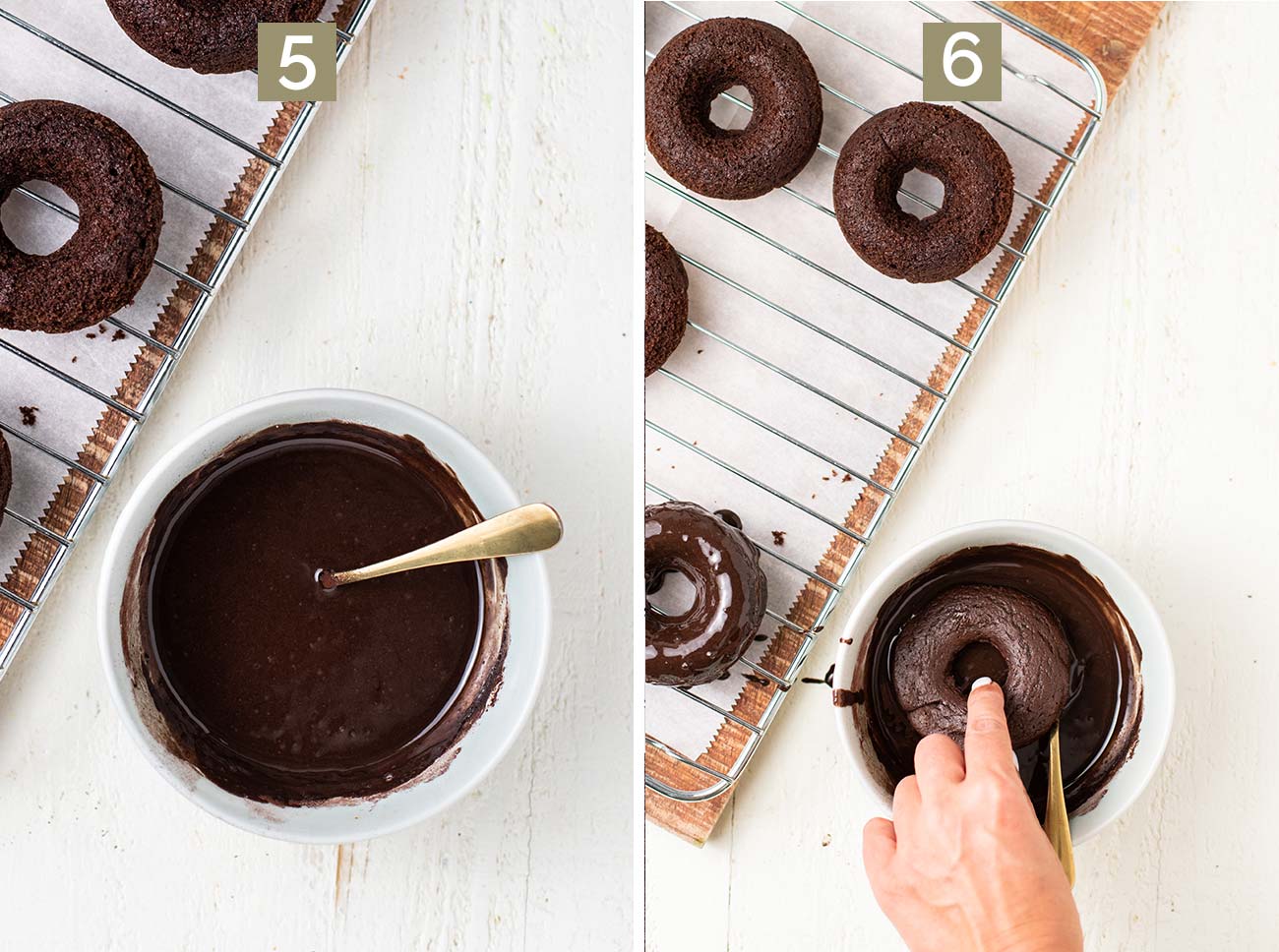 More Ideas for Keto Chocolate Donuts
Where do I buy a donut pan? I ordered mine on Amazon. These are the exact pans I have and I love them.
What can I use instead of cocoa butter in the glaze? The cocoa butter is great for a glaze because it stays solid at room temperature. The SunButter softens it so it has a fudge-like consistency when at room temperature. You can use coconut oil instead, but you will need to serve them cold. It melts at a warm room temp.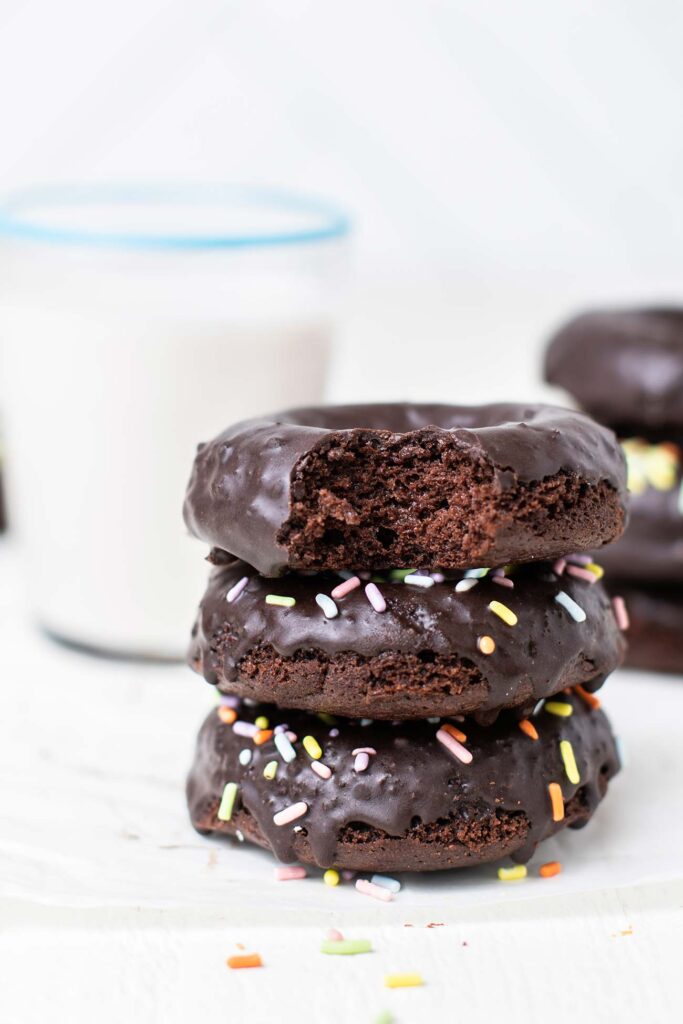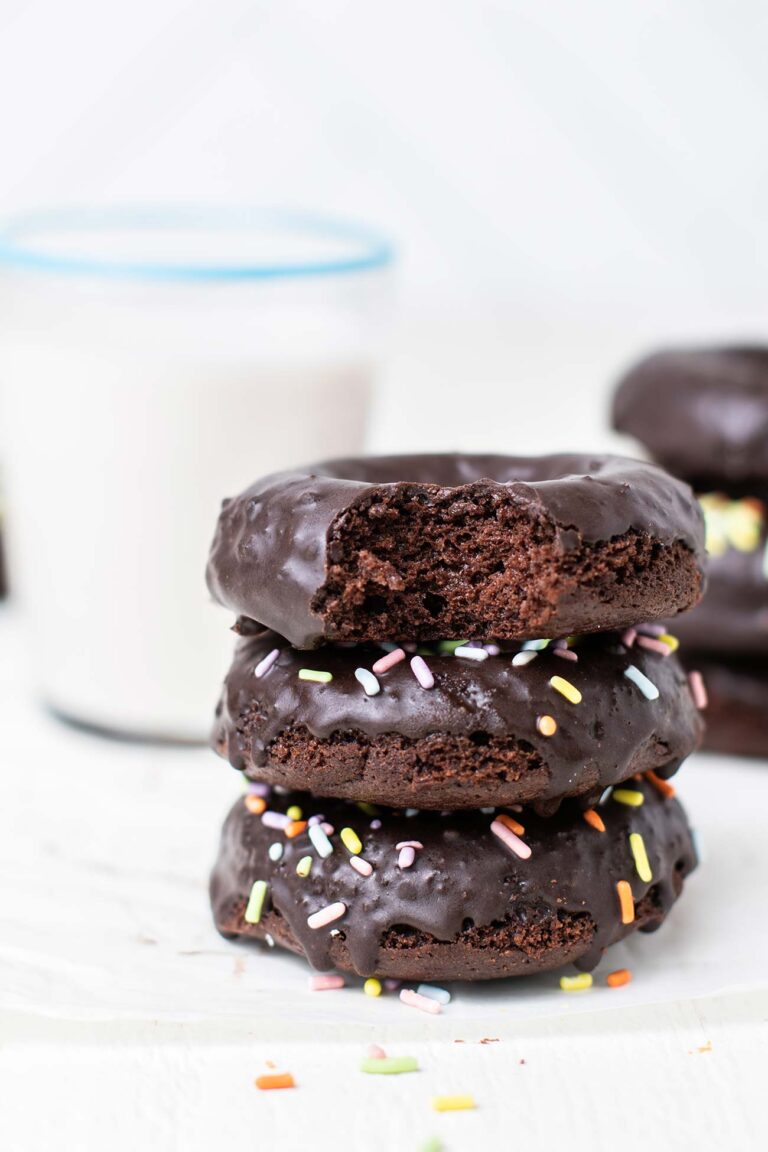 Can I substitute another flour for the coconut flour? Possibly yes, but I don't know how to recommend an amount. Coconut flour is much more absorbent than other flours, so it's not a 1-1 sub. If you don't need these to be nut-free, try almond flour – but I recommend trying 1/2-3/4 cup almond flour in place of the 1/4 cup coconut flour. If you try this, please let me know!
Can I eat a donut on keto? Absolutely! Thanks to great sweeteners like my favorite monk fruit sweetener, treats can be made keto-friendly. These chocolate donuts are full of healthy fats and make a great snack! Be sure to balance treats like this with lots of veggies, since that's where most of the carb allowance on a healthy keto diet should be used.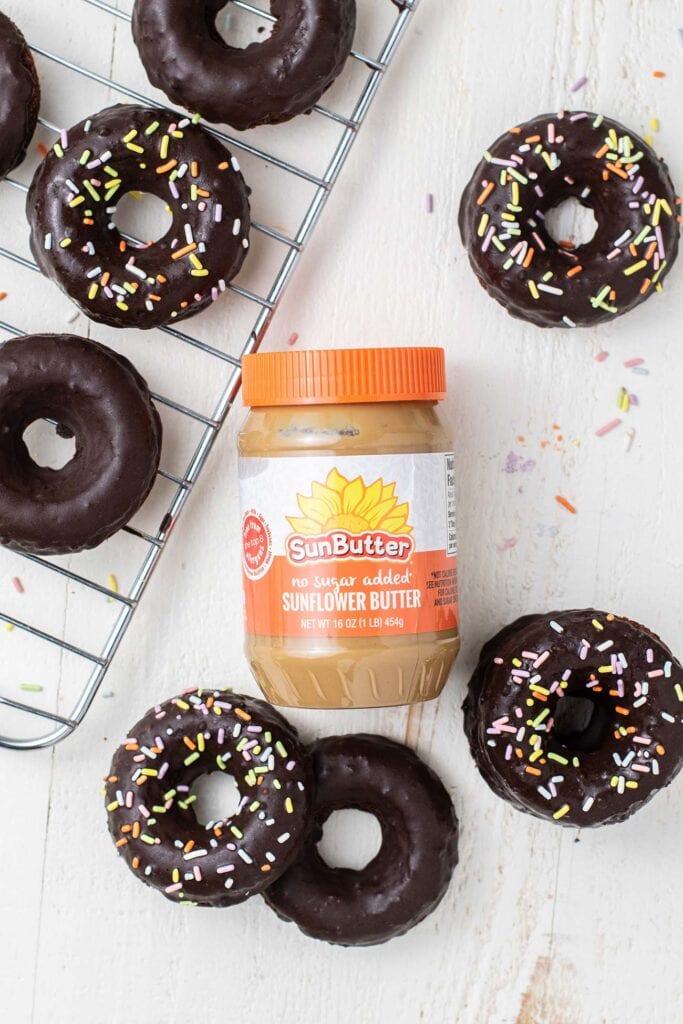 More Delicious SunButter Recipes
If you make this recipe, be sure to share it with me! Find me on Facebook or Instagram and be sure to tag #SunkissedKitchen @SunkissedKitch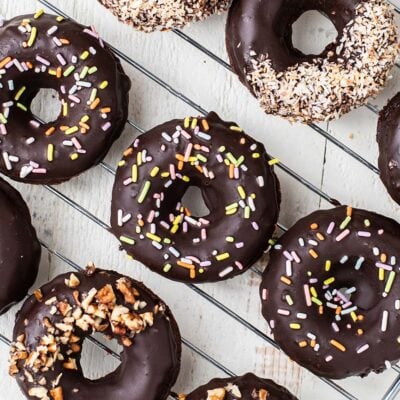 Keto Chocolate Donuts
Delicious chocolate donuts with a fudgy glaze — made nut free and allergy friendly with coconut flour and sunflower seed butter. Try these donuts with fun toppings like toasted coconut, chopped pecans, or sprinkles!
Print
Pin
Rate
Ingredients
Chocolate Glaze and Toppings
Instructions
Spray a donut pan heavily with coconut or avocado oil. Be sure to spray the oil around the donut cavities, covering the pan anywhere the donut will bake up near. Set aside.

Into a blender, add melted coconut oil, SunButter, monk fruit sweetener, and eggs. Pulse to combine the mixture.

Add the coconut flour, cocoa powder, and baking powder. Pulse to combine until there are no dry spots left in the batter.

Add 2 tablespoons of the batter to each donut cavity, being careful not to overfill. These rise, and if you overfill the cavities, your donuts will not have holes in the center.

Bake the donuts for 12 minutes. Allow them to fully cool before using a butter knife to run around the edges and the center, and gently popping the out of the pan.

Dip the top of each donut into the glaze, and then before it sets, sprinkle with toppings, if desired. Depending on how thick your glaze is, you can opt to double glaze them. After adding 1 layer of glaze, put them in the freezer to set, and then pull them out to add a 2nd layer of glaze before decorating.

Allow to set before eating. This is fastest if you refrigerate the donuts. If using coconut oil instead of cocoa butter in the glaze, they must be refrigerated to set.
Notes
*The glaze will taste best if a powdered sweetener is used. I take the monk fruit sweetener and add it to my blender and process it into a fine powder.
If you prefer to not make these sugar free, a good alternative to the monk fruit sweetener is coconut sugar. Use coconut sugar in place of the monk fruit sweetener in the donut recipe, and use powdered coconut sugar (process in a blender) to make the glaze.
The donut batter is thick. It is scoopable into the donut pan, but I use wet fingers to press it down and smooth it out once I've added to each cavity. It also helps to use room temperature ingredients so the coconut oil doesn't solidify and make the batter even thicker.
Nutrition
Calories:
230
kcal
|
Carbohydrates:
8
g
|
Protein:
6
g
|
Fat:
21
g
|
Saturated Fat:
13
g
|
Cholesterol:
65
mg
|
Sodium:
33
mg
|
Potassium:
130
mg
|
Fiber:
2
g
|
Sugar:
1
g
|
Vitamin A:
95
IU
|
Vitamin C:
1
mg
|
Calcium:
48
mg
|
Iron:
2
mg